Dan Rafael:

Donovan George
June, 13, 2014
Jun 13
2:37
PM ET
Last August, light heavyweight contender Andrzej Fonfara knocked out former titleholder Gabriel Campillo at U.S. Cellular Field in Chicago in what was the main event of an entertaining card -- the first outdoor pro boxing event in Chicago since the Sonny Liston-Floyd Patterson heavyweight title fight took place at old Comiskey Park in 1962.

Fight fans won't have to wait that long for another outdoor event as U.S. Cellular Field -- home of the Chicago White Sox -- will host a boxing card for the second summer in a row.

Topping the Aug. 23 bill will be Chicago's own Donovan George, who will take on Dyah Davis of Coconut Creek, Florida in a 12-round super middleweight bout for a minor title.

"Fans want great fights, and for many years Donovan has been featured in numerous battles that have earned him the respect of boxing fans in Chicago and throughout the country," said Frank Mugnolo of Round 3 Productions. "We're planning a very special evening at the ballpark again this year and putting together a terrific night of boxing for the best fight fans in the world."

George called fighting on such a card "a fantastic opportunity. I've stayed busy in the gym since my last win on April 18 and will be well prepared for victory against Davis at the ballpark."

George (25-4-2, 22 KOs), 29, is just 3-3-1 in his last seven fights, but his losses have been to good opponents (including Adonis Stevenson, who later won the world title) and he has always been a crowd-pleaser.

Davis (22-4-1, 10 KOs), 33, is 1-2 in his last three bouts, but has also lost to top opponents, including Sakio Bika (who later won a super middleweight world title) and James DeGale (an Olympic gold medalist and now a mandatory challenger for a super middleweight world title).

Davis is the son of 1976 U.S. Olympic gold medalist Howard Davis Jr.
May, 6, 2014
May 6
9:49
PM ET
A trio of boxing notes:

• Lightweight titlist Omar Figueroa (23-0-1, 17 KOs) was ordered make his mandatory defense against Daniel Estrada (32-2-1, 24 KOs) on Tuesday. If the sides to not make a deal, the WBC announced a purse bid will be held June 6 in Mexico City. Figueroa made his first defense on April 26, claiming a split decision win against Jerry Belmontes.

• Zanfer Promotions announced a June 14 tripleheader from Tuxtla Gutierrez, Mexico on which former four-division titlist Jorge Arce (63-7-2, 48 KOs) and former flyweight titleholder Hernan "Tyson" Marquez (37-4, 26 KOs), two of boxing's most consitently crowd pleasing fighters, will appear in separate bouts against opponents to be determined. The card will also include junior featherweight Daniel Rosas (17-1-1, 11 KOs) against an opponent to be named.

• Chicago super middleweight Donovan George, initially scheduled to fight June 20 on promoter Bobby Hitz's "Fight Night" club card in Hammond, Ind., is off the show because he got a much better opportunity. Hitz announced that George (25-4-2, 22 KOs) will instead head to Bogota, Colombia to challenger Alexander Brand (22-1, 18 KOs) for a minor world title.
"I've been in the gym training for a June fight, but when this fight presented itself a couple of days ago I took it," George said. "You don't pass up a title shot, ever. This is why I stay in shape, stay ready."
July, 30, 2013
7/30/13
2:52
PM ET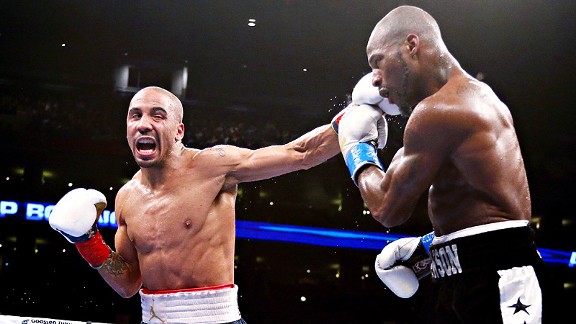 Ezra Shaw/Getty ImagesAfter cleaning out the 168-pound division, Andre Ward can't find a suitable opponent.
Super middleweight champ Andre Ward and promoter Dan Goossen, who appear to have worked out their issues following Ward's unsuccessful attempt to break their contract (although they're not discussing the issue publicly), are seemingly at loggerheads with HBO over the opponent Ward should face in his tentative Sept. 28 fight.
Ward hasn't fought since beating down then-light heavyweight champion Chad Dawson (who dropped down to super middleweight) last September because of a shoulder tear and subsequent surgery that forced a January fight with former middleweight champ Kelly Pavlik to be canceled.
HBO is resistant to spending good money for Ward to face the likes of Dimitri Sartison (a former titlist of the ultimate paper variety with zero name recognition in the United States), equally unknown interim titlist Stanyslav Kastanov, or Caleb Truax, a fun fighter to watch but not in the same league as Ward. Truax's claim to fame is a recent knockout win over Donovan George and dropping badly faded former middleweight champ Jermain Taylor in a 2012 loss.
So it's unclear who Ward will face and there does not seem to be many quality available opponents.
One of the biggest problems for Ward is that he's already cleaned out the super middleweight division. The Super Six World Boxing Classic champion has easily defeated two reigning titleholders (who picked up their belts after Ward dominated them), Carl Froch and Sakio Bika. Ward also routed former titleholders Mikkel Kessler and Arthur Abraham. Even if a Froch rematch floats your boat, like it does for some, he's unavailable, as he is scheduled to fight George Groves in the fall.
Robert Stieglitz, another titleholder, and his handlers have no interest in facing Ward. That's an almost certain loss that Stieglitz needs no part of as long as he has a fat TV contract in Germany from which he can earn plenty of money facing handpicked opponents on home turf rather than make similar money to come to the United States to give up his title.
One viable opponent is Edwin Rodriguez, who is coming off an impressive first-round knockout of Denis Grachev on July 13 in the final of the Monaco Million Dollar Super Four. However, Lou DiBella, his promoter, has said repeatedly they have no interest in fighting Ward. DiBella is a smart matchmaker. He knows that's not a good fight for his guy.
One guy who fought his way out of a possible shot at Ward is Thomas Oosthuizen, who was featured June 29 on HBO for the express purpose of seeing if he could create some buzz as a possible Ward opponent. He did the exact opposite by looking terrible in a draw against Brandon Gonzalez, who was never a serious candidate for the fight since he also didn't exactly set the world on fire but mainly because he's Ward's pal; they share the same gym and trainer, Virgil Hunter.
One guy who is calling Ward out is Zsolt Erdei (33-1, 18 KOs), a former cruiserweight and long-reigning light heavyweight titlist who suffered his only defeat by debatable split decision to Grachev in the semifinals of the Monaco tournament.
Erdei clearly didn't learn anything from Dawson's ill-advised drop down in weight because he, too, said he would drop down to 168 pounds to face Ward, who has maintained that he will eventually go to 175 but is not ready yet.
"When I decided to sign with Lou DiBella and fight in America, it was for me to face the best boxers in the world," Erdei said. "Ward is considered to be the best boxer in the world above the middleweight division and he is a great champion. I respect his skills very much, but I know that I have what it takes to get the job done and shock the world. A win over Ward makes me a superstar in America and that is my ultimate goal."
When Erdei, a 1996 and 2000 Olympian for Hungary, faced Grachev, he was coming off a nearly two-year layoff because of a retirement and then an injury.
"Everybody knows that I won my last fight and was clearly robbed of the victory," Erdei said. "For that reason, I still consider myself an undefeated two-division champion and I still want to fight the best."
DiBella also is campaigning for his man to get the shot with Ward.
"Many people who saw his fight with Grachev thought that Erdei won," DiBella said. "Regardless though, he showed that he is still one of the best 168-/175-pound fighters in the world, having performed at the level that he did after not fighting for nearly two full years."
Ward and HBO are both in tough spots here. The fighter (who also serves as an HBO broadcaster) is coming off an injury and a long layoff, so it's understandable that he and his team would want a tuneup-level fight. HBO sure doesn't want to buy an inferior product for premium money, but there are not a lot of good options.
February, 21, 2013
2/21/13
2:42
PM ET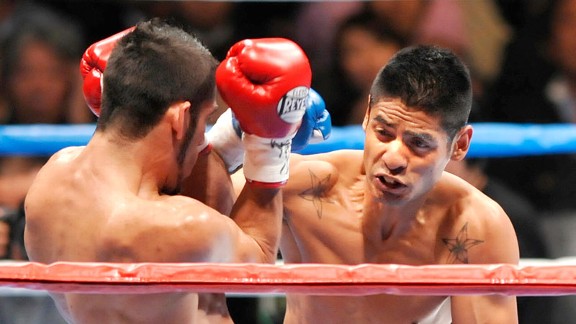 Kazuhiro Nogi/Getty ImagesThe rematch between Juan Carlos Salgado and Argenis Mendez found a home on U.S. TV.
A few updates on some upcoming fights:
• American fans will have a chance to see the rematch between junior lightweight titlist Juan Carlos Salgado (26-1-1, 16 KOs) and Argenis Mendez (20-2, 10 KOs). HBO bought the rights to the March 9 bout and will air it on HBO Latino (8:30 p.m. ET).
The fight takes place in Costa Mesa, Calif., on the undercard of the heavyweight eliminator between Cristobal Arreola and Bermane Stiverne. Arreola-Stiverne is part of an HBO-split site tripleheader that also includes light heavyweight titlist Tavoris Cloud against Bernard Hopkins and welterweight Keith Thurman against Jan Zaveck from the Barclays Center in Brooklyn, N.Y. HBO did not have room for a fourth fight on its telecast, but made a deal for Salgado-Mendez II to air on its Spanish-language channel. I hope we will see more of this sort of thing from HBO, sort of like how Showtime Extreme has done a great job televising preliminary bouts for Showtime cards.
March 9 is a big night for HBO -- a live title fight on HBO Latino followed by the network tripleheader and then, immediately following the tripleheader on HBO, there will be a new edition of "The Fight Game with Jim Lampley."
• Golden Boy CEO Richard Schaefer said that the return of former junior welterweight titlist Amir Khan, slated for April 20, will move to April 27 (Showtime). Nothing official yet with regard to the site or opponent, although he is likely to fight in his native England.
• Polish light heavyweight Andrzej Fonfara suffered a hand fracture, forcing him to withdraw from the main event of the March 22 ESPN "Friday Night Fights" card. He was due to face Nicholson Poulard. Fonfara will be out for at least four weeks, but if he needs surgery he could be sidelined for three to six months. ESPN2 is working with the promoters to put together a new main event, but still has a quality co-feature that could possibly move up to the main event spot -- Donovan George, who is moving down to middleweight, against David Lopez.
• An injury has knocked light heavyweight prospect Mike Lee off the March 16 Timothy Bradley-Ruslan Provodnikov card. Top Rank has also added hot junior featherweight prospect Jessie Magdaleno to the card in an eight-rounder.
February, 13, 2013
2/13/13
10:50
AM ET
Action fighter Donovan "Da Bomb" George has decided to drop down in weight from super middleweight to middleweight, figuring his explosive power will be even better at 160 pounds than it was at 168.

"At 160 pounds, no one can take my power," George said. "I was knocking them out at 168, so imagine what's going to happen when I hit a smaller middleweight on the button. No one at this weight can take my power."

George (24-3-1, 21 KOs), 28, of Chicago, is just 2-2 in his last four fights with both defeats coming to top opponents at 168 pounds. He was outboxed by Edwin Rodriguez on HBO last March, rebounded for a sixth-round knockout of journeyman Dionisio Miranda in August and then got battered in a tremendously game effort against Adonis Stevenson in a 12th-round knockout loss in October. That was a title elimination fight.

With no super middleweight title shot in the offing, George returned on Feb. 1 having dropped down to 164 pounds on his way to 160. He knocked out James Cook with a body shot in the first round. Cook is no world beater but he did go five rounds with middleweight contender Andy Lee in his previous fight (which was in 2010).

"Don was a little small at super middleweight, but his power still allowed him to lay out bigger guys," said Leon Margules, who co-promotes George with Lou DiBella and Dominic Pesoli. "But at middleweight, he's going to be a force. Gennady Golovkin, (Julio Cesar) Chavez Jr., (Peter) Quillin, none of these guys could handle what Don George brings at this lower weight. He was the hardest punching and most durable guy in the world at 168. At 160, he's a nuclear bomb that's ready to explode."

Margules said George's debut at middleweight probably will take place March 22 in the co-feature of an ESPN2 "Friday Night Fights" card he is promoting in Chicago. That card is headlined by a light heavyweight fight between Andrzej Fonfara (23-2, 13 KOs) and Nicholson Poulard (19-3, 9 KOs).
February, 5, 2013
2/05/13
6:35
PM ET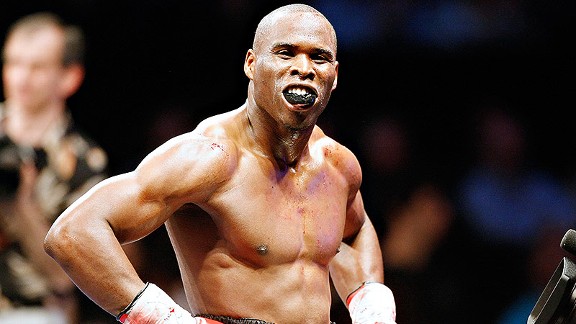 Richard Wolowicz/Getty ImagesAdonis Stevenson could finally get a chance to fight for a super middleweight title in June.
Before super middleweight titleholders Carl Froch and Mikkel Kessler could finalize that their much-anticipated rematch would be a unification bout for the sanctioning organization belts they each hold, Adonis Stevenson was in the way.
Stevenson (19-1, 16 KOs), the humongous puncher from Quebec, is the mandatory challenger for the IBF version of the title that Froch holds and the fight was due no later than April 27. Stevenson won an official title eliminator in October by stopping Donovan George in the 12th round.
However, after much wheeling and dealing -- and who really knows what went on behind the scenes -- Yvon Michel (Stevenson's promoter), the Froch and Kessler camps and the IBF worked out an agreement that will allow Kessler-Froch II to take place as a unification fight May 25 in London.
However, and it's a big however: While Kessler-Froch II will be allowed to go forward as a unification match, the winner will vacate the IBF belt after the fight, so it's a hollow unification bout. And then Stevenson will fight the IBF's leading available contender for the vacant title in June. Even if Kessler-Froch II is postponed, cancelled or ruled a draw, Froch has agreed to vacate to allow Stevenson to fight for the belt, according to Michel.
"The unification was a must for Froch-Kessler for British TV and for the prestige of their encounter," Michel told ESPN.com. "We also were in accord that this fight was great for the super middleweight division and for boxing. Their target date was May 25 to optimize the promotion and maximize the revenues. The IBF had ordered the fight to be done by April 27 and the winner had to confirm his intention of fighting the IBF mandatory contender (Stevenson) next. We knew the winner had no real intention of fighting Stevenson for now. Since the IBF does not allow interim titles (except in the case of injury) we had to find a solution to please everybody within the IBF rules.
"We proposed to the IBF to grant the unification fight on May 25. In return, Froch and Kessler have confirmed they will vacate the IBF title immediately after the unification title fight. Everybody is happy."
So Stevenson will get his title shot but doesn't want to sit and wait until June. So Michel has set up a fight for him -- a rematch with journeyman Darnell Boone (19-20-3, 8 KOs) on March 22 at the Bell Centre in Montreal. Boone has a horrendous record, but the fight still figures to generate some interest because Boone pulled a huge upset by knocking Stevenson out in the second round in April 2010.
Stevenson has won six fights in a row since the loss and might as well take this window he has to gain revenge before his title shot. Boone has fought everyone -- Stevenson, Andre Ward, Enrique Ornelas, Jean Pascal, Curtis Stevens, Brian Vera, Erislandy Lara, Sergey Kovalev (twice), Edwin Rodriguez, among them. He's a professional opponent (with three losses in a row and losses in five of his last seven fights) but he has one knockout of Stevenson, so maybe, just maybe, he can do it again (even though it's probably doubtful).
Michel re-signed Stevenson to a promotional contract in 2011 after they had a brief split. Since Stevenson re-signed, Michel said, "He has asked me one big favor -- to eventually provide him the opportunity to avenge his only loss against Darnell Boone. The timing was never good before and since I believe he will be world champion by June, the timing will be bad also after. So we have contacted Darnell Boone, who has agreed to give a rematch to Stevenson.
"Stevenson will carefully prepare for the fight and will move to Detroit next week with (trainer) Javan Hill to hold his training camp. We all know this is a risk because if he loses the fight he would be out as mandatory contender, but we believe it is a calculated risk and we are in a business of perpetual risks."
May, 30, 2012
5/30/12
5:53
PM ET
Super middleweight contender Adonis "Superman" Stevenson of Montreal, who has scored some devastating knockouts in recent fights and is simply must-see TV, is going to fight on Aug. 11 on Showtime in the televised undercard of the Tavoris Cloud-Jean Pascal light heavyweight title bout at the Bell Centre in Montreal.

The question is, whom will Stevenson (18-1, 15 KOs) fight?

The bout is supposed to be a title eliminator in which the winner will become the mandatory challenger for newly crowned titleholder Carl Froch, who drilled Lucian Bute last Saturday night to win a 168-pound title for the third time.

On Tuesday, the IBF ordered Stevenson (No. 2 in its rankings; the No. 1 spot is vacant) to face No. 3 Edwin Rodriguez (21-0, 14 KOs), a fine rising contender last seen outpointing Donovan George in March on the Sergio Martinez-Matthew Macklin undercard, to fight in the eliminator.

The IBF sent a letter ordering the fight to Yvon Michel, Stevenson's promoter, and Ron Rizzo, who handles such matters for Lou DiBella's company, DiBella Entertainment, which promotes Rodriguez.

The camps have until 5 p.m. ET Friday to accept the bout in writing. Michel wrote back to the IBF immediately and accepted the fight for Stevenson. If Rodriguez's camp doesn't respond or declines, the IBF will tab the next available and eligible fighter at the top of its list of contenders to find Stevenson's opponent.

By the sound of things, don't expect Rodriguez to participate.

"I'm waiting to talk to [manager] Larry [Army] and the kid, but my advice would be not to take the fight," DiBella told me on Wednesday afternoon. "I don't want to fight him in Canada against a guy who can do only one thing -- and that's punch. I don't like those kind of guys. Besides, Edwin got a little dinged up in the gym and I don't even know if he would be ready by Aug. 11."

DiBella also said he felt no pressure for Rodriguez to accept the bout, because he already has a spot locked up for Rodriguez on a Sept. 29 HBO card. DiBella added that Rodriguez might take an Aug. 3 fight on the promoter's "Broadway Boxing" series if Rodriguez is healthy (although it won't be against anybody of consequence).

If Rodriguez indeed declines, which I expect he will do, the next available opponent would be No. 6 Thomas Oosthuizen, who is also with DiBella. DiBella didn't sound interested in making that fight, either.

Then there is No. 7 James DeGale of England, whom I don't think would be likely to leave England for the fight. Several other contenders ranked by the IBF are unavailable because of injury or previously scheduled bouts.

It seems to me that the most likely candidates to face Stevenson are either No. 9 Pablo Farias (20-2, 12 KOs) of Argentina or No. 13 George. Two fights ago, Farias was wiped out in a fifth-round knockout by Arthur Abraham. George (22-2-1, 19 KOs) hasn't fought since the loss to Rodriguez, but his promoter, Leon Margules, told me Wednesday afternoon that his side is interested.

"We want the fight," he said.

So if the fight winds up being Stevenson against George for the right to challenge Froch, you'll understand why.
December, 22, 2011
12/22/11
11:59
AM ET
To swipe a line from HBO broadcaster Larry Merchant, boxing is the theater of the unexpected. How else to explain one of the strangest things I can recall: A fight being called off because the ring was too small.

Last Saturday night, while the eyes of the boxing world were on the final of the Super Six World Boxing Classic final between Andre Ward and Carl Froch, another notable fight in the super middleweight division was scheduled at the Froilan Lopez Baseball Field in Cozumel, Mexico: Librado Andrade against Donovan George for the right to become titlist Lucian Bute's mandatory challenger.

Only the fight never happened. There was no injury, visa problems or weight issue, or any of the other usual reasons a fight might get called off at the last minute.

Instead, when George and his team arrived at the venue, they discovered that the ring was only 15 feet by 15 feet, exceptionally small dimensions. Typically, rings are no smaller than 18x18, and George's contract called for the standard 20x20.

The smaller the ring, the less room (obviously) there is to move. Although both Andrade (30-4, 23 KOs) and George (22-1-1, 19 KOs) are good punchers, George is more of a boxer -- the fighter who would benefit from having more room to move.

Warriors Boxing promoter Leon Margules, who promotes George, made the final call to yank George from the fight and was pretty upset about it. When I spoke to him on the phone late Saturday, he was really bummed out but said he did it to protect his fighter, and I can't blame him.

Had the ring been even 18x18, Margules said, there would have been no issue and the fight would have gone on. But at 15x15, he could not in good conscience allow George to fight.

"I haven't heard one competent boxing guy tell me I did anything but the right thing," Margules said. "When my fighter gets to the venue on fight night and says, 'How am I going to fight in that ring? I thought you told me the ring would be 20 feet,' he's already mentally handicapped. He would have fought if we asked him to, but there was no way I was going to let him. This is the biggest fight of his life and he's worked very, very hard to get here. There's no way I'm going to let him risk it all in a fight when the other guy has an unfair advantage based on styles. That is why I insisted on a 20x20-foot ring in the contract. I would protect my fighter the same way if it ever happened again."

Margules said calling off the fight was the hardest decision he has ever made in his promotional career.

"The contract said [event promoter] Golden Boy will use their best efforts to get a 20x20 ring. The ring was exactly 15 feet inside," Margules said. "I've never even heard of a ring that small. So we talked about it as a team and decided to pull the fight."

Margules said that after he showed the IBF supervisor the contract that called for a 20-foot ring, the organization supported his decision.

"The IBF stood behind us," he said. "Donovan's father and fiancée thanked me for standing up for them. Raul Jaimes and Robert Diaz from Golden Boy were very understanding. Even Andrade's trainer said he would have done the same thing."

George would have fought, of course, because he is a fighter. But, as Margules pointed out, part of his job as his promoter is to look out for his fighter's best interest.

"This was the kind of thing any father would do for their kid," Margules said. "When I've got a fighter who is supposed to fight in the middle of the ring and there is no middle of the ring because it's smaller than any ring I've ever even seen -- it's not right to push him out there against a world-class guy who thrives on phone-booth warfare. That's not doing my best to protect my fighter and give him an even chance at winning every fight."

Nobody is blaming Golden Boy for the snafu. When it promotes fights in Mexico, it relies on a local partner, in this case Pepe Gomez, to handle some of the logistics. Apparently, there simply was no larger ring available on the island of Cozumel.

Everyone involved seems to be chalking it up to an honest mistake.

"I do not believe Golden Boy Promotions would do something like this intentionally, but relied on others to handle obtaining an adequate ring for a world-title elimination fight," Margules said. "The fact is, Golden Boy are very competent promoters. They told me a local promoter made the mistake. I give them the benefit of the doubt. As a company with tremendous integrity, all they need to do now is figure out how to make it right for both fighters."

Ideally, the bout will be rescheduled, although it's too bad both fighters went through training camps and didn't fight or get paid, especially so close to the holidays. George was due to earn $32,000 and Andrade $20,000. I bet all they want for Christmas is for their next fight to feature a 20x20 ring.