Dan Rafael:

Eddie Chambers
January, 14, 2014
Jan 14
1:54
PM ET
Eddie Chambers' failed experiment at cruiserweight is over. He is returning to heavyweight, will now be trained by Peter Fury and has joined England's Team Fury Promotions.
Although one of boxing's smallest heavyweight contenders, Chambers emerged as a legit contender but was simply outgunned by much bigger champion Wladimir Klitschko, who brutally knocked Chambers out in the 12th round of a title defense in 2010.
[+] Enlarge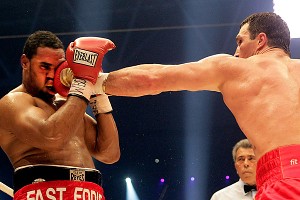 AP Photo/Frank AugsteinFormer heavyweight title challenger Eddie Chambers will return to the division after a failed move to cruiserweight.
Last August, Chambers (36-4, 18 KOs), 31, of Philadelphia, dropped down to cruiserweight -- where many believed he belonged all along --- and was stunningly routed by unknown Thabiso Mchunu in a unanimous decision.
Chambers parted ways with promoter Main Events after the fight and now has hooked up with Team Fury, joining the stable of heavyweight contender Tyson Fury, cousin and heavyweight prospect Hughie Fury and Peter Fury, Tyson's uncle and Hughie's father.
"I am happy to be part of Team Fury Promotions. Being with Peter Fury and part of Team Fury is going to take me to the level Peter knows I'm capable of," Chambers said. "They have the right resources and boxing knowledge that I feel has been missing in my career so far. I've had some great trainers in the past. However, I think with Peter's great knowledge in the ring and also his business knowledge out of the ring, it gives me the confidence and inspiration I need to believe us as a team can do big things.
"I can't wait to fight in the UK for all the boxing fans there. I have a message to all heavyweights in the world: Eddie 'Fast' Chambers is coming for you soon."
Peter Fury has trained his nephews to unbeaten records and said he looks forward to working with Chambers, who has lost three of his last four bouts.
"For some years I have always admired the boxing skills [Chambers] possesses as a fighter," Fury said. "Having the trust and opportunity to challenge myself again is great. I love the American fighters of the past and am really excited to show the world what Eddie can achieve in world heavyweight boxing. He will be competing at heavyweight.
"I'm only in boxing to reach world goals and I believe by adding Eddie Chambers to our team is one more step in that direction. We will be working with Eddie in association with Mick Hennessy of Hennessy Sports who has been part of us in professional boxing from day one, and also Frank Warren with BoxNation. So we look ahead to doing big things in heavyweight boxing in the coming years."
August, 30, 2013
8/30/13
12:33
PM ET
Eddie Chambers was a good heavyweight contender for several years, but one of the smaller guys in the weight class. So he thought because he would have no problem making the 200-pound cruiserweight limit, he would drop down in weight and dominate his new division.

And then he looked absolutely horrible, sleepwalking through a one-sided, 10-round decision loss Aug. 3 to an utterly obscure, hand-picked opponent, South Africa's Thabisco Mchunu, in his first fight in the division.

There's no way around this: It was a really, really bad defeat and Chambers' third in four fights, with the other losses being a decision to Tomasz Adamek and a brutal 12th-round knockout by heavyweight champ Wladimir Klitschko.

Losing to Klitschko and Adamek? Understandable. Losing to Mchunu (13-1, 9 KOs)? Not really.

But Chambers (36-4, 18 KOs) has accepted his loss and is ready to move on and give it another go.

"I do not want to in any form or fashion diminish that win [by Mchunu] by making excuses about my performance in the ring," Philadelphia's Chambers, 31, said. "I did my best that I could to make the fight. To win the fight. Losing this decision woke up my spirit to compete again and I will continue to pursue my career as a cruiserweight."

To Chambers' credit, he is not doing what a lot of fighters would -- make excuses about being drained from making weight.

"I felt fine throughout the bout. The weight loss was not a factor in my performance," Chambers said. "I did not expect Mchunu to fight such a defensive, awkward fight. I was trying to follow instructions from my trainer, James Ali Bashir. It was very difficult to do as I am a counterpuncher as well, who was forced into being the aggressor. I felt that if I did not doing something to make the fight, there would have been no action during the fight. I am not that kinda guy who is going to lay around crying over spilled milk."

The fight was only Chambers' third since the 2010 loss to Klitschko. Chambers said his inactivity was part of the reason for such a lethargic performance.

"I want to get right back in there the way the old-school warriors used to do many years ago," he said. "I take full responsibility for this critical setback in my career. My incentive is back and hopefully I will be able to meet Mchunu down the road and there will be a far a different result.

"I have fought just three times in the last three years. I want to get busy as soon as possible. I will show the world that I am a long way from being done."
December, 19, 2012
12/19/12
6:03
PM ET

After ducking heavyweight champion Wladimir Klitschko since 2008, Alexander Povetkin is now apparently ready to face him. It took him long enough.

Sauerland Event, which promotes second-tier titlist Povetkin, said on Wednesday that it hopes to make the fight, claiming that the WBA, which recognizes Klitschko as its "super champion" and Povetkin as the "regular" titlist, has ordered negotiations to begin between the two camps.

According to Sauerland Event, the WBA wrote the various camps before Klitschko spanked David Haye in July 2011 to make it clear that the Klitschko-Haye winner would have to face the Povetkin-Ruslan Chagaev winner within 18 months of that Aug. 27, 2011 bout.

Sauerland Event claims that Klitschko-Povetkin is due by Feb. 26, 2013 -- 18 months after Povetkin beat Chagaev.

"We are very excited that Povetkin will be Wladimir Klitschko's next opponent," promoter Kalle Sauerland said. "We consider Wladimir Klitschko to be a great champion but we also consider Alexander Povetkin to be a very serious challenger. A fight between two Olympic heavyweight champions is always something special and one that will turn out to be a real treat for boxing fans all over the world."

Chris Meyer, the managing director of Sauerland Event said, "We have a four-week period to negotiate terms on the fight and will be in contact with the Klitschko management. We worked together for many fights as co-promoters of the Klitschkos. Therefore, I am convinced that we will have a professional dialogue. However, if we should not be able to reach a voluntary agreement we are prepared to enter a purse bid."

The Klitschko camp does not agree with Sauerland's assessment of the situation.

Bernd Boente, Klitschko's manager, told ESPN.com that the WBA told them that they had 24 months from the Klitschko-Haye fight to make the mandatory defense, which would mean a Klitschko-Povetkin bout wouldn't be due until early July.

"The WBA has told (K2 Promotions managing director) Tom (Loeffler), (adviser) Shelly (Finkel) and myself that we have 24 months from the Wladimir-Haye fight, so we will ask them," Boente said.

Boente said Klitschko (59-3, 51 KOs) plans to fight in early April in what would be his 14th title defense, but did not commit him to facing Povetkin (25-0, 17 KOs), although he didn't seem particularly concerned about the fight possibly being mandated next.

"We will ask the WBA about this issue and then see," Boente said.

Klitschko ought to be licking his chops to finally get Povetkin into the ring, because he probably would hammer him.

Since Povetkin, the 2004 Russian Olympic super heavyweight gold medalist (Klitschko won gold for Ukraine in 1996), beat Eddie Chambers in a January 2008 title eliminator to become Klitschko's mandatory for the first time, he's gotten worse, not better.

Povetkin had a huge struggle with Chagaev to win the vacant "regular" belt and also got a gift decision against cruiserweight titlist Marco Huck, who moved up in weight, in a horrible performance in February.

But you have to love the tough talk from Sauerland Event, considering that Povetkin has run from Klitschko since 2008. Klitschko's camp has already won two purse bids for the fight, but Povetkin failed to show for the bout either time.

They were supposed to fight in December 2008, but Povetkin injured his foot when he tripped over a tree root while doing a run in preparation for the bout. However, when Povetkin came back, he went in another direction.

In 2010, there was another purse bid for the fight and K2 won it again. Povetkin would have made a career-high payday of more than $2 million, but Teddy Atlas, then his trainer, convinced him not to take the September fight, and Povetkin failed to show up at a news conference announcing the bout. Klitschko fought Samuel Peter in a rematch and knocked him out instead.
November, 8, 2012
11/08/12
9:43
AM ET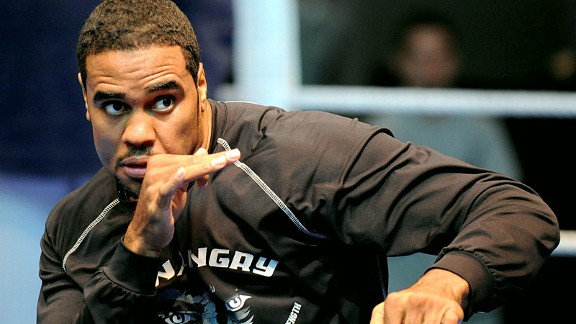 Clemens Bilan/AFP/Getty ImagesEddie Chambers would benefit greatly by moving down from heavyweight to cruiserweight.
Eddie Chambers has finally seen the light and is moving down to cruiserweight.
Although he has been a good heavyweight contender in recent years, Chambers is very small for the division. He goes 6-foot-1 and has weighed less than 210 pounds for his past four fights. He is talented but his lack of size and the fact that he does not pack much of a punch are huge detriments.
When he challenged heavyweight champion Wladimir Klitschko in a 2010 mandatory fight, Chambers was massively outgunned in terms of size and power. It was amazing that he hung in against Klitschko for as long as he did, but he took a serious beating before being put to sleep in a sick one-punch knockout in the 12th round. It left Chambers nearly out of the ring and unconscious with just five seconds left in the fight.
Eleven months later, Chambers returned to easily outpoint Derric Rossy, an average heavyweight at best, and then lost a decision to Tomasz Adamek in June. It was a close, competitive fight that some thought Chambers won, but he didn't get the call.
If Chambers had stayed at heavyweight, where was he going? There was nothing out there for him, so the move down in weight made sense since he is so close to the weight limit already.
But even before the losses to Klitschko and Adamek, I thought that Chambers (36-3, 18 KOs) could easily make the cruiserweight limit of 200 pounds and be a force in the weight class.
Although I don't think he will ever be a heavy hitter, Chambers has the boxing skills and defense to be a very successful cruiserweight.
And at long last, he does too. The 30-year-old from Philadelphia announced on Wednesday that he had made the decision that I think he should have made years ago to drop down to cruiserweight.
"The cruiserweight division is better because I'll be fighting guys my size," Chambers said. "I may have had some advantages at heavyweight, but imagine me at cruiser, fighting against someone my own size.
"I want to be a world champion. That's what you set out to do when you start boxing. That's what I want to be, and I've worked my entire boxing career, and most of my life, at that. I want to achieve it. I see that title wrapped around my waist."
Chambers' decision coincided with the announcement that he had signed with promoter Main Events, which plans to feature him on its "Fight Night" series on NBC Sports Net.
"I think it's a great opportunity," Chambers said. "Main Events puts on nothing but great fights. I'm just happy to be part of it. They really have confidence in my ability, and it led me to believe that these were the people for me."
Said Main Events CEO Kathy Duva, "I don't think anyone in the cruiserweight division can beat Eddie Chambers, period. We are very happy that he has decided to work with us towards his goal of winning the cruiserweight title and I have no doubt in my mind that he will get there very soon."
June, 13, 2012
6/13/12
12:28
PM ET
American heavyweight prospects are few and far between. There's Seth Mitchell, who has been getting a huge push by Golden Boy and HBO, and Deontay Wilder, the 2008 U.S. Olympic bronze medalist who is with Golden Boy and possesses great power but remains raw.
You should add Bryant Jennings (13-0, 6 KOs) to what is an unfortunately short list.

The 27-year-old from Philadelphia has come out of obscurity to score a pair of impressive wins on national television, as he was featured on two cards on NBC Sports Net's new "Fight Night" series.

Jennings will see if he can keep the ball rolling on Saturday night (9 ET, NBC Sports Net) when he returns to "Fight Night" to face Steve Collins (25-1-1, 18 KOs) of Houston. Collins, 28, has been a pro since 2003 but surprisingly will be fighting in his first scheduled 10-round bout.

Jennings-Collins is the co-feature on the card headline by another heavyweight bout. Former world title challengers Tomasz Adamek and Eddie Chambers square off at the Prudential Center in Newark, N.J., where Adamek, who is from Poland and lives in Jersey City, N.J., is an enormous draw in the large Polish community.

On the debut "Fight Night" card on Jan. 21, Jennings stepped into a fight made on short notice when injuries scuttled the main event. He put on a tremendous performance by outpointing previously undefeated Maurice Byarm in a unanimous decision. It was a good scrap, too.

Jennings returned just two months later and scored an even more impressive victory -- a ninth-round knockout of former titleholder Sergei Liakhovich on March 24. It was easily the best win of Jennings' career.

During the "Fight Night" telecast on June 1, star trainer Freddie Roach, who works as an analyst on the series (and who was inducted into the International Boxing Hall of Fame on Sunday), gave Jennings high praise when the subject of heavyweights came up.

"I think Bryant Jennings is the best prospect America has right now in the heavyweight division," Roach said.

Jennings, a pro only since February 2010, was happy to hear it.

"I totally went crazy after I heard that," Jennings said. "He had told me personally, but when he announced it on national television, I was blown away. Freddie knows boxing."

When asked if he agreed with Roach on his placement among American heavyweight prospects, Jennings wasn't shy.

"I work pretty hard and I do see myself as one of the best, if not the best," he said.

Said Russell Peltz, Jennings' promoter, who works closely with Main Events on the "Fight Night" series: "All you hear about is Tyson Fury, Seth Mitchell, David Price, and yet Bryant Jennings is the one they should be talking about."

We are, Russell, we are.