July, 23, 2014
Jul 23
10:18
AM ET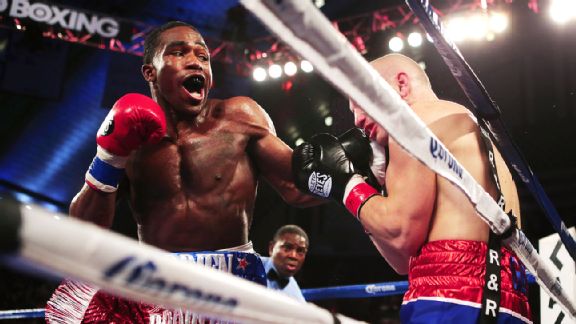 Al Bello/Golden Boy/Golden Boy/Getty ImagesAdrien Broner will return as a junior welterweight to headline a tripleheader Sept. 6.
Junior welterweight contenders Adrien Broner and Lucas Matthysse are both penciled in for Sept. 6 returns on Showtime, although not against each other.
Golden Boy Promotions is working on putting together a tripleheader for the show, which Broner (28-1, 22 KOs) would headline in his second fight since moving down to junior welterweight after losing his welterweight belt to Marcos Maidana in a terrific fight in December. Broner bounced back from a loss on May 3 on the Floyd Mayweather Jr.-Maidana undercard to win a one-sided 10-round decision against Carlos Molina.
"Broner would be the main event with Matthysse as a co-feature. I can confirm that," Golden Boy Promotions vice president Eric Gomez told ESPN.com. "We don't have a confirmation on a third fight yet. I gave [Showtime's Stephen Espinoza] a few ideas. He's supposed to let me know. He's willing to do a tripleheader, but the third fight is up in the air."
So are the opponents for Broner and Matthysse, although Gomez has a list of potential foes he said he and Espinoza are discussing.
Although Gomez would love to match Broner and Matthysse with each other at some point, people should not read into their appearance on the same card as any sort of official prelude to such a fight.
"No, they are not fighting each other [on Sept. 6]," Gomez said. "I would love for them to fight each other, but right now it's just two guys who need to fight. These are two exciting fighters and two of the top guys in the division fighting on the same card."
The location for the card has not been determined. Gomez said that Broner would like it to be in his hometown of Cincinnati, which is a possibility. South Florida and San Antonio, where Maidana beat Broner, are other possibilities.
Matthysse (35-3, 33 KOs), a big puncher from Argentina, lost a decision in a high-profile fight to unified junior welterweight champion Danny Garcia last September on the Mayweather-Canelo Alvarez undercard and bounced back to stop John Molina in the 11th round in April in a fantastic fight, one that is a leading fight of the year candidate.
September, 11, 2013
9/11/13
10:00
AM ET

LAS VEGAS -- So which side was it that suggested that Floyd Mayweather Jr. and Canelo Alvarez, both holders of 154-pound world titles, have their super fight on Saturday (Showtime PPV, 9 p.m. ET) at the MGM Grand Garden Arena at a catch weight of 152 pounds?

It's the biggest mystery of the fight, a case of he said, he said. However, Alvarez -- the naturally bigger man with no interest in dropping more weight than he has to -- certainly has the more believable story than Mayweather, the smaller man and also a reigning 147-pound champion.

The sides have argued about who was responsible for the deal point since the fight was made.

As soon as the fight was signed in late May, Alvarez said it was the Mayweather side that wanted the catch weight.

"To make the fight I had to give a little, he had to give a little, too," Alvarez said at the time. "I feel it was fair, and both sides are happy. He fought [with a contract weight of] 154 before, but he wanted the [catch weight] and I accepted it. He gave a little, I gave a little, and we got the fight done."

Mayweather adviser Leonard Ellerbe immediately took exception and called Alvarez a liar.

Fast-forward to Tuesday, when Alvarez met the media after the grand arrivals at the casino and revealed more details about how the catch weight drama went down.

"I'm the bigger guy, why would I give up weight?" Alvarez said through translator Eric Gomez, the Golden Boy Promotions matchmaker. "You want to know what happened? I'll tell you what happened. They asked me to come to 147, to fight at welterweight. I told them, 'No way, those days are over for me.' Then they said let's do the fight at 150. I said I couldn't do that. Then 151. Then we finally agreed on 152.

"I would come down two pounds to make this important fight. They told us not to disclose anything [to the media] and we were fine with that. The reason why we are talking about the weight today is because they called us idiots and they are lying."

Indeed, Ellerbe has been disparaging Alvarez and manager Chepo Reynoso. He called Reynoso "an idiot manager" and insists that Alvarez suggested the catch weight. On last week's third episode of Showtime's "All Access" series, which has been following the buildup to the fight, Ellerbe talked about it.

"His management put out something on [the website] BoxingScene that they would be willing to fight at a catch weight," Ellerbe said in the episode. "Because his management is inept, we take advantage of those kinds of things. Why would we go in a different direction? They suggested it, why would we say no and do something different? They put him at a disadvantage, his management did."

On Tuesday, Mayweather declined to discuss the catch weight -- something he has previously railed against Manny Pacquiao for insisting on in some of his recent fights -- but Ellerbe spoke out again.

"We took advantage of a situation," Ellerbe said. "The kid suggested it himself a long time ago. He put himself out there like that and we're going to hold his feet to the fire."

Previously, Mayweather did address the 152-pound decision.

"He's not forced to do nothing he don't want to do," Mayweather said of Alvarez. "If he wanted the fight, he could take it. If he don't want it, he don't got to.

"The weight is what it is. That's all I have to say. We can't talk about what-ifs or woulda, coulda and shoulda. The weight is what it is. Leonard is the first to tell me about what they asked for. We went back and forth negotiating with their team. We finally came up with something where both parties were happy and we made the fight happen."

Although Alvarez has to lose two more pounds than usual to get to 152, he said on Tuesday that he was already at 153, so making 152 by Friday's weigh-in would be no issue.

"I've been able to make the weight in the past without a problem," Alvarez said. "In fact, in my most recent fights I've been under on the day of the weigh-in. I really don't do that much work, so I think that it's going to be fine. I feel very, very good right now, and in fact, I think it's going to help me. I'm going to be a lot faster."
May, 9, 2013
5/09/13
5:03
PM ET
I awoke Thursday to a press release in my inbox from British promoter Frank Warren announcing a "blockbuster" card (aren't they all?) for June 15 at Wembley Arena in London. The main event, Warren said, would be a heavyweight showdown between England's Dereck Chisora and American hopeful Deontay Wilder, the untested 2008 U.S. Olympic bronze medalist who has, so far, shown destructive power in his right hand against a series of cream puff opponents.

My initial reaction to reading the release was that I didn't believe it and my intuition was correct. Warren, as it turns out, was premature in his announcement. Maybe the fight ultimately will happen, but even that doesn't look good, according to Golden Boy, Wilder's promoter.

Warren has given all of us good reason to doubt his announcements since he has made so many over the years that simply did not come to fruition, such as the recent debacle with the Ricky Burns-Miguel Vazquez lightweight unification fight, which few believed would take place and then did not.

When I see a Warren release announcing a fight card -- especially with no quotes or confirmation from both sides -- my radar goes up. And it was on red alert after reading Thursday's missive.

I had just been on the phone with Golden Boy chief executive Richard Schaefer on Wednesday evening and he was going over the company's upcoming schedule (which is loaded) and Wilder's name never came up.

So when I checked in with Golden Boy on Thursday after Warren's announcement the answer from matchmaker Eric Gomez, who was negotiating the deal with Warren matchmaker Dean Powell, was, "No, no deal. They jumped the gun. There's issues with Deontay traveling, because of the arrest. I asked them not to announce until it is resolved. They didn't listen."

Wilder (28-0, 28 KOs), 27, of Tuscaloosa, Ala., got arrested on Saturday in Las Vegas, where he was in town for the Floyd Mayweather-Robert Guerrero fight. According to the Clark County Detention Center, Wilder was arrested Saturday for "domestic battery by strangulation" and released on a $15,000 bond. Details of the incident are unclear.

Not only is Wilder's arrest an issue but Gomez said he had just gotten a nine-page contract for the fight on Wednesday that had to be reviewed. Gomez said they had to talk to Wilder's attorney about the arrest and also have their attorney, Arnold Joseph, go over the contract before the fight could be made.

"I specifically told them do not announce anything," Gomez said. "We just got the contract and we're still reviewing it. Right now, the fight's not looking good, though. I told [Powell] to send over the contract. We did get a contract from them but I told them we still have to resolve the issue of the arrest and also go over the contract."

Gomez said he and Powell traded several emails on Wednesday with Powell saying they wanted to announce the fight Thursday and Gomez telling him not to.

"We were negotiating the fight and talking and we went over the deal points," Gomez said. "I said send over a contract and we can start looking at it. They wanted to announce it. I wrote back to him and said, 'Please don't announce anything. I'm waiting to hear from [Wilder's] attorney and we need to review the contract.' They asked again Thursday morning if they could announce it and I said, 'No, please don't announce it.' They just went ahead and announced it and now it looks like there will be an issue."

Schaefer was also surprised that the fight was announced.

"That's not something we would do. Why did he announce it when we don't have a deal," Schaefer said. "That's not a way to make deals, it's a way to kill deals. We sent them like four emails telling them not to announce it and sure enough they go and announce it. They wanted a quote from me for the press release but I wouldn't give it to them because it wasn't done."

Wilder had his first pro fight in England on April 27 on the undercard of Amir Khan's win against Julio Diaz. Wilder wiped out England's totally shot Audley Harrison in just 70 seconds.

Chisora (16-4, 10 KOs) ended a three-fight losing streak (including a loss to Vitali Klitschko in a heavyweight world title fight) on April 20 by stopping journeyman Hector Avila in the ninth round.