May, 28, 2014
May 28
4:15
PM ET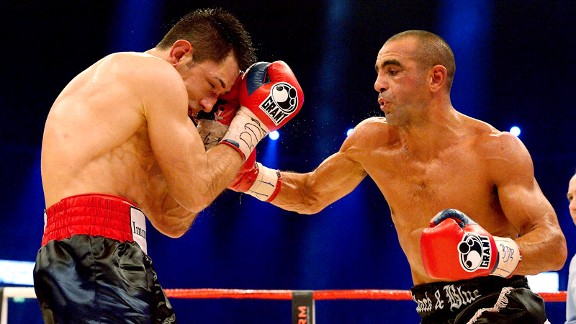 Dennis Grombkowski/Bongarts/Getty ImagesSam Soliman saw his 2013 win over Felix Sturm erased after testing positive for a banned stimulant.
Saturday's rematch between middleweight titleholder Felix Sturm and Sam Soliman has been a long time coming since their controversial first fight in February 2013.
Australia's Soliman traveled to Sturm's turf in Germany and won a unanimous decision on scores of 116-111, 114-113 and 114-113 in the world title eliminator, but he tested positive for a banned stimulant after the fight. The result was changed to a no contest and Soliman was suspended for nine months by German regulators.
Sturm won his next two fights, including a second-round knockout of England's Darren Barker to win a middleweight belt in December, while Soliman returned to win a fight in December.
Sturm's first defense will come against Soliman. They have a score to settle in their grudge match at the Koenig Palast Arena in Krefeld, Germany (ESPN3.com, 5 p.m. ET), even though Sturm claims that is not part of his thinking.
Soliman is Sturm's mandatory challenger, so Sturm had to take this fight unless he wanted to give up his belt. He said he did not take the fight with Soliman to even any kind of score over the dirty drug test.
"I'm not mad or anything. I don't care about that whole doping theater anymore," Sturm said at this week's final news conference. "He and his team have to live with that. He's trying to play games once again, but that doesn't matter to me. I had a perfect preparation and I am in tiptop shape.
"I had to do this fight since he is my mandatory challenger. But that is a good thing because I can make things right. People will forget about the first fight after this one. Back after I fought Soliman last February, I changed my whole attitude towards the sport of boxing. I'm now eating clean and healthy, which makes training a whole lot easier. I now live like an athlete all year around and not only the 10 or 12 weeks during training camp. That pays off as I'm in a much, much better shape than before."
The 35-year-old Sturm (39-3-2, 18 KOs) is making the first defense of his fourth 160-pound title reign and he is confident.
"I'm looking forward to a great evening and an exciting fight on Saturday," Sturm said. "As you know, the first title defense is always the most difficult. But I am the champion, and believe me -- I will remain the champion."
Said trainer Fritz Sdunek, "Felix is in incredible form. It's rare to work with an athlete in such good shape. I strongly believe he'll beat Soliman inside the distance this time."
Soliman (43-11, 18 KOs), 40, will be fighting for a world title for the third time. He lost a pair of super middleweight title bouts to countryman Anthony Mundine, a ninth-round knockout in 2007 and a unanimous decision loss in a 2008 rematch. Soliman is 8-0 plus the no contest since the second loss to Mundine.
Soliman, who has denied using any illegal substances, said he will beat Sturm the same way he did in their first fight.
"If a plan is working, you shouldn't change it. You should fix it to make it even better," Soliman said. "That's what I have done. I'm grateful to be back in Germany and to be able to fight for the IBF world title. I had perfect sparring during my camp in Denmark. I'll be even better than the last time around. I will fulfill the dream of my family, who'll be ringside on Saturday, and become world middleweight champion."
May, 6, 2014
May 6
9:40
PM ET
In Germany, a showdown between super middleweight titlist Arthur Abraham and middleweight titleholder Felix Sturm would be huge business. It's a fight the fans there have wanted for years and Abraham is now also interested.

In his first defense since regaining his 168-pound title from Robert Stieglitz in their rubber match, Abraham, 34, outpointed Nikola Sjekloca on Saturday in Berlin. Now he wants a piece of Sturm, 35, arguably Germany's most popular fighter not named Abraham or Wladimir Klitschko, the heavyweight champion.

"I want to fight two more times after this one in 2014," Abraham said. "Before calling it a career, sitting on the couch and watching TV at age 40, I want to meet Felix Sturm at Berlin's Olympic Stadium. That's what I am dreaming of."

Abraham (40-4, 28 KOs) and Sturm (39-3-2, 18 KOs) are both in the twilight of excellent careers. It would be a spectacle if the fight could be made.

Sturm won a middleweight title for the fourth time in December when he stopped Darren Barker in the second round. If a showdown with Abraham is to happen, Sturm would first need to get past Australia's Sam Soliman (43-11, 18 KOs) May 31 in a rematch.

In their first bout, in September 2012, Soliman won a close decision that was later changed to a no-decision when Soliman tested positive for a banned substance and was suspended by German regulators.
February, 25, 2014
Feb 25
6:57
PM ET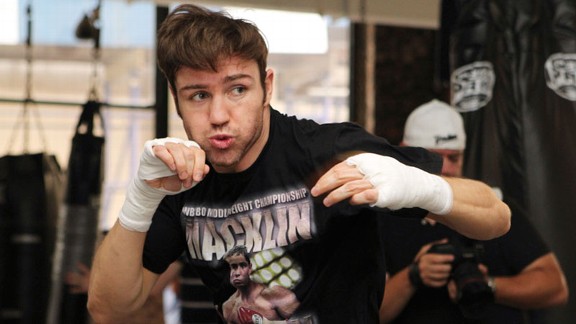 DiBella Entertainment/Ed DillerEngland's Matthew Macklin is pushing for a rematch with Felix Sturm of Germany.
In 2011, England's Matthew Macklin got plain ripped off in a split-decision loss challenging Felix Sturm for his middleweight title in Germany.
I was part of the American broadcast team for the fight on Epix, and I, along with the rest of our the team, thought Macklin clearly won the fight.
A rematch has been discussed on and off since, and, now, those talks are on again as Macklin (30-5, 20 KOs) is coming off a strong performance in a decision win against Lamar Russ in December and Sturm (39-3-2, 18 KOs) regained a title in December by stopping Darren Barker in the second round.
The time has come for Sturm to line up his first defense, and Macklin and England's Martin Murray (26-1-1, 11 KOs), who has a 2011 draw with Sturm, are on top of the list to challenge. Macklin, of course, hopes he gets the fight. After all, Sturm told him that night in Germany in the ring after the fight he would give him a rematch down the road.
The sides have been in discussions, but Sturm has been slow to agree to the fight, according to Macklin.
"We met all of his demands, yet he still won't move forward with the fight," Macklin said. "We agreed to fight him in his backyard for not much money at all. In fact, the purse was less than what I received against Lamar Russ. The money isn't what matters, though. I just want the opportunity to show the world who the better fighter is. I know that I beat him in our first fight, and I know that I will beat him again.
"I believed Sturm to be a great champion and a great warrior, and, with everything that was said after our first fight, we felt that he would want this challenge. We are absolutely shocked that he continues to delay and not just come out and accept the fight. We accepted all of his terms, so what is his excuse? We realize that he has made an offer to fight Murray, but I want to publicly come out and say that if Murray doesn't accept the offer then we are ready, willing and able to make this fight happen right now."
Macklin said he will even agree to give Sturm an immediate rematch should he lose.
"I know that I won the first fight, but I will assure him that if he gives me the opportunity for this second bout, which I know that I will win again, I will promise to give him an immediate rematch," Macklin said.
Promoter Lou DiBella, who said the target date for the fight is May 31, is doing what he can to get the fight done for Macklin.
"Matthew and Felix have history," DiBella said. "Matthew is willing to take the short end of the stick and extremely low money for the opportunity. He wants that fight desperately, and he believes it's the right fight for boxing. We know there's an offer out there also to Murray, but if that fight doesn't happen, we want this fight. Now is the perfect time for Felix and Matthew to have the rematch. These two men have unfinished business."
December, 15, 2013
12/15/13
9:13
AM ET
Middleweight contender Matthew Macklin returned to his winning ways on Dec. 7 by scoring a clear 10-round decision against previously undefeated Lamar Russ and now wants a rematch (one he deserves) with titleholder Felix Sturm.
Macklin (30-5, 20 KOs) beat Russ to rebound from a knockout loss in a title fight to Gennady Golovkin in June and has his eye on Sturm, with whom he has unfinished business. In 2011, Macklin, an Irishman from England, went to Sturm's native Germany and appeared to handily beat him only to lose by split decision in one of the worst decisions of the year.
Sturm would later lose his title, but he won a 160-pound belt for the fourth time on Dec. 7 in Germany by stopping Darren Barker, who was hampered by a hip injury, in the second round. Sturm (39-3-2, 18 KOs) owes Barker a contractually obligated rematch, but Barker may have to retire because of the injury. If he does, Macklin wants the next shot.
"I punched Felix around the ring for 12 rounds in our fight in 2011, only to be robbed in what was described by many as one of the worst, if not the worst, decisions they have ever seen -- 78 percent of German viewers voting online had me winning the fight," Macklin said. "German TV had me winning the fight by four rounds.
"He knows that I beat him and the boxing world knows that I beat him. He has done well to win back the world title for a record fourth time for a German fighter, so for that I congratulate him. But he knows that we have unfinished business and if he's a real man then he will give me a rematch like he promised. Actually, if he's a real man then he should want the rematch for himself."
Lou DiBella, Macklin's promoter, hopes to put the fight together, even though one of his other clients,
middleweight contender Andy Lee, is calling out Macklin
.
"Matthew was deprived of a world title belt the first time that they fought in their great but controversial battle in 2011," DiBella said. "Sturm is a proud champion and I am confident that he will give Matthew his much deserved rematch."
In the 2011 fight, CompuBox had Macklin averaging 92 punches thrown per round, doubling Sturm's output. Macklin also landed 127 more punches and outlanded Sturm in 11 of the 12 rounds.
December, 11, 2013
12/11/13
9:25
AM ET
Former welterweight titleholders Paulie Malignaggi and Zab Judah just concluded their hyped "Battle of Brooklyn" on Saturday night with Malignaggi winning the decision and earning the "King of Brooklyn" tag. So how about we move two divisions north for a middleweight turf battle for Irish bragging rights?

Who's up for a showdown between Ireland's Andy Lee and Matthew Macklin, who is from England, but Irish by family heritage? Good fight, right? I sure think so and so does Lee, who tossed out a challenge to Macklin on Tuesday.

It's been a fight that has been discussed a bit here and there, especially because Lou DiBella promotes both of them. It would be big in Ireland and would surely draw a crowd in New York, where the Irish fans are terrific and very supportive of their fighters.

"Matthew and I have both fought recently, we're both from Ireland, we're both middleweights, we're similarly rated, we're both in a similar position in our careers," Lee said. "So let's give the boxing public the fight they crave for and let the best man win.

"This is a massive fight in Ireland, Boston, Chicago or New York and will pack any venue. I am ready for the fight, we both have the same promoter, Lou DiBella. Therefore, the fight can easily be put together."

If they were to fight, the winner would certainly put himself in a great position to earn another title fight.

Lee (31-2, 22 KOs), 29, has won three fights in a row since his 2012 stoppage loss in a world title fight against Julio Cesar Chavez Jr., including a second-round blowout of Ferenc Hafner on Nov. 23.
Macklin (30-5, 20 KOs), 31, is 0-3 in world title fights, getting stopped by Sergio Martinez (in a highly competitive fight) and Gennady Golovkin but also getting ripped off against Felix Sturm in a terrible split decision.

Macklin righted his ship after the loss to Golovkin last June by winning a clear 10-round decision on HBO against Lamar Russ in an excellent performance on Saturday night on the James Kirkland-Glen Tapia undercard in Atlantic City, N.J. (I consider the horrible Guillermo Rigondeaux-Joseph Agbeko match to be the walk-out bout, and people really did walk out.)

"The fight would be a critical moment in both fighters' careers," Lee said. "A win for either of us would propel us to a world title fight again. Whoever wins the fight will go on and whoever loses the fight will have to either pack it in or start again. It is a fight I want. People talk about it all the time, so let's make it happen."

DiBella said it's possible. But. There's always a but, right?

"Macklin's first choice is to fight Felix Sturm again," DiBella said.

That's a fight DiBella said could happen. Sturm won a title on Saturday by second-round knockout of Darren Barker, who re-injured his hip and could not continue. It's an injury that could cause Barker to retire. If Barker doesn't retire, he has an immediate rematch option to fight Sturm again, which would leave Macklin without the title fight. But if Barker does retire, Macklin could very well face Sturm next.

"Macklin is waiting to see what happens with Barker and Sturm," DiBella said. "In the meantime, we're in a holding pattern. But [Macklin-Lee] is a great fight. It could happen."
November, 7, 2013
11/07/13
11:44
AM ET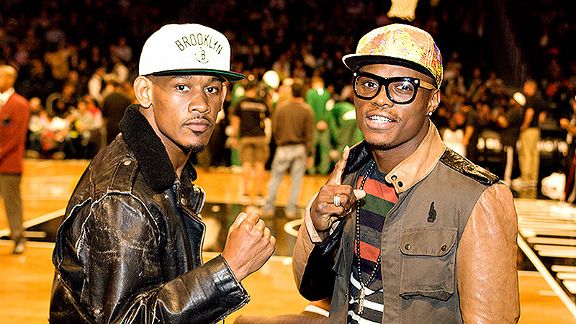 Marty Rosengarten/Hoganphotos/Golden Boy PromotionsPeter Quillin, right, could face Daniel Jacobs next, but he's hoping for a glamour bout soon.
Although Peter Quillin had a tough time of it, he got the job done and retained his middleweight world title for the second time when he stopped Gabriel Rosado on a cut in the 10th round on Oct. 26 in Atlantic City, N.J.
Quillin dropped Rosado in the second round but was having problems in the middle rounds before opening the bad cut on Rosado's left eyelid in the ninth round, which led to the stoppage.
The 30-year-old Quillin (30-0, 22 KOs) deserves credit for getting through a difficult fight, especially given the personal situation he was going through during the last part of his training camp. While in the midst of training in Los Angeles, Quillin's wife, Allison, was home in New York and suffered a miscarriage five months into her pregnancy.
"I struggled with it," Quillin said. "I was obligated to camp, 3,000 miles away, and she had to go through it without me being there to comfort her. We're praying together and I'm working on being more compassionate."
Quillin is putting the miscarriage and the fight with Rosado behind him and has returned to light training, even though he doesn't have his next fight lined up.
"I took a week off and bought my dream car," he said of his new red Corvette Stingray. "I get depressed when I'm not working out. My wife goes to work and I'm all alone. I need to be active to be productive, so I went right back into the gym. My dad taught me how to clear my head. I'm staying ready and in shape, just in case the opportunity for my career-defining fight comes along."
Getting that big fight is going to be tough. Although Quillin might end up defending against Golden Boy Promotions teammate Daniel Jacobs in early 2014, he knows he is a long way from getting one of the big names in the division because of the divide that has his promoter working exclusively with Showtime on premium cable cards while many of the other top middleweights, including champion Sergio Martinez and red-hot titleholder Gennady Golovkin, have been fighting on HBO.
"If the money is right, I'm up for fighting any of the top names, especially Martinez and Golovkin, but everybody's aware of what's going on behind the scenes," Quillin said. "My job is to work hard and be ready."
Quillin offered his take on some of the top middleweights:
Martinez:
"He is the one everybody has as No. 1 in the middleweight division. Martinez has fought some very exciting fights. He's a showman in the ring."
Golovkin:
"A power puncher. Golovkin brings power into the ring and gets a lot of knockouts."
Darren Barker (titleholder):
"He always puts his best foot forward and always tries as hard as possible. Barker and I would bring a lot of fireworks into the ring."
Daniel Geale (former titlist):
"Another exciting fighter who bangs with the best. It worked for a while against Barker."
Felix Sturm (former titlist):
"I haven't seen too much of him. I hope Sturm pursues more fights to make the middleweight division even tougher than it is right now."
Martin Murray (interim titlist):
"He is determined and exciting. I can't take anything away from Murray."
October, 31, 2013
10/31/13
1:19
PM ET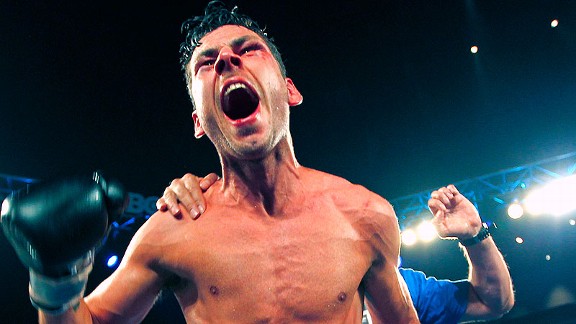 Rich Schultz/Getty ImagesDarren Barker will travel to Germany to fight local hero Felix Sturm in December.
Middleweight titleholder Darren Barker has been in two world fights, both away from his home country of England.
In 2011, he challenged champion Sergio Martinez in Atlantic City, N.J., and although Barker was stopped in the 11th round, he gave Martinez one of his toughest championship fights. In August, Barker returned to Atlantic City and took a well-deserved split decision against Australia's Daniel Geale to win a belt.
Now, with Barker's first title defense set, he'll hit the road yet again, this time going to Stuttgart, Germany, to for a mandatory defense against former three-time titleholder -- and German hero -- Felix Sturm on Dec. 7. Traveling, however, is no issue for Barker. Been there, done that.
"People asked me, 'What are you going to Germany for? You're mad, you're mad,' but it was if somebody had said, 'Here is the winning lottery ticket, do you want to buy it for a quid?' It was a no-brainer, the deal was so good," Barker said. "Aside from that, I am extremely confident of winning. I respect Felix as a former champion, a great fighter with tons of experience, but he hasn't experienced Darren Barker yet."
As the titleholder, Barker (26-1, 16 KOs) would have been entitled to 75 percent of the winning purse bid if the sides had not made a deal, meaning promoter Eddie Hearn of Matchroom Sport would have had the clear advantage if the fight went to auction. However, Hearn and Barker are realists. They wanted to fight Sturm and knew it if it went to a bid, especially if Matchroom had won, Sturm (38-3-2, 17 KOs) likely would have pulled out of the fight.
So Hearn made the kind of deal for Barker that he said was "life-altering money." In addition, he got the Sturm side to agree to neutral officials and a rematch clause for a fight in England in the event Barker loses, an almost unheard-of concession in a mandatory fight.
Barker said he viewed going to Germany to fight on Sturm's turf as though there would be more pressure on Sturm. Barker likes it that way.
"Felix's shows are always spectacular, and I'm sure it will be a sellout and the pressure will all be on him," Barker said. "I've boxed all over the world as an amateur, in some pretty hostile places, and it's never bothered me. It inspires me. I don't worry about the judges. I plan on winning very well, and putting on a fantastic night with lots of my fans coming over."
With the business side of things taken care of, Barker has the utmost confidence in winning.
"The confidence that comes from winning a title is massive," Barker said. "I am looking forward to the fight. Training is going well and is only going to get better, and I can 100 percent guarantee I will be leaving Germany still champion. I am the proud owner of that belt and I look forward to a long reign.
"I have worked so hard to win the title and there's no way I'm letting it go now. [Trainer] Tony [Sims] and I have a game plan in mind and plenty of weeks to work on it day in, day out in the gym, so I am very confident I'll retain my title and do so in style. Felix is a quality boxer and was a great champion and a massive star in Germany. He's beaten some excellent fighters and had a couple of great fights with my Brit rivals Matthew Macklin and Martin Murray. But I truly believe I've got his number. It's a great first defense for me because he's a huge name."
August, 20, 2013
8/20/13
11:45
AM ET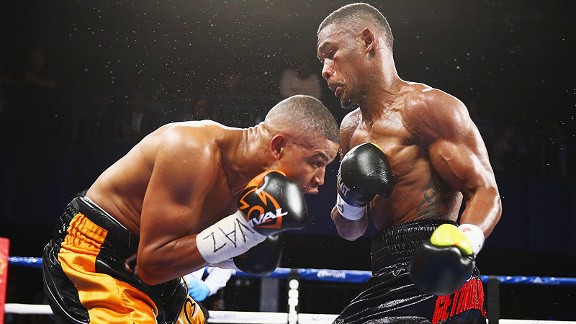 Al Bello/Getty ImagesDaniel Jacobs, right, jumped on Giovanni Lorenzo in the third to score the stoppage win on Monday.
Middleweight Daniel Jacobs was impressive in his third-round knockout victory against former title challenger Giovanni Lorenzo on Monday night in New York. It was the kind of win that will launch him to bigger and better things.
Lorenzo (32-6, 24 KOs), an experienced fighter, had never been knocked out before. All of his losses had come by decision to quality opponents: Sebastian Sylvester and Felix Sturm in world titled bouts, Hassan N'Dam in an interim title bout, and Sam Soliman and Raul Marquez in a title eliminators. But Jacobs (26-1, 23 KOs), fighting in his first hometown main event and headlining a national TV card, overcame a cut to put him away with an impressive flurry of hard blows for the biggest win of his career.
Golden Boy chief executive Richard Schaefer was impressed by Jacobs' performance, as he should have been.
"Stopping a guy who had never been stopped and doing it the way he did, in spectacular fashion was impressive," Schaefer told ESPN.com. "I have no doubt that Danny Jacobs is back and that he deserves to fight for a world title and I will do what I can to give him that opportunity."
Jacobs' story has been well-chronicled: Rising prospect, suffers a knockout loss in a title fight in 2010, diagnosed with a rare form of bone cancer after a couple of more fights, nearly dies, out for 19 months and then makes an amazing comeback in October 2012.
The first three fights of Jacobs' comeback were understandably against soft touches. But Lorenzo is a real guy, so it's a big win.
"There were people who said when Danny came back that he would never be the same as before he got sick, but he is back and he showed that he belongs in this middleweight division," Schaefer said. "After everything he went through, he wanted to make a statement against Lorenzo that he was back and I think that's exactly what he did."
Having passed the Lorenzo test, the obvious fight for Jacobs is a shot against titleholder "Kid Chocolate" Peter Quillin. That is likely an easy fight to make because Golden Boy promotes both fighters and Al Haymon is the adviser for both fighters.
It is the match Schaefer said he hopes to make, although most likely it won't be the next bout for either man. Quillin probably will defend his title in late October, and Jacobs figures to get in at least one more fight this year. But come the first part of 2014, it's a natural match to take place at Barclays Center in Brooklyn, N.Y., where Golden Boy has an exclusive deal to put on boxing events.
"This is a fight I will be discussing with Al to see if it's something which can get done," Schaefer said. "I'd like to make that fight. Whether it's the next fight, I don't know, but Danny showed that he certainly deserves the opportunity. He earned it. Quillin and Jacobs, they are the two best American middleweights so what you have is the two best American middleweights fighting each other. Nothing wrong with that. Both guys from New York, fighting at the Barclays Center? Nothing wrong with that."
Actually, everything is right about that.
May, 27, 2013
5/27/13
12:38
PM ET
Former three-time middleweight titlist Felix Sturm, one of Germany's most popular fighters, is returning to action and hoping to put the misery of his past two fights behind him. Sturm (37-3-2, 16 KOs), 34, announced that he will face an opponent to be determined on July 6 in Dortmund, Germany.

In September, Sturm was upset by split decision in Germany by Australia's Daniel Geale in a world title unification bout. In February, Sturm lost another tight decision in Germany to another Australian, perennial contender Sam Soliman, in a title elimination bout.

However, Soliman tested positive for a banned substance after the fight and the result was changed to a no-contest, leaving the mandatory position in limbo as to who would get a shot at Geale (who, meantime, will defend against Darren Barker on Aug. 17).

There remains controversy over the Soliman-Sturm result because of issues regarding the testing procedure, which agency handled the testing and where the samples were tested. Soliman, who is suspended in Germany but likely could be licensed in Australia, is appealing the ruling.

At the annual IBF convention, which recently wrapped up in Berlin, the organization clarified its position on the mandatory status. Since Soliman's case will take time, the IBF is allowing him to keep his No. 1 position (pending the outcome of the legal appeal) while Sturm will be allowed to participate in another elimination bout, possibly against the obscure Predrag Radosevic (27-0, 9 KOs) of Montenegro, who is next in the IBF's ratings but has never faced anyone halfway decent. If Soliman loses his appeal, the winner of the Sturm eliminator would get the next mandatory title shot against the Geale-Barker winner.

"My loss to Geale was unlucky," Sturm said. "I know I can do better than I did back in September. I'm sure there will be a rematch down the road. But the fans will already see the return of the real Felix Sturm in my next fight. I don't want to say much about the Sam Soliman doping scandal anymore. I stated numerous times that there is no room for cheaters in sports, and I stand by that. I can promise my fans that I'll be middleweight champion for a fourth time pretty soon. I'm 100 percent sure that I have that in me."

Sturm is expected to announce his July 6 opponent in the coming days.
April, 30, 2013
4/30/13
3:50
PM ET


England's Martin Murray knew what he was up against going to Argentina to challenge middleweight champ Sergio Martinez in his homecoming fight Saturday night, and he came close to pulling the upset, too.

He dropped Martinez once officially and could have been credited with another knockdown that was controversially ruled a slip. In the end, all three judges had it 115-112 for Martinez, thrilling the nearly 50,000 who packed a soccer stadium in Buenos Aires.

But even in defeat, Murray showed he is a legitimate middleweight contender and deserves another fight of note.

He'd love another crack at Martinez (51-2-2, 38 KOs), but that isn't going to happen. Martinez re-injured his surgically repaired right knee and broke his left hand. He's out, most likely, until next spring. And even when he returns, Martinez is not going to face Murray (25-1-1, 11 KOs) again. He will move onto something else. Murray understands that.

"I'd love the chance to fight Martinez again, but there's no way I'll get the opportunity," Murray said. "Martinez is amongst the top five pound-for-pound fighters in the world and I had him down twice, bossed him and lost a very close debatable decision in his own backyard, so I think I've proven I belong at world level.

"I'm obviously gutted that I'm not taking that belt home with me but I'm happy and proud that I can leave Argentina with my head held high, knowing that I represented [hometown] St. Helens and Great Britain."

Still, Murray believes he deserved the decision.

"If it was fair scoring, then I would have got the decision but it was always going to be an uphill battle in Argentina and I knew that when I accepted the fight," Murray said. "I just want to say a massive thank-you to my family, friends and team. I'm so lucky to have these people around me, especially Oliver Harrison, who's just an amazing trainer, and I know that one day I'll get them that world title that they all deserve.

"Also, a big thank-you to Sergio Martinez, his team and the people of Argentina. From day one, we were all treated so well and really looked after."
April, 3, 2013
4/03/13
2:42
PM ET

Now that middleweight titlist Gennady Golovkin is safely through his Saturday fight -- having absolutely drilled Nobuhiro Ishida in the third round in a knockout-of-the-year candidate -- attention can turn to a more serious fight for the man called "GGG."

Golovkin (26-0, 23 KOs) is slated to be back in action June 29 at a site to be determined (likely on the East Coast) to headline an HBO tripleheader. He will be making his eighth title defense and fighting for the third time already this year. Golovkin's opponent will likely be the one I have been hoping it would be (and the one HBO wants): Great Britain's Matthew Macklin (29-4, 20 KOs).

Promoter Lou DiBella said both fighters have accepted the bout, and he is working to finalize the details with K2 promoter Tom Loeffler.

I see no possible way this can't be an exciting fight. Golovkin is one of the most fan-friendly fighters on the planet and is in such a groove right now it is scary. Macklin is a quality contender who is also a regular crowd pleaser.

Although Macklin is just 1-2 in his last three fights, let's go beyond the record. In June 2011, he lost a split decision in a world title fight to Felix Sturm on Sturm's turf in Germany. Macklin was robbed, simple as that. He won, and did so rather easily in my view, but was absolutely ripped off.

His performance against Sturm was so good that it got him a shot at Sergio Martinez, the legitimate 160-pound champion. They met in March 2012 at the Madison Square Garden Theater in New York and produced a compelling and competitive fight. Macklin dropped Martinez in the seventh round before being stopped in the 11th round. Then, in Macklin's ring return, he starched former junior middleweight titlist Joachim Alcine in the first round on the Martinez-Julio Cesar Chavez Jr. undercard last September.

Macklin is a worthy opponent for Golovkin, who has not had any other top middleweight contenders or titleholders show a willingness to face him. So props to Macklin for taking the fight a few months after he and Golovkin went back and forth a bit on Twitter about the proposed fight. Now DiBella and Loeffler are finishing a few details, DiBella said.

The two other featured fighters on the card are supposed to be Cleveland junior middleweight Willie Nelson (20-1-1, 12 KOs), who is on a very nice run and looking quite formidable, and super middleweight contender Thomas Oosthuizen (21-0, 13 KOs), a lanky lefty from South Africa.

Nelson, who is starting to win me over, doesn't have an opponent yet. He has beaten three solid opponents in a row. He is coming off a blazing first-round destruction of Michael Medina on March 1. But before that, he upset John Jackson (one of former champ Julian Jackson's sons) on the Martinez-Chavez Jr. undercard and also outpointed former Cuban amateur standout Yudel Jhonson.

Oosthuizen is my kind of fighter. He has skills and size (and a good chin) but is also more than willing to take two shots to give one. He's a crowd pleaser.

DiBella and promoter Dan Goossen are trying to close the deal to match Oosthuizen and Brandon Gonzalez (17-0, 10 KOs), of Sacramento, Calif. Gonzalez recently withdrew from an April 12 ESPN2 undercard fight because of a hamstring problem, but he is expected to be just fine to lace 'em up for June 29.

September, 11, 2012
9/11/12
1:01
PM ET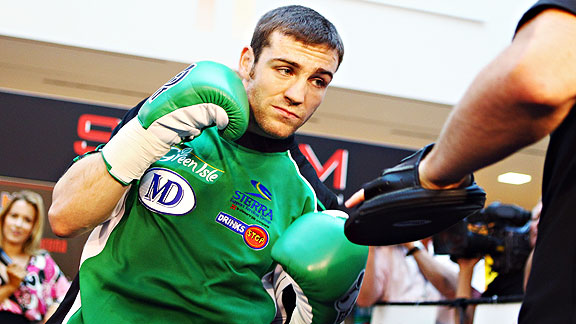 Alex Grimm/Getty ImagesMatthew Macklin hopes a win over Joachim Alcine can lift him to a third shot at a middleweight title.
LAS VEGAS -- When last seen in the ring, middleweight contender Matthew Macklin had given lineal champion Sergio Martinez a very tough fight in March.
Macklin knocked the champ down in the seventh round but could not capitalize. Martinez, who is a great finisher, rallied to drop him twice in the 11th round before Macklin's corner stopped the fight at the end of the round.
It was a gallant effort, one that came on the heels of a June 2011 fight on the home turf of then-titleholder Felix Sturm in Germany. Despite appearing to many that he clearly won, Macklin was robbed when two judges gave Sturm the hometown split decision.
Macklin will now make his return on the undercard of Martinez's championship fight with Julio Cesar Chavez Jr. on Saturday (HBO PPV, 9 ET, $49.95) at the Thomas & Mack Center in Las Vegas.
"Macklin put his name into the world boxing scene with great back-to-back performances against Felix Sturm and Sergio Martinez," said Lou DiBella, who promotes Macklin and Martinez. "While he came up a little short in those world title opportunities, he is hungrier than ever and looking to move himself back into the title picture."
Macklin (28-4, 19 KOs), an Irishman from England, will face former junior middleweight titlist Joachim Alcine (33-2-1, 19 KOs) of Canada hoping a win will set him up for another title shot.
"Regardless of how the fight goes, I'd love a shot at the winner," Macklin said. "But obviously I'm going to have to take care of business against Alcine first and that's my only priority right now. I think my last two fights have proven that I'm right up there at the top of one of the most exciting weight divisions in boxing right now.
"I have the utmost respect for Sergio. He won fair and square but there was nothing between us going into the 11th round. I was ahead on one of the cards by three rounds and only a point down on the other two cards, so it was very much all to play for. I still feel like I can improve an awful lot on that performance. I'd been out of the ring for nine months beforehand and had just started working with Buddy McGirt again as my trainer so I think with another camp with Buddy under my belt I will be able to show that I'm still an improving fighter."
Saturday's fight will be Macklin's fourth in the United States but his first in Las Vegas, where he has always wanted to fight.
"I've been going to Las Vegas for a long time both as a fight fan and when I was in the Ricky Hatton camp for his big fights," Macklin said. "I was due to fight Winky Wright there last year but he pulled out and the fight fell through, so I'm looking forward to finally fighting there on such a big night for the middleweight division.
"[Martinez-Chavez is] probably the most important middleweight fight since Bernard Hopkins fought Felix Trinidad back in 2001, so it's a fight I would definitely have been ringside for even if I wasn't fighting on the card. It's an intriguing fight. I'm leaning towards Sergio because he's an exceptional athlete, but Chavez was very impressive last time out against Andy Lee. He's a huge middleweight, he's very strong, closes the distance well and varies his punches. However, Sergio has quicker feet, he's very hard to pin down and his reflexes are excellent so I'd slightly favor him. But it wouldn't be a huge surprise if Chavez pulled it out."
Macklin trained in Spain, where he had opened a gym, and has been in Las Vegas finishing up for the past two weeks. He said he respects Alcine, who rejuvenated his career in December with an upset decision win against Montreal rival David Lemieux.
"Alcine is a proven fighter, he's a former world champion who has campaigned at the highest level and it's a massive opportunity for both of us to feature on a live HBO Pay-Per-View event," Macklin said. "He's coming off a great win over Lemieux, so I'm sure he will be coming into this with a lot of confidence. So it's up to me to burst his bubble."
May, 15, 2012
5/15/12
12:36
PM ET
Middleweight titlist Gennady Golovkin wants the major fight that he deserves and that he is mandatory for against Germany's Felix Sturm.

But I don't think Sturm, the WBA's so-called "super champion" to Golovkin's "regular champion" designation, wants any part of Golovkin, a wrecking machine from Kazakhstan who would be a dangerous opponent for any 160-pounder on the planet.

Golovkin, a 2004 Olympic silver medalist, knows Sturm from their days together when both were promoted by Germany's Universum. He has a theory on why Sturm hasn't shown any interest in facing him and has tried to avoid the mandatory for as long as possible.

"Sturm and I were both with Universum Box-Promotion. We knew each other pretty well," Golovkin said. "We used to see each other in the gym all the time. We trained together, but we never sparred together. I believe that the reason why Sturm does not want to fight me is because he knows me well and knows that he can't beat me. He knows me and I know him, and I want the fight."

On Saturday in Ukraine, Golovkin (23-0, 20 KOs) retained his belt with a violent third-round destruction of Japan's overmatched Makoto Fuchigami (19-7, 10 KOs). With Fuchigami dismissed in bloody fashion, Golovkin now wants the fight with Sturm (37-2-2, 16 KOs), which is due by Sept. 30.

It remains to be seen whether Sturm will fight him, but Golovkin's camp plans to press for the bout as hard as it can.

"The deal we made with the WBA is that Sturm was allowed a voluntary defense, and if he wins, his next fight will be a mandatory defense," said K2 promoter Tom Loeffler, who promotes Golovkin as part of the Klitschko brothers' stable of fighters. "They have been ordered to make that fight by Sept. 30. At this point, Sturm is running out of options. Sturm, at this time, holds the record for being a champion the longest without having a mandatory defense. Two years ago, Gennady was the interim champion and Sturm was the WBA champion. Sturm then got elevated to super champion. For the last two years, Gennady has been trying to fight him."

Golovkin, who has traveled to New York to meet with American television network executives, hopes to fight in the United States -- but only after the fight with Sturm, if it happens.

"I want the fight with Felix Sturm," Golovkin said. "That is the only fight I really want at this time. I do think he will get in the ring with me by Sept. 30. If that doesn't work out, I can move to either 154 or 168 if I need to find another opponent. Whatever it is, I want the best fights against the best opponents. I will fight [Dmitry] Pirog or any of the other [middleweight] champions. Right now, it doesn't matter who my opponent is or what weight I fight at."