Dan Rafael:

Felix Trinidad
February, 19, 2015
Feb 19
8:27
PM ET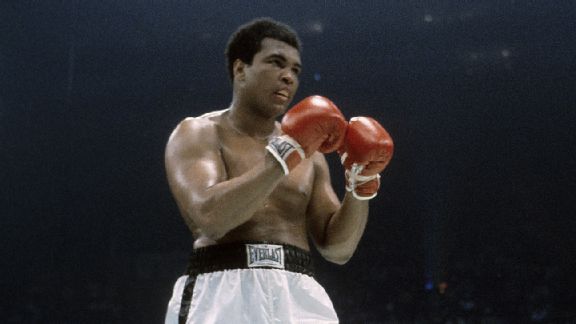 Getty ImagesMuhammad Ali will be inducted into the Nevada Boxing Hall of Fame in August.
The Nevada Boxing Hall of Fame's 2015 class was announced on Thursday with all-time greats Muhammad Ali and Sugar Ray Robinson leading the way in the 21-person class.
Honorees for the Nevada Hall's third class were chosen in four categories: Nevada resident boxers, non-Nevada resident boxers, pioneers and non-boxer participants.
Among the honorees are 11 men who have previously been inducted into the International Boxing Hall of Fame.
"We are very excited about our 2015 class of inductees. They are among the most glamorous and significant names in boxing history, and all have unmistakable connections to Nevada," Rich Marotta, founder of the Nevada Hall and chief executive officer, said at a news conference at the Roy Jones Jr. Fight Academy in Las Vegas. "We plan to make our induction weekend in August the best ever."
The Nevada Boxing Hall of Fame induction dinner and ceremony will be held in Las Vegas in August at a site to be announced.
Seven men were elected in the non-Nevada resident boxer category, led by three-time heavyweight champion Ali and former middleweight and welterweight champion Robinson, who is widely considered the greatest fighter in boxing history.
Others in the category include former middleweight champion Marvelous Marvin Hagler, former heavyweight champion Lennox Lewis, former three-division champion Marco Antonio Barrera, former three-division titleholder Felix Trinidad and former middleweight champion Gene Fullmer, all of whom had some of their biggest fights in Las Vegas.
The three inductees in the Nevada resident boxer category are former junior lightweight and junior welterweight world champion Roger Mayweather, who fought 41 times in Nevada and went on to become a top trainer; former light heavyweight champion Eddie Mustafa Muhammad, now a top trainer and Nevada resident; and the late Johnny Tapia, a three-division champion who had some of his biggest fights in Nevada before he died in 2012.
Five were elected in the pioneer category: James J. Corbett (who fought 21 times in Nevada and fought Bob Fitzsimmons in the first world title bout in the state), Fitzsimmons, Jack Johnson, Joe Gans and promoter Tex Rickard.
In the non-boxer participants category six were elected: Lee Samuels, the longtime publicist for Las Vegas-based Top Rank; husband and wife duo Pat and Dawn Barry, who are heavily involved in Nevada's amateur boxing program; longtime Reno Gazette-Journal boxing writer Steve Sneddon; longtime ringside physician Dr. Donald Romeo; famed ring announcer Chuck Hull; and Dr. Robert Voy, a highly respected ringside doctor.
June, 6, 2014
6/06/14
5:32
PM ET

NEW YORK -- There is plenty of opinion on who will win the fight between middleweight champ Sergio Martinez and Miguel Cotto on Saturday night (HBO PPV, 9 ET) at Madison Square Garden. How about some celebrity and athlete picks?


Mike Tyson: "This will be a defining moment for Cotto. If he gives his absolute best and uses everything he has learned from his experience in boxing, he will give a great account of himself. I would like to see him do well because he has gotten some bad breaks in his career. He is going to have to cut Martinez off in the ring because he is a great mover. He's like a tango mover when he boxes. My personal opinion, I think this is going to be one of the greatest fights of the year. I am looking forward to taking my wife on a great date night to celebrate our fifth anniversary."

Felix Trinidad: "It is an interesting fight for the boxing world and also for Team Cotto. Cotto should win by decision."

Sugar Ray Leonard: "I've met both of these incredible fighters with such a wonderful demeanor outside the ring, and the question is who has the most boxing ingredients left at this point in their career? Sergio always will have that power, which never leaves a boxer even past his prime, and Cotto will always have that knowledge to break down an opponent during the fight. A slight edge to Cotto, but don't bet the house. Good luck to two great fighters and decent men!"

Rosie Perez: "Both are excellent fighters. And most have Martinez winning this match. And no disrespect to Sergio, who I love. But are you kidding me? How can I not root for my fellow Boricua? I'd be run outta town! Win, lose or draw, Miguel Cotto!"

Brandon Jacobs: "I am a big Cotto fan. I think he's outmatched in this fight. He's the smaller guy, plus his hand speed isn't faster. I'd love for Cotto to beat this guy, but I don't think it's going to happen."

Micky Ward: "Sergio by close decision. He must use his smarts or Cotto will take it."

Reggie Miller: "Martinez will take it. He's bigger, stronger and more physical."
June, 4, 2014
6/04/14
10:08
PM ET

Oscar De La Hoya, who won 10 world titles in a then-record six weight classes, was one of the best fighters of his time and the most popular fighter of his day. On Sunday, he will be inducted into the International Boxing Hall of Fame in Canastota, New York, along with two other first-ballot inductees, Felix Trinidad and Joe Calzaghe.

De La Hoya touched on a variety of topics during our interview earlier this week. Here's what he had to say on some subjects:

Going in with Trinidad, who outpointed him by majority decision in a very controversial 1999 welterweight unification fight

"We have a great relationship. Every time we see each other we can hug each other and laugh. We don't even talk boxing, that's how good of relationship we have. He's a great guy. He was such a people's champion. Along with Calzaghe, this class is three guys who are fighters inside the ring but are good people outside the ring.

"It makes it more memorable to be going in with Trinidad. But I know I absolutely won the fight (laughing)."

The best performance of his career

"It has to be the first Julio Cesar Chavez fight [to win the junior welterweight title by fourth-round knockout in 1996]. I could have faced the heavyweight champion at the time and I was very confident I would beat him. I felt unstoppable. I felt like the stars were aligned. Everything was perfect. I felt like I was floating in the ring. I felt powerful, compact, every punch was perfect. My movements side to side, even when I was in the ropes, the defense, everything was working. I was so focused. I was in the zone. It is an amazing, amazing feeling, that rush of knowing that victory is in your hands."

The worst performance of his career

"I would have to say the Felix Sturm fight [to claim a middleweight belt by controversial decision in 2004]. I was facing a 160-pounder no one knew of but he was tough as nails, a good boxer, and I took the challenge because I wanted to be the best at 160. I was very ambitious. Truthfully, and I'm not one to make excuses, but I took the guy lightly. I was like, 'Who is he?' I trained in Vegas for a month. I remember gambling, staying up to 3, 4 in the morning. I made it difficult for myself. Truthfully, you feel you're the winner when you win and the referee is holding your hand in the air. But I didn't feel like I was the winner that night. I just didn't feel victorious that night. I didn't feel like the champion. There were times I did feel like the champion when I didn't get the victory."

On other close fights he had

"I did feel like the victor, like the champion, when I fought [Pernell] Whitaker and [Ike] Quartey [and got close decisions]. One fight I felt like the winner was when I fought Shane Mosley the second time and they gave it to him. You can make an argument I beat Floyd Mayweather. I felt as the champion that I did enough to win. That's the beauty of the sport. When you have these close fights it can go either way. Whether I lost or won I'm OK with it."

Most important win

"I would have to say Fernando Vargas [by 11th-round knockout to unify junior middleweight titles in 2002], because it not only showed me, but a lot of people, that I have that eye of the tiger, that I can dig deep down and win fights and that I'm not afraid to stand toe-to-toe, not afraid to bleed. He didn't knock me down but that night I could have gotten knocked down five times and still gotten back up. It was personal, which made it that much more intense."

Most satisfying win

"The second Chavez fight [to retain the welterweight title by eighth-round knockout by making Chavez quit]. The first time I fought him all the Mexican nationals and all Chavez fans were all against me. You have this kid born in the USA, but he's not Mexican enough. They were like, 'He doesn't fight like a Mexican,' and they were questioning my manhood. So when I stopped him no one gave me credit for it because Chavez was cut.

"In the rematch I beat him at his own game. I stayed flat-footed and fought him toe-to-toe. He hit me with a right hand in the first round, if he would have continued the attack he would have knocked me out. He didn't know I was hurt. I played it off perfectly. That I could take his punches and that I stopped him, made him quit, it was so satisfying. It showed the nonbelievers that I have what it takes, that I wasn't just a pretty face and a gold medal. It's blood and guts. I never expected him to quit. It was satisfying. But it was a double-edged sword because I just stopped my hero."

What fight didn't De La Hoya get that he wanted most?

"I would have loved to fight [Hall of Fame junior welterweight champion] Kostya Tszyu. We talked about it a lot but I never understood why I didn't fight him. It would have been at 140 pounds. That was one of my best weight classes. It would have been a great fight. He had a lot of toughness. He was a great fighter.

"And a rematch with Trinidad. That would have been satisfying. I never understood why I didn't have a rematch. I would have loved a rematch."
December, 4, 2013
12/04/13
1:47
PM ET
The International Boxing Hall of Fame class of 2014
was announced
Wednesday, with the 25th annual induction ceremony set for June 8 at the Canastota, N.Y., shrine.
Inductees were voted on in five categories: modern, old-timer, pioneer, nonparticipant and observer. As a full member of the Boxing Writers Association of America, I vote in the "modern" category (for fighters whose last bout came no earlier than 1943). I am here to unveil my ballot, which I cast shortly after receiving it in early October.
Each year, only three new names are added to the 45-man ballot to replace the three elected the previous year, although voters are allowed to vote for up to 10 candidates. (I have my issues with the lack of deserving names added, but that's a gripe for another day.)
This year was an exceptionally easy ballot to vote on. I voted for four candidates, including all three newcomers -- Oscar De La Hoya, Felix Trinidad and Joe Calzaghe -- and one holdover -- Prince Naseem Hamed -- whom for years I have steadfastly been voting for and making the case to anyone who will listen that he deserves to be in the HOF.
Voting for the three newcomers was a no-brainer.
De La Hoya (39-6, 30 KOs) won an Olympic gold medal in 1992 and 10 professional world titles in a then-record six weight divisions during his career from 1992 to 2008. For most of that stretch, he was the face of boxing. He was exciting, one of the pound-for-pound best and easily boxing's biggest star.
He didn't win all of his big fights -- including getting ripped off against Trinidad when they met as undefeated welterweight champions in 1999 (in a pay-per-view that, at the time, set the record for a non-heavyweight fight at 1.4 million buys) -- but "The Golden Boy" from East Los Angeles accomplished a lot.
De La Hoya won world titles at 130, 135, 140, 147, 154 and 160 pounds and faced a who's who, including Hall of Famers Julio Cesar Chavez Sr. (twice), Pernell Whitaker and Arturo Gatti, all of whom he beat. He also defeated Ike Quartey, Fernando Vargas, Javier Castillejo, Ricardo Mayorga, Felix Sturm, Hector Camacho Sr., Miguel Angel Gonzalez, Genaro Hernandez, James Leija, Rafael Ruelas and John Molina.
And when De La Hoya lost, it was only to the best: Trinidad, Bernard Hopkins, Floyd Mayweather Jr. (in the best-selling fight in history, nearly 2.5 million PPVs), Manny Pacquiao and Shane Mosley (whom he was robbed against in their rematch).
Even if you think Trinidad (42-3, 35 KOs) got a gift against De La Hoya, he's still a slam-dunk HOFer and one of the best in Puerto Rican history. He won five world titles in three divisions (welterweight, junior middleweight and middleweight) and thrilled fans with electrifying punching power throughout his 1990 to 2008 career, which included two retirements before he walked away for good following a decision loss to Roy Jones Jr. in a meeting of two superstars well past their prime.
Trinidad was just 20 when he pulverized Maurice Blocker to win a welterweight title in 1993 and made 15 defenses before moving up in weight after the De La Hoya fight. "Tito" also beat Whitaker, Vargas (in an epic 2000 junior middleweight unification fight), Camacho, David Reid, William Joppy and Mayorga.
His three losses came in his final five fights, to Hopkins for the undisputed middleweight title in 2001 and decisions to Winky Wright (2005) and Jones at 170 pounds.
Calzaghe (46-0, 32 KOs) is the best fighter to come out of Wales and is the rare fighter to retire undefeated after a career from 1993 to 2008 in which he unified super middleweight titles and won the lineal light heavyweight championship.
He won a vacant super middleweight title against British great Chris Eubank in 1997 and defended it 21 times, including unifying titles against Jeff Lacy in 2006 and Mikkel Kessler in 2007 in one of the biggest 168-pound fights in history.
Then Calzaghe came to the United States and outpointed Hopkins to win the lineal light heavyweight championship and defended it once, easily outpointing Jones and then retiring despite big money offers for other bouts.
I think the case for England's Hamed (36-1, 31 KOs) to be voted in is an easy one also. I explained my reasoning on a 2011 column in which I wrote this:
He was flashy and rubbed a lot of people the wrong way with his outlandish trash talk and arrogant attitude.
Sometimes I think people let that get in the way of the fact that, yes, he could fight, even if his technique was flawed and relied too much on his massive one-punch power. He also only fought for only 10 years (1992 to 2002) and lost his biggest fight, a clear decision in a showdown with future Hall of Famer Marco Antonio Barrera in 2001, after which he only fought once more. I also dock him points for blatantly ducking Juan Manuel Marquez.
However, a fighter must be judged on whom he did fight and Hamed fought everyone else. When he was active, he brought excitement like nobody else and should be respected for many accomplishments.
Not only did Hamed have massive power and a strong resume, he gets points from me for changing the economics of the smaller divisions. Before Hamed, featherweights -- and fighters even smaller -- making seven-figure purses was almost unheard of. After the Hamed era, it became the norm for the smaller superstars.
Hamed was, for years, considered the best featherweight in the world, ranked on the pound-for-pound list and, in an era of watered down titles and four major belts, should have held all four simultaneously but for boxing's politics, which actively work against that. He defeated alphabet titleholders Steve Robinson (TKO8), Tom Johnson (TKO8) and Cesar Soto (W12) to claim belts. He also beat Wilfredo Vazquez (TKO7), who had been stripped of his version of the title for facing Hamed.
Other notable names Hamed beat: Kevin Kelley (their 1997 fight was one of the most exciting fights of the decade), Wayne McCullough, Paul Ingle, Vuyani Bungu and Manuel Medina. Overall, Hamed defended his WBO version of the title 15 times and held the lineal 126-pound championship for three years, all while bringing extraordinary excitement and showmanship to a small weight class that had never seen the infusion of money it enjoyed during Hamed's heyday.
June, 13, 2013
6/13/13
1:42
PM ET


One of the best national rivalries in boxing, of course, is Mexico versus Puerto Rico. Many trace the birth of the rivalry to a 1934 bantamweight championship bout in which Puerto Rico's Sixto Escobar became the first world champion from the Caribbean island when he knocked out Mexico's Rodolfo Casanova. Since then, there have been numerous memorable clashes between fighters from each country.

Among the most memorable are these epic battles: Puerto Rican Wilfredo Gomez's fifth-round TKO of Carlos Zarate to defend the junior featherweight title (1978); Mexican Salvador Sanchez's eighth-round knockout of Gomez to retain the featherweight title (1981); Gomez stopping Lupe Pintor in the 14th round in defense of the junior featherweight title (1982); and Mexican legend Julio Cesar Chavez's 11th-round TKO of Edwin "Chapo" Rosario to win the lightweight title (1987), then a defense against Hector Camacho (1992).

If you add Mexican-Americans to the equation, you can't leave out Puerto Rican Felix Trinidad outpointing Oscar De La Hoya in their controversial welterweight unification fight (1999) and Trinidad's 12th-round knockout of Fernando Vargas to unify junior middleweight belts (2000).

Although I covered Trinidad-Vargas, the most significant fights in the rivalry in my time on the boxing beat are the memorable bouts between Puerto Rico's Miguel Cotto and Mexico's Antonio Margarito.

"It's one of the best rivalries, and it's great to be part of the rivalry," Cotto said before the first fight. "This is another chapter, and it's good for us. We want to make this fight at the level of those in the past. Everybody knows about the rivalry. Now it is me against Margarito. This fight will add another shot to the rivalry."

Boy, did they.

The Cotto-Margarito fights had an intensity like no others, and that was even before anybody suspected that Margarito may have cheated by wearing loaded hand wraps in their first violent fight, an 11th-round knockout win for Margarito in 2008 in which he won a welterweight title in Las Vegas.

"If you put a Puerto Rican boxer in with a Mexican boxer, you will have a good fight," Cotto said before meeting Margarito for the first time.

Usually, that's exactly the case, and Cotto and Margarito waged a thrilling fight, which had appropriately been titled "The Battle" in the buildup to the pay-per-view.

Much of the discussion in the prefight hype was centered on the great Puerto Rico-Mexico rivalry -- a Mexican and Puerto Rican have fought for a world title more than 60 times -- and the fight more than lived up to it.

"I have people coming up to me all the time to talk about it," said Margarito, speaking about the rivalry before the first fight. "It's a thing of pride, which I feel myself. But the important thing is the fight between us. We'll be up in the ring and, yes, we carry our countries behind us and, yes, people come up to me and say, 'Hey, do this for the country.' I feel it. I say I will take this belt back to my country."

It was only well after the fact that Cotto and many others suspected that Margarito had worn loaded wraps in the fight because it was before his next bout, against Shane Mosley, that he was caught trying to enter the ring wearing illegal wraps coated in a plaster-like substance.

The stage was set, obviously, for an eventual Cotto-Margarito rematch. After Margarito had his license revoked and didn't fight for 16 months, he came back for a tune-up fight and then got destroyed by Manny Pacquiao, but the lure of a second fight with Cotto was still there.

The second meeting, in December 2011, only deepened the rivalry between the fighters and the countries, given the overwhelming bad blood between Cotto and Margarito. This time they fought on Cotto's turf -- New York's Madison Square Garden -- where his fans were out in force. And in one of the most bitter revenge fights in history, Cotto hammered Margarito's surgically repaired right eye and stopped him in the 10th round for a deeply satisfying victory.

The passion that Cotto, Margarito and their fans brought to the two fights -- built largely on nationalism, which has always been important in boxing -- was as good as it gets.