Dan Rafael:

Fernando Guerrero
May, 21, 2014
May 21
4:25
PM ET
Although light heavyweight champion Adonis Stevenson is the star of the show on Saturday night, Showtime (9 ET/PT) and Showtime Extreme (7 ET/PT for preliminary bout coverage) will have a full night of action with five televised fights from the Bell Centre in Montreal.
[+] Enlarge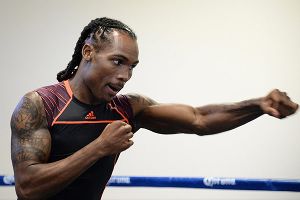 Gene Blevins/Hoganphotos/Golden Boy PromotionsUnbeaten junior middleweight Jermell Charlo will face Charlie Ota on Saturday in Montreal.
In the main event, of course, Montreal's Stevenson (23-1, 20 KOs) defends the world title against Andrzej Fonfara (25-2, 15 KOs) of Chicago in a long-planned fight that will take place on Showtime instead of HBO because Stevenson's handlers, adviser Al Haymon and promoter Yvon Michel, engineered his exit from HBO and a much-anticipated fall fight with titlist Sergey Kovalev (although they are all being sued over the Kovalev situation).
There are also two 10-rounders on the Showtime portion: Montreal middleweight puncher David Lemieux (31-2, 29 KOs) against former title challenger Fernando Guerrero (26-2, 19 KOs) of Salisbury, Md., and Houston junior middleweight Jermell Charlo (23-0, 11 KOs) against Japan-based New Yorker Charlie Ota (24-1-1, 16 KOs). Naturally, Haymon is involved in all three fights as he also works with Guerrero and Charlo.
There will also be a pair of scheduled 10-rounders on Showtime Extreme as junior middleweight Julian Williams (15-0-1, 9 KOs) of Philadelphia faces Michael Medina (26-4-2, 19 KOs), of Modesto, Calif., and Montreal light heavyweight Eleider "Storm" Alvarez (14-0, 8 KOs), a Colombia native, faces Alexander Johnson (15-1, 6 KOs), of Washington, D.C.
Originally, one of the undercard fights was to feature Russian light heavyweight prospect Artur Beterbiev (4-0, 4 KOs), now based in Montreal, facing the long-faded former super middleweight titlist Jeff Lacy (26-4, 19 KOs). However, Beterbiev broke a finger and the fight was canceled.
October, 29, 2013
10/29/13
9:22
AM ET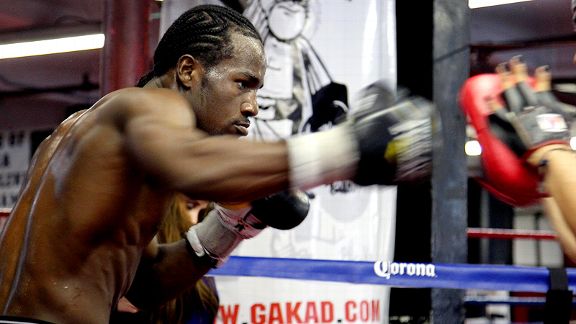 Tom Casino/ShowtimeFernando Guerrero is ready to get back in the saddle after a setback in his first world title shot.
Time to get back to work for middleweight Fernando Guerrero.
On April 27, in his first shot at a world title, Guerrero took it on the chin. Hard. He was whacked around, dropped four times and stopped in the seventh round by Peter Quillin.
Now Guerrero (25-2, 19 KOs), a 27-year-old southpaw from Salisbury, Md., will try to put that disaster behind him and is set to make his ring return. He will face Raymond Gatica (31-1, 8 KOs) in a scheduled 10-rounder on Nov. 11 (Fox Sports 1, 10 p.m. ET) at the Cowboys Dancehall in San Antonio.
"I'm excited to return to the ring and get back in the title picture," Guerrero said. "The Texas fans were great to me when I fought there against J.C. Candelo last year, and I promise to give them another show to remember on Nov. 11."
Gatica, 29, of Austin, Texas, has won two fights in a row by fourth-round knockout this year, following a three-year layoff on the heels of his lone defeat, a sixth-round knockout to Mark Melligen in a welterweight fight.
"Fernando Guerrero is a big name in the division, and I have a lot of respect for him," Gatica said, "but I have every intention of beating him in front of my fellow Texans and making a big statement."
Guerrero-Gatica will serve as the co-feature to the scheduled 10-round main event between southpaw junior welterweights Fidel Maldonado Jr. and Luis Ramos Jr.
Middleweight Terrell Gausha, a 2012 U.S. Olympian, is also on the card in an eight-rounder against an opponent to be determined.
May, 9, 2013
5/09/13
4:38
PM ET
Middleweight titlist "Kid Chocolate" Peter Quillin has looked quite impressive in his recent fights.

In his last three bouts combined, decisions against Winky Wright and Hassan N'Dam (to win a belt) and a seventh-round knockout of Fernando Guerrero on April 27, Quillin (29-0, 21 KOs) has scored 11 knockdowns. He dropped Wright once, N'Dam six times and Guerrero four times.

Now Quillin wants to unify the titles, even though it won't be easy for those fights to be made.

"I want to fight one of the other champions," Quillin said. "Sergio Martinez would be my first choice, but he's injured and out for the rest of the year. [Daniel] Geale is the IBF champion, and that, right now, looks like the easiest unification fight to make."

Gennady Golovkin, who defends against Matthew Macklin on June 29, also holds a belt. But the reason that unification fight is unlikely is simple: Quillin is with Golden Boy Promotions, which has all its notable fights on Showtime at the moment. Martinez and Golovkin are HBO fighters, which makes either of those bouts nearly impossible to make. Geale, who is with promoter Gary Shaw, has no network allegiance in the United States. However, Shaw is close to HBO, and Showtime is doing business with Golden Boy only these days.

Still, Quillin wants people to know that he is ready, willing and able to unify 160-pound belts.

"We'll fight anybody in a unification or major fight," said John Seip, who co-manages Quillin with Jim McDevitt. "Peter was awesome in his last fight. He really hurts his opponents with both hands. He connected on 50 percent of his power punches against Guerrero, and that's an astronomical number. Nobody in this division can handle him. It's a numbers game now. The promoters and networks have to put egos aside and give fans what they want with Peter in a major fight.

"You don't make big money winning the world title belt; you do retaining it, and now it's time for Peter to reap the fruit of his labor. The biggest market in boxing is in America, and a unification fight belongs here. Martinez is out with injuries, [Julio Cesar] Chavez [Jr.] won't fight us, Golovkin has a fight at the end of June, but Geale interests us."
April, 30, 2013
4/30/13
4:11
PM ET


How about some fighter picks for the two main bouts on Saturday's big Showtime PPV card at the MGM Grand in Las Vegas, Floyd Mayweather Jr. versus Robert Guerrero and Daniel Ponce De Leon versus Abner Mares?

Here are some predictions on Mayweather-Guerrero, thanks to Showtime:

Canelo Alvarez: "Robert Guerrero has a great opportunity to win. He's hungry for glory and will try everything to get the victory. I am picking Guerrero."

Danny Garcia: "Floyd Mayweather all the way. Robert Guerrero is a good fighter. He earned his shot, but Mayweather is the star."

Mares: "Floyd Mayweather is such a talented fighter and he backs it up. He talks a lot, but he backs it up. I know Robert Guerrero is hungry and determined, but wanting to win doesn't get you a win. It's about what you can do inside the ring, and that's why Mayweather will win."

Ponce De Leon: "I think Robert Guerrero can win if he fights the same way he fought Andre Berto, pressing the action like Jose Luis Castillo did against Floyd Mayweather. However, Mayweather is a great fighter and so difficult because his style, but I think Guerrero will win."

Peter Quillin: "I never count Floyd Mayweather out. He's the best pound-for-pound fighter. He's who every fighter looks up to. I call it the Floyd Mayweather era of boxing. Robert Guerrero wanted this for a long time. He's a multi-division champion and he deserves it. They both have something to prove. I don't know who to pick here."

Fernando Guerrero: "You can never bet against Floyd Mayweather. He's just overall one of the best fighters ever. Gotta go with Mayweather."

J'Leon Love: "Floyd Mayweather is too intelligent of a fighter."

Leo Santa Cruz: "That is going to be another hard fight. I think Floyd Mayweather has more experience and he's smarter. He knows what he has to do to win. Guerrero is a good, smart fighter, but I think Mayweather is going to take it by decision."

Austin Trout: "I'm picking Floyd Mayweather, but this fight is not as easy as everyone thinks it'll be. Robert Guerrero is hungry and has the ability to make it a tough fight."

And here are some predictions on Ponce De Leon-Mares:

Robert Guerrero: "Both Daniel Ponce De Leon and Abner Mares are great Mexican warriors. Mares is going to come forward with pressure and Ponce De Leon will counter. I'm picking Ponce De Leon to win by a close split decision."

Garcia: "I'm taking Daniel Ponce De Leon. I don't really see Abner Mares pulling it off at 126 pounds. That's a tough fight."

Quillin: "A lot of people don't give Abner Mares the credit he deserves. Daniel Ponce De Leon has a rough, rugged style. I see Mares putting on a great performance against a guy like Ponce De Leon who gives people trouble, and coming out with the win."

Santa Cruz: "That is going to be another hard fight. They are both Mexican warriors. It can go either way, but if it goes to decision, Abner Mares will win. However, if Daniel Ponce De Leon catches him with a good punch, he will win by knockout."

Trout: "Abner Mares takes this one. His youth and toughness can outdo the super tough Daniel Ponce De Leon."

Fernando Guerrero: "Abner Mares just has the youth and the will. When guys are winning, they want to keep at it."

Love: "Abner Mares has much better skills."
February, 21, 2013
2/21/13
1:06
PM ET
When junior welterweight titlist Danny Garcia suffered a rib injury and had to postpone his Feb. 9 defense against former titlist Zab Judah until April 27 (Showtime) at the Barclays Center in Brooklyn, N.Y., Golden Boy promoter Richard Schaefer said the entire card would simply move to the new date.

That meant middleweight titlist Peter Quillin's first defense against Fernando Guerrero along with the rest of the undercard bouts, including the junior middleweight fight between Brooklyn's Dmitriy Salita (35-1-1, 18 KOs) and Puerto Rico's Hector Camacho Jr. (54-5-1, 29 KOs), whose late father was a legend in Spanish Harlem.

However, Schaefer told ESPN.com on Wednesday that the Salita-Camacho fight is off and would not be rescheduled.

"Camacho is not going to fight," Schaefer said. "The card was postponed and then Camacho said he is moving on."

Camacho, however, said he did not pull out of the fight and Salita said he still wanted the fight also.

"I was told by the promoter that Salita didn't want to fight me," Camacho said. "I still want this fight. I was told that Salita didn't want to fight me anymore. I didn't pull out. I'm in Puerto Rico training now if he wants it. All Schaefer has to do is call my manager and we're ready. We were told fight was off. Never said we were moving on."

Salita said he absolutely did not pull out of the fight, saying it was "news to me."

"I never told anyone at Golden Boy anything resembling that," Salita said. "Come get it April 27th, Junior. I have been back from camp and staying in shape in New York before heading out soon to prepare for April (in Detroit)."
January, 31, 2013
1/31/13
3:47
PM ET
Anytime a fight is postponed because of an injury, it's a bummer -- for the fighter, his opponent, the fans and everyone involved in the event.

Training injuries are part of the hurt business of boxing. But it seems especially cruel when an entire card is postponed because of an injury to one of the main event fighters and the guys on the undercard are part of the collateral damage.

So when junior welterweight titlist Danny Garcia suffered a rib injury and his title defense against former titleholder Zab Judah -- the main event of a major Showtime card on Feb. 9 at the Barclays Center in Brooklyn, N.Y. -- was postponed on Sunday until April 27, the fighters on the card who were perfectly healthy and deep into their training camps were also shelved.

One of those fighters was middleweight titlist "Kid Chocolate" Peter Quillin (28-0, 20 KOs), who had been scheduled to make his first defense, against Fernando Guerrero (25-1, 19 KOs), in the co-featured bout.

"I'm praying for Danny to get better, as well as for Zab and Guerrero to stay focused," said Quillin, who lives in New York but is in Los Angeles training at Wild Card Gym. "I'm praying for Guerrero to stay focused, too, because I'm coming for him on April 27."

Quillin has had injuries and layoffs, so he knows that what happened to Garcia could happen to any fighter. He took the postponement in stride.

"This is what I do, and things like this happen sometimes in boxing," Quillin said. "You never expect it to, but it does happen. I'm just rollin' with the punches. I'm setting up my schedule for the next 1½ months before I go back to camp. I'll be teaching four classes a week at the Trinity Boxing Club [in New York] for regular people [non-boxers]. They want to train with the champ. I want to keep my mind focused and stay sharp by being in the gym."

Said John Seip, Quillin's co-manager: "It's very disappointing considering the hard work and dedication that goes into preparing for a championship fight like this -- not only for my fighter, but for all parties involved. Peter was ready and he had only one week left in camp. Peter lost 18 months due to unforeseen injuries, so he accepts and understands that injuries are part of the game. Danny was a true professional who tried to get through his injury, but Garcia's team made the right decision.

"Injuries play a big part in professional athletics and some, like this, are unavoidable. A professional athlete needs to take news like this on the chin, no pun intended, remain focused and move on. It's the nature of the beast and must be accepted. Peter will be ready April 27, no doubt."
April, 13, 2012
4/13/12
2:56
PM ET
Middleweight prospect Fernando Guerrero (23-1, 18 KOs) of Salisbury, Md., will meet Las Vegas' Chris Fitzpatrick (15-1, 6 KOs) in a scheduled 10-rounder that has been added to the "ShoBox: The New Generation" telecast on April 20 (Showtime, 11 p.m. ET/PT) at the Beau Rivage Resort & Casino in Biloxi, Miss. The tripleheader is headlined by former middleweight champ Jermain Taylor (29-4-1, 18 KOs) versus Caleb Truax (18-0-1, 10 KOs), with junior middleweight contender Erislandy Lara (15-1-1, 10 KOs) facing Ronald Hearns (26-2, 20 KOs) in the co-feature.

And on May 11, three more rising prospects will be featured on a "ShoBox: The New Generation" tripleheader at Texas Station Gambling Hall & Hotel in Las Vegas. Headlining the card will be Cuban defector Yudel Jhonson (12-0, 8 KOs), a 2004 Olympic silver medalist and southpaw, against Freddy Hernandez (30-2, 20 KOs) of Mexico in a scheduled 10-round junior middleweight bout. Also in televised bouts, Sweden's Badou Jack (10-0, 8 KOs), a 2008 Olympian, will face Alexander Brand (17-0, 15 KOs) of Colombia in an eight-round super middleweight bout, with junior lightweight Rances Barthelemy (15-0, 11 KOs), also from Cuba, opening the show against Mexico's Aalan Martinez (12-1-1, 8 KOs) in a scheduled eight-rounder.