Dan Rafael:

Floyd Mayweather Sr.
December, 15, 2014
Dec 15
4:07
PM ET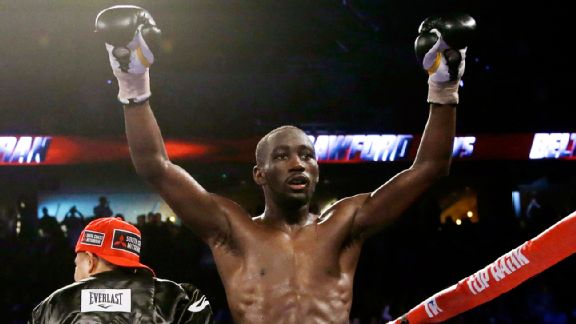 AP Photo/Nati HarnikTerence Crawford is one of the candidates to become the 2014 WBAA Fighter of the Year.
As if last week wasn't busy enough in Las Vegas, where I shuttled between the Cosmopolitan and MGM Grand on Thursday, Friday and Saturday for coverage of both big shows – I hit both press conferences and weigh-ins and watched the early MGM bouts before going to the Cosmo – there was also a Boxing Writers Association of America meeting on Saturday morning at the MGM.
A few weeks ago in Atlantic City there was also a BWAA meeting for those folks in the organization on the East Coast. At that meeting we did the preliminary ballot for the 2014 awards, which will be handed out at the annual banquet in the spring a night or two before a major fight.
On Saturday we finalized the ballot and here is what the full members will be voting on in the coming weeks. The nominees are:
Sugar Ray Robinson Fighter of the Year:
Terence Crawford, Sergey Kovalev, Manny Pacquiao, Miguel Cotto, Gennady Golovkin.
Muhammad Ali-Joe Frazier Fight of the Year:
Francisco Rodriguez Jr.-Katsunari Takayama (incredible action-packed strawweight unification), Orlando Salido-Terdsak Kokietgym (interim junior lightweight title bout featuring blazing action and seven combined knockdowns), Lucas Matthysse-John Molina (a back and forth junior welterweight battle featuring five combined knockdowns), Tommy Coyle-Daniel Brizuela (dramatic lightweight slugfest that featured eight combined knockdowns); Terence Crawford-Yuriorkis Gamboa (lightweight title fight that was dramatic and exciting in front of a wild Crawford crowd).
Eddie Futch Trainer of the Year:
Abel Sanchez, Freddie Roach, John David Jackson, Naazim Richardson, Floyd Mayweather Sr.
Cus D'Amato Manager of the Year:
Egis Klimas, Vadim Kornilov, Al Haymon, Pat Lynch, No award
Sam Taub broadcast award:
Marc Payton (retired longtime director of HBO's boxing broadcasts), Lou DiBella (promoter who spent many years buying the fights for HBO and the creator of "Boxing After Dark"), Seth Abraham (former longtime president of HBO Sports who teamed with DiBella to make HBO into a powerhouse boxing network), Brian Kweder (boxing programmer for ESPN), No award
Bill Crawford award for courage in overcoming adversity:
Magomed Abdusalamov, Steve and Livvy Cunningham, Vitali Klitschko, Anthony Dirrell, Kathy Duva
Barney Nagler Long and Meritorious Service award:
Michael Buffer (legendary ring announcer), Bob Canobbio (CompuBox founder), Lou DiBella (promoter, former HBO executive), Dr. Margaret Goodman (head of the Voluntary Anti-Doping Association and former Nevada ringside physician), Jack Hirsch (outgoing longtime BWAA president)
Marvin Kohn Good Guy award:
Dan Goossen (promoter, posthumous), Andrey Ryabinsky (Russian promoter who paid for most of Magomed Abdusalamov's medical expenses), Ken Condon (longtime casino executive in Atlantic City), Don Turner (trainer), Tami Cotel (HBO boxing production coordinator).
May, 2, 2013
5/02/13
3:37
PM ET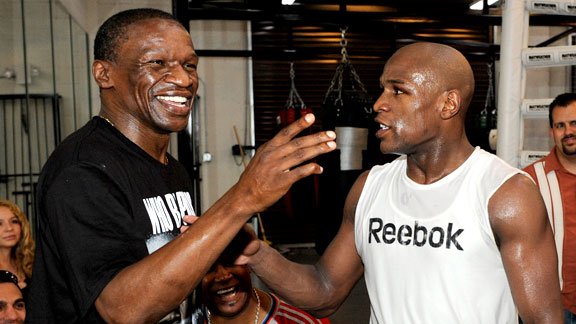 Ethan Miller/Getty ImagesFor the first time in 13 years, Floyd Mayweather Sr. will be working the corner of his son on Saturday.
LAS VEGAS – Floyd Mayweather Jr. and his dad, Floyd Mayweather Sr., have had a volatile relationship. Both are stubborn, proud men set in their ways and have had some very public battles.
The elder Mayweather had Junior wearing boxing gloves before he could even walk and was his original trainer. But eventually they had a very public falling out and Mayweather Sr.'s last fight as the head trainer came in 2000, when Junior was junior lightweight champion and defended against Goyo Vargas.
From that point on, Floyd Jr. was trained by his uncle, Roger Mayweather. Floyd Sr. came around the camp from time to time over the years, including before his son's 2007 fight against Oscar De La Hoya, but Roger remained the corner commander.
So it came as a surprise when Mayweather Jr. (43-0, 26 KOs) announced that he would be defending his welterweight title against Robert Guerrero (31-1-1, 18 KOs) on Saturday night in Las Vegas with his father returning to helm the corner for the first time in 13 years.
Roger, while still part of the daily training team and still responsible for overseeing the mitt work, will not be in the corner as an assistant come fight night. Floyd Jr. said his corner will include his father, cutman Rafael Garcia and assistants Leonard Ellerbe and Nate Jones.
The public reason for the change is health reasons, Floyd Jr. said. Roger has diabetes that is taking its toll.
"Roger's vision is getting bad and I can't afford anyone's bad vision in a big fight like this," Floyd Jr. said.
Floyd Sr. has his own issues with the lung disease sarcoidosis, but is in better shape that Roger.
"Well, my dad, of course, he's a boxing wizard and Roger's a boxing wizard, so you can't go wrong with either guy," Floyd Jr. said. "My dad is the main trainer and, of course, it's not like I fired anyone. It's just that my dad's a little sick, but he's a lot healthier than Roger is.
"Roger's health is not at its best right now and my main focus is I want a guy that's in my corner that's sharp and healthy. But he still works day in and day out with me every day as far as and keeping me sharp. But my dad is the main trainer and Roger still works me day in and day out, but fight night, my dad will be working my corner."
Floyd Jr. has also been open about the desire to have a closer relationship with his father as he gets older.
"I want to grow closer to my family, do things a lot different now," Floyd Jr. said. "My dad is sick. If I never made a bond with my father and he's sick and something harsh happened, because anything can happen -- he's older, he's lost a lot of weight from being sick -- it would hurt me not speaking to him. It would hurt me very, very bad for him not to have a relationship with his grandchildren. That's very, very important to me.
"Me, I had to be the bigger person and say [to him], 'You need to have a great relationship with your grandchildren and what do me and you have to argue about? We both are in the sport to be the best. So if you're trying to be the best and I'm trying to be the best, why not work together?'"
Floyd Sr. is happy to be back and accepted his son's invitation to train him again with no questions asked. He said training camp was tranquil, at least by Mayweather standards, and that he has sharpened Floyd's defense, which was penetrated like it hadn't ever been last May during his tough points win against Miguel Cotto.
"The Lord above is looking down on all of us and He knew," Mayweather Sr. said. "He's touched him and let him know, 'You need your daddy.'"