Dan Rafael:

Freddy Hernandez
October, 4, 2013
10/04/13
9:08
AM ET

ORLANDO, Fla. -- Delvin Rodriguez has had his big opportunities, but has been unable to cash in on either of his two world title shots.

In 2009, Rodriguez, a fan favorite for his numerous action-packed fights, lost a heartbreaking split decision on his home turf in Connecticut to South Africa's Isaac Hlatshwayo for a vacant welterweight belt. In 2012, Austin Trout shut him down in a dominant decision win in a junior middleweight title bout.

But although those were world title fights, the biggest opportunity of Rodriguez's up-and-down 14-year career comes Saturday night (HBO, 9:45 ET/PT) against Puerto Rican superstar and former three-division champion Miguel Cotto at the Amway Center in Orlando.

After the loss to Trout, Rodriguez, 33, a native of the Dominican Republic, rebounded with a pair of impressive knockout victories, taking out "Comanche Boy" George Tahdooahnippah in six rounds and former world title challenger Freddy Hernandez in eight.

That set him up for the shot at Cotto (37-4, 30 KOs), 32, who is looking to rebound from back-to-back losses to Trout and Floyd Mayweather Jr.

"The two wins Delvin had earlier this year along with the wealth of world-class experience he's fought over his outstanding career has truly prepared him for this opportunity to fight Miguel Cotto," Star Boxing promoter Joe DeGuardia said. "This will be his sixth fight in the junior middleweight division and he's very comfortable at 154. He's prepared very well for Miguel Cotto and I'm confident he will put on a terrific performance."

Because of Cotto's stature, Rodriguez (28-6-3, 16 KOs) considers this the biggest fight of his career, even though there will be no belt to wrap around his waist if he wins.

"I fought for the title twice but it's nothing compared to this," Rodriguez said. "I'm motivated for this fight, very, very motivated. It's a huge fight, the biggest fight of my career, even though it's not a title fight. I'm facing a guy whose only defeats are against the best. I've been wanting this fight for a while.

"I will bring everything I have into the ring. I am going to surprise people with my ability and people will finally see the best of me. It's a dream for me to get to this level, to be on HBO, after so many years of hard work. I've had downfalls, gotten bad decisions, had management and promotional problems, but I finally have this opportunity and I am enjoying everything about this. For me, the fight is going to be like going to the party on Saturday. It'll be like going to perform, going to the big dance."

Rodriguez is getting a chance to fight a guy whose undercard he was once on, for his 2011 rematch victory against Pawel Wolak.

"I've got nothing but respect for Miguel," he said. "Our paths have crossed a number of times over the years and he's always been a gentleman. He's a certain Hall of Famer, who earned everything he's gotten. Nothing was handed to him. It's the perfect test for me."

Rodriguez, whose four-inch height advantage over Cotto is very noticeable, has paid attention to Cotto's fights and believes he has the right plan to send him to a third consecutive loss.

"I got to box him," Rodriguez said. "The main thing is I got to beat him to the punch. I'm faster than him, I have a longer reach, I'm taller than him. As soon as he tries to develop his combinations, I just need to beat him to the punch and stop him in the tracks. I got to use my height and reach and boxing ability.

"Against Trout, I made a big mistake. I was waiting too much. But Trout never hurt me and I was in great shape. This fight, Cotto will put pressure on me and it will make it easier to get inside, keep a jab in his face. I think with Cotto I will use basic stuff, straight punches, jabs. You will see a lot of surprised faces in the stands when he gets hit with my jab and combinations and right hands."
April, 3, 2013
4/03/13
10:49
AM ET
A little of this and a little of that from the boxing world:

• As part of the lead-up to the Floyd Mayweather Jr.-Robert Guerrero welterweight title fight on May 4 (Showtime PPV) at the MGM Grand in Las Vegas, the documentary "30 Days In May" debuts on Wednesday night (Showtime, 10 ET/PT). The one-hour film chronicles the days between Mayweather's May 5, 2012, win over Miguel Cotto and the June 1 start of a three-month jail term for domestic abuse at the Clark County Detention Center in Las Vegas. The film concludes on Aug. 3, Mayweather's self-described "best day of my life," when he was released early for good behavior after serving two months behind bars. The documentary features the only interviews Mayweather has conducted (so far) about his incarceration, which he calls a "life-changing experience."

• Middleweight champ Sergio Martinez (50-2-2, 28 KOs) and challenger Martin Murray (25-0-1, 11 KOs) of England, who meet April 27 (HBO) in Buenos Aires, Argentina, Martinez's home country, were both inside the limit of what they were allowed to weigh for their 30-day weight check. They were each 170 pounds a month before their 160-pound championship fight.

• "Friday Night Fights" fan favorite Delvin Rodriguez (27-6-3, 15 KOs) returns to the ESPN2 series on May 24 at the Mohegan Sun casino in Uncasville, Conn., where Connecticut resident Rodriguez is a good draw. He'll face fellow former welterweight title challenger Freddy Hernandez (30-4, 20 KOs) in a scheduled 10-round junior middleweight bout.

• The epic Mike Alvarado-Brandon Rios rematch at Mandalay Bay in Las Vegas on Saturday night was another hit for HBO, which said that, according to Nielsen Media Research, it drew 1.2 million viewers for the live airing. That was a 45 percent increase in viewership from the first Rios-Alvarado fight, which was also a barn-burner, but on an undercard. Saturday's undercard fight between unknown junior welterweight prospect Terrence Crawford and Breidis Prescott drew 845,000 viewers, according to the network.

• Promoter Don King, who won the purse bid for the third fight between cruiserweight titlist Marco Huck (35-2-1, 25 KOs) and Ola Afolabi (19-2-4, 9 KOs) despite not handling either fighter, told the camps that the fight would take place May 11 in Germany. However, King, who bid a surprising $1.5 million, still does not have a specific venue lined up or a television deal in place The fighters are both in training camp, but their handlers remain skeptical that the fight will come off. Without a TV deal, King would likely default on the bid.
January, 24, 2013
1/24/13
9:56
AM ET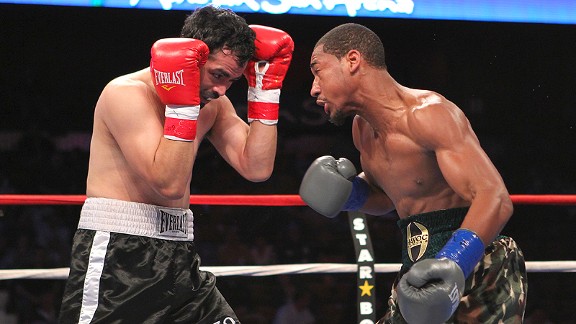 Ed Diller/MPsportimages.comDemetrius Andrade could face the biggest challange of his career against veteran Freddy Hernandez.
Junior middleweight prospect Demetrius Andrade and junior welterweight prospect Raymond Serrano enter their fights on Friday night (Showtime, 10 ET/PT) at different place in their careers, yet both have taken on new trainers.
Andrade (18-0, 13 KOs), a 2008 U.S. Olympian from Providence, R.I., and one of boxing's elite prospects, will face former welterweight title challenger Freddy Hernandez (30-3, 20 KOs) of Lynwood, Calif., in the scheduled 10-round main event of the "ShoBox: The New Generation" card at The Paramount in Huntington, N.Y. In Andrade's corner will be 2011 trainer of the year Virgil Hunter, who is best known for his work with super middleweight champ Andre Ward.
Philadelphia's Serrano (18-1, 8 KOs) will fight Emmanuel Taylor (15-1, 10 KOs) of Edgewood, Md., in the eight-round co-feature. Serrano made a trainer change after suffering his first defeat, a fifth-round knockout to Karim Mayfield in May. In Serrano's corner will be Barry Hunter -- no relation to Virgil -- who is best known for his work with junior welterweight titleholder Lamont Peterson.
"All coaches get their fair share of calls, and I get some, too," said Virgil Hunter, one of boxing's most sought-after trainers. "Demetrius called me and we started talking. I'd been aware of him because he was an Olympian and knew he was a good kid, but once we met I was most definitely very pleased to make his acquaintance. I enjoy working with him.
"Demetrius' dad [Paul Andrade] did a terrific job with him. He's a great kid with a great personality and he wants to succeed. I think he has unlimited potential and everything it takes to not only be a future champion but an ambassador for the sport. There's really a lot of upside to Demetrius. It's just a matter of time."
Andrade, 24, left the East Coast to head to the San Francisco Bay Area to train with Hunter.
"I've been training at Virgil's private gym in Hayward, Calif.," Andrade said. "I knew Virgil from him being in the amateur program and I just reached out to him. He's a stand-up guy and everything's going smoothly. We're just taking it one step at a time, just getting in shape for this fight."
Hernandez, 33, is past his prime and has lost two of his past three fights, but he has faced quality opposition. In those bouts, Andre Berto blitzed him in the first round of a welterweight title fight in November 2010, followed by a decision win against former titleholder Luis Collazo 11 months later and then a decision loss to junior middleweight contender Erislandy Lara in June.
"On paper, this should be his toughest challenge, when you consider the competition the other guy has fought," Virgil Hunter said.
Serrano, 25, lost to Mayfield on ESPN2's "Friday Night Fights," and the cameras caught the chaos in Serrano's corner as the fight came to an end. After that, Serrano hooked up with Hunter. The fighter has since been training with Hunter in Washington, D.C., and also sparring with Peterson, who is preparing for a title defense on Feb. 22 (ESPN2), and his brother, lightweight Anthony Peterson.
"I've been with Barry since about July," Serrano said. "After I fought Mayfield, I took some time off and then I got with Barry. I train at his gym and spar with the Petersons. It's definitely stepped up my level of training. I've worked hard and feel it's made me a stronger fighter."