Dan Rafael:

George Foreman
November, 21, 2013
11/21/13
1:23
PM ET

With the Manny Pacquiao-Brandon Rios welterweight fight taking place Saturday night in Macau (HBO PPV, 9 ET), Top Rank promoter Bob Arum and HBO have set up a quasi-media center at the Venetian in Las Vegas and brought in more than a dozen radio shows to broadcast there Thursday and Friday in an effort to keep the fight on the minds of American sports fans.

In addition, they have brought in several fighters to do interviews on those radio programs and also to talk to other media. Among the fighters involved are Hall of Famers George Foreman and Sugar Ray Leonard, presumptive Hall of Famer Marco Antonio Barrera (who lost twice to Pacquiao) and reigning welterweight titlist Timothy Bradley Jr., who owns a controversial 2012 win against Pacquiao.

The four offered their thoughts on the Pacquiao-Rios fight:

• Foreman: I think it's going to be a 12-round decision and I give Pacquiao the hometown decision. How about a home-region decision.

• Leonard: I think Pacquiao will win although I give Rios a shot, a big shot. It's not going to be an easy fight. I'm picking Manny because he is Manny Pacquiao.

• Barrera: I think it is a complicated fight for both of them. You have Brandon Rios, who comes straight forward and will apply the pressure on Manny. Then you have Manny, who moves around the ring very well and picks and chooses his spots, and comes at different angles and is a very strong fighter with a lot of speed. It's just going to be a tough fight for both of them.

• Bradley: I've got Manny Pacquiao by a mid- to late-round KO. Eight rounds.
May, 24, 2013
5/24/13
1:54
PM ET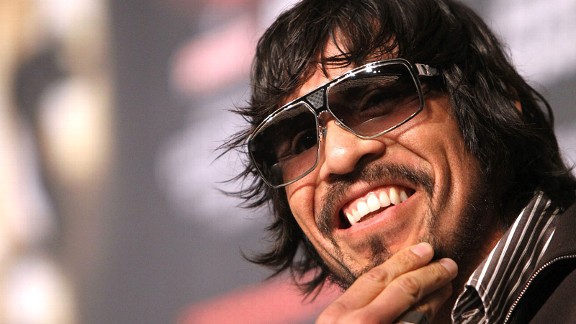 Chris Farina/Top RankFormer champion Antonio Margarito denied the rumors of a possible comeback to the ring.
It is not unusual for a fighter who says he is retiring to reconsider and return. Sometimes it's only a matter of days, such as this week's announcement from Audley Harrison that he was coming back just 20 days after announcing his retirement. Sometimes it is years. George Foreman, for example, was retired for a decade before launching a comeback that included reclaiming the heavyweight championship.
When former welterweight titlist Antonio Margarito, notoriously remembered for getting caught with illegal knuckle pads coated with a plasterlike substance before a 2009 fight with Shane Mosley and his subsequent license revocation, announced his retirement after taking a beating from Miguel Cotto in their rematch for Cotto's junior middleweight title in December 2011, many figured it would be only be a matter of time until the "Tijuana Tornado" made a comeback, despite a surgically repaired right eye that Cotto smashed up.
Rumors have swirled recently that Margarito (38-8, 27 KOs), 35, was on the verge of unretiring because of financial difficulty while going through a divorce. Frankly, money issues or not, few would have been surprised had he done so.
But Margarito, who lives in Los Angeles, put the rumors to rest this week when he issued a statement denying any financial issues (which he shouldn't have after the millions he earned for major fights against Cotto, Manny Pacquiao and Mosley) and saying that he wasn't coming back.
"I was surprised by several unfounded rumors regarding my current situation, including news on a return to boxing and supposedly a divorce settlement that has left me broke and with the need to return to boxing," Margarito said in a statement. "In some cases, the information dealt with news of my return, and some unfounded news about a settlement. However, some tabloid media has gone further than that, spreading unfounded rumors that no one took the trouble to investigate fully. I am the fist to admit that my time [on] the boxing stage is a thing of the past and as a man who has his feet firmly on the ground, I also know that I have to be jealous of guarding my property as it will be difficult to find another profession that could produce a higher yield than what I earned in the ring. However; there is some damage to my family that can be done by spreading lies and half-truths."
Margarito explained that he and his wife, Michelle, have been separated for more than two years and that she is in a new relationship and pregnant. He said he has also started a new life and has a baby with girlfriend Lorena Vidales.
"The divorce settlement has not been finalized and as civilized people we respect each other's life, and during this time have been negotiating the settlement," Margarito said. "With what we will share, I expect that it will help us to live, if not full of luxuries, in a comfortable lifestyle. However, when people start talking of 'a millionaire settlement,' it exposes Michelle and my children -- who live in Tijuana, Mexico -- to becoming victims of blackmail and even kidnapping. That is why I wanted to make this public statement about the situation.
"I accepted and still accept any criticism about my boxing career and was always thankful that the press covered my boxing career. But this is not a case strictly related to the sport. I believe that boxing has been used by a few journalists to trample on my private life, showing no respect for other people who have nothing to do with boxing and could be seriously hurt by this erroneous information."
February, 28, 2013
2/28/13
6:11
PM ET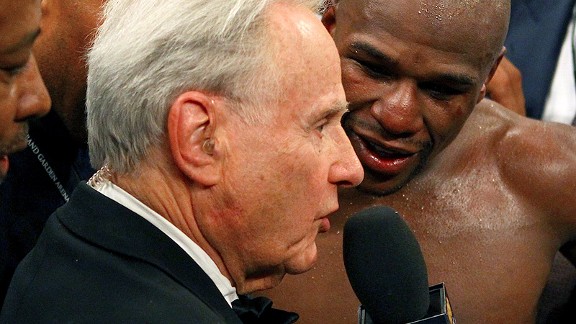 Al Bello/Getty ImagesFormer HBO analyst Larry Merchant will reunite with George Foreman for an April card in Macau.
Hall of Fame broadcaster Larry Merchant, a ringside staple of HBO broadcasts since the 1970s, retired at the end of 2012. Former heavyweight champ George Foreman was one of his longtime broadcast partners on HBO before leaving the network several years ago.
When they worked together, their chemistry and often heated on-air disagreements -- seemingly refereed by blow-by-blow man Jim Lampley -- made "World Championship Boxing" a must-see show regardless of who was fighting in the ring.
Well, Merchant, perhaps like many of the fighters he has covered, is coming out of retirement for at least one fight card and will team with Foreman to call Top Rank's excellent slate of fights that will take place on April 6 in Macau.
Top Rank is producing the show and responsible for hiring the on-air talent, but it made a deal with HBO to carry the card in the United States on its HBO2 service beginning at 2 p.m. ET/PT (on about a 4½-hour delay in the East and 7½-hour delay in the West), meaning Merchant and Foreman -- whose call will also serve as the English-language international broadcast -- will be reunited on HBO. Tim Ryan, who called fights for many years on CBS, will serve as the blow-by-blow man on the broadcast.
It will be something of a reunion between Merchant and Ryan, too. Merchant told me that the first fight card he ever called, on NBC in 1976 in Paris, was with Ryan as his partner. It featured a middleweight title fight between Rodrigo Valdez and Nessim Max Cohen and a heavyweight fight between Earnie Shavers and Henry Clark.
"Larry and George are like Abbot and Costello, they work so well together," Top Rank president Todd duBoef said. "You include Tim and there is nobody better to represent our boxing brand in the biggest, fastest growing market in the world."
The Macau card, which will take place at Cotai Arena at The Venetian Macao, is a good one. The HBO2 broadcast will include junior flyweight Zou Shiming, the three-time Chinese Olympic medalist (and two-time gold winner), making his professional debut in the four-round main event against Mexico's Eleazar Valenzuela (2-1-2, 1 KO). He is a major star in China and his pro debut is a big deal there, which is why he is in the main event position.
But the broadcast will also include the two world title fights on the card: junior lightweight titlist Roman "Rocky" Martinez (26-1-2, 16 KOs) of Puerto Rico defending against Diego Magdaleno (23-0, 9 KOs) of Las Vegas and unified flyweight titlist Brian Viloria (32-3, 19 KOs), a Filipino from Hawaii, defending against Mexico's Juan Francisco Estrada (22-2, 17 KOs).
"We are delighted that HBO recognizes, as we do, the historic nature of the Macau event and is making it available on a same-day basis to its subscribers on HBO2," Top Rank chairman Bob Arum said.
Although HBO is paying a small license fee for the card -- "Their fee is not even covering my announcer expenses," duBoef said -- he wanted the HBO brand name behind the show more than money, as well as Merchant, Foreman and Ryan, who he called "iconic brand names."
"When introducing a new product to the biggest market in the world, we are thrilled that the biggest brands associated with boxing joins us," duBoef said. "HBO is the gold standard for the sport and we are honored to have their support and commitment to expanding the boxing brand.
"Big George coming to China to do the show is a big deal. Having Larry Merchant and Tim Ryan on is a big deal. They'll do interviews, the people there will see them and know this is a big event."
The two other featured bouts on the card include former junior featherweight titlist Wilfredo Vazquez Jr. (22-2-1, 19 KOs) of Puerto Rico against Japan's Yasutako Ishimoto (20-6, 4 KOs) and junior middleweight contender Vanes Martirosyan (32-0-1, 20 KOs) of Glendale, Calif. against Javier Francisco Maciel (24-2, 17 KOs) of Argentina.
Those bouts won't be on HBO2, but Vazquez-Ishimoto will air on same-day tape on UniMas' "Solo Boxeo Tecate" with Martirosyan-Maciel also part of the broadcast, time permitting.
November, 6, 2012
11/06/12
4:50
PM ET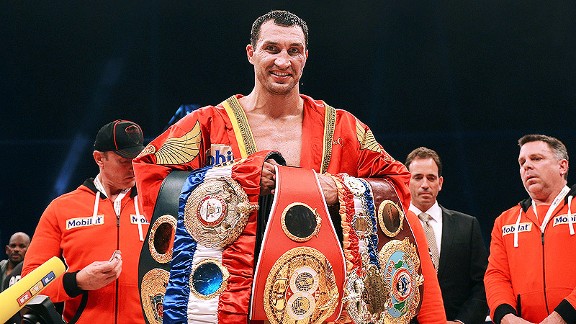 Lars Baron/Bongarts/Getty ImagesBelts or no belts, Wladimir Klitschko has firmly re-established the heavyweight championship lineage.
Since the dawn of the alphabet age of boxing belts in the mid-1980s, a lot of fighters have held versions of the heavyweight title.
Many of them have been good big men who happened to pick up a trinket but were never regarded as the legitimate champ. There were forgettable reigns of mere titleholders such as Herbie Hide, Oleg Maskaev, John Tate, James "Bonecrusher" Smith, Tony Tucker, Michael Bentt, David Haye and several others.
What counts in my book, especially in the heavyweight division, is the lineal championship (some call it the linear championship). That is, the man who beat the man, who beat the man, etc., regardless of which belt the champ holds, or even if he doesn't hold one at all (which has happened).
We're talking about men such as Jack Johnson, Jack Dempsey, Joe Louis, Rocky Marciano, Sonny Liston, Muhammad Ali, Joe Frazier and George Foreman.
The heavyweight lineage has had a few breaks in the more than 120 years since John L. Sullivan became the first champion, but generally an accepted new lineage has been established when the two leading legitimate contenders (not just some manufactured alphabet-rated guys) have met.
It isn't exact science, to be sure, but the identity of the lineal champion is often easy to determine. When Mike Tyson had all of the sanctioning body belts, he still wasn't the lineal champion. He couldn't make that claim until after he knocked out Michael Spinks, who, despite having been stripped of his alphabet title, carried on the lineage because he had defeated Larry Holmes.
Of course, when Buster Douglas knocked out Tyson, he claimed organization titles as well as the lineage. Then Evander Holyfield knocked Douglas out, and on and on it went.
When Foreman knocked out Michael Moorer in 1994 to become the lineal champ (for the second time, 20 years after his first reign), he claimed two of the main alphabet belts. Foreman was eventually stripped of both for failing to make mandatory defenses, but that had no bearing on the lineage. The only way to lose that title is to fall in the ring or retire (or move to another division).
In 1997, Foreman, sans any belts, lost a controversial decision to Shannon Briggs. It was one of the worst decisions in heavyweight history, and Foreman never fought again. But the silver lining in the mess was that Briggs held the lineage when he faced alphabet titleholder Lennox Lewis in 1998. Lewis waxed him in five rounds to hold on to his trinket and, more important, assume the lineage.
Lewis kept it until 2001, when Hasim Rahman knocked him out, then regained it later that year when he drilled Rahman in the rematch. But then Lewis retired in early 2004, breaking the lineage.
This is where recent heavyweight lineage gets a bit murky.
In his final bout, Lewis defeated Vitali Klitschko, the clear No. 1 contender, in a very competitive fight that Klitschko was winning on the scorecards until it was stopped because of his badly cut eye. Under the circumstances, it was only logical that Klitschko should be involved in the fight to re-establish the lineage.
Fighting for the alphabet belt that Lewis vacated upon his retirement, Klitschko eventually faced the late Corrie Sanders, a legitimate contender who was coming off an upset knockout win against titleholder Wladimir Klitschko, Vitali's younger brother.
Vitali Klitschko stopped Sanders in the eighth round in April 2004 in an excellent fight. Besides winning a vacant alphabet belt, Klitschko was also awarded the vacant Ring magazine title, which had been created to clearly identify the legitimate champion in each division (before the magazine's championship policy had been radically altered and muddled).
There are many who view Vitali's victory over Sanders as his having re-established the lineage following Lewis' retirement. Others aren't so sure.
Regardless, after Klitschko defeated Danny Williams in his next fight, he retired for nearly four years because of various injuries. That broke the lineage again (or, depending on your view, left it unrepaired post-Lewis).
But during Vitali's retirement, Wladimir emerged as the dominant heavyweight force. In 2006, he won an alphabet belt by knocking out Chris Byrd (who owns a win over Vitali), and in 2008 he unified two belts.
It wasn't until 2009 that Wladimir re-established the lineage. The Ring title was still legit at that time, when he thrashed leading contender Ruslan Chagaev, who, for good measure, had never lost his alphabet belt in the ring (he had been stripped).
Thus, whatever your perception is of Vitali's claim on the lineage, Wladimir has clearly restored it.
Even if, on its own, hammering Chagaev wasn't enough, Klitschko surely should have persuaded any remaining doubters by now, having won five more fights in a row (four by knockout) against mostly top contenders to firmly establish himself as the man in the weight class -- the legitimate and lineal champion.
The next lineal champ will be the man who beats Wladimir. And if Wladimir retires and the lineage is broken, we'll just have to wait and see who can restore it.
February, 2, 2012
2/02/12
12:46
AM ET

I was very saddened to hear the news Wednesday night of the passing of Hall of Fame trainer Angelo Dundee at age 90.

He wasn't just one of the nicest guys I've ever met in boxing, he was one of the nicest people I've ever met in life.

He had so much enthusiasm for everything, especially boxing. Sure, he is best known for his work in the corner of Muhammad Ali, Sugar Ray Leonard, George Foreman (in the second act of his career) and Carmen Basilio, but he also worked with more than a dozen champions overall and made his Miami gym one of the most famous in boxing history.

I knew him not so much as an active trainer, but just as a wonderful person who loved to talk boxing all the time and had more stories than he could possibly tell -- although he sure tried.

I had never met Angelo before I first started covering boxing in 2000. Maybe a month after I had started covering the beat for USA Today and had only a few articles appear in the paper, I received a hand-written letter from him at the office.

He introduced himself (as if I didn't already know who he was!) and wrote that he really enjoyed seeing the beefed-up coverage in the paper, liked the stories I had written and especially enjoyed the first edition of the monthly divisional rankings we had unveiled a couple of weeks earlier.

Angelo wasn't pushing one of his fighters or projects on me, wasn't looking for a story. Instead, he spent about three pages writing about how much he loved boxing, how happy he was to see coverage in a major newspaper and told me that if I ever needed anything to please give him a call, and he included his telephone number.

Over the years, I would call on him for his views of certain fights and fighters for stories I was working on. He was always very giving of his time, always had something interesting to say and a story to tell.

I had a chance to see him from time to time at fights he would attend. He was a joy to be around. Even into his late 80s he was still traveling around to fights, still working on one boxing-related project or another.

One of the most fun fights I ever covered was when Manny Pacquiao faced Oscar De La Hoya in December 2008. The reason was because Golden Boy Promotions had brought Angelo into the promotion as a "special consultant" to De La Hoya.

He was supposed to visit De La Hoya's training camp in Big Bear, Calif., and offer tips for the fight to De La Hoya and his trainer, Hall of Famer Nacho Beristain. Angelo was also supposed to watch tapes and assist in the strategy for the fight.

In reality, Angelo's main purpose in the promotion was to generate publicity, which he did. With the way he could talk and the stories he could tell -- and the reverence people in the business had for him -- it was a genius move. We all knew it was a publicity stunt, but so what? It was terrific to have him around during the promotion, especially as he held court daily in the MGM Grand media center.

Several years ago, Angelo was honored for his service to boxing at an ESPN2 card in Miami. My pal Jay Seidman produced a special program for the event. My job was to ghostwrite a piece by Foreman on what Dundee had meant to him. I met Foreman in a conference room at Caesars in Atlantic City, N.J., one evening after he had gone through his production meeting for the HBO fight that he would call the next night.

I sat with Foreman for about a half hour as he told me how much Angelo had meant to him when Foreman hired him to work in his corner and help him plot strategy for his fights -- including for his improbable victory against Michael Moorer to regain the heavyweight championship in 1994. He said without Angelo in his corner, he never would have regained the title.

Foreman got choked up at one point talking about Angelo; that's how much he had meant to him.

I'm sure Foreman will get choked up again now that Angelo is gone -- just like so many others who also knew him and loved the man.