November, 11, 2014
Nov 11
4:05
PM ET

Middleweight titlist Gennady Golovkin, the knockout artist and rising star, has seen his ratings on HBO and the size of the crowds he draws increase over the past two years, during which he has mostly fought in the United States.

Surprisingly, Golovkin has done it with very little help, at least publicly, from Wladimir Klitschko, the world heavyweight champion who also happens to own K2 Promotions, which promotes Golovkin.

Typically, a star fighter or former fighter would do whatever he could to gain attention for his boxer, such as Oscar De La Hoya, Mike Tyson, Floyd Mayweather and Ricky Hatton, all of whom are heavily involved in their own promotional companies.

Klitschko, however, is more hands off, instead relying on capable managing director Tom Loeffler to guide Golovkin's career.

But that doesn't mean Klitschko is not interested. In fact, he said he is a huge fan of his company's cornerstone fighter, other than himself.

"I think Gennady is exactly the person we need in boxing," Klitschko said. "He has this appeal that people respect and he is communicating in English better and better. He's so successful and so determined. People see that he is not fake. He's not David Haye. He's the real deal. Gennady trains hard, he fights hard. People love it and he has a million dollar smile on his face.

"He's humble, he's open, he's a true champion. I'm so happy K2 Promotions has a chance to work with him and be involved in his career."

However, even when Klitschko attends Golovkin's fights he does so with about as low a profile as the heavyweight champion can keep. He doesn't attend the news conferences or do photo ops with him.

Klitschko's perspective is to allow Golovkin to have the spotlight to himself during his events, even if Klitschko's presence might drum up some additional interest.

"I know Oscar, for example, is at the Golden Boy fights but I don't bring myself in the front. This is Gennady's show," said Klitschko, who defends his title for the 17th time when he faces Kubrat Pulev on Saturday (HBO, 4:45 p.m. ET/PT) at the O2 World arena in Hamburg, Germany. "I was at Golovkin's (July) fight at Madison Square Garden. I couldn't make it to some of the other fights because of my schedule and my training. But I don't need to put my face there. It's my company, but K2 provides the services to bring the fighters to the front.

"I've learned you are better to stay in the background. Everybody knows K2 is out there and he is a fighter of K2. But it's his show and he is the star of his show, not me. They don't need my face right there next to him, so I am staying in the background."
October, 24, 2014
Oct 24
5:26
PM ET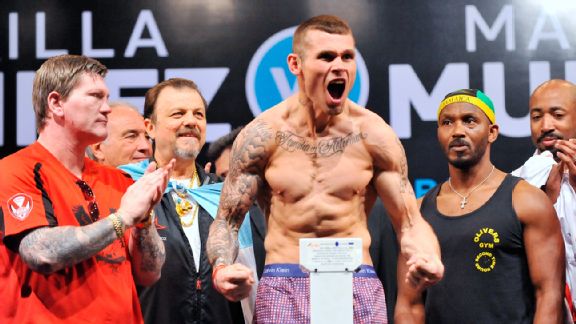 Paula Ribas/LatinContent/Getty ImagesMartin Murray could get another title fight opportunity if he beats Domenico Spada on Saturday.
Good boy Gennady Golovkin's next big drama show is penciled in for Feb. 21 on HBO in Monte Carlo, where the middleweight titleholder and K2 Promotions managing director Tom Loeffler will be on Saturday. They will be ringside at the Salle des etoiles to watch GGG's likely next opponent, British contender Martin Murray.
Murray (28-1-1, 12 KOs) takes on Domenico Spada (39-5, 19 KOs) in the 12-round main event -- ESPN3 will stream the full card beginning at 1 p.m. ET in English with Spanish-language coverage on ESPN Deportes joining the card in progress at 3 p.m. ET -- knowing a victory means a likely shot at Golovkin (31-0, 28 KOs).
Murray, who has won three fights in a row since knocking down then-champion Sergio Martinez and losing a very close decision in Martinez's Argentina homecoming fight in April 2013, said he is using the prospect of the showdown with Golovkin as motivation against Spada rather than viewing all the talk as a distraction.
"It's been a motivation thing for me," said Murray, who fought to a draw with Felix Sturm in Germany in a 2011 world title bout. "People talk about Golovkin and you've got to answer questions about it, but the more people I get asking me about it, the more I get motivated to do a proper job on Spada this Saturday night. I knew I had a world title shot against Sergio Martinez back in 2013, but I still had to go out there and beat Jorge Navarro to get it. It's the same [Saturday]. If I don't beat Spada, there's no world title fight.
"For that reason, I'm completely focused on Spada and am not thinking about Golovkin one bit. In fact, I didn't even watch his fight against Marco Antonio Rubio at the weekend. I just completely ignored it. Instead, I stuck in a DVD of Spada that morning to keep me focused."
Rubio won a vacant interim 160-pound title by knocking Spada out in the 10th round in April and Spada has won one fight since.
Golovkin destroyed Rubio in the second round to retain his title for the 12th time and record his 18th consecutive knockout on Oct. 18 at the sold-out StubHub Center in Carson, California. Golovkin-Murray makes sense for GGG's February date because there is no big-name opponent willing to get into the ring with him yet. Also, Murray, because of his criminal past, has been unable to get a visa to fight in the United States, so with Golovkin fighting his next bout in Europe, it's the ideal match.
"I want the Golovkin fight and it's one I've always wanted," Murray said. "It's one I look forward to. But, in order to get the fight I want, I have to beat Spada on Saturday. He's experienced. His style is horrible and awkward but it works for him. You look at videos of him and think he looks very beatable. He looks like he's got nothing about him. But then you look at his record and look at the people he has fought and beat and you start to realize that he makes his style work for him.
"He's got a good record. He pushed Darren Barker close and then Darren went on to win a world middleweight title. His style isn't the prettiest and he can be quite dirty at times, but that's not to say he isn't dangerous. If you overlook someone like Spada, he'll make you regret it."
Also on the card:
• Bantamweight contender Randy Caballero (21-0, 13 KOs) of Coachella, California, faces England's Stuart Hall (16-3-2, 7 KOs) for a vacant world title.
• Strawweight titlist Hekkie Budler (26-1, 9 KOs) of South Africa will make his second defense against former world titleholder Xiong Zhao Zhong (24-5-1, 14 KOs) of China.
• Light heavyweight prospect Eleider Alvarez (15-0, 8 KOs), a Colombia native living in Montreal, will square off with South Africa's Ryno Liebenberg (16-0, 11 KOs) in a 12-round bout.
• British middleweight Nick Blackwell (15-3, 6 KOs) will face Belarus' Sergey Khomitsky (29-11-2, 12 KO) in a six-rounder.
August, 8, 2014
Aug 8
11:15
AM ET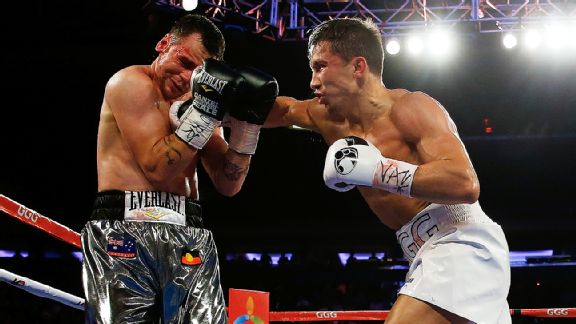 Mike Stobe/Getty ImagesMiddleweight titlist Gennady Golovkin, right, could make his next defense on the West Coast.
Although middleweight titlist Gennady Golovkin's overwhelming third-round knockout of former titleholder Daniel Geale was only two weeks ago, plans are already in motion for GGG's ring return.
Golovkin will make his 12th title defense in the fall (and, undoubtedly, will be eyeing his 18th consecutive knockout). K2 Promotions managing director Tom Loeffler told ESPN.com that HBO is holding a date for Golovkin in October and November, although the Golovkin team prefers to go in October.
Loeffler said he hopes to have the date squared away in the next week or so.
"We are just working on which opponents are available and willing to get in the ring with GGG," Loeffler said.
That has been a problem for quite some time because few have wanted to face boxing's most devastating knockout artist. Golovkin (30-0, 27 KOs) will not be facing world champion Miguel Cotto, who will have his own Dec. 13 date. Golovkin and Loeffler mentioned the possibility of a unification fight with Australia's Sam Soliman at the news conference following the Geale bout.
The location of Golovkin's next bout probably will be on the West Coast. All five of the fights that the Kazakhstan native has had so far in the United States have been in the Northeast: three in New York City, one in upstate New York and one in Connecticut.
Loeffler, who is from Los Angeles, is looking to bring Golovkin to a new market.
"We are exploring options in L.A.," he said. "Our plan has always been to have a GGG fight on the West Coast because he trains in Big Bear [California] and to compliment the fan base he has built up on the East Coast."
June, 26, 2014
Jun 26
6:06
PM ET
Courtesy Abel SanchezMiddleweight titlist Gennady Golovkin has been in training camp since late May in Big Bear Lake, Calif.
With a month to go before the fight, middleweight titlist Gennady Golovkin is deep in training for his defense against former titleholder Daniel Geale on July 26 (HBO) at Madison Square Garden in New York.
Golovkin, from Kazakhstan, has been in training camp with Abel Sanchez in Big Bear Lake, California since late May in preparation for his 11th title defense, which will come against his most accomplished opponent in Australia's Geale (30-2, 16 KOs).
Golovkin (29-0, 26 KOs) had been due to fight in April, but due to the unexpected death of his father, a defense against Andy Lee was canceled. That means this has been a longer layoff than usual for Golovkin, who hoped to fight four times this year, yet hasn't fought since a seventh-round knockout of Osumanu Adama on Feb. 1.
"It feels great to be back with Abel and the team," Golovkin said. "Daniel Geale is a former world champion and this is the toughest fight of my career. It took me a couple days when I got to camp to get comfortable, but now camp is going well and I look forward to returning to Madison Square Garden."
Golovkin did take a trip down the mountain last weekend to attend the fight card headlined by the Robert Guerrero-Yoshihiro Kamegai welterweight slugfest at the StubHub Center in Carson, California. It was a nice, but quick, timeout from training for GGG.
"This [past] Saturday night was a nice break," Sanchez said. "Gennady is a boxing fan and wanted to take in the fights from ringside instead of watching from camp. The fans love him and he enjoys signing autographs and taking pictures with them."
But Sanchez said Golovkin would be ready for Geale.
"Geale boxes a little more [than other opponents]," he said. "We've been very confident of the past opponents running away, but we don't anticipate that from him. Hopefully, he will bring out the very best of Gennady. The better he is, the better it will be for Gennady to perform.
"Geale is more accomplished [than other opponents]. He has [won unified world titles] and he's the most experienced boxer at the top level that we've fought. He has got the most to gain and is on the cusp of being a world champion again."
Sanchez also broke down Golovkin's training routine: On Monday, Wednesday and Friday, they meet at the gym at 7 a.m. and run five miles. Then there is a gym session at 1 p.m. On Tuesdays and Thursdays, they do sprints instead of the distance run.
Since Golovkin has no problem making 160 pounds, Sanchez said his fighter isn't on a strict diet.
"Not really a particular diet; no sugars, fats or sodas. Just a balanced diet," he said. "Gennady eats pretty much what he wants, but he's very smart about what he eats in camp. The great Emanuel Steward said it best: Keep it as simple as possible for the fighter. It should not be a dramatic change as they get to another level."
March, 21, 2014
Mar 21
7:02
PM ET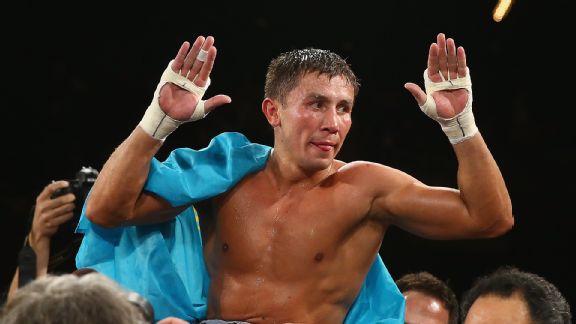 Al Bello/Getty ImagesGennady Golovkin's toughest test to date could come in the form of Julio Cesar Chavez Jr. at 168.
Promoters Top Rank and K2 Promotions are getting closer to making what could be one of the best fights of the year: a super middleweight showdown between Julio Cesar Chavez Jr. and middleweight titleholder Gennady Golovkin, who would move up to 168 pounds for the 12-round bout.
The fight, which would be on HBO PPV, is being negotiated for July 12 and would take place at the newly renovated Forum in Inglewood, Calif.
"The July fight with Chavez looks good," K2 promotions managing director Tom Loeffler, Golovkin's promoter, told ESPN.com. "It's not finalized [but we are] just working out some final details with Top Rank."
Top Rank promoter Bob Arum is also bullish on getting a deal done.
"Tom and I are not far apart," Arum said. "We're getting close on the Golovkin side and I presented everything to the Chavez side and they are getting back to me next week. I think it's coming together."
Arum said his meeting with Chavez manager Billy Keane last Saturday in Los Angeles went well.
"They definitely like the Golovkin fight. They listened to the numbers I laid out and they were very receptive to what I had to say," Arum said. "But you have to finalize everything. But they like the idea of fighting Golovkin. This is a fight that is a win-win for everybody. I have confidence we will get it done because it makes all the sense in the world. But, of course, it's boxing and [sense] doesn't always carry the day."
Arum, however, is confident enough that he said that he already spoke to officials at the Forum and was able to have a concert scheduled for July 12 moved to July 13 to accommodate the anticipated fight, which would be the second boxing event at the arena since its renovation. Top Rank is putting on the first fight on May 17 when Juan Manuel Marquez and Mike Alvarado face off in a welterweight bout.
Golovkin had been scheduled for a middleweight title defense against Andy Lee on April 26 in an HBO main event at the Theater at Madison Square Garden in New York. However, Golovkin's father recently died and he withdrew from the fight to be with his family in Kazakhstan as well as to observe a ritual 40-day mourning period.
Loeffler said that although the April fight is off and Golovkin is with his family, he is working to get his next fight with Chavez finalized.
"He is still with his family," Loeffler said, adding that if it works in Golovkin's schedule he wants to bring him to Las Vegas for the April 12 rematch between Manny Pacquiao and Timothy Bradley Jr.
It would stand to reason that if Golovkin can get to Las Vegas it would be an ideal time to hold a news conference to announce the fight with Chavez.
"It's a tremendous fight," Arum said. "It's the kind of fight that I believe can be right up there [in terms of pay-per-view sales] with Miguel Cotto-Sergio Martinez [on June 7]. Maybe a little less, but up there."
Golovkin (29-0, 26 KOs), 31, made his 10th middleweight title defense on Feb. 1 in Monte Carlo, pummeling Osumanu Adama en route to a seventh-round knockout -- his 16th stoppage victory in a row.
Chavez (48-1-1, 32 KOs), 28, of Mexico, bounced back from a poor performance in a highly controversial decision win against Bryan Vera in September -- for which Chavez also badly missed making weight -- to clearly outpoint Vera in the rematch on March 1. Chavez came in a half-pound under the 168-pound limit and looked strong and motivated.
"Without that performance from Chavez this deal with Golovkin wouldn't work. We wouldn't be able to make the fight and have it be credible," Arum said.
Now it is and it's going to be a helluva lot of fun if they finish the deal.
February, 1, 2014
Feb 1
11:23
PM ET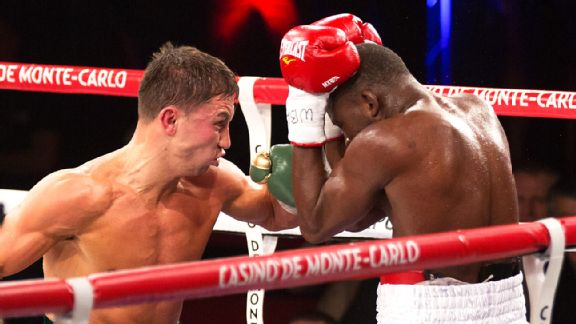 Didier Baverel/Getty ImagesGennady Golovkin scored his 16th consecutive knockout Saturday by stopping Osumanu Adama.
Middleweight titleholder Gennady Golovkin went to work on Saturday and boxing's most exciting fighter did what he usually does -- he knocked off a bit early.
That's because "GGG" scored his 16th consecutive knockout in destroying tough guy Osumanu Adama in the seventh round on Saturday at the Salle des Etoiles in Monte Carlo.
Adama had previously fought well in a world-title fight -- a competitive decision loss to then-titlist Daniel Geale of Australia in 2012 -- and had never been stopped. Yet Golovkin looked sharp in smashing him up and dropping him three times in the one-sided fight.
What else is new for Golovkin?
Dominating his opponents has become the norm for Golovkin (29-0, 26 KOs), who raised his boxing-best knockout percentage among active titleholders to 89.66 percent.
Golovkin hasn't heard the final bell since an eight-round decision win over Amar Amari in 2008. That means he has knocked out all 10 challengers he has faced in his title defenses.
There's a reason he is must-see TV, even if HBO blew it on this fight and did not work out a deal to show the fighter who is under contract to the network and has become one of it's cornerstone fighters (and best ratings draws).
Alas, the fight went on anyway with 100-plus other countries televising it, and Golovkin did what he always does. He stalked and punched and took little in return from a game Adama (22-4, 16 KOs), the 32-year-old from Ghana who lives in Chicago.
Golovkin dropped Adama three times -- late in the first round with a right hand, in the sixth round with a left hook and with a jab (a jab!) in the seventh. When he rocked Adama with yet another powerful left hook in the seventh round, referee Luis Pabon called it off at 1 minute, 20 seconds.
It was an appropriate and merciful stoppage.
"I feel terrific. I'm very happy with my performance," a smiling (what else is new?) Golovkin said. "From the opening round I was comfortable with the fight and felt good about my power and the pace of the fight. He was a tough opponent but I was never hurt during the fight."
Now, I know that Adama was not an elite opponent, but so what? Golovkin is one of the busiest stars in the sport. He fought four times last year and plans on four more fights this year. And since none of the other big names in the middleweight division -- or even in the super middleweight or junior middleweight divisions -- have showed any real zest to face him, I applaud Golovkin and K2 promoter Tom Loeffler for doing what they are doing. They have Golovkin staying busy, fighting solid available opponents and then knocking them out in fan-friendly performances.
[+] Enlarge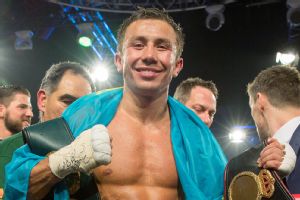 Didier Baverel/WireImageIf Gennady Golovkin gets his way, a showdown with middleweight champion Sergio Martinez will be in order for 2014.
When Mike Tyson was blazing through the heavyweight division like a meteor in the 1980s, there were many mismatches. Nobody cared, though, that he was drilling guys with ease, because you just wanted to see him in action.
Golovkin has reached that point.
When he's fighting, no matter who is across the ring from him, I'm watching any way I can find the fight. A lot of boxing fans feel that way, too, because it seemed like I heard from thousands of them on social media in the days leading up to Saturday's fight as they crushed HBO for its decision to not take the world feed of the fight like more than 100 other countries did.
At least with this fight out of the way, Golovkin will return stateside on April 26 and headline an HBO card at the Theater at Madison Square Garden in New York.
He has no opponent yet, and I don't really care. I cannot wait to see him back in action.
The opponents Loeffler has mentioned as possibilities are Geale, longtime middleweight contender Andy Lee and junior middleweight contender James Kirkland, the ultra-aggressive puncher. If it's Golovkin-Kirkland, prepare for carnage.
Golovkin is OK fighting any of those guys or anyone else put in front of him, for that matter. Golovkin and Loeffler have made it very clear that Golovkin will fight literally anybody HBO wants him to fight from 154 to 168 pounds.
The 31-year-old from Kazakhstan, however, has one wish: He wants the recognized 160-pound champion.
"I want to fight Sergio Martinez to prove who's the best middleweight," Golovkin said.
Martinez, out with a knee injury since last April, is in the final stages of negotiating his return fight, a June 7 title defense against Puerto Rican star Miguel Cotto. That's a big HBO PPV fight.
However, should Martinez prevail, there is no reason Martinez-Golovkin can't happen in the fall. There are no network issues, no promotional issues and big paydays for both guys, not to mention certain fan interest.
For now, however, it's one fight at a time for GGG.
The top of the mountain might be a fight with Martinez, or even a showdown with super middleweight champ Andre Ward, but I, for one, am thoroughly enjoying Golovkin's journey.