Dan Rafael:

Golden Boy Promotions
June, 19, 2013
Jun 19
6:07
PM ET
The Miami Heat's epic win against the San Antonio Spurs in Game 6 of the NBA Finals in overtime on Tuesday night was as exciting as anything I've seen in sports in a long time. And it got me thinking -- what if the insanity that often prevails in the boxing business was extended to pro basketball?

If this Heat-Spurs series was boxing:

• There would be no deciding Game 7 because one team would refuse to take random drug tests and the other team would insist on taking most of the money.

• There would be no Game 7 because the Heat would be ordered face the last-place Orlando Magic instead.

• There would be no Game 7 because one team would sign with Top Rank and one team would go with Golden Boy.

• There would be no Game 7 because one team would want it on HBO and one would want to play on Showtime.

• It wouldn't matter who won Game 7 because some sanctioning organization would just give both teams titles, for a small sanctioning fee, of course.

• There would be a Game 7, but it would be on pay-per-view and cost fans $59.95 ($69.95 in HD).

• There would be a Game 7, but not until 2015, when the teams would make a deal to play it. Gotta let it marinate!
March, 26, 2013
Mar 26
3:45
PM ET
Since 2009, the big pay-per-view cards that Golden Boy Promotions has put on have also been screened in movie theaters around the country, harkening back to the old days of closed circuit -- but with far superior sound and picture.

The feedback I have gotten from boxing fans about the experience of going to the movies to watch the fights has been universal praise. The price of a ticket (usually less than $20) is a lot cheaper than the pay-per-view and there is also the fun communal experience of watching the event with other boxing fans.

So it did not come as a surprise Tuesday when Golden Boy announced that it will work once again with NCM Fathom Events to distribute Floyd Mayweather Jr.'s welterweight title defense against Robert Guerrero on May 4 at the MGM Grand in Las Vegas to more than 400 theaters around the nation.

The movie theater showings of the card -- which also includes featherweight titleholder Daniel Ponce De Leon's defense against Abner Mares -- will be the same as what viewers at home will see on Showtime PPV.

This will be Mayweather's fifth consecutive fight to be screened in theaters.

"Watching Floyd Mayweather fight is a larger-than life experience and the opportunity for fans to see him on the big screen is truly extraordinary," said Leonard Ellerbe, hype-master and CEO of Mayweather Promotions. "He has a tough test in Robert Guerrero, and we hope that fans take advantage of the opportunity to watch this amazing matchup with fellow boxing fans at movie theaters across the country."

"Legendary Nights' returns

In 2003, HBO produced a popular and Sports Emmy-award winning 10-part documentary series called "Legendary Nights." The 30-minute episodes told the stories of some of the networks' most memorable fights in its first 30 years of boxing coverage, including such all-time classics as Sugar Ray Leonard-Thomas Hearns I, Aaron Pryor-Alexis Arguello I, Buster Douglas-Mike Tyson and the Riddick Bowe-Evander Holyfield trilogy.

For years, I (and countless fans) have called for more episodes. While we might not get another full slate, HBO on Tuesday announced it will produce a 60-minute "Legendary Nights" documentary that will take a look back at epic Arturo Gatti-Micky Ward trilogy. Gatti, who died in 2009 at age 37, won the second and third fights. They fought three consecutive fights over a 13-month period in 2002 and 2003. The documentary will air this fall, but no date was announced.

The show is set to mark this year's 10th anniversary of Gatti-Ward III, the 2003 fight of the year. Gatti-Ward I was the 2002 fight of the year.

"With June 2013 marking the 10th anniversary of the third fight of the landmark Gatti vs. Ward trilogy, we believe now is the ideal moment to revisit this classic rivalry," said HBO Sports president Ken Hershman, adding that it would debut on the night of a major fight.

The documentary will blend new interviews with fight action and previously unseen archival footage.
November, 21, 2012
11/21/12
12:11
PM ET
Golden Boy Promotions will be bringing fights to South Florida under a deal with the BB&T Center in Sunrise, Fla.

Golden Boy and Sunrise Sports & Entertainment announced on Wednesday a deal under which Golden Boy will promote at least four boxing events in the arena each year. The length of the deal was not announced, nor was anything regarding the first event. Each fight card, they announced, will feature "a guest appearance by a boxing legend."

"At Golden Boy Promotions we are committed to bringing boxing to fight fans across the country and this new partnership is further proof of this," Golden Boy president Oscar De La Hoya said in a statement. "South Florida has traditionally been a hotbed for boxing and we are excited to have a new home."

"We are thrilled and honored to partner with an incredible athlete and entrepreneur such as Oscar De La Hoya and Golden Boy Promotions," said Sunrise Sports and Entertainment president Michael R. Yormark. "We believe that together we can take live professional boxing to the next level in South Florida."

The arena is the home of the Florida Panthers of the NHL. It has hosted a boxing event before, when it was known as the BankAtlantic Center, when Andre Berto knocked out Carlos Quintana in the eighth round of a welterweight title defense that headlined an HBO card in April 2010.

This is the second major arena Golden Boy has made a deal with. It has a deal to be the exclusive promoter of boxing events at the new Barclays Center in Brooklyn, N.Y. That deal kicked off on Oct. 20 with a Showtime card headlined by the Danny Garcia-Erik Morales rematch.

October, 30, 2012
10/30/12
3:05
PM ET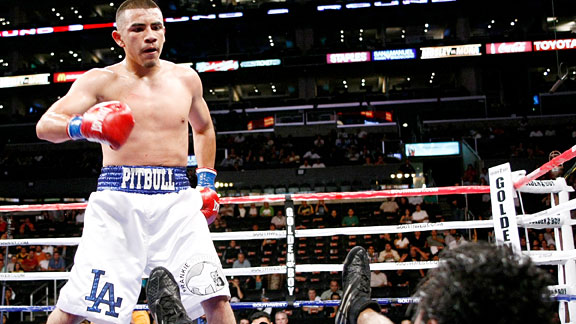 Craig Bennett/FightWireImages.comUnbeaten junior welterweight Frankie Gomez looks to rebound from issues outside of the ring.
When junior welterweight Frankie Gomez signed with Golden Boy Promotions in February 2010, he was one of the most sought-after amateurs in the country.
He was 18 at the time, had won a 2009 U.S. national amateur championship and then won a silver medal in the 2009 AIBA World Boxing Championships -- not bad considering he was still a teenager and competing in his first open tournament.
Golden Boy's Oscar De La Hoya
was thrilled to sign a kid
with such huge potential, especially considering that Gomez was, like De La Hoya, from East Los Angeles and they shared the same Feb. 4 birthday.
Fast-forward nearly three years later and Gomez (12-0, 9 KOs), although still unbeaten, has been anything but a breakout prospect, especially when you consider the hundreds of thousands of dollars Golden Boy has invested in him.
Gomez has had several uninspired performances, had problems with his conditioning and has shown a lack of dedication, which was so bad that at one point he got a stern dressing down from Golden Boy CEO Richard Schaefer during a meeting in his office.
It got worse in January when Gomez wound up in Los Angeles County Jail after being arrested for an outstanding warrant. I'm not sure what the original offense was, but Gomez clearly was not in the gym working at his craft.
He has not fought since last December because of the problems, but they are supposedly straightened out.
Gomez, now 20, has been training for months at Freddie Roach's Wild Card Gym in Hollywood, Calif., and is finally set to fight again.
Gomez will face Manuel Leyva (21-8, 12 KOs) in the scheduled eight-round welterweight main event of the "Solo Boxeo Tecate" card on Saturday night (Telefutura, 11 ET/PT) at the Phoenix Club in Anaheim, Calif., Golden Boy announced.
Leyva, a southpaw who has lost seven of his last eight fights (including three in a row by knockout), is supposed to be easy pickings but is a reasonable enough opponent for a guy who has not fought in nearly a year.
Also on the card, 22-year-old lightweight prospect Jamie Kavanagh (11-0-1, 5 KOs), another Roach fighter, faces Ramon Valadez (11-2, 6 KOs), also 22, in a scheduled eight-rounder.
October, 10, 2012
10/10/12
3:59
PM ET
Manny Pacquiao's first choice for his Dec. 8 HBO PPV fight was a rematch with Miguel Cotto but, as we all know by now, Cotto turned down Top Rank's offer and instead will challenge junior middleweight titlist Austin Trout on Dec. 1 (Showtime) at New York's Madison Square Garden.
Cotto will make much less for the Trout fight compared to what he could have earned against Pacquiao, but Cotto told me
in an interview last week
that he felt disrespected by Top Rank's offer, the same $6.5 million (plus pay-per-view upside) he was offered for his first fight with Pacquiao in 2009.
In addition, Cotto refused to fight at a catchweight of 150 pounds. If Pacquiao wanted the fight, Cotto said it would have to be at a maximum of 154, the junior middleweight limit where he had been fighting for the past few years.
Top Rank's Bob Arum had previously said that he offered Cotto $13 million for the Pacquiao rematch. That's a big difference between the two sides understanding of the supposed deal. Arum called me and said he had read Cotto's comments about the offer and his reasons for rejecting the Pacquiao rematch. He wanted to further explain the offer he said he made.
"No. 1, I never once talked to Cotto about the fight with Pacquiao," Arum said. "I talked to [Cotto attorney and adviser] Gaby [Penagaricano] and he was supposed to relay everything to Miguel. So now the first thing I establish was is Miguel amenable to 150 pounds? And the word came back that if we could agree on the [financial] numbers, he would agree to 150.
"Then we started talking about a proposal and, in essence, I offered him a deal based on the last fight that he had done with Pacquiao, where he wound up making like $12 million after all of the pay-per-view money. And then we further negotiated that he would make another million dollars more, so we loaded up a deal where I guaranteed $9 million plus an upside that would have gotten him to $13 million if the fight had done the same [PPV] number as the first fight [which was about 1.15 million buys]. And then we figured out that if we were able to raise that number by a couple of hundred thousand homes, which was not out of the question, that he would then make about $15 million."
Arum said he wanted to make it clear that he did not blame Cotto for the deal falling apart. He placed the blame on Penagaricano, whom he said must not have given Cotto all of the facts of the offer.
"I think Cotto is an honest guy, totally honest; I think Gaby was playing games," Arum said. "I think Gaby wanted to do the Garden thing because it would be his entree into what he considered big-time promotion. I think that's what happened. I don't trust Penagaricano. I think he has another agenda. I trust Miguel."
Cotto's promotional company is spearheading the promotion of the Trout fight with assistance from Golden Boy Promotions, which promoted Cotto's May fight against Floyd Mayweather Jr. That was the first fight of Cotto's career without Top Rank as his promoter.
Penagaricano denied Arum's charge.
"It's not true," he said. "As I have always done for the last seven or eight years in Miguel's career, I conveyed to my client every single piece of information I got from Top Rank about a potential Pacquiao fight and it was ultimately Miguel's decision not to take it.
"I think what Bob doesn't understand is the position Miguel is in. Normally any fighter would jump at the possibility of fighting Mayweather or Pacquiao. It's a lot of money. But Miguel is in a different position. He can make a lot of money fighting other people as well. He can constantly say no to a Pacquiao or Mayweather if the deal is not structured how he wants it."
October, 5, 2012
10/05/12
5:09
PM ET
Oscar De La Hoya lost his mother, Cecilia, to breast cancer not long before he won the Olympic gold medal in 1992 in her memory.
His run to Olympic gold to fulfill her dream was a big part of De La Hoya's story and helped him connect to so many boxing fans.
[+] Enlarge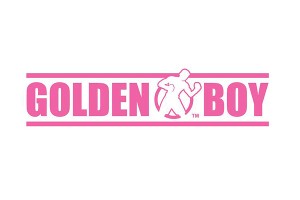 Golden Boy PromotionsTo raise awareness for breast cancer in the month of October, Golden Boy has created a new logo.
For years, De La Hoya has supported breast cancer research and even financed the Cecilia Gonzalez De La Hoya Cancer Center at White Memorial Hospital in Los Angeles.
Bernard Hopkins, partner in De La Hoya's Golden Boy Promotions, also lost his mother, Shirley, to the disease.
To raise breast cancer awareness in October -- which is Breast Cancer Awareness Month -- Golden Boy Promotions created a new logo which will be used throughout the month to let the world know that one of the biggest fights going on right now is against the disease.
"There is no more important fight for me than doing what I can to increase breast cancer awareness and knocking out this horrible disease," De La Hoya said. "All month, our logo will be pink as a reminder of this ongoing fight. I encourage all boxing fans to do what they can to learn about breast cancer and support the search for a cure, as this is a disease that has affected so many and could affect us all."
For more information on the breast cancer early detection program at the Cecilia Gonzalez De La Hoya Cancer Center visit: http://www.whitememorial.com/medical-services/breast-cancer-early-detection-program.
September, 12, 2012
9/12/12
4:52
PM ET
LAS VEGAS -- Fight Freaks love knockouts and fighters love to get them and make money. So, with that in mind, Golden Boy Promotions is offering a $100,000 bonus for the best knockout on its quadrupleheader Saturday night (Showtime, 9 ET) at the MGM Grand Garden Arena.
It's a great idea to help spice up a show that Golden Boy titled "Knockout Kings" (and one that, at long last, Showtime will show live on both coasts, instead of its years-long tradition of fights being tape-delayed on the West Coast).
Knockouts seem likely in at least some of the fights -– Saul "Canelo" Alvarez-Josesito Lopez in a junior middleweight title bout, Jhonny Gonzalez-Daniel Ponce De Leon in a featherweight title bout, Marcos Maidana-Jesus Soto Karass in a welterweight fight and Leo Santa Cruz-Eric Morel in a bantamweight title bout -– considering that the eight featured fighters have combined for 206 stoppages.
"Leo Santa Cruz going up against Eric Morel, the styles fit very well to a win by knockout," Golden Boy president Oscar De La Hoya said. "You have Soto Karass and Maidana, who are both strong punchers. Canelo has devastating power. Josesito Lopez is coming out of a spectacular win against Victor Ortiz where he broke his jaw. Ponce De Leon and Jhonny Gonzalez, what can you say about them? They're both knockout artists. So we're, obviously, hoping for the best and the fans will decide who the winner is.
"I am hoping to see four knockouts so that the decision is that much tougher and the winner is that much more deserving of the prize."
Here's the way you can vote on the best KO:
Following the conclusion of the main event, fans in the arena and at home will have five minutes to vote for the "Knockout of the Night" by texting 74669 from their mobile devices. If there are no knockouts, there will be no winner. If there is one knockout, that fighter is the automatic winner of the $100,000 bonus. If there are multiple knockouts, the votes will be tallied in those five allotted minutes to vote and the $100,000 winner will be announced in the ring prior to the conclusion of Showtime's broadcast.
[+] Enlarge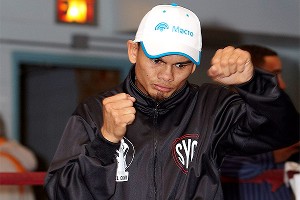 Hoganphotos/Golden Boy PromotionsSlugger Marcos Maidana, with 28 knockouts in 31 career victories, is one of eight fighters eligible for Golden Boy Promotions' $100,000 bonus for Saturday's best knockout.
"Ponce De Leon, a former junior featherweight titleholder, would love the extra money, but winning a second world title is more important to him.
"The $100,000 bonus, yes, that's definitely a motivation and I really would like that, but right now my main focus is to win the world title," he said. "I want to be a world champion."
The bonus is a nice carrot, Soto Karass said, but he won't let it alter his game plan.
"The $100,000 definitely spices it up and is really good, but I'm focused right now on winning the fight and if the knockout comes, great, because $100,000 extra is more than welcomed," he said. "The temptation of the $100,000 is very, very good, but right now I'm focusing and mentally preparing to win the fight and by winning the fight the bigger money comes later."
Maidana, a tremendous puncher, is on the same page.
"With regard to the $100,000, although it is a temptation to win that money, I need to win the fight first and then the money will come," he said.
July, 19, 2012
7/19/12
1:33
PM ET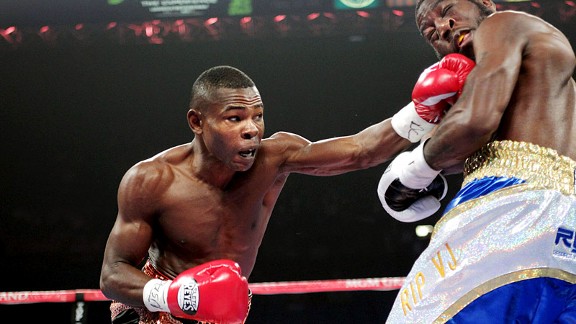 Chris Farina/Top RankReaching high: Guillermo Rigondeaux would love to fight Nonito Donaire... and get a new contract.
There's no fight that junior featherweight titlist Guillermo Rigondeaux (10-0, 8 KOs) would like more than one against Nonito Donaire (29-1, 18 KOs), who unified two belts with a lopsided decision win against Jeffrey Mathebula on July 7.
However, Rigondeaux, the gifted two-time Cuban Olympic gold medalist, is unlikely to get the fight with Donaire, at least in the near future. Top Rank and Donaire manager Cameron Dunkin have Donaire's near-term schedule mapped out. He is headed to a fall fight against Mexican star Jorge Arce and, with a win, a probable fight after that with former titlist Toshiaki Nishioka.
Then there is also the matter of Rigondeaux's promotional contract with Top Rank, which expired on June 15. While his team continues to negotiate a new deal with Top Rank, he also has a bigger offer from Golden Boy Promotions on the table, according to what a member of Team Rigondeaux told me.
"

Donaire is running scared of any super bantamweights with power. He hasn't knocked out anybody at 122 pounds. One thing is for sure, though: He will get knocked out if he has the guts to fight me.

"

-- Junior featherweight champion Guillermo Rigondeaux on his desire to fight Nonito Donaire.
If Top Rank can strike a new deal with Rigondeaux -- or even if they simply do another fight together while continuing to discuss a new deal -- Bob Arum's company would like to have Rigondeaux defend his title against Roberto Marroquin (one of the Top Rank's top prospects) either on the Sept. 15 Sergio Martinez-Julio Cesar Chavez Jr. HBO PPV undercard or in the co-feature of the Donaire-Arce fight on HBO.
It will depend on which date Top Rank and HBO work out for the Donaire-Arce show and, obviously, if Rigondeaux doesn't take the Golden Boy offer.
Top Rank has more opponents to offer to Rigondeaux (even if the Donaire camp doesn't want to fight him) than Golden Boy does (it has titleholder Abner Mares but little else), but the Golden Boy offer, I am told, is "substantially" bigger money.
Whatever happens with Rigondeaux's contract, he has made it clear he wants Donaire and is trying to goad him into a fight by referring to "The Filipino Flash" as "The Filipino Phony."
"Donaire is running scared of any super bantamweights with power," Rigondeaux said in translated remarks. "He hasn't knocked out anybody at 122 pounds. One thing is for sure, though: He will get knocked out if he has the guts to fight me."
Rigondeaux, who knocked out Rico Ramos in the sixth round to win a belt in January and looked spectacular in a fifth-round knockout of Teon Kennedy in his first defense on the June 9 Manny Pacquiao-Timothy Bradley Jr. undercard, spent some time a couple of years ago training at Freddie Roach's Wild Card Gym in Hollywood, Calif., and invoked the name of Roach's star pupil, Pacquiao, to make a comparison to fellow Filipino Donaire.
"Manny fought the best fighters around when he was moving up through weight classes but this phony, Donaire, is disappointing fans all over the world, especially Filipino people, by running scared from the best fighter at 122 pounds," Rigondeaux said. "I competed against more than 250 amateur boxers from every continent and none of those guys were paid to fight me. 'The Filipino Phony' will be paid a king's ransom to fight me, but he's scared enough to move up to 126 just to avoid fighting me. The problem he faces, though, is I will also move up to featherweight once I've cleaned out the super bantamweight division. What's he going to do then, move up to super featherweight?"