Dan Rafael:

Joachim Alcine
April, 23, 2014
Apr 23
4:50
PM ET
A few notes from around the boxing world:

• Junior middleweight Delvin Rodriguez (28-7-3, 16 KOs), coming off a third-round knockout loss to Miguel Cotto in October, returns May 16 to ESPN2's "Friday Night Fights," where he has appeared numerous times and also serves as the analyst for the Spanish-language telecast of the series on ESPN Deportes. He will face faded former junior middleweight titlist Joachim Alcine (35-7-1, 21 KOs), most likely in Montreal.

• Jantony Ortiz, the 2012 Puerto Rican Olympic light flyweight who had more than 250 amateur fights and won medals in multiple international tournaments, has signed with Cotto Promotions. He will make his professional debut June 7 at New York's Madison Square Garden on the undercard of Cotto's challenge of middleweight world champion Sergio Martinez. Ortiz, 19, was only 16 when he became the youngest fighter to win a Puerto Rican amateur national championship.

• The rematch between featherweight titlist Jhonny Gonzalez and Abner Mares, scheduled for Feb. 15 but called off when Mares injured his rib in training, won't be rescheduled as their next bouts. Instead, Gonzalez (55-8, 47 KOs), who knocked out Mares in the first round in August in a big upset to win the belt, will defend against Clive Atwell (12-0-1, 7 KOs) of Guyana on May 24 in Acapulco, Mexico. Atwell is unbeaten but has faced extremely poor opposition. Mares has nothing scheduled, but Golden Boy promoter Richard Schaefer said he is likely to fight in June or July.
April, 3, 2013
4/03/13
2:42
PM ET

Now that middleweight titlist Gennady Golovkin is safely through his Saturday fight -- having absolutely drilled Nobuhiro Ishida in the third round in a knockout-of-the-year candidate -- attention can turn to a more serious fight for the man called "GGG."

Golovkin (26-0, 23 KOs) is slated to be back in action June 29 at a site to be determined (likely on the East Coast) to headline an HBO tripleheader. He will be making his eighth title defense and fighting for the third time already this year. Golovkin's opponent will likely be the one I have been hoping it would be (and the one HBO wants): Great Britain's Matthew Macklin (29-4, 20 KOs).

Promoter Lou DiBella said both fighters have accepted the bout, and he is working to finalize the details with K2 promoter Tom Loeffler.

I see no possible way this can't be an exciting fight. Golovkin is one of the most fan-friendly fighters on the planet and is in such a groove right now it is scary. Macklin is a quality contender who is also a regular crowd pleaser.

Although Macklin is just 1-2 in his last three fights, let's go beyond the record. In June 2011, he lost a split decision in a world title fight to Felix Sturm on Sturm's turf in Germany. Macklin was robbed, simple as that. He won, and did so rather easily in my view, but was absolutely ripped off.

His performance against Sturm was so good that it got him a shot at Sergio Martinez, the legitimate 160-pound champion. They met in March 2012 at the Madison Square Garden Theater in New York and produced a compelling and competitive fight. Macklin dropped Martinez in the seventh round before being stopped in the 11th round. Then, in Macklin's ring return, he starched former junior middleweight titlist Joachim Alcine in the first round on the Martinez-Julio Cesar Chavez Jr. undercard last September.

Macklin is a worthy opponent for Golovkin, who has not had any other top middleweight contenders or titleholders show a willingness to face him. So props to Macklin for taking the fight a few months after he and Golovkin went back and forth a bit on Twitter about the proposed fight. Now DiBella and Loeffler are finishing a few details, DiBella said.

The two other featured fighters on the card are supposed to be Cleveland junior middleweight Willie Nelson (20-1-1, 12 KOs), who is on a very nice run and looking quite formidable, and super middleweight contender Thomas Oosthuizen (21-0, 13 KOs), a lanky lefty from South Africa.

Nelson, who is starting to win me over, doesn't have an opponent yet. He has beaten three solid opponents in a row. He is coming off a blazing first-round destruction of Michael Medina on March 1. But before that, he upset John Jackson (one of former champ Julian Jackson's sons) on the Martinez-Chavez Jr. undercard and also outpointed former Cuban amateur standout Yudel Jhonson.

Oosthuizen is my kind of fighter. He has skills and size (and a good chin) but is also more than willing to take two shots to give one. He's a crowd pleaser.

DiBella and promoter Dan Goossen are trying to close the deal to match Oosthuizen and Brandon Gonzalez (17-0, 10 KOs), of Sacramento, Calif. Gonzalez recently withdrew from an April 12 ESPN2 undercard fight because of a hamstring problem, but he is expected to be just fine to lace 'em up for June 29.

January, 8, 2013
1/08/13
10:57
AM ET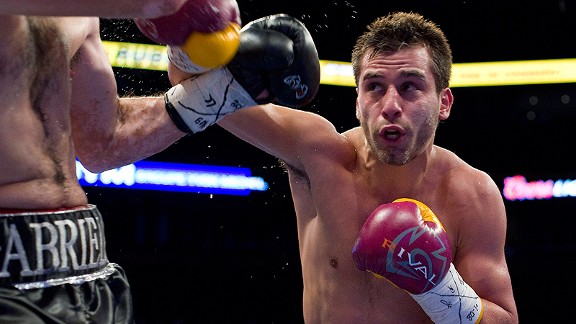 AP Photo/Graham HughesDavid Lemieux will have to rest his right hand for a few weeks before returning to the ring.
Middleweight knockout artist David Lemieux has a small fracture in his right hand and has withdrawn from his Feb. 8 main event on ESPN2's "Friday Night Fights."
Lemieux (28-2, 27 KOs) was supposed to face Colombia's Jose Miguel Torres (26-5, 23 KOs) in a scheduled 12-round bout at the Bell Centre in Montreal, Lemieux's hometown.
Promoter Yvon Michel forwarded ESPN a note on Monday from Dr. Francis Fontaine, Lemieux's doctor, confirming the injury to the fourth metacarpal on his right hand. Lemieux has previously suffered injuries to his second and third metacarpal. Lemieux will rest the hand for at least two weeks before he is re-examined.
Michel and ESPN are discussing a new main event for the card.
Lemieux, 24, has won three fights in a row by first or second-round knockout against low-level opponents to bounce back from his stunning back to back losses in 2011, a seventh-round knockout to Marco Antonio Rubio (in a fight Lemieux had been winning easily) followed by a split decision loss to faded former junior middleweight titlist Joachim Alcine.
September, 11, 2012
9/11/12
1:01
PM ET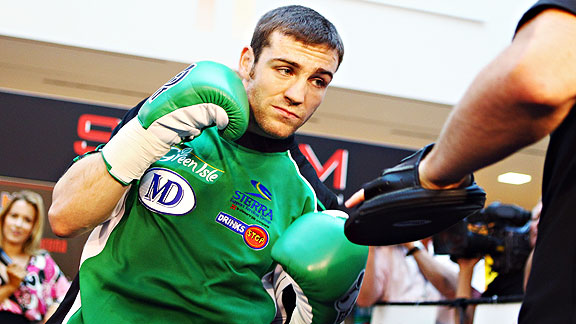 Alex Grimm/Getty ImagesMatthew Macklin hopes a win over Joachim Alcine can lift him to a third shot at a middleweight title.
LAS VEGAS -- When last seen in the ring, middleweight contender Matthew Macklin had given lineal champion Sergio Martinez a very tough fight in March.
Macklin knocked the champ down in the seventh round but could not capitalize. Martinez, who is a great finisher, rallied to drop him twice in the 11th round before Macklin's corner stopped the fight at the end of the round.
It was a gallant effort, one that came on the heels of a June 2011 fight on the home turf of then-titleholder Felix Sturm in Germany. Despite appearing to many that he clearly won, Macklin was robbed when two judges gave Sturm the hometown split decision.
Macklin will now make his return on the undercard of Martinez's championship fight with Julio Cesar Chavez Jr. on Saturday (HBO PPV, 9 ET, $49.95) at the Thomas & Mack Center in Las Vegas.
"Macklin put his name into the world boxing scene with great back-to-back performances against Felix Sturm and Sergio Martinez," said Lou DiBella, who promotes Macklin and Martinez. "While he came up a little short in those world title opportunities, he is hungrier than ever and looking to move himself back into the title picture."
Macklin (28-4, 19 KOs), an Irishman from England, will face former junior middleweight titlist Joachim Alcine (33-2-1, 19 KOs) of Canada hoping a win will set him up for another title shot.
"Regardless of how the fight goes, I'd love a shot at the winner," Macklin said. "But obviously I'm going to have to take care of business against Alcine first and that's my only priority right now. I think my last two fights have proven that I'm right up there at the top of one of the most exciting weight divisions in boxing right now.
"I have the utmost respect for Sergio. He won fair and square but there was nothing between us going into the 11th round. I was ahead on one of the cards by three rounds and only a point down on the other two cards, so it was very much all to play for. I still feel like I can improve an awful lot on that performance. I'd been out of the ring for nine months beforehand and had just started working with Buddy McGirt again as my trainer so I think with another camp with Buddy under my belt I will be able to show that I'm still an improving fighter."
Saturday's fight will be Macklin's fourth in the United States but his first in Las Vegas, where he has always wanted to fight.
"I've been going to Las Vegas for a long time both as a fight fan and when I was in the Ricky Hatton camp for his big fights," Macklin said. "I was due to fight Winky Wright there last year but he pulled out and the fight fell through, so I'm looking forward to finally fighting there on such a big night for the middleweight division.
"[Martinez-Chavez is] probably the most important middleweight fight since Bernard Hopkins fought Felix Trinidad back in 2001, so it's a fight I would definitely have been ringside for even if I wasn't fighting on the card. It's an intriguing fight. I'm leaning towards Sergio because he's an exceptional athlete, but Chavez was very impressive last time out against Andy Lee. He's a huge middleweight, he's very strong, closes the distance well and varies his punches. However, Sergio has quicker feet, he's very hard to pin down and his reflexes are excellent so I'd slightly favor him. But it wouldn't be a huge surprise if Chavez pulled it out."
Macklin trained in Spain, where he had opened a gym, and has been in Las Vegas finishing up for the past two weeks. He said he respects Alcine, who rejuvenated his career in December with an upset decision win against Montreal rival David Lemieux.
"Alcine is a proven fighter, he's a former world champion who has campaigned at the highest level and it's a massive opportunity for both of us to feature on a live HBO Pay-Per-View event," Macklin said. "He's coming off a great win over Lemieux, so I'm sure he will be coming into this with a lot of confidence. So it's up to me to burst his bubble."
August, 23, 2012
8/23/12
6:09
PM ET
The boxing schedule really cooled off during the hot summer, but there are a number of significant cards coming in the fall, which is why the Nevada State Athletic Commission is going to be quite busy.

The agenda for the monthly commission meeting on Friday in Las Vegas is packed, as there are several items the panel must deal with ahead of a loaded schedule that begins in the coming weeks. There are also several MMA items on the agenda, which is about as heavy as any I have seen.

Here's a look at some of the notable boxing items:

• Middleweight champ Sergio Martinez, former junior middleweight titlist Joachim Alcine and former flyweight titlist Eric Morel all have passed their 35th birthdays, which is the cutoff age in Nevada at which a fighter needs to seek special commission permission for a license. Fighters under 35 can be issued a license administratively so long as they pay the $25 fee and have their medical paperwork in order. But after a fighter hits 35, additional medical testing is required and the license must be approved by the full commission.

All three are likely to be licensed without issue. Martinez, of course, will headline the Sept. 15 HBO PPV card against titleholder Julio Cesar Chavez Jr. at the Thomas & Mack Center. Alcine will face middleweight contender Matthew Macklin on the undercard. Morel is due to challenge bantamweight titlist Leo Santa Cruz on the competing Showtime quadrupleheader (headlined by junior middleweight titlist Saul "Canelo" Alvarez against Josesito Lopez) down the street at the MGM Grand.

• Every time there is a boxing card held in Nevada, the promoters of the event must formally request the date from the commission. Several of those items are on the agenda. Golden Boy will officially request Sept. 8 for a Showtime card at the Hard Rock in Las Vegas. Welterweight titlist Randall Bailey will defend against Devon Alexander in the main event, with Ajose Olusegun facing Lucas Matthysse for a vacant interim junior welterweight title in the co-feature.

Lou DiBella, who promotes Martinez, is requesting Sept. 15 to co-promote the Martinez-Chavez card with Top Rank, while Dan Goossen, Lopez's co-promoter, is requesting Sept. 15 to co-promote the MGM Grand show.

• Top Rank will formally seek to reserve Nov. 10 at the MGM Grand for an HBO PPV show. That was supposed to be the card on which Manny Pacquiao would make his return, although his opponent isn't yet set and Pacquiao's fight likely will move to Dec. 1 instead.

• Commission meetings are also where referees and judges for major fights are assigned. A slew of them will be assigned at Friday's meeting, including those for Bailey-Alexander, Olusegun-Matthysse, Alvarez-Lopez, the featherweight title bout between Jhonny Gonzalez and challenger Daniel Ponce De Leon (part of the Sept. 15 MGM show), Santa Cruz-Morel, Martinez-Chavez and the vacant junior lightweight title bout between Miguel Beltran Jr. and Roman Martinez, who will fight on the Sept. 15 Thomas & Mack card.

• One item not on the agenda that was expected to be is a hearing for junior welterweight titlist Lamont Peterson, who was supposed to seek a license and an opportunity to explain his positive drug test (for synthetic testosterone), which forced his rematch against Amir Khan to be canceled. It had been scheduled to take place May 19 in Las Vegas.

Peterson's camp had insisted it would seek a license in Nevada but has continually put off the hearing.

"I never heard back from Peterson's attorney, Pete Bernhard, who told me he would call me last week but did not," commission executive director Keith Kizer said.