December, 20, 2014
Dec 20
1:43
PM ET
Top Rank will kick off its 2015 with a UniMas-televised card from the Texas Station Gambling Hall and Casino in Las Vegas on Jan. 10.

Las Vegas junior featherweight prospect Jessie Magdaleno (19-0, 15 KOs), the 23-year-old younger brother of lightweight contender Diego Magdaleno, will headline the card in an eight-round bout against Oxnard, California's Erik Ruiz (13-1, 6 KOs), also 23.

Magdaleno is trained by Joel Diaz in Palm Springs, California, so he has been in camp with Diaz's other fighters, including former welterweight titleholders Timothy Bradley Jr. and Victor Ortiz, both of whom fought last weekend.

Magdaleno, a former standout amateur, is one of Top Rank's blue-chip prospects and could move toward a title fight in 2015. That is certainly Diaz's hope.

"Jessie Magdaleno is among the best worldwide in his division," Diaz said. "He's explosive, has power in both hands and has great defense. He is getting close to fighting for a world title."

In the co-feature, Riverside, California, junior lightweight prospect Saul Rodriguez (15-0-1, 12 KOs), 21, will face an opponent to be named in an eight-rounder. East Los Angeles featherweight prospect Vic Pasillas (8-0, 3 KOs), 22, will also be on the card in a six-rounder.
April, 28, 2014
Apr 28
10:22
PM ET
Undefeated junior lightweight prospect Joel Diaz Jr. will take on Tyler Asselstine in a scheduled 10-rounder that will headline a May 16 card at the Foxwoods Resort Casino in Mashantucket, Conn., promoter Lou DiBella announced on Monday.

The fight will headline an edition of Showtime's "ShoBox: The New Generation" (10 p.m. ET/PT). In the co-feature, unbeaten junior middleweight prospects Frank Galarza (13-0-2, 9 KOs) and Sebastien Bouchard (9-0, 2 KOs) meet in an eight-rounder.

The 21-year-old Diaz (15-0, 12 KOs) recently signed a co-promotional deal with DiBella and light heavyweight contender Jean Pascal's company. Asselstine (14-1, 7 KOs) was an amateur standout in his home country of Canada.

Galarza is coming off a spectacular second-round knockout of John Thompson on "ShoBox" on Jan. 17. Bouchard is a former two-time Canadian amateur champion and will be making his television debut.
January, 15, 2014
Jan 15
1:22
PM ET
Las Vegas junior featherweight Jessie Magdaleno is one of the top prospects in boxing, and he has surrounded himself with an elite team befitting such a status -- promoter Top Rank and trainer Joel Diaz. On Tuesday, Magdaleno added the final piece of the puzzle.

Magdaleno (17-0, 13 KOs) signed with manager Frank Espinoza, joining a quality stable of fighters that also includes older brother and junior lightweight contender Diego Magdaleno, former three-division titlist Abner Mares, junior welterweight prospect Antonio Orozco and featherweight prospect Oscar Valdez, the dynamic 2012 Mexican Olympian. Jessie could turn out to be the best of the bunch.

"This is a very big signing," said Espinoza, who bought out the rest of the existing managerial contract (less than a year) that Magdaleno had with Pat Barry, who also used to manage and train both Diego and Jessie. "We worked out the details -- something monetarily -- with Pat, and Jessie got his release. It was for the best for all parties and now Jessie can concentrate on his future.

"We already had Diego. We're very happy to have both brothers. The goal is to have them both be world champions at the same time."

The 22-year-old Magdaleno, a southpaw, was a top amateur and on course for a possible berth on the 2012 U.S. Olympic team, but he instead opted to turn pro in 2010.

He's moving nicely as a pro and went 4-0, all by knockout, in 2013. His first fight with Espinoza is scheduled for Feb. 15 against Roberto Castaneda (20-5-1, 15 KOs) in Hawaiian Gardens, Calif., on a card that Diego is headlining. If all goes well in that fight, Jessie is scheduled to fight again on March 29 at Texas Station in Las Vegas.

"I think Jessie can win the world title [at junior featherweight], and I do see him moving up later to featherweight and being crowned there," Espinoza said. "I see good things in different weight divisions for this kid."
June, 19, 2013
6/19/13
3:11
PM ET
A few notes from around the boxing world:

• Super middleweight champion Andre Ward is seeking to end his promotional contract with career-long promoter Dan Goossen for unspecified reasons. Ward (26-0, 14 KOs) recently asked the California State Athletic Commission for an arbitration hearing on the matter. Word through the boxing industry is that Ward, who has not fought since September and is out until the fall because of a shoulder injury and subsequent surgery, wants to sign with Top Rank to ensure a money fight with former middleweight titlist Julio Cesar Chavez Jr. Goossen declined comment to ESPN.com and Ward did not respond to a message.

• Junior lightweight contender Diego Magdaleno of Las Vegas has hired trainer Joel Diaz, who also serves as the head trainer for welterweight titlist Timothy Bradley Jr. Magdaleno will train with Diaz in the Palm Springs, Calif., area. After losing a split decision challenging titleholder Rocky Martinez on April 6 in Macau, Magdaleno parted ways with career-long trainer and manager Pat Barry, who still trains and manages younger brother Jessie Magdaleno (14-0, 10 KOs), a top junior featherweight prospect. Diego Magdaleno (23-1, 9 KOs), 26, replaced Barry on the management end with Frank Espinoza last month before getting together with Diaz on the training end.

• Although welterweight contender Kell Brook (29-0, 19 KOs) of England made several remarks this week about how everything is going well in his preparation for a rematch against Oklahoma City's Carson Jones (35-9-3, 25 KOs) on July 13 in Hull, England, Brook promoter Eddie Hearn acknowledged that he asked the Jones camp to amend the contract weight for the fight from 150 pounds to 152 because of weight issues. They are related to the fact Brook was limited in his workouts early in training camp because he was still recovering from a stress fracture in his right foot. The injury is what caused Brook to withdraw from a May 18 mandatory shot at welterweight titlist Devon Alexander. "I don't want to put too much pressure on him to make the weight and he was restricted early in camp because of [his] foot," Hearn said. "Can see a move to 154 soon." Jones manager Bobby Dobbs said their side rejected the push for the heavier weight.

• Light heavyweight titlist Bernard Hopkins, no longer training for his canceled July 13 mandatory defense against Karo Murat, will fill in some of his free time by serving as the guest commentator Saturday on Showtime's telecast (9 p.m. ET) headlined by the Paulie Malignaggi-Adrien Broner welterweight title bout at the Barclays Center in Brooklyn, N.Y. Hopkins will be filling in for Malignaggi, the regular Showtime expert commentator.

• Mercito Gesta suffered a rib injury in a sparring session and withdrew from a July 19 ESPN2 "Friday Night Fights" main event against junior welterweight contender Olusegun Ajose (31-1, 14 KOs). Ajose will still headline, but promoter Lou DiBella said he and ESPN are still working on a replacement opponent. Gesta (21-1-1, 14 KOs) was moving up to junior welterweight in the wake of a lopsided loss to lightweight titlist Miguel Vazquez in December.
May, 31, 2013
5/31/13
10:32
AM ET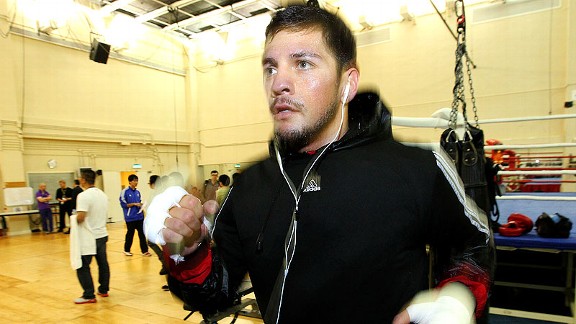 Chris Farina/Top Rank After suffering the first loss of his career, Diego Magdaleno is ready to start over.
Las Vegas junior lightweight contender Diego Magdaleno has hit the reset button on his career in the wake of his first career defeat.
About a month after Magdaleno lost a split decision (and was knocked down) in challenging 130-pound world titleholder Roman "Rocky" Martinez on April 6 in Macau, he ended his working relationship with career-long manager and trainer Pat Barry, who still trains his 21-year-old kid brother, top-notch junior featherweight prospect Jessie Magdaleno (14-0, 10 KOs).
On Thursday, Diego Magdaleno took the next step in his makeover, signing with manager Frank Espinoza, one of the best in the business.
"Now it's time to look for a coach, line up whatever's next and get back into the mix of things," Magdaleno told ESPN.com. "I learned a lot from that fight with Martinez, my first loss. It's making me a lot stronger. I'm looking forward to bigger and better things with my new management and a coach who will push me to that next level. It's time to cross that final line and become a world champion."
Among the notable fighters in Espinoza's stable are featherweight titlist Abner Mares, former titleholders Daniel Ponce De Leon and Vic Darchinyan, two-time Mexican Olympian and top prospect Oscar Valdez and junior welterweight prospect Antonio Orozco. Espinoza was pleased to add Magdaleno to his crew.
"I've been following parts of his career and I really believe in his talent," Espinoza said. "I'm really excited to work with him. I think we'll make a great team. I didn't really know him, but I did hear that he was no longer with his former manager, so I reached out to him. We sat down and we got along really well and made a good decision."
Espinoza said he would soon meet with officials from Top Rank, Magdaleno's promoter, to plot his return. Top Rank vice president Carl Moretti told ESPN.com that Magdaleno (23-1, 9 KOs), 26, would likely be back in action in the fall.
With his manager in place, Magdaleno, a southpaw, said they'll begin looking at trainers and hope to settle on one in the next few weeks.
"We are talking about the trainer thing with Frank," Magdaleno said. "He mentioned a few coaches, Joel Diaz [who trains welterweight titlist Timothy Bradley Jr.] being one of them. I've known Joel for a while. I also hear good things about Abel Sanchez [who trains middleweight titlist Gennady Golovkin]. We'll be looking to [work out] with different trainers and see who can take me to the next level."
March, 14, 2013
3/14/13
7:12
PM ET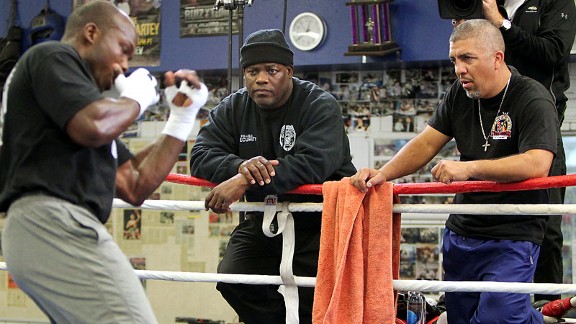 Chris Farina/Top RankTimothy Bradley Jr. has been letting Joel Diaz, far right, do the talking ahead of Saturday's bout.
Welterweight titlist Timothy Bradley Jr. and challenger Ruslan Provodnikov have been respectful toward each other during the promotion for Saturday's fight.
They haven't had much to say to each other, although maybe part of that is because Provodnikov's primary language is Russian.
Their trainers? That's a different story.
It's pretty clear from what Joel Diaz, Bradley's trainer, has had to say that he doesn't much care for Hall of Famer Freddie Roach, Provodnikov's trainer. And after hearing what Diaz had to say about him, it turns out Roach isn't exactly a huge Diaz fan either.
Diaz got an official win against Roach in June when Bradley was handed a hugely controversial split decision against Manny Pacquiao, Roach's star pupil. When Diaz was asked recently what he thought Roach brought to the table for Provodnikov, he didn't hold back.
"Freddie Roach is not my concern. My concern is the fighter," Diaz said. "Freddie Roach was just a name that was created. I think Freddie Roach lost the love of the sport. He created a name and it's out there, but he doesn't have the passion for the sport that he had a few years ago. I've seen it in the last [Juan Manuel Marquez-Manny Pacquiao] fight. I've seen it in the fight before, the third fight with Marquez.
"Freddie Roach is the least of my concern for any fight. I just focus on the fighter. Freddie Roach is always trying to play mind games. Freddie says Tim is going to run. That is just Freddie playing mind games. They don't know how we are going to fight. He is trying to get under Tim's skin. At the end of the day, Tim is going to be a winner, and that's what matters."
Roach, who didn't have a bad word to say about Diaz during the lead-up to the Bradley-Pacquiao fight, didn't appreciate what Diaz had to say about him.
"I could tell him where to go, but he doesn't know me," said Roach, a five-time trainer of the year. "He doesn't know what I do every day. He doesn't see me in the gym working with these fighters. I know he's just saying it to get under my skin. I have a game plan and the right fighters to carry that game plan through, and on [Saturday] we'll see who's the better coach or who's the better man.
"I met the person [Diaz] maybe twice in my life. I see him around the boxing game. I know that he had a good record. He seems like he did a great job with his fighter. My fighter and I get along well. It's not about the trainers. My fighter is the one who's going to win the fight, not me. Whatever he says, I don't care. I don't have time to be mad at someone. I don't read anything he says. I just don't have time for that. I'm sure he is a nice person outside of the ring. This fight is very important for Ruslan and me and the entire camp, and we want to win the fight."