Dan Rafael:

Johnathon Banks
June, 19, 2013
6/19/13
9:10
PM ET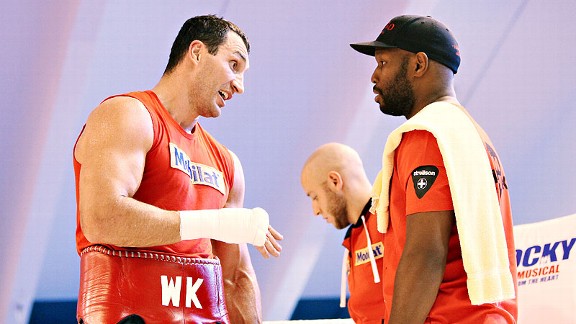 Nadine Rupp/Getty ImagesJohnathon Banks received sage advice in February from the fighter he trains -- Wladimir Klitschko.
Heavyweight contender Johnathon Banks was getting ready to face Seth Mitchell in a rematch on Feb. 16 when he broke his right thumb in a sparring session two weeks before the fight.
Ultimately, Banks had to postpone the bout, but he had to be convinced to do so by none other than heavyweight champion Wladimir Klitschko, whom Banks also trains, taking over that role following the death of his mentor Emanuel Steward last fall. Klitschko's K2 Promotions also serves as Banks' promoter.
Believe it or not, Banks was ready to go through with the fight despite a significant injury. That's his fighter's mentality.
"Actually, I was going to fight with a broken thumb because I wanted to fight," Banks said. "You're spending your money [for training camp], preparing for a fight and then you call the fight off. I don't like doing that, and I was going to go through with the fight. Wladimir Klitschko called me and asked me not to go through with the fight. He said, 'Dude, you broke your thumb. Why would you take the risk going to a fight handicapped?'
"I wasn't thinking with my mind. I'm thinking with my heart because I just wanted to fight. That's just me. I'm saying regardless, I want to fight. So, I sat down, thought about it and it was bandaged up, I couldn't use it."
The first time Banks and Mitchell met was in November. Banks was a prohibitive underdog but dropped Mitchell three times in the second round for the upset stoppage victory that sent Banks' stock soaring and the heavily hyped Mitchell's plummeting.
But Mitchell had a rematch option and exercised it, setting up the sequel that was rescheduled and will take place Saturday night (Showtime, 9 ET/6 PT) on the undercard of welterweight titlist Paulie Malignaggi's defense against lightweight titleholder Adrien Broner at the Barclays Center in Brooklyn, N.Y.
Before Banks (29-1-1, 19 KOs) -- who said he had never broken a bone before -- came to his senses about his injured thumb, he said that he could finish training using only his left hand and still face Mitchell (25-1-1, 19 KOs) as scheduled.
"I listened to what [Klitschko] said and that's why I went on and called off the fight," Banks said. "I didn't want to do it because, I mean, no fighter likes to be hearing about this a week or a week and a half, two weeks before the fight.
"I'm a fighter. I just want to fight. So, I figured if I could walk, if I could talk, if I could throw it. I said let's fight, but like I say, he talked to me. That's why you surround yourself with people that are knowledgeable about the game, so when you're not thinking knowledgeable, they can bring you back to reality."
Banks, who said his thumb is fine now, knows that he made the right decision.
"I definitely made the right decision because, as I said once that night, once I sat and thought about it and I said you know what, he's right, why will I go into fight handicap because I don't like to say, 'OK, Johnathon Banks, you lost the second fight, what happened?'" Banks said. "I said well, you know, I don't know. I want to be 100 percent. If I lose, let me lose at 100 percent. I can live with that, losing at 100 percent, but I can't live with being halfway ready and then I lose. I don't want anything like that to happen."
K2 Promoter Tom Loeffler was happy that Banks made the decision to postpone the fight.
"I naturally agreed with Wladimir," Loeffler said. "In a fight like this, at this caliber and with so much at stake, it just doesn't make sense to go into it [injured]. Every fighter is never really 100 percent after sparring and little nicks and bruises and things like that, but to have a broken thumb and to go into a fight like this just wouldn't really have made sense, although it did take a little while to convince Johnathon of that, I know that."
June, 13, 2013
6/13/13
1:15
PM ET
A little of this and a little of that from the world of boxing:

• There's been a big shake-up behind the scenes at Golden Boy as chief executive Richard Schaefer recently announced a major restructuring of the staff of the world's No. 1 promotional company.

Chief operating officer David Itskowitch is leaving the company after six years, effective July 31, which set off a slew of changes. Bruce Binkow, the chief marketing officer, will also now be the COO, and longtime vice president of operations Armando Gaytan will also assume the newly created position of deputy COO and has been promoted to senior VP of operations. Chief of staff Robert Gasparri will take on the role of VP of operations. Schaefer also announced that attorney Arnold Joseph, who has done work for the company for years, is joining the staff full-time as general counsel. Longtime director of communications and events Monica Sears was promoted to VP of operations and digital marketing coordinator Nicole "The Spark" Sparks is moving up to director of marketing. Marylyn Aceves is returning to the company as VP of public relations.

"Given his contributions to Golden Boy Promotions over the past six years, David Itskowitch's departure from the company is significant and he will be missed, but with the restructuring we have implemented we will have a smooth transition that will ensure the continued success of Golden Boy Promotions," Schaefer said.

• Golden Boy announced the full undercard for its June 22 Showtime tripleheader at the Barclays Center in Brooklyn, N.Y. In addition to the TV fights -- welterweight titlist Paulie Malignaggi defending against lightweight titleholder Adrien Broner, the heavyweight rematch between Johnathon Banks and Seth Mitchell and Sakio Bika-Marco Antonio Periban for a vacant super middleweight belt -- junior middleweight prospect Julian Williams (12-0-1, 7 KOs) will face chin-challenged former titleholder Joachim Alcine (33-4-1, 19 KOs) in the most notable other bout. Three of the other bouts will involve members of the 2012 U.S. Olympic team: Staten Island light heavyweight Marcus Browne (4-0, 4 KOs), who always has a fan section cheering for him at Barclays, bantamweight Rau'Shee Warren (4-0, 2 KOs) and lightweight Jamel Herring (3-0, 2 KOs).

• Promoters Lou DiBella and Curtis "50 Cent" Jackson announced that they have acquired the rights to "Tapia," a documentary on the late former five-time world champion Johnny Tapia, who died in May 2012 at age 45. The world premiere of the documentary will take place at the Los Angeles Film Festival on Saturday. The film, directed by Eddie Alcazar, chronicles Tapia's tumultuous personal and professional life using first-person narration from Tapia himself, archival footage and personal photos. Alcazar spent many hours with Tapia filming, including in the weeks before Tapia's death. Those last interviews are included in the film, as are interviews with Mike Tyson, trainer Freddie Roach (who trained Tapia at one point during his career) and Teresa Tapia, Johnny's widow.

"I was drawn to the intensity of this project," Jackson said. "His story resonated with me because like Tapia, I too lost my mother to violence and grew up with limited means. It's a heartfelt story and it was important for me to get involved with bringing this to a broader audience."

Said DiBella, who, when he programmed boxing at HBO, put Tapia on the network, "This is not a boxing film, but a film about tragedy, triumph, demons and redemption. Johnny gives us an honest assessment of his strengths and frailties; he reminds us of the power and resiliency of the human spirit."

• European light heavyweight champion Juergen Braehmer (40-2, 31 KOs), a former world titleholder, will make his second defense against Italy's Stefano Abatangelo (17-2-1, 6 KOs) on Aug. 24 in Schwerin, Germany, Sauerland Event announced. Abatangelo is 11-0-1 in his past 12 fights. Braehmer is the mandatory challenger for world titleholder Nathan Cleverly, who he could meet later this year. Also on the card is supposed to be the return of former middleweight and super middleweight titlist Arthur Abraham (36-4, 28 KOs) against Willbeforce Shihepo (20-6, 15 KOs). In his last fight, Abraham was destroyed in four rounds and lost his super middleweight belt to Robert Stieglitz in their March 23 rematch.

• Some interesting stats from last Saturday's head-to-head clash between the HBO and Showtime cards. According to Nielsen Media Research, HBO's undercard fight of Yuriorkis Gamboa-Darleys Perez drew 947,000, which increased to 1,024,000 viewers for the Adonis Stevenson-Chad Dawson main event. Showtime, which had a tripleheader, drew a measly 207,000 viewers for the Jermell Charlo-Demetrius Hopkins opener, which grew to 471,000 for the Erislandy Lara-Alfredo Angulo co-feature and then 594,000 for the Marcos Maidana-Josesito Lopez main event. Although Showtime (which is in about 8 million fewer homes than HBO) had the better overall card for sure and has seen its boxing viewership on an overall upswing, the dreadful Gamboa-Perez undercard fight on HBO still drew 353,000 more than Showtime's main event.
February, 12, 2013
2/12/13
8:54
PM ET
When heavyweight Johnathon Banks broke his right thumb in sparring last week, forcing postponement of his rematch against Seth Mitchell on Saturday night, it left HBO and Golden Boy Promotions with a decision to make: Go with just the lightweight title main event between Adrien Broner and Gavin Rees or add another fight from the undercard to the broadcast.

Golden Boy chief executive Richard Schaefer pushed for HBO to televise a fight that was already on the card at Boardwalk Hall in Atlantic City, N.J. -- the super middleweight title eliminator between former title challenger Sakio Bika and Nikola Sjekloca.

HBO wasn't quite sure if it wanted to do that, but on Tuesday they finalzed a deal to add the fight to the telecast.

I'm not sure what took so long to make the decision, but it's made and there will be a doubleheader Saturday night (10:30 ET/PT) when, by the way, HBO will unveil a makeover to its "World Championship Boxing" theme music, graphics, logo and lighting. (Also, the iconic theme to its "Boxing After Dark" series will be no more when HBO makes a change to that, too, for the next edition of that show.)

Schaefer was happy to find an outlet for the fight between Bika (30-5-2, 21 KOs), a Cameroon native who lives in Australia, and Sjekloca (25-0, 7 KOs), who is from Montenegro.

"I think it's terrific," Schaefer said. "It is a fight which I was hoping get televised anyway and I didn't have a spot, but the fight had to happen [because it's an official eliminator] so we put it on the card and it wasn't going to be televised. Bika is a come-forward guy who makes good fights and my matchmakers tell me that Sjekloca is an exciting come-forward guy as well, so it should be a terrific fight and I am happy HBO is picking it up."

The winner of the fight is due to become a mandatory challenger for super middleweight champion Andre Ward, already an owner of a lopsided decision win against Bika, who has won two fights in a row since that defeat.

"Obviously, since HBO is deeply invested in the 168-pound weight class, I feel this is the right spot for this fight to air," Schaefer added.


February, 7, 2013
2/07/13
2:36
PM ET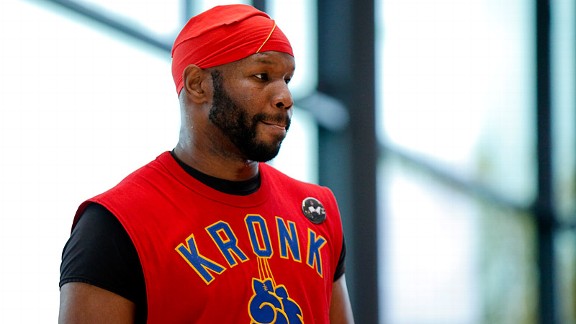 AP PhotoJohnathon Banks was looking forward to a rematch with Seth Mitchell ... before he got injured.
Heavyweight contender Johnathon Banks is bummed out, of course, after breaking his right thumb in a sparring session, which forced his rematch with Seth Mitchell to be postponed.
They were supposed to fight Feb. 16 on HBO's Adrien Broner-Gavin Rees undercard in Atlantic City, N.J. The fight will be rescheduled, but Banks (29-1-1, 19 KOs) was looking forward to the rematch of their November fight when, as an underdog, he dropped Mitchell three times in the second round for the knockout victory -- the biggest of his career.
"I was sparring on Monday and I felt something wrong with my right thumb while we were in the ring," Banks said. "On Tuesday, I went to a hand specialist here in Detroit. There is a broken bone in the thumb and he diagnosed that it would take six weeks to heal.
"I was having a terrific camp and was truly looking (forward) to facing Seth again. Hopefully the bout can be rescheduled soon and I can get back in the ring in the near future."
Their first bout was originally scheduled to take place last July, but wound up being postponed until November because it was Mitchell (25-1-1, 19 KOs) who had to postpone because of a hand injury.
With Banks-Mitchell postponed, there was some thought that Mitchell might stay on the card against a new opponent, be it on television or off. Although Mitchell likely won't stay on the show, Philadelphia heavyweight contender Bryant Jennings, as soon as he and promoter Russell Peltz heard about Banks' injury, volunteered to fill in and fight him.
Taking a short-notice fight would be nothing new to Jennings (16-0, 8 KOs), who filled in on six days' notice a year ago and beat then-undefeated southpaw Maurice Byarm on national television.
"If we cannot get (Wladimir) Klitschko, we'll keep calling out all the other heavyweights until one of them decides to fight Bryant," Peltz said. "Today's fighters have to get in shape. The old-timers stayed in shape and Jennings trains like the old-timers. He's always ready. I spoke with (Golden Boy Promotions matchmaker) Eric Gomez and told him Jennings was ready, willing and able."
Peltz said that Gomez's response was that they had not decided what they were going to do yet.
December, 11, 2012
12/11/12
12:09
PM ET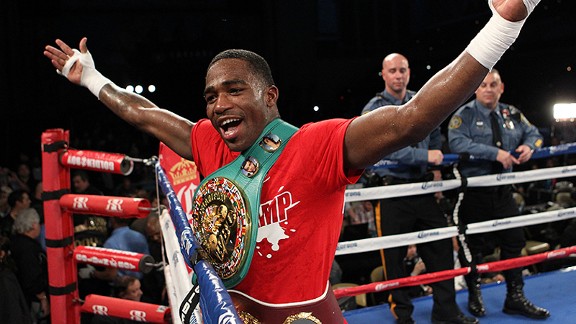 Tom Hogan/Hogan Photos/Golden Boy PromotionsLightweight champion Adrien Broner could challange Paulie Malignaggi in the 147-pound division.
Most of the televised bouts involving Golden Boy fighters are on Showtime these days, but the promotion is still working with HBO, albeit to a lesser extent.
But Adrien Broner, who has been appearing regularly on HBO, is staying on the network. Broner, who won a lightweight world title by knocking out Antonio DeMarco in the eighth round on Nov. 17, is due back on HBO on Feb. 16, Golden Boy CEO Richard Schaefer told ESPN.com.
There is no opponent or venue yet, but Schaefer said he's been talking to British promoter Frank Warren about matching Broner with fellow titleholder Ricky Burns of Scotland. When Burns held a junior lightweight title, Broner was his mandatory challenger, but he moved up in weight and vacated -- some say to avoid Broner -- leaving Broner to win the vacated belt.
Burns is supposed to fight on Saturday in London, but his second opponent, Jose Ocampo, dropped out on Monday, leaving Warren to scramble for a replacement. Schaefer would like to see Burns just sit tight and wait until February.
"I am trying to do the Burns fight [with Broner,]" Schaefer said. "[I'll be] talking again [Tuesday] with Frank Warren. I am going to try and convince him to go directly to Broner for Feb. 16. But if Burns does not work out then maybe [interim titlist] Richard Abril" would be Broner's opponent.
Golden Boy and HBO are also far along in talks for a multi-fight contract for Broner to remain exclusively on the network. It would be for at least three fights, although, from what I am told, the Feb. 16 date is not predicated on the deal being finalized.
Also, when Broner fights Feb. 16, the undercard bout is likely to be a heavyweight rematch between Johnathon Banks and Seth Mitchell. On the Broner-DeMarco undercard last month, Banks pulled the upset by knocking out Mitchell in the second round. Mitchell had a rematch clause and has exercised his option to fight Banks again.
Schaefer and HBO are also in the talking stages about an April tripleheader. One of the bouts they are discussing is a featherweight match between former titlist Jhonny Gonzalez and 2011 ESPN.com prospect of the year Gary Russell Jr., who would be taking a huge step up in the level of his competition if the fight is finalized. Gonzalez lost his belt via eighth-round technical decision to Daniel Ponce De Leon on Sept. 15.
Another fight being talked about would pit welterweight slugger (and former junior welterweight titlist) Marcos Maidana against prospect Keith Thurman. They were supposed to fight on a Broner undercard in July, but Maidana and his team decided against it. Now the talks have been renewed. Thurman has won two fights in a row on HBO, but if he faces Maidana, he would be fighting the best opponent of his career.
That April card could also feature the return of former two-time welterweight titlist Andre Berto, who lost a unanimous decision in a terrific fight against Robert Guerrero on Nov. 24.
November, 14, 2012
11/14/12
2:08
PM ET

Heavyweight Seth Mitchell didn't grow up around boxing like Johnathon Banks, his opponent on Saturday night (HBO, 10 ET/PT) at Boardwalk Hall in Atlantic City, N.J., did.

Mitchell was a high school football star and then a linebacker at Michigan State. He had his eyes on the NFL, but a knee injury killed that dream and he moved to boxing after graduating from college with a criminal justice degree.

He didn't model himself after any fighter in particular because he was too into football.

"I literally just got involved in boxing six years ago," Mitchell said. "There's nobody that I really looked up to as a fighter, and you probably could ask Johnathon this question and he probably could say, 'Well I used to look up to so and so in boxing,' but that wasn't my thing. I wanted to be a football player. I really looked up and admired and wanted to play like Ray Lewis, middle linebacker for the Baltimore Ravens."

That should come as no surprise because Mitchell (25-0-1, 19 KOs) is from Brandywine, Md., not too far from Baltimore.

"But as a boxer I like a lot of people," Mitchell said. "I watch tape on fights just to pick up different things to add to my boxing craft. My favorite fighter right now is Miguel Cotto."

Banks (28-1-1, 18 KOs) is different. He has been around boxing since he was a teen boxing as an amateur for late trainer Emanuel Steward at his Kronk Gym in Detroit.

Besides looking up to Steward, he looked up to fighters from Detroit, which produced some all-time greats.

"Of course, the guys I looked up to in Detroit [were] Detroit fighters," Banks said. "Joe Louis, he was from Detroit. Sugar Ray Robinson was from Detroit. And of course there was Thomas Hearns."

Banks also mentioned such former Detroit champions such as Milton McCrory, and Hilmer Kenty, the first champion from the Kronk Gym.

"I have to say I looked up to all these guys, and I was able to talk to a majority of these guys," Banks said. "I was able to talk to a lot of different trainers that trained Joe Louis, a lot of different trainers that worked right next to Sugar Ray Robinson. So I was able to talk to a lot of these guys, just get a little techniques or stuff like that, learning different things from a lot of old-school people."

August, 22, 2012
8/22/12
12:55
PM ET
Adrien Broner is living up to his nickname: "The Problem."
Broner, a former junior lightweight titlist who was stripped of his belt for not making weight before a July 21 fight with Vicente Escobedo (which Broner won via dominant fifth-round knockout), is moving up to lightweight and was supposed to headline an Oct. 6 HBO show in Atlantic City, N.J.
[+] Enlarge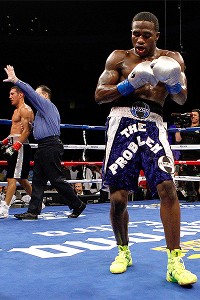 Pat Lovell/Hoganphotos/Golden Boy PromotionsAdrien Broner will remain idle a bit longer as fight organizers step lively looking for his next opponent.
However, HBO and promoter Golden Boy were having a big problem coming up with an opponent they could agree on for Broner (24-0, 20 KOs) to face. So with time running a bit short to organize the show, HBO decided to move the card to a date to be determined in November.
So now the network and promoter have bought themselves a bit more time to find a good opponent. It won't be easy, considering the lack of depth at lightweight. I wouldn't mind seeing Broner challenge titleholder Miguel Vazquez, although that's a hard fight to make because of Vazquez's ties to Golden Boy's rival promoter, Top Rank. Ideally, when titleholder Antonio DeMarco and John Molina fight on Sept. 8, the winner of the bout will come out clean, with no injuries, and could be back in the ring to defend against Broner. That's probably a long shot, though.
When the card was postponed, it meant that the co-feature of heavyweight Seth Mitchell (25-0-1, 19 KOs) against Johnathon Banks (28-1-1, 18 KOs) would also move.
Mitchell knocked out Chazz Witherspoon in an exciting three-round shootout in April in Atlantic City, but he hurt his right hand. A summer return was delayed until October, and now until November.
I spoke to Mitchell's manager, Sharif Salim, on Wednesday morning, and he said although they would love to stay on schedule for Oct. 6, he understands the business.
Salim said Golden Boy notified him of the date being moved on Tuesday and he hopes the card will remain in Atlantic City, which will attract Mitchell's fans from Brandywine, Md., and the entire Washington, D.C., area to make the easy drive to the fight.
"Seth's hand is fine; he's been sparring," Salim said. "The right hand is great. We're itching to fight. This is his longest layoff, but we know we're not the main event and [the schedule] is predicated on the main event.
"So Seth will gear down, but he will stay in the gym. We don't want to overtrain. We will wait for a solidified date and venue but keep working. We're still fighting Johnathon Banks, and I'm pretty sure he's feeling the same way we are: 'Let's get this thing on.' But they have to put that main event together. We're professional about it."