July, 19, 2013
7/19/13
10:16
AM ET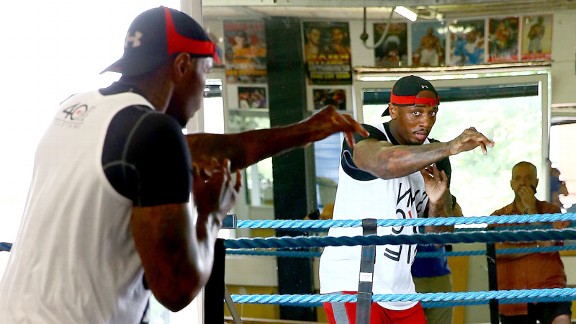 Scott Heavey/Getty ImagesMalik Scott is looking for another American victory when he faces Englishman Dereck Chisora.
On July 6 in England, American heavyweight contender and two-time world title challenger Tony Thompson knocked out British hopeful David Price -- for the second time -- in the fifth round.
Two weeks later another American heavyweight, Malik Scott, is in England seeking a similar performance when he faces former world title challenger Dereck Chisora on Saturday (BoxNation in the United Kingdom) at Wembley Arena in London.
"I saw the fight between Thompson and Price and I knew that Thompson would do it again second time around," Scott, 32, of Philadelphia, said. "It was a great accomplishment. He's a good, strong heavyweight. I've sparred with Thompson before and I support any fighter who wears the stars and stripes and, of course, I was happy that he won. Even if Thompson didn't beat Price, I'm on my own path and I will beat Mr. Chisora in devastating style. It will be exciting, and I'll be looking to do a real good job on him, and it could be early."
Scott devastating and exciting? It would be the first time, since he is one of the most boring heavyweights in the sport today. Scott rarely presses the action and has never shown one ounce of a desire to go for a knockout or mix it up in any way. That said, Scott (35-0-1, 12 KOs) has a ton more skill than Chisora (16-4, 10 KOs) and is an excellent technician.
Frankly, Scott, coming off a disputed 10-round draw in February against 2008 Olympic bronze medalist Vyacheslav Glazkov, should handle the 29-year-old Chisora, who ended a three fight-fight losing streak on April 20 by knocking out journeyman Hector Alfredo Avila in the ninth round, also at Wembley Arena.
Jesse Reid, Scott's trainer, believes his man can take out Chisora, who was dominated in a lopsided decision to loss to Vitali Klitschko in a 2012 world title fight and stopped in the fifth round by countryman David Haye last July.
"Malik's in tremendous shape. He's my prize racehorse and he's ready for Chisora," said Reid, who has trained fighters such as Johnny Tapia, Hector Camacho and Hall of Famer Orlando Canizales. "His strongest assets are his speed, footwork and intelligence. He knows how to stay calm under pressure. I'm more than confident. I've trained many world champions in my 42 years in boxing and some of the biggest names in the sport, but a world heavyweight champion has eluded me. But I believe I've got one in Malik."
Chisora, whose trash talking is better than his actual boxing ability, claimed that he saw fear in Scott's eyes when they faced off at Tuesday's final news conference, after Scott missed a previously scheduled media event (claiming he was unaware of it) Monday.
"I'm happy now that I've looked into his eyes and I see that the boy is scared," Chisora, nicknamed "Del Boy," said. "I don't believe all this rubbish he's saying that he didn't know about the press conference [on Monday]. He just didn't want to see me. He even had to be forced to take off his sunglasses as we went face to face. What counts is what happens in the ring on Saturday, and I'm going to do a real good job on this boy and pack him back off to America, defeated."
Don Charles, Chisora's trainer, claims Chisora is in the best shape he has ever been in, but we've all heard that before right?
"Scott looks in great shape, which is good news for us, as it will be all the better when Del beats him," Charles said. "Trust me, Del is in the best shape of his career and Scott will be not be able to stand the heat that Del is going to dish out. Scott has not met anyone like Del and he's caught him at the wrong time, Del is hungry and determined as he knows he can't afford to lose this fight."
June, 13, 2013
6/13/13
1:15
PM ET
A little of this and a little of that from the world of boxing:

• There's been a big shake-up behind the scenes at Golden Boy as chief executive Richard Schaefer recently announced a major restructuring of the staff of the world's No. 1 promotional company.

Chief operating officer David Itskowitch is leaving the company after six years, effective July 31, which set off a slew of changes. Bruce Binkow, the chief marketing officer, will also now be the COO, and longtime vice president of operations Armando Gaytan will also assume the newly created position of deputy COO and has been promoted to senior VP of operations. Chief of staff Robert Gasparri will take on the role of VP of operations. Schaefer also announced that attorney Arnold Joseph, who has done work for the company for years, is joining the staff full-time as general counsel. Longtime director of communications and events Monica Sears was promoted to VP of operations and digital marketing coordinator Nicole "The Spark" Sparks is moving up to director of marketing. Marylyn Aceves is returning to the company as VP of public relations.

"Given his contributions to Golden Boy Promotions over the past six years, David Itskowitch's departure from the company is significant and he will be missed, but with the restructuring we have implemented we will have a smooth transition that will ensure the continued success of Golden Boy Promotions," Schaefer said.

• Golden Boy announced the full undercard for its June 22 Showtime tripleheader at the Barclays Center in Brooklyn, N.Y. In addition to the TV fights -- welterweight titlist Paulie Malignaggi defending against lightweight titleholder Adrien Broner, the heavyweight rematch between Johnathon Banks and Seth Mitchell and Sakio Bika-Marco Antonio Periban for a vacant super middleweight belt -- junior middleweight prospect Julian Williams (12-0-1, 7 KOs) will face chin-challenged former titleholder Joachim Alcine (33-4-1, 19 KOs) in the most notable other bout. Three of the other bouts will involve members of the 2012 U.S. Olympic team: Staten Island light heavyweight Marcus Browne (4-0, 4 KOs), who always has a fan section cheering for him at Barclays, bantamweight Rau'Shee Warren (4-0, 2 KOs) and lightweight Jamel Herring (3-0, 2 KOs).

• Promoters Lou DiBella and Curtis "50 Cent" Jackson announced that they have acquired the rights to "Tapia," a documentary on the late former five-time world champion Johnny Tapia, who died in May 2012 at age 45. The world premiere of the documentary will take place at the Los Angeles Film Festival on Saturday. The film, directed by Eddie Alcazar, chronicles Tapia's tumultuous personal and professional life using first-person narration from Tapia himself, archival footage and personal photos. Alcazar spent many hours with Tapia filming, including in the weeks before Tapia's death. Those last interviews are included in the film, as are interviews with Mike Tyson, trainer Freddie Roach (who trained Tapia at one point during his career) and Teresa Tapia, Johnny's widow.

"I was drawn to the intensity of this project," Jackson said. "His story resonated with me because like Tapia, I too lost my mother to violence and grew up with limited means. It's a heartfelt story and it was important for me to get involved with bringing this to a broader audience."

Said DiBella, who, when he programmed boxing at HBO, put Tapia on the network, "This is not a boxing film, but a film about tragedy, triumph, demons and redemption. Johnny gives us an honest assessment of his strengths and frailties; he reminds us of the power and resiliency of the human spirit."

• European light heavyweight champion Juergen Braehmer (40-2, 31 KOs), a former world titleholder, will make his second defense against Italy's Stefano Abatangelo (17-2-1, 6 KOs) on Aug. 24 in Schwerin, Germany, Sauerland Event announced. Abatangelo is 11-0-1 in his past 12 fights. Braehmer is the mandatory challenger for world titleholder Nathan Cleverly, who he could meet later this year. Also on the card is supposed to be the return of former middleweight and super middleweight titlist Arthur Abraham (36-4, 28 KOs) against Willbeforce Shihepo (20-6, 15 KOs). In his last fight, Abraham was destroyed in four rounds and lost his super middleweight belt to Robert Stieglitz in their March 23 rematch.

• Some interesting stats from last Saturday's head-to-head clash between the HBO and Showtime cards. According to Nielsen Media Research, HBO's undercard fight of Yuriorkis Gamboa-Darleys Perez drew 947,000, which increased to 1,024,000 viewers for the Adonis Stevenson-Chad Dawson main event. Showtime, which had a tripleheader, drew a measly 207,000 viewers for the Jermell Charlo-Demetrius Hopkins opener, which grew to 471,000 for the Erislandy Lara-Alfredo Angulo co-feature and then 594,000 for the Marcos Maidana-Josesito Lopez main event. Although Showtime (which is in about 8 million fewer homes than HBO) had the better overall card for sure and has seen its boxing viewership on an overall upswing, the dreadful Gamboa-Perez undercard fight on HBO still drew 353,000 more than Showtime's main event.
January, 3, 2013
1/03/13
6:25
PM ET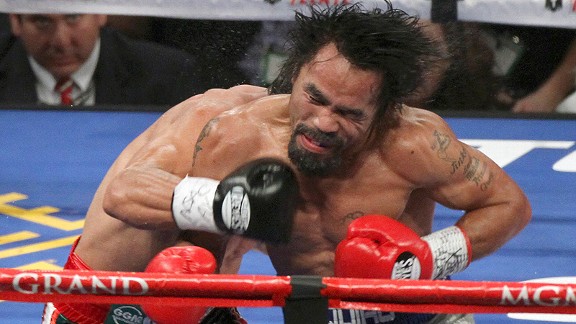 Zumapress/Icon SMIJuan Manuel Marquez's one-punch KO against Manny Pacquiao will be remembered for years to come.
Yes, 2012 is in the books, but beyond last week's daily annual awards for fighter, knockout, round, prospect and fight of the year, I handed out some
additional hardware on Wednesday
. And now, here is Part 2:
Most important business development:
The return of boxing to network television. Boxing was essentially banished from network TV in the late 1990s, with a few exceptions. But in back-to-back weeks in December, it returned to Saturday afternoons on CBS (Leo Santa Cruz versus Alberto Guevara in a bantamweight title fight) and NBC (Tomasz Adamek and Steve Cunningham in a heavyweight rematch) thanks to the hard work of promoters Golden Boy and Main Events, respectively. Both cards performed very well in the ratings, meaning you can probably count on seeing more network action in 2013 and, hopefully, beyond. Boxing on free TV can be a game-changer for the sport.
Event of the year:
Begrudgingly, I'm going with the night of Sept. 15 in Las Vegas. I was very clear from the outset that I despised the idea of two major cards competing in the same city on the same night when Top Rank/HBO PPV and Showtime/Golden Boy went head-to-head with Sergio Martinez-Julio Cesar Chavez Jr. at the Thomas & Mack Center and Canelo Alvarez-Josesito Lopez down the street at the MGM Grand on Mexican Independence Day weekend. It caused a lot of unnecessary issues and a lot of hurt feelings for a lot of people in the business. But ultimately the fans turned out for both events. The HBO PPV was a huge success, Showtime's ratings were robust, and both cards produced quality entertainment. That said, I hope we don't see another conflict like that this year. (But I won't hold my breath.)
Non-event of the year:
Same as the past few years -- a Manny Pacquiao-Floyd Mayweather Jr. fight. And now the whole thing is down the drain after Pacquiao's knockout loss to Juan Manuel Marquez last month. Only in boxing could the ego, greed and stupidity of some of those involved blow up one of the biggest potential events in history. Even if the fight does happen someday, it will never be what it should have been -- easily the biggest money fight ever and the ultimate summit meeting of the two best fighters on the planet. But that ship has sailed for what will instead go down as one of the most disappointing situations in sports history. No matter what happens from here on out, there will always be a gaping hole in the legacies of both fighters.
OMG moment of the year:
Has to be Marquez's stunning one-punch KO against Pacquiao with one second left in the sixth round. I thought at that point in the fight that Pacquiao was closing in on his own stoppage win, and then all of a sudden ... boom!
Runner-up:
Chavez dropping Martinez in the final 90 seconds of what had been a one-sided Martinez domination. Both moments were electrifying.
Best experience of the year:
Thanks to my side gig as an analyst for Epix boxing telecasts, I traveled to Nottingham, England, Carl Froch's hometown, to call his upset knockout win against Lucian Bute in May. It was my first trip to England and one of the best experiences of my career covering boxing. Working with fellow announcers Bruce Beck, Sugar Ray Leonard, Chris Mannix and our whole crew on the show was a pleasure, and riding around Nottingham (on the other side of the road for the first time) as executive producer/driver Travis Pomposello navigated more roundabouts than any road system should have was quite an experience. I still regret that I was unable to convince Travis to stop at the Porsche dealership we kept passing, but at least the atmosphere on fight night was incredible. I rate it No. 2 on my all-time list behind the atmosphere at the MGM Grand for Mayweather-Ricky Hatton.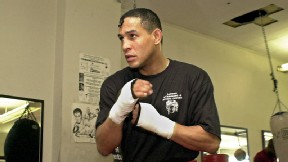 Paul Warner/Getty ImagesHector "Macho" Camacho passed away in 2012 after being shot in Puerto Rico.
R.I.P.:
2012 was a particularly tough year in terms of losses in the boxing community, including the great Angelo Dundee, good pal Bert Sugar, Johnny Tapia, Hector Camacho Sr., Goody Petronelli, Carmen Basilio, Julio Gonzalez and Corrie Sanders. They will all be missed. But the passing of Emanuel Steward, a dear friend and a wonderful ambassador for the sport, was particularly hard to take.
Misery award:
The 2012 U.S. Olympic men's boxing team, which didn't win a single medal for the first time ever. This is rock-bottom status for a U.S. amateur system that has been driven into the ground for years.
Runners-up (tie):
HBO buying Keith Thurman-Orlando Lora and Showtime buying Jayson Velez-Salvador Sanchez II. Neither had any business airing on premium cable.
Quickest rise of the year:
Leo Santa Cruz went from a prospect known only among hard-core fans (he was on my 2011 year-end top prospects list) to one of the sport's most notable young talents. He went 5-0, won a bantamweight world title, became a Showtime regular, headlined the return of boxing to CBS and, most important, made one action-packed fight after another.
Shame on you award:
We have four winners, Lamont Peterson, Andre Berto, Antonio Tarver and Erik Morales, all of whom were busted for using banned substances. Performance-enhancing drugs are a major problem in boxing, and commissions badly need to beef up testing. Three of these fighters were caught by either VADA or USADA, which were contracted for specific fights outside of commission oversight. Only Tarver's test came from a postfight California commission test. Amazingly, after Morales failed multiple tests, New York still allowed him to fight.
Welcome award I:
The beautiful new Barclays Center in Brooklyn, N.Y., which opened for boxing in October, is a welcome addition to the fight circuit. Golden Boy will promote there regularly and already has cards slated for February, March and April.
Welcome award II:
WealthTV, the upstart cable network, is in very few homes, but every boxing fan should be calling their cable or satellite provider to ask for it. WealthTV showed a number of notable fights, including those involving Bute, 2012 ESPN.com prospect of the year David Price, Tyson Fury and Adonis Stevenson. And in the programming move of the year, when the premium networks wrongly ignored it, WealthTV smartly bought a fabulous November card featuring two fights that wound up rating as fight of the year candidates: the Brian Viloria-Hernan Marquez flyweight unification match (which we all knew would be a barn burner) and the Roman Gonzalez-Juan Francisco Estrada junior flyweight title fight, which was a pleasant surprise.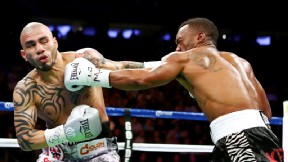 Elsa/Getty ImagesMiguel Cotto was the heavy favorite but he was outboxed by Austin Trout for 12 rounds at Madison Square Garden in December.
Bad luck runs in threes award:
Three of the most important fighters in recent boxing history suffered clear-cut losses on consecutive Saturdays: Hatton got knocked out Nov. 24, Miguel Cotto lost a decision to Austin Trout on Dec. 1, and Pacquiao got drilled on Dec. 8.
Winky Wright School of Boxing Business valedictorian:
Congratulations, junior middleweight contender James Kirkland. Forget about the fact that he nearly ruined his life and career a couple of years ago when he was sent back to prison for getting caught with a gun as a convicted felon on parole. Forget that he got waxed in one round in a comeback fight by an opponent who usually can't break an egg. In March, Kirkland was given the gift of a 10th-round disqualification win against Carlos Molina, who was winning easily before the highly suspect DQ. So when Golden Boy then offered him nearly $1 million to challenge titlist Canelo Alvarez on Sept. 15, Kirkland should have kissed CEO Richard Schaefer's feet in thanks. Instead, he accepted the fight but dropped out the next day, citing a shoulder injury that he said still hadn't healed after surgery. But Kirkland also tried to shake down Golden Boy for a larger purse to go through with the fight with a bad shoulder. Needless to say, the promoter didn't offer him another dime, instead making a new fight for Alvarez. Kirkland hasn't fought since March and is suing Golden Boy and his managers, who have done nothing but bend over backward to give him opportunities.
June, 20, 2012
6/20/12
9:17
AM ET
Although the late Johnny Tapia fought on several television networks during his career, the former three-division champion is most closely associated with Showtime. He fought on the network nine times and was under an exclusive contract with Showtime during the late 1990s and early 2000s.

Tapia, who died last month at age 45, fought some of his most notable bouts on Showtime, including both of his great fights with Paulie Ayala and his bantamweight title win against Nana Konadu. Tapia was also particularly close with Jay Larkin, the late head of Showtime Sports.

On Saturday night (9 ET/PT), before the welterweight main event between Victor Ortiz and Josesito Lopez, Showtime will honor Tapia (59-5-2, 30 KOs) with a 4½-minute feature looking back at his career. Showtime said it will commemorate the three-division champion's "captivating life journey" and that "the tribute will chronicle Tapia's exhilarating -- as well as heartbreaking -- underdog tale that endeared him to boxing fans worldwide."

"A man small in stature but gigantic in heart and personality, Johnny's memory will remain with all that knew him and keep us smiling for years to come -- just as he did in person," said Stephen Espinoza, the Showtime Sports general manager.
June, 1, 2012
6/01/12
4:24
PM ET
Former three-division champion Johnny Tapia, who died Sunday at age 45, had close ties to Showtime. For years, he was under contract to the network, fought on Showtime nine times and had a lot of friends who work there.

He was particularly close to Jay Larkin, the late head of Showtime Sports.

On Friday, Showtime extended its condolences to Tapia's family and announced details of a memorial service in his honor.

"We want to send our thoughts and prayers to the Tapia family in this time of loss," said Stephen Espinoza, executive vice president and general manager of Showtime Sports. "A man small in stature but gigantic in heart and personality, Johnny's memory will remain with all that knew him and keep us smiling for years to come -- just as he did in person."

Showtime said the Tapia family has announced a public memorial service in his honor in his hometown of Albuquerque, N.M.

The service will be on Sunday at the University of New Mexico's arena, The Pit, where Tapia fought multiple times, including when he won his first junior bantamweight title by knocking out Henry Martinez in the 11th round in 1994.

There is a viewing at 6:30 p.m. and the memorial service at 8 p.m. The Pit is located on the university's South Campus on University Boulevard and Cesar Chavez in southeast Albuquerque.