Dan Rafael:

Jonathan Oquendo
December, 10, 2014
Dec 10
4:16
PM ET
The stunning first-round knockout loss to Jhonny Gonzalez that cost Abner Mares his featherweight world title went down as one of the biggest upsets of 2013. Slowly, but surely, Mares is trying to get back on track following that defeat.

A rematch with Gonzalez planned for February was canceled when Mares suffered an injury. Then Mares, who left trainer Clemente Medina to work with Virgil Hunter, returned in July after an 11-month layoff.

Although Mares (27-1-1, 14 KOs), also a former bantamweight and junior featherweight titlist, outpointed Jonathan Oquendo, his performance was tentative and uninspiring. The pairing with Hunter did not last long. After the Oquendo fight, Mares decided to return to Medina, the man who had guided him to all three of his world titles (as well as the one loss).

Medina will be back in Mares' corner when he fights against Jose Ramirez on Saturday night (Showtime, 9 ET) on the Devon Alexander-Amir Khan undercard at the MGM Grand Garden Arena in Las Vegas.

"I had been working with Virgil Hunter in Oakland, California, prior to coming back to Clemente, (so) I had to sit down with Virgil," Mares said. "I learned so much from him. He's such a wise man. Everything that he says means something and I was fortunate enough to work with him. He taught me a lot and, if anything, you will see many things I learned from Virgil in my next fight on (Saturday). ... I feel very comfortable with Clemente."

When Mares, who turned 29 two weeks ago, decided to go work with Hunter he said he and Medina did not split on bad terms, so the reunion was easy.

"Mares is a wonderful fighter. I don't have to change anything. The reason he came back to me is because he knows my style, and my style is similar to Mares," Medina said. "He and I together are a very good team. I wasn't surprised when he came back to me because before he left he told me that he wanted to try to learn something different.

"I wasn't happy, but I understood. He needed to learn something different from someone else. I told him that if he wants to come back to train with me, the door is always open."

Medina thinks that Hunter's training style made for a less aggressive Mares. He said he expects Mares to be more aggressive Saturday than he was against Oquendo.

"Mares is an aggressive fighter, but he's also very smart," Medina said. "I expect to see the old Mares on (Saturday). I think that Mares was thinking too much in his fight with Virgil and I think that he will go back to being more aggressive and smart.

"Mares is much more confident now that he has come back to a real team. He's back with his family, and you can tell that he's much happier. He didn't feel 100 percent when training in Oakland, but he is very comfortable here (at home in Los Angeles)."

Ramirez (24-3-2, 15 KOs), 27, will be fighting for the first time in the 14 months since he was knocked out in the fourth round by Vasyl Lomachenko, who was making his professional debut and later won a world title.

"I'm ready for this next opponent, who I know little about, and that scares me," Mares said. "When you don't know much about a fighter it reminds you that he can bring anything."

With a victory, Mares figures to move into a higher-profile fight -- perhaps a world title bout. Golden Boy promoter Oscar De La Hoya has also said repeatedly that he would like to make a fight between Mares and junior featherweight titlist Leo Santa Cruz. Whatever comes after Saturday, Mares said he is determined to win another world title.

"I'm blessed, healthy and hungry. Hungry is the key word for me. I'm hungry to become a world champion again and to get back to where I was," Mares said. "It's not that I want to become world champion again, I'm going to. I'm going to let my actions speak louder than my words."
October, 8, 2014
Oct 8
6:26
AM ET
Abner Mares' union with trainer Virgil Hunter didn't last long.

Mares announced on Twitter on Tuesday night that he was reuniting with Clemente Medina, whom he left to join Hunter this past summer.

"So I'm happy to announce that I'm back with my old trainer, the man that took me to 3 world tittles 'Clemente Medina.' Mares is back," Mares wrote.

Mares did not indicate the reason for the change, although training with Hunter meant Mares, who lives in Southern California, had to travel to Hunter's gym in Oakland while Medina is based in the Los Angeles area.

Mares (27-1-1, 14 KOs), 28, a former bantamweight, junior featherweight and featherweight titleholder, lost his featherweight belt by first-round knockout in a huge stunner to Jhonny Gonzalez in August 2013. He later hooked up with Hunter and they had one fight together. Mares won a unanimous 10-round decision against Jonathan Oquendo on July 12 on the Canelo Alvarez-Erislandy Lara undercard but looked anything but impressive.

Medina trained Mares as he won world titles in three weight classes in a 22-month span, but was also his trainer for the upset loss to Gonzalez.
July, 10, 2014
Jul 10
12:46
PM ET
The contracts are filed with the Nevada State Athletic Commission so here's the rundown of the purses for the "Honor & Glory" card on Saturday night (Showtime PPV, 9 ET) at the MGM Grand Garden Arena in Las Vegas:

• In the main event, fought at a catchweight of 155 pounds, Canelo Alvarez will receive a $1.5 million purse but likely will make more based on pay-per-view sales and Mexican television revenue. His promotional company, Canelo Promotions, is also likely getting a nice chunk of change. Erislandy Lara will make a career-high $1 million for his first pay-per-view main event.

• In the featherweight co-feature, former titlist Abner Mares will make $400,000 for his first fight in the 11 months since he lost his title by first-round knockout and opponent Jonathan Oquendo will receive $50,000.

• Former two-division titlist Juan Manuel Lopez will make $125,000 for his junior lightweight bout with Francisco Vargas, who is getting $75,000.

• Interim junior welterweight titlist Johan Perez is making $100,000 while challenger Mauricio Herrera will receive $125,000.

• In a bantamweight title bout on the card but being televised on Showtime before the pay-per-view begins, Tomoki Kameda is making $60,000 for his title defense against Pungluang Sor Singyu, who gets $40,000.

June, 17, 2014
Jun 17
8:48
PM ET
At its monthly meeting Tuesday, the Nevada State Athletic Commission appointed the officials who will work the "Honor & Glory" card headlined by the Canelo Alvarez-Erislandy Lara fight on July 12 (Showtime PPV) at the MGM Grand in Las Vegas.

Robert Byrd will referee the junior middleweight main event. The judges will be Dave Moretti, Jerry Roth and Levi Martinez.

For the Abner Mares-Jonathan Oquendo featherweight co-feature, Kenny Bayless will be the referee and Adalaide Byrd, Burt Clements and Glenn Feldman will serve as judges.

Vic Drakulich will referee the Juan Manuel Lopez-Francisco Vargas junior lightweight bout, with the judging panel consisting of Tim Cheatham, Robert Hoyle and Don Trella.

Referee Tony Weeks will work interim junior welterweight titlist Johan Perez's defense against Mauricio Herrera. The judges will be Lisa Giampa, Max DeLuca and Glenn Trowbridge.

In another bout, which is not part of the pay-per-view broadcast, Tomoki Kameda defends his bantamweight world title against Pungluang Sor Singyu. Russell Mora was appointed referee, and Dick Houck, Patricia Morse-Jarman and Cathy Leonard will judge.


September, 4, 2013
9/04/13
1:03
PM ET
Two-time Ukrainian Olympic gold medalist Vasyl Lomachenko is serious about moving quickly in his pro career, so quickly that if he wins his professional debut, he likely will challenge for a world title in his second fight.

You read that correctly.

The 25-year-old will make his pro debut in a real fight, taking on seasoned veteran Jose Ramirez (25-3, 15 KOs) of Mexico in a 10-round featherweight bout Oct. 12 (HBO PPV) at the Thomas & Mack Center in Las Vegas on the Timothy Bradley Jr.-Juan Manuel Marquez card.

Lomachenko was originally scheduled to face Jonathan Oquendo (23-3, 16 KOs) of Puerto Rico, but Oquendo withdrew, claiming a hand injury.

"Well, he couldn't have done it signing the contract," Top Rank vice president Carl Moretti said jokingly. "Ramirez is maybe a better fight."

Ramirez is coming off a strong 12-round split decision against longtime contender Rey Bautista in Bautista's native Philippines in April in a fight in which they were both knocked down.

If a 10-rounder against a real opponent in Lomachenko's pro debut isn't audacious enough, how about the game plan if he wins?

Should Lomachenko -- the 2008 Olympic featherweight gold medalist, 2012 lightweight gold-medal winner, and a two-time world amateur champion -- win, he likely will challenge for a featherweight world title in early 2014.

The target date is on a Jan. 25 HBO card at the Theater at Madison Square Garden in New York against the winner between former titleholder Orlando Salido (39-12-2, 27 KOs) of Mexico and Puerto Rico's Orlando Cruz (20-2-1, 10 KOs), who meet for a vacant featherweight world title on the same Oct. 12 card as Lomachenko-Ramirez.

The possible headliner of the Jan. 25 card could be lightweight contender Terence Crawford in a mandatory challenge of the winner of Saturday's fight between titleholder Ricky Burns and Raymundo Beltran.

One of the reasons Lomachenko signed with promoter Top Rank was because it promised it would meet his condition to be in a world title fight almost immediately, and also because Top Rank could deliver such a fight.

Top Rank chairman Bob Arum told ESPN.com that he already has talked about the title fight against Lomachenko with the camps of both Salido and Cruz, and both are excited about the prospect.

"They know that if they win the title, they can get their biggest payday with Lomachenko," Arum said. "Why wouldn't they want that? They'd be fighting a guy who has never been in a 12-round fight and who knows how this guy does? Lomachenko is extremely talented but he's the kind of kid who is very full of himself and has a tremendous degree of confidence in himself. This guy is special. How special remains to be seen."

Arum also signed Japan's Ryota Murat, the 2012 Olympic middleweight gold medalist, and attended his pro debut last month in Tokyo. Murata, who beat No. 1 pro Japanese middleweight Akio Shibata by second-round knockout, also wants to move quickly.

"For me, what Lomachenko and Murata are doing is contrary completely to the normal way we build fighters at Top Rank," said Arum, whose matchmakers are known as the best in the business for the way they methodically build champions and stars. "But maybe these aren't normal times and these are not normal athletes.

"It's one thing if we made the suggestion or we persuaded them into being moved fast. Maybe then I'd say did we do the right thing. But this is what they wanted. This is what Lomachenko wants. He wanted to fight for a world title in his first fight, but we told him that couldn't be done. So we'll do it in the second fight."

One hurdle to Lomachenko fighting for a world title in his second fight was cleared at the recently concluded WBO annual convention, where Lomachenko was approved to fight for one of the organization's regional belts in his debut, meaning Lomachenko would qualify to fight for a world title if he wins.

If the January title shot doesn't come off, Arum said an alternative plan could be for him to stage a show in Macau in February called "Night of Gold," on which he would feature three of the 2012 Olympic gold medalists he signed: Chinese flyweight Zou Shiming in a 10-rounder, Lomachenko in a world title fight, and Murata in a 10-rounder.
October, 4, 2012
10/04/12
3:21
PM ET
Former junior featherweight titlist Wilfredo Vazquez was supposed to face former champ Rafael Marquez in his next fight, but Marquez again withdrew because of an injury.
Marquez withdrew from the fight when it was scheduled for Aug. 4 and from the rescheduled clash this weekend. But this time Vazquez isn't waiting for him and the show will go on.
Vazquez (21-2-1, 18 KOs) will instead face Puerto Rican countryman Jonathan Oquendo (22-2, 15 KOs) in a scheduled 12-rounder on Saturday night (PPV, 9 ET, $49.99) at the Coliseo Ruben Rodriguez in Bayamon, Puerto Rico, Vazquez's hometown.
"You are facing for the first time a fighter like me, a fighter of my level," Vazquez told Oquendo at this week's final news conference. "Oquendo is not a fighter of Marquez's level, but I'm going to fight him. My job is to train and facing the best fighters and I'm going to win this Saturday to go for another chance for the world title, and after that the 126-pound (featherweight) division."
[+] Enlarge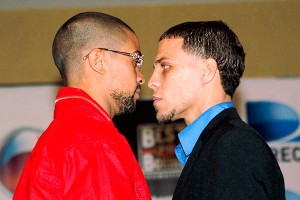 Jose Perez/PR Best Boxing Promotions Wilfredo Vazquez Jr. of Puerto Rico will face countryman Jonathan Oquendo on a PPV card Saturday.
Vazquez has not fought since losing a decision in February for a vacant 122-pound title to pound-for-pound star Nonito Donaire.
Oquendo was originally ticketed to be on the undercard of Vazquez-Marquez, but moved into the main event when Marquez bailed.
"I'm in good shape and condition for this fight. I'm very focused for Vazquez Jr. I want to become a world champion. I'm hungry for this fight," Oquendo said.
In the PPV co-feature, strawweight titlist Moises Fuentes (15-1, 7 KOs) of Mexico will make his second defense against former champ Ivan "Iron Boy" Calderon (35-2-1, 6 KOs) of Puerto Rico. Calderon was 105-pound champ from 2003 to 2007 and regarded as one of the best fighters in the world. Although not a puncher at all, Calderon possessed ridiculous defense and rarely lost rounds. Then Calderon moved up and won the junior flyweight title in 2007 and held it until 2010, when he ran into the powerful fists of the much bigger and stronger Giovani Segura, who knocked him out in back-to-back fights.
Last October, Calderon, a likely Hall of Famer, returned from the second loss to Segura by dropping back to strawweight for a decision win against .500 fighter Felipe Rivas. One year later, Calderon, 37, is back looking to reclaim his old belt against Fuentes.
"Everyone says that I'm old, but look at (Sergio) 'Maravilla' Martinez against Julio Cesar Chavez Jr.," Calderon said of the Sept. 15 middleweight championship fight between the 37-year-old Martinez, who won, and 26-year-old Chavez. "I'm very (well) trained and ready to win this title again."
Fuentes, apparently, respects his elders.
"I don't underestimated Ivan Calderon because they say that he is old," Fuentes, 27, said. "I can't think he is old. He is a former champion and a legend, so I train hard for this fight (so I can) keep my title."
By the way, Marquez (41-7, 37 KOs) has also found himself another fight. Zanfer Promotions announced this week that Marquez will face countryman and former junior bantamweight champ Cristian Mijares (46-6-2, 21 KOs) in a junior featherweight fight Oct. 27 in Mexico City with the flyweight co-feature pitting former junior flyweight titlist Edgar Sosa (46-7, 28 KOs) of Mexico against former flyweight titlist Sonny Boy Jaro (34-11-5, 24 KOs) of the Philippines.