Dan Rafael:

Jose Gonzalez
August, 7, 2013
8/07/13
2:59
PM ET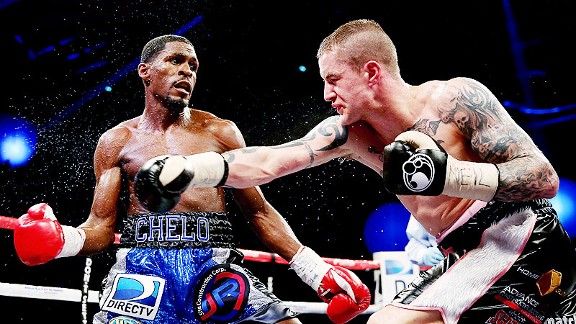 Scott Heavey/Getty ImagesRicky Burns, right, is looking for a more balanced performance than the one against Jose Gonzalez.
Lightweight titlist Ricky Burns of Scotland knows he didn't look good in his May defense against Jose Gonzalez, the little-known mandatory challenger from Puerto Rico.
Gonzalez gave Burns all kinds of problems before quitting on his stool after the ninth round, claiming an injury, although he was ahead on all three scorecards.
Burns (36-2, 11 KOs) is returning to make his fourth title defense against Mexico's Raymundo Beltran (28-6, 17 KOs) on Sept. 7 at the Scottish Exhibition and Conference Centre in Glasgow, Scotland, and vowed to be better prepared than he was against Gonzalez.
"I've watched the fight back a few times," Burns said. "I saw that I was trying to force the pace and I was getting caught with stupid punches that I shouldn't have been taking. For this training camp we've gone back to basics and although I'm prepared to get into a brawl against Beltran if I need to, I'm going to try to stick to my boxing skills. Preparation has been going great."
Beltran, who has served as one of Manny Pacquiao's top sparring partners, has won three consecutive fights to push himself into the lightweight top 10, including an upset decision win against Hank Lundy 13 months ago. Beltran is nothing if not tough.
"I am expecting a very tough fight," Burns said. "He's got a few losses, but they are against top level opponents so we know what to expect, and he has not been a sparring partner to Manny Pacquiao for all these years for nothing. I've seen him fight before but since the fight was announced I haven't watched anything of him. I'm just going to go out and stick to what I do best to get the win and then look at the big unification fights out there.
"I still have to go out and put in a good performance against Beltran to make them happen. I keep telling everybody that even though it's been mentioned that I might fight in America at the start of next year, I am not looking at that. I know I have to take it one fight at a time. Raymundo is a great fighter. Boxing fans know that and it's going to be a great fight and the fans in the SECC in Glasgow are going to have a great night, and I'll be putting in the type of performance that I should've done last time."
The card will also include lightweight Luke Campbell, the 2012 British Olympic bantamweight gold medalist, in his second professional fight, a scheduled six-rounder against an opponent to be named. Campbell turned pro on July 13 and blitzed Andre Harris in an 88-second knockout win.
May, 11, 2013
5/11/13
7:32
PM ET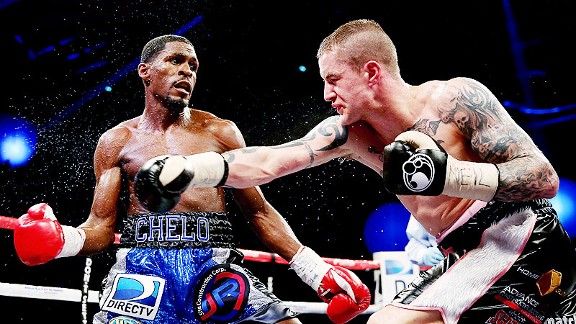 Scott Heavey/Getty ImagesRicky Burns, right, got more than he bargained for from a determined and unproven Jose Gonzalez.
For most of the nine rounds that their fight lasted, lightweight titleholder Ricky Burns was utterly outclassed by the largely unknown Jose Gonzalez. It was a shocking scene to see Gonzalez, who was the mandatory challenger for reasons that will remain a mystery -- because it sure had nothing to do with his barren résumé -- toying with Burns.
Gonzalez, who had never fought anyone of remote consequence and was fighting outside of his Puerto Rican home for the first time, had traveled to the lion's den of Glasgow, Scotland, where Burns is a hero, and he took the hero to school Saturday at Emirates Arena.
Burns' title was clearly slipping away -- just listen to the crowd grow quieter and quieter, round after round -- when, suddenly, Gonzalez simply quit on his stool after the ninth round.
The British television commentators, who also had Burns way behind, said it might have been a hand injury. Whatever it was, that's the sort of pain you sign up for when you become a prizefighter. If you want to be a champion, it goes with the territory. Gonzalez (22-1, 17 KOs) couldn't take it, did not have what it takes to be a champion and quit. Poof. Just like that, he gave up the opportunity of a lifetime to win a world title.
But for most of the nine rounds, Gonzalez befuddled an ineffective Burns (36-2, 11 KOs), who was as lucky to keep his title (in his third defense) as anyone is to hit the lottery. This fight wasn't so much about Burns winning it as it was about Gonzalez losing.
Burns, the heavy favorite, showed very little and had me thinking he should be thankful he (and former promoter Frank Warren) turned down multiple overtures from fellow titleholder Adrien Broner. I always thought Broner would manhandle Burns. After seeing Burns against Gonzalez, I'm sure of it.
By the third round, Burns was bleeding from the nose. He was being easily beaten to the punch as Gonzalez showed a really nice variety of punches -- uppercuts, body shots and right hands. He didn't even really use his best punch, the left hook, much.
Gonzalez had big fifth and sixth rounds, backing Burns into the ropes and hurting him with repeated blows. At this point in the fight, it seemed not really a matter of whether Gonzalez would stop him, just when. But I will give Burns a bit of credit here. He is experienced and has heart and obviously knew he was trailing. He let it all hang out in the seventh round, which will go down as a round of the year candidate.
They went toe to toe. They were both hurt and they were both in trouble at different times. It was a blistering round, and it clearly took more out of Gonzalez than Burns.
"He caught me with a few good shots, and I just decided to stand my ground and trade back with him. That's all I could do," Burns said after the fight about Round 7.
Burns mounted a comeback in the eighth and ninth rounds, his best of the fight, as Gonzalez, perhaps his hand already hurt, looked dead tired and did not do very much. Still, Burns was in a deep hole when the ninth ended. And then, out of nowhere, Gonzalez quit, giving Burns the improbable victory.
Eddie Hearn, the Matchroom Sport promoter who signed Burns before this fight after he dumped Warren, seemed relieved Burns had pulled this victory out of the fire.
"Unbelievable courage," he said of Burns' ability to hang in there despite a very tough night.
Then Hearn said they would be back in Scotland for Burns' next title defense in September -- a title he is very, very lucky to still call his own.