Dan Rafael:

Jose Luis Castillo
September, 10, 2014
Sep 10
8:15
PM ET

LAS VEGAS -- Only once before has Floyd Mayweather Jr. had a rematch, and that was way back in 2002 in a sequel with Jose Luis Castillo for the lightweight championship eight months after Mayweather won the title by close unanimous decision in a fight many thought should have gone Castillo's way.

Mayweather won the rematch much easier than the first fight.

Now, Mayweather is set for another rematch when he defends his welterweight championship (and junior middleweight title) against Marcos Maidana, the man Mayweather defeated by majority decision in May to unify 147-pound titles, on Saturday night (Showtime PPV, 8 ET) at the MGM Grand Garden Arena.

Mayweather said that he thought he beat Maidana 9-3 in rounds the first time around, which is competitive by Mayweather standards, especially because whatever rounds Maidana did win mostly came early on before Mayweather seemed to figure him out. So the fight was very much in doubt at the halfway mark.

"The fight is not close, but he came out, he won the first round, I won the second round, he won the third and the fourth, and from the fifth on he lost every round," Mayweather said. "So, like I said before, I'm going to go out there and I guess get a knockout [or] win 12 rounds, and look impressive, but also be exciting."

He said he decided to fight Maidana again because fans wanted to see the fight, although there was not exactly a huge demand from the public for a sequel.

"They like to see excitement. Why not do it again? Maidana is a hard worker who is coming to fight," he said. "My job is to be patient and smart and to entertain."

Maidana said he believes Mayweather took the rematch for one reason.

"It was a close fight. He probably wants to prove a point," Maidana said through a translator. "He wants to demonstrate that he can beat me outright. It doesn't really matter. What matters is that the rematch is happening, and I'm very happy."

Robert Garcia, Maidana's trainer, believes Mayweather took the rematch because he had nobody else to fight that was a bigger event -- and don't even say Manny Pacquiao, because we've all been down that road. Amir Khan, another possibility, had taken himself out of consideration because he observes Ramadan and would not be available for a September fight.

"I truly believe that he had no other options. He was forced to give us a rematch," Garcia said. "He was forced to fight Maidana. There were no other names out there that he could've fought in September that would make sense. A rematch with Maidana is the only fight that makes sense to sell pay-per-views to please the fans, and he had no other options. That's what I think."
September, 20, 2013
9/20/13
11:35
AM ET
Floyd Mayweather Jr.'s performance against Canelo Alvarez on Saturday night was so brilliant and so decisive it has to be considered one of the best performances in a career filled with them. But where specifically does this junior middleweight unification victory rank?
Here's my opinion on the top 10 performances in the career of the pound-for-pound king: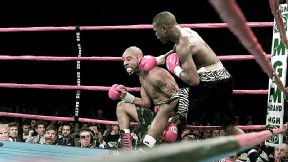 John Gurzinski/AFP/Getty ImagesMayweather Jr. sent Corrales to the canvas four times during their fight in January 2001.
1. Diego Corrales (2001):
A massive puncher, Corrales was undefeated and had a terrific résumé, and he should have had a world title but gave it up as part of boxing politics to make the fight with Mayweather happen. Although Corrales had distractions going into the bout -- he was soon headed to prison for a domestic-abuse situation and was also having problems making weight -- he was viewed as having a serious chance to win. In fact, this fight is the last time I picked against Mayweather. Instead of winning, or even making it competitive, Corrales was dropped five times and was stopped in the 10th round. It remains Mayweather's signature victory.
2. Canelo Alvarez (2013):
Alvarez was 13 years younger and strong, and he outweighed Mayweather by 15 pounds on fight night (165-150). It made no difference. Mayweather took every possible weapon away from Alvarez and did as he pleased, landing lead right hands and jabs all night long, not to mention solid body work. It was a masterpiece.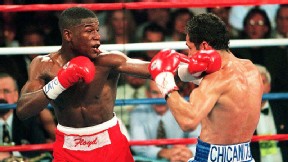 AP Photo/Las Vegas Review-Journal/Craig L. MoranMayweather Jr. won his first title against Hernandez, who retired after the fight.
3. Genaro Hernandez (1998):
Mayweather was 17-0 and had yet to face anybody who was any good. Hernandez was a well-respected champion, undefeated at 130 pounds and considered No. 1 in the division. Many thought Mayweather was biting off more than he could chew so early in his career. But Mayweather rose to the occasion and authored a beatdown, forcing Hernandez to retire on his stool after eight one-sided rounds. Hernandez retired after the fight while Mayweather, who won the first of his nine world titles in five weight classes, went on to greatness.
4. Ricky Hatton (2007):
Hatton was 43-0 and the reigning junior welterweight champ when they fought in a huge fight. It felt like half of England had come to Las Vegas to support Hatton, making Mayweather's hometown like enemy turf. But Mayweather took his time, broke Hatton down and, while leading widely on all three scorecards, drilled him for a spectacular 10th-round knockout.
5. Juan Manuel Marquez (2009):
After beating Hatton, Mayweather retired but returned nearly two years later to face Marquez, who was moving up to welterweight. Although Mayweather purposely blew the 144-pound contract weight by two pounds and paid a $600,000 penalty, he was dazzling against a future Hall of Famer, who has since proved he is legitimate as a welterweight. Despite the long layoff, Mayweather looked as good as ever, dropping Marquez in the second round and cruising to a near-shutout decision.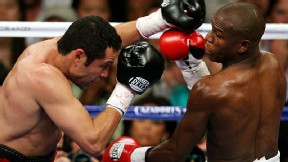 Gabriel Boyus/AFP/Getty ImagesThe fight against De la Hoya set all kinds of boxing revenue records in 2007.
6. Oscar De La Hoya (2007):
In the fight that set all boxing revenue records (some of which the Alvarez fight broke), Mayweather moved up to challenge the Golden Boy for his junior middleweight title. Although Mayweather had some problems in the first half of the fight thanks to De La Hoya's superb use of his left jab, De La Hoya could not maintain it for the entire fight, while Mayweather figured his opponent out and coasted to a split-decision victory that really should have been a clear unanimous decision. Besides a strong performance, the fight helped Mayweather break through as a pay-per-view megastar.
7. Miguel Cotto (2012):
Mayweather, who had returned to welterweight after beating De La Hoya, went back up to junior middleweight -- no catch weight for this fight -- and met Cotto for his belt. Cotto is a future Hall of Famer, and although no longer in his prime, he gave Mayweather a very tough fight. But Mayweather did what he always does: He found a way to win a clear unanimous decision in one of the most entertaining fights of his career. In the long view of history, this will go down as one of his biggest wins.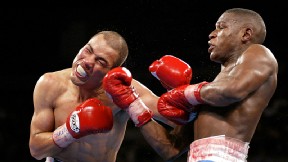 Chris Polk/FilmMagicMayweather dominated Castillo in the rematch after getting a close decision in their first meeting.
8. Jose Luis Castillo II (2002):
In early 2002, Mayweather moved up to lightweight and challenged Castillo, the No. 1 fighter in the division, for his world title, winning via a controversial decision. There are many who believe Castillo deserved the victory or, at least, a draw. Perhaps stung by the criticism of the performance, Mayweather gave Castillo an immediate rematch later in the year and left no doubt as he won another decision, this time with more authority.
9. Angel Manfredy (1998):
Just 47 days after dominating Genaro Hernandez to win the junior lightweight world title, Mayweather not only returned to make his first defense, but did so against the de facto No. 1 contender, Manfredy, who had looked good in a string of wins and had stopped Arturo Gatti earlier in the year. While many thought Manfredy would hang tough, he was nothing more than fodder as Mayweather simply crushed him in two one-sided rounds.
10. Arturo Gatti (2005):
Few doubted that Mayweather would beat Gatti. The speed and defensive differences were going to be overwhelming. However, given his heart and penchant for comebacks and slugfests, Gatti could never be totally counted out. This one, however, was more or less over right off the bat. Mayweather absolutely dominated even more than some anticipated. He was ahead by a shutout on all three scorecards after six rounds when Gatti did something shocking: He retired on his stool. Not only had Mayweather battered Gatti, but he had made the ultimate warrior quit.
September, 11, 2013
9/11/13
8:07
AM ET

LAS VEGAS -- When Floyd Mayweather Jr. steps into the ring to face Canelo Alvarez on Saturday night at the MGM Grand Garden Arena it will have only been four months since Mayweather's lopsided May conquest of Robert Guerrero.

That quick turnaround will be the shortest one Mayweather has had between fights in a decade, since the same amount of time elapsed between lightweight title defenses against Jose Luis Castillo (in their second fight) in December 2002 followed by one against Victoriano Sosa in April 2003.

Mayweather has not even fought twice in the same calendar year since his monster 2007, when he was fighter of the year after outpointing Oscar De La Hoya in May and knocking out Ricky Hatton in December.

But even though Mayweather fought only once per year from 2009 to 2012 (and didn't fight at all in 2008 while in a brief retirement), he has always returned looking like he had not missed a beat. That's how good he is.

Now just imagine how sharp Mayweather might look against Alvarez after only four months between fights, and it's not as though Mayweather took any punishment in his walkover of Guerrero.

Considering that Mayweather is the kind of fighter who relies primarily on speed, reflexes and timing, the short break only figures to make him better than he has been entering fights off long layoffs.

"I didn't get a chance to take a vacation [after Guerrero], but actually, this camp went great. I was able to get right back into the groove, get right back in there," Mayweather said. "Actually, it was a good turnaround because I was still sharp. I was able to be sharp. This camp has been tremendous. I've been getting good work, good solid work."

Surprisingly, Mayweather did not think he was that impressive against Guerrero.

"I wasn't impressed with my fight against Robert," he said. "It's probably because I took a year off, but I think I'll be a lot sharper this fight because I got right back into the groove of things. Like I said, we got a lot of young and up-and-coming talent in our boxing club that pushes me to the limit and keeps me sharp. I'm trying to outdo the young guys."

Golden Boy promoter Richard Schaefer did not agree with Mayweather's assessment of the Guerrero fight but agrees that the short amount of time off can only help him against Alvarez.

"He was spectacular in his last fight against Guerrero. I was sitting next to Oscar and what he said was most impressive was how light on his feet Floyd was, just a great performance," Schaefer said. "You can just imagine how good he's going to be coming back so quickly. He's in great shape. If you look up gym rat, it must say 'Floyd Mayweather.' I think you'll see a spectacular Floyd Mayweather, but Canelo is going into the fight with all the confidence. He is going in with bad intentions. He wants to do some damage."

Mayweather compared staying active to a basketball player shooting 3-pointers.

"I think I'm gonna be a lot sharper [against Alvarez] because I'm active. It's no different from a guy that's in a 3-point shooting contest," he said. "You got a guy who is shooting every day and a guy who is shooting once a week. The guy who's shooting every day is going to be a lot sharper. I feel that staying active, I'm going to be extremely sharp."

An active Mayweather is also good for business.

"I think if you have the No. 1 star in the sport, Floyd Mayweather, come back to do back-to-back fights, taking everybody by surprise -- nobody thought he would do that -- I think it's great news for the sport," Schaefer said. "Now, instead of having just one Super Bowl, you have two Super Bowls [in the same year]."

Mayweather said he plans to remain active in 2014 too, as he looks forward to the third fight of his 30-month contract for up to six fights with Showtime/CBS.

"After this fight I'll look to fight in May and then fight in September again," Mayweather said.
April, 12, 2013
4/12/13
1:41
PM ET
Former titleholders Jose Luis Castillo and Joan Guzman, the poster children for modern fighters who have chronically missed making their contract weights, can rest easy now.

Hello, Francisco Sierra!

Mexico's Sierra (25-7-1, 22 KOs) was contracted to face Philadelphia's Farah Ennis (20-1, 12 KOs) at 169 pounds -- one over the super middleweight limit -- for tonight's ESPN2 "Friday Night Fights" co-feature in Shelton, Wash.

But then came Thursday's weigh-in. Sierra weighed -- ready for this? -- 186½ pounds! Instead of weighing a pound over the super middleweight division limit, he was a cruiserweight.

The fighter camps couldn't agree on a new contract weight. The gap was just too great. Ennis' camp wanted nothing to do with a compromised weight, and who could blame them?

So the fight was canceled.

Why did Sierra even bother to show up for the weigh-in? If he was 17½ pounds heavy on Thursday, just imagine how much over the limit he was when he got to town earlier in the week.

When I read in the weekly production notes that I get for FNF cards that Sierra was 17½ pounds over, it occurred to be that my younger cat, Thunder, weighs about that much. So Sierra was a cat over the contract limit he had signed for.

Maybe there is something in the Shelton water, because main event fighter Rico Ramos (21-2, 11 KOs), a former junior featherweight titlist, also came in over -- although not nearly as dramatically as Sierra did. Ramos, contracted to face Oscar Gonzalez (17-2, 13 KOs) at 125 pounds, weighed in at 125½ pounds, and the sides came to an agreement for the fight to go on.

By the way, for those thinking that a fighter weighing in at 17½ pounds over his contract limit is some sort of record, it's not even close. Just one example: In February 2012, Shawn Estrada, a 2008 U.S. Olympian, signed to face Terrence Woods at 172 pounds. Estrada came in at 196 pounds at the weigh-in, 24 over the contract weight. Surprisingly, those camps worked out a new deal and that fight went on.