Dan Rafael:

Joseph Agbeko
December, 5, 2013
12/05/13
2:31
PM ET
Unified junior featherweight champion Guillermo Rigondeaux isn't everyone's cup of tea, but there is no denying his incredible talent.
He won nearly 400 amateur bouts, two Olympic gold medals for Cuba, claimed an interim world title in his seventh pro fight and a full title in his ninth. In his 12th fight, in April, he scored his biggest victory, surviving a knockdown and outboxing 2012 fighter of the year Nonito Donaire to unify 122-pound titles.
But like some of Rigondeaux's previous bouts, the fight with Donaire left many disappointed by the utter lack of action, which was mainly Rigondeaux's fault. He is so skilled and so gifted that he rarely needs to take a chance, and he can spend significant parts of a fight backing up and not engaging, yet is still able to easily outbox opponents. That ability, as agonizing as it might be to watch for many, has won him a lot of fights,
even if it hasn't made him a lot of fans
.
In fact, even after Rigondeaux beat Donaire, HBO -- which had pleaded with Top Rank to make the fight -- was far more interested in Donaire's next fight, which it aired on Nov. 9, than it was in Rigondeaux's. Network executives, like many boxing fans, viewed the southpaw's style as too boring for prime time, the kind that would drive more people away than draw.
Even Top Rank's Bob Arum, Rigondeaux's own promoter, was critical of him after the Donaire fight, saying, "It was not a very engaging fight. If Rigondeaux would stand and fight, he has a lot of power and a lot of skills, but running the way he does really makes it not a watchable fight."
HBO agreed, and when Arum began the process of trying to sell Rigondeaux's next fight to the network, he was met with a "no," leading to an all-time-classic quote:
"Every time I mention him, they throw up," Arum said of HBO executives.
Eventually, HBO had a change of heart -- hey, the network pressed for the Donaire fight, so the least it could do is support the winner, right? -- and agreed to buy Rigo's next fight. That bout will take place Saturday at the Adrian Phillips Ballroom at Boardwalk Hall in Atlantic City, N.J., where Rigondeaux (12-0, 8 KOs) will face former bantamweight titlist Joseph Agbeko (29-4, 22 KOs) of Ghana in the main event of a tripleheader.
As much criticism as Rigondeaux has received for his boxing style, he's not about to change -- for anyone. After all, it's what won him those two Olympic golds and two world titles.
"I have never felt any pressure to change my style, since I know true boxing fans who appreciate the sport understand my style," Rigondeaux said. "Boxing is a game of hit and don't get hit. Once I'm comfortable in the fight, it just becomes me and my opponent, where the more mistakes my opponent makes, the worse it's going to end for him."
Even if that style means some of the top fighters in and around his division won't show any interest in facing him, Rigondeaux still couldn't care less.
"Not only having such a great track record of championships and gold medals, but a fighter of my caliber who has impeccable defense, yet has the power to end a fight at any moment, is something other fighters are not willing to face, and I see the reason not many fighters want to step up to fight me," the 33-year-old Miami resident said. "I am willing to fight anyone at 122 division."
Agbeko is a bantamweight moving up in weight who is a relatively stationary target and who has had only one fight since back-to-back losses in world title bouts to Abner Mares in 2011.
Still, Rigondeaux was complimentary of his opponent.
"I don't see any weakness in his style," he said. "He is an aggressive fighter who brings the fight to you, [but] he who makes a mistake will pay. I will win the fight based on my style and defensive ability."
That's what some of us are afraid of.
October, 11, 2013
10/11/13
9:53
AM ET
LAS VEGAS -- Anyone in the mood for a crossroads fight between two all-action guys with good power? If so, you'll love this fight in the works: rising junior middleweight prospect Glen Tapia against knockout artist James Kirkland.

The fight is in the process of being finalized -- and there does not seem to be any issues -- for Dec. 7 on an HBO tripleheader from the Adrian Phillips Ballroom at Boardwalk Hall in Atlantic City, N.J. It would be on a card that also will include two fights being finalized: the main event of junior featherweight champ Guillermo Rigondeaux against former bantamweight titlist Joseph Agbeko, and a middleweight fight between former three-time title challenger Matthew Macklin and Willie Nelson.

Tapia-Kirkland, talks for which got serious in the past few days, easily could steal the show.

"I think it's a real tough fight and we know Tapia is stepping up big," Top Rank promoter Bob Arum told ESPN.com on Thursday. "But you take a shot. Tapia's been looking good. He's a strong kid and Kirkland doesn't have the best chin in the world."

Tapia, 23, of Passaic, N.J., scored his biggest victory in July, having a breakout performance on "Friday Night Fights," stopping then-undefeated prospect Abie Han in the eighth round of a terrific fight. Tapia returned Sept. 28 to stop veteran Elco Garcia in the fifth round.

Tapia and manager Pat Lynch are in Las Vegas this week for Saturday's Timothy Bradley Jr.-Juan Manuel Marquez welterweight title fight and to meet with Top Rank officials to finish their deal. But as far Tapia and Lynch are concerned, the fight is a go.

"Kirkland is a warrior. He goes in to knock you out. I love that," Tapia told ESPN.com. "Even if I'm the underdog, I'll show people what I can do. I said yes to this fight from the beginning, as soon as it was brought up."

Lynch, who managed the late Arturo Gatti for his entire career, said he's still going over the numbers with Top Rank, but is confident it will be worked out.

"I'm nervous about the fight," Lynch admitted. "It's a big step up. But if Glen wins, listen, he could be on his way to stardom. He's already become a big-ticket seller in New Jersey. You win a fight like this and you go to the next level.

"It's a dangerous fight, so he's got to fight a smart fight. But we got a shot to win the fight or we wouldn't have taken it."

Top Rank is negotiating with Curtis "50 Cent" Jackson, the rap star who now represents Kirkland after his separation from Golden Boy following a lawsuit. Besides the promotional turmoil -- Kirkland, a felon who already had his career interrupted in 2009 by prison time for gun possession charges -- got in more trouble in June when he was arrested on an assault charge.

Kirkland, 29, will be coming off a long layoff, having not fought since a controversial disqualification win against Carlos Molina (who won a world title last month) in March 2012.

But Kirkland (31-1, 27 KOs) is a big puncher and a huge step up for Tapia (20-0, 12 KOs).

"This is a make or break fight. If I knock him out or beat him, I can become a superstar. Lose, and I gotta start over," Tapia said. "Kirkland is always in shape and I don't think he'll be rusty."

Kirkland's only loss was a shocking upset to Nobuhiro Ishida, a feather-fisted fringe contender from Japan, who dropped Kirkland three times in a first-round knockout in 2011. Kirkland was also down in the first round of a wild slugfest with Alfredo Angulo in a 2011 sixth-round knockout win.
October, 8, 2013
10/08/13
4:28
PM ET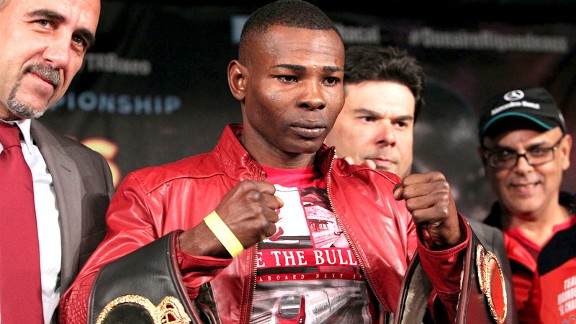 Chris Farina/Top RankGuillermo Rigondeaux is set to return for the first time since his April victory over Nonito Donaire.
It looks like junior featherweight champ Guillermo Rigondeaux, coming off a decision win in a title unification bout against 2012 fighter of the year Nonito Donaire in April, finally has a date and opponent nailed down for his next fight.
If everything is finalized, Rigondeaux will be back to headline an HBO card Dec. 7 against former bantamweight titlist Joseph Agbeko, according to Top Rank promoter Bob Arum and the network. The site is not set, but probably will be in Atlantic City, N.J., at Boardwalk Hall's smaller, upstairs facility.
HBO was reluctant to put Rigondeaux (12-0, 8 KOs), a two-time Cuban Olympic gold medalist, back on after his less-than-entertaining performance against Donaire, but his talent is supreme and the network reconsidered its stance.
"I think it's a good fight and HBO likes it because they think Agbeko will make Rigondeaux fight," Arum said. "Agbeko is very confident he can beat Rigondeaux. I spoke to him at a recent press conference and that's what he told me."
At one point it looked like Rigondeaux's date was going to be Nov. 16 as part of a split-site card with super middleweight champ Andre Ward's fight with Edwin Rodriguez. However, manager Frank Espinoza, who recently signed Agbeko, said his fighter would not be available to fight in November because he had returned home to Ghana to take care of some personal business.
Things changed when the date for Rigondeaux's fight was moved back a few weeks, allowing Agbeko (29-4, 22 KOs), who is moving up in weight, to accept the fight.
The co-feature is expected to be a middleweight fight between former three-time world title challenger Matthew Macklin (29-5, 20 KOs) and junior middleweight contender Willie Nelson (21-1-1, 12 KOs), who would move up in weight. HBO owes Macklin a fight as part of his deal for what turned out to be a third-round knockout loss to middleweight titlist Gennady Golovkin in June.
"That's what I was told. I don't have it in writing yet but that's what HBO told me," promoter Lou DiBella said of the date for the fight, which was also under consideration for the Nov. 16 Ward-Rodriguez undercard.
August, 31, 2012
8/31/12
3:34
PM ET

Unified junior featherweight titlist Nonito Donaire is one of the pound-for-pound stars of boxing and now a regular on HBO, making high six-figure purses. His next fight headlines an Oct. 13 HBO card against former titlist Toshiaki Nishioka.

But then there is Glenn Donaire (19-4-1, 10 KOs), Nonito's older brother, who at 32 is still plugging away trying to reach the promised land of a championship.

A pro since 2000, he has had his opportunities and lost a few fights along the way. Early in his career, he dropped a six-round decision to fellow prospect Gabriel Elizondo. In 2005, fellow Filipino Z Gorres knocked him out in the first round. Yet Donaire wound up getting two world title fights but could not capitalize. He lost a six-round technical decision challenging Vic Darchinyan for a flyweight title (which Darchinyan eventually lost by one-punch knockout to Nonito in 2007). And in 2008, Glenn Donaire lost a shutout decision to junior flyweight titlist Ulises "Archie" Solis.

After that loss, Donaire retired for 3½ years. But since his return he has won two fights in a row, both televised by Telemundo, and looked pretty good both times. He stopped faded former strawweight titleholder Alex "Nene" Sanchez in December and won a competitive 12-round decision against former junior flyweight title challenger Omar Salado in March.

Donaire hooked up with manager Vinny Scolpino -- who has guided fighters such as Joshua Clottey and Joseph Agbeko -- to help him with his comeback, which will continue Sept. 14 (Telemundo) in Tampa against Omar Soto (22-9-2, 15 KOs), a former flyweight and junior flyweight title challenger. They're meeting for a regional flyweight title that will help the winner move up one of the sanctioning body rankings and closer to a bigger title shot.

Scolpino has been encouraged by what he has seen in Donaire's two return fights.

"I picked him up two fights ago. He was down in the dumps. I started managing him, got him two wins and he is back in the gym training hard," Scolpino said. "He looked really good in Mexico City (in March in the Salado fight). I was a little worried because of the altitude, but he did a great job and now he's going in with Soto, who is a tough opponent."

With his name and an apparent rededication to boxing, Donaire might just be able to move into position for a title shot.

"We're hoping after this fight we'll get one," Scolpino said. "We'll take anybody. Glenn said, 'I don't care who they put in front of me, I just want to fight for a title and win a title.'"