Dan Rafael:

Juan Carlos Burgos
October, 30, 2014
10/30/14
7:46
AM ET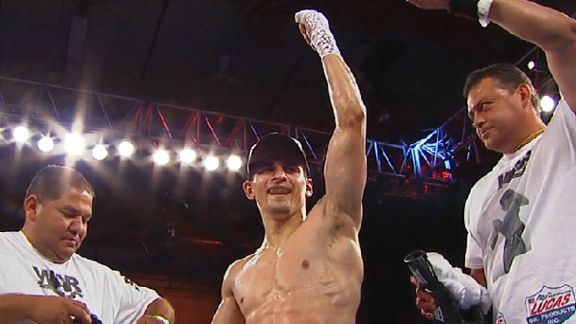 ESPNBoxcino lightweight tournament champ Petr Petrov is back on "Friday Night Fights."
The return of ESPN's "Friday Night Fights" can't come soon enough, right? Well, the network powers that be are in the process of planning the early part of the new season.
Although the bouts are not yet set, the first three cards have dates, sites and promoters.
The new season will open Jan. 9 at the Chumash resort in Santa Ynez, California, with a card promoted by Gary Shaw.
The second card will be Jan. 16 at the Turning Stone resort in Verona, New York, with a show promoted by Artie Pelullo's Banner Promotions. The main event will feature the return of Petr Petrov (35-4-2, 17 KOs) in his first bout since winning ESPN's 2014 Boxcino lightweight tournament in May with an eighth-round knockout of Fernando Carcamo. Petrov likely will face Juan Carlos Burgos (30-2-2, 20), who has not fought since a lopsided decision loss challenging then-junior lightweight titleholder Mikey Garcia in January.
The third card will take place at the Foxwoods resort in Mashantucket, Connecticut, on Jan. 30. The promoter will be Main Events, whose exclusive deal with NBC Sports Net expires in December and was not renewed.
January, 31, 2014
1/31/14
1:10
PM ET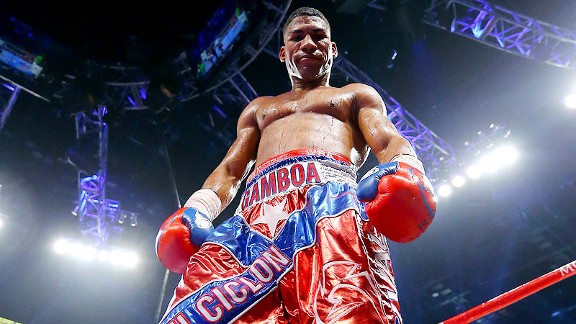 Al Bello/Getty ImagesYuriorkis Gamboa and a move up to lightweight could be next for 130-pound titlist Mikey Garcia.
The process of Mikey Garcia moving up in weight appears to be under way.
Plans are in the works for Garcia, who easily outpointed Juan Carlos Burgos in a snoozefest last Saturday night to retain his junior lightweight title, to head up to lightweight for a probable showdown with Yuriorkis Gamboa, Top Rank chairman Bob Arum told ESPN.com.
Arum said he is working on getting the fight made with Gamboa promoter Curtis "50 Cent" Jackson and HBO. Arum said the date of the fight would be May 17 at the newly renovated Forum in Inglewood, Calif.
"We're working on it," Arum said. "HBO wants that fight. We like that fight, and you know Gamboa wants that fight. So does Mikey."
Gamboa (23-0, 16 KOs), who holds an interim lightweight belt, and Garcia (34-0, 28 KOs), also a former featherweight titlist, have been going back and forth about fighting each other on social media since even before Garcia beat Burgos. With no other seriously attractive options for either man at 130 or 135 pounds, a fight between them makes sense.
While Garcia has been active -- he has fought four times in the past 13 months -- Gamboa, a former unified featherweight titlist, fought only once in 2012 and once in 2013. During that time, he also was implicated in the Biogenesis steroids scandal and was arrested twice for domestic violence incidents.
Arum said if he can get Gamboa-Garcia made, he would like to include heavyweight prospect Andy Ruiz (21-0, 15 KOs) on the undercard.
The Garcia-Burgos telecast, by the way, didn't attract a huge audience by HBO standards, but it dwarfed that of the competing Showtime card.
The entire HBO telecast drew an average of 777,000 viewers, according to Nielsen Media Research. The Garcia-Burgos main event drew 829,000 viewers while the heavyweight undercard featuring Bryant Jennings' 10th-round knockout of Artur Szpilka drew 811,000 viewers.
The HBO telecast nearly doubled the Showtime telecast, which drew an average 390,000 viewers. Surprisingly, the opening bout on the Showtime card, junior middleweight prospect Jermell Charlo's decision against Gabriel Rosado, drew 472,000 viewers and beat the main event. Junior welterweight titlist Lamont Peterson's action-packed decision win against Dierry Jean drew just 402,000 viewers. A portion of the main events of the two cards went head-to-head.
November, 25, 2013
11/25/13
1:46
PM ET
Fresh from a dominant eighth-round knockout of Rocky Martinez on Nov. 9 to win a junior lightweight world title, Mikey Garcia's first defense is on the drawing board.

Garcia, whose only problem with Martinez was getting dropped in the second round, is expected back on Jan. 25 to headline an HBO card, possibly at the Theater at Madison Square Garden in New York, Top Rank promoter Bob Arum told ESPN.com.

As for who Garcia (33-0, 28 KOs), 25, of Oxnard, Calif., will fight, Arum and HBO are talking. HBO would like to make a fight between Garcia and interim lightweight titlist Yuriorkis Gamboa, but that's probably a pipe dream, thankfully.

Arum has no particular interest in making it, and I was glad to hear that. Gamboa is not a draw, his style has become very boring, he looked bad in his last fight against Darleys Perez, he has twice been arrested for domestic abuse of his ex-wife (including earlier this month) and the Miami resident was implicated in the Biogenesis performance-enhancing drug scandal.

Add all that baggage to the fact that Gamboa has never been a ticket seller or a ratings draw but still commanded large purses and it makes no sense.

Arum's take: "He is not deserving of fighting Garcia, who has a great image. Who needs a guy who has a second (arrest) for domestic abuse?"

Arum said the opponent he is looking at is contender Juan Carlos Burgos (30-1-2, 20 KOs), 25, of Mexico.

In January at the MSG Theater, Burgos got ripped off in a draw against Martinez and was denied of the title on the undercard of the show on which Garcia beat Orlando Salido in the main event to win a featherweight belt.

"Burgos is one of the names we've talked about and he's a difficult opponent," Cameron Dunkin, Garcia's manager, told ESPN.com. "I even talked to Alex Camponovo (of Burgos co-promoter Thompson Boxing) about the fight and they're interested. But HBO wants to explore other things, Gamboa, of course. They've even got a couple of other guys they want to explore. I told (Top Rank vice president) Carl Moretti to go ahead and explore whatever you want."

Dunkin said that once Mikey Garcia and his brother and trainer, Robert Garcia, are settled after their trip home from Macau, China (where they were for the Manny Pacquiao-Brandon Rios fight) that the three of them would get on the phone and discuss what Mikey wants to do.

"We'll try to put something together but Jan. 25 is great," Dunkin said. "We're ready to go."
July, 15, 2013
7/15/13
12:08
PM ET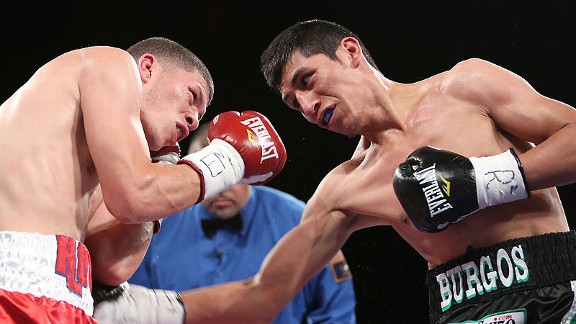 Joel Colon/PRBBPJuan Carlos Burgos could set up another title shot with a win over new opponent Yakubu Amidu.
After junior lightweight contender Juan Carlos Burgos lost his opponent -- Daulis Prescott, due to a case of kidney stones -- last week, the hunt was on for a new opponent for his July 26 fight (ESPN2 and ESPN Deportes) at Thunder Valley Casino Resort in Sacramento, Calif.
After co-promoters Artie Pelullo of Banner Promotions and Thompson Boxing discussed various names with ESPN, the opponent they came to an agreement on was Yakubu Amidu (20-4-1, 18 KOs), who accepted the fight.
Amidu, 28, a native of Ghana based in Los Angeles, has lost two fights in a row, both 10-round decisions at lightweight, to fringe contender Ji-Hoon Kim and Haskell Rhodes.
In 2008, Amidu suffered the only knockout loss of his career, a seventh-round stoppage in Scotland to future lightweight titleholder Ricky Burns.
Burgos (30-1-1, 20 KOs) fought to a disputed draw with 130-pound titleholder Rocky Martinez in January, and a win against Amidu will probably put him in position to challenge for the same belt against the winner of a proposed title fight between Martinez and former featherweight titlist Mikey Garcia.
Other names that were discussed as possible Burgos opponent included Alexei Collado, Marcos Leonardo Jimenez, Hylon Williams, Jr. and Daniel Ruiz.
July, 10, 2013
7/10/13
10:01
AM ET
A few notes from the boxing world:

• Junior lightweight contender Juan Carlos Burgos is in need of a new opponent for his fight on July 26 (ESPN2 and ESPN Deportes). Burgos (30-1-1, 20 KOs), who fought to a disputed draw with titleholder Rocky Martinez in January, was due to face Daulis Prescott in a 12-round bout at Thunder Valley Casino Resort in Sacramento, Calif. However, Prescott (26-2, 19 KOs), the brother of longtime junior welterweight and lightweight contender Breidis Prescott and a former featherweight title challenger, withdrew because of kidney stones.

• Promoter Rodney Berman has secured an American TV outlet for Saturday's "Monte Carlo Million Dollar Super 4" final between super middleweight contender Edwin Rodriguez (23-0-0, 15 KOs) of Worcester, Mass., and light heavyweight contender Denis Grachev (13-1-1, 8 KOs), a San Diego-based Russian, who will meet at a catch weight of 171½ pounds in Monaco. The card will be televised by beIN Sport beginning at 3 p.m. ET. beIN Sport, which bills itself as "the international sports channel," carries mostly soccer and is available on several outlets in the United States, inclucing DirecTV, Dish Network, Comcast and AT&T U-Verse TV.

Also on the card, junior welterweight titlist Khabib Allakhverdiev (18-0, 8 KOs) of Russia makes a mandatory defense against France's Soulemayne M'baye (40-4-1, 22 KOs), Max Bursak (26-1-1, 12 KOs) of Ukraine defends the European middleweight title against England's Prince Arron (23-4-1, 5 KOs) and Dmytro Kuchar (21-0, 15 KOs) of Ukraine faces South Africa's Ilunga Makabu (13-1-0, 13 KOs) in a scheduled 12-round cruiserweight bout.

• Famed broadcaster Col. Bob Sheridan, who has called more than 900 world title fights, has a history of heart trouble and is scheduled for triple bypass surgery on Monday. He's already had five heart attacks and nearly died from pneumonia, but he's still kicking and hopes to reach the 1,000 mark. Sheridan is in good spirits and, assuming all goes well, plans to be in New Zealand on Aug. 31 to work the broadcast of heavyweight David Tua (52-4-2, 43 KOs) against Alexander Ustinov (28-1, 21 KOs). Tua, the former title challenger and longtime contender, has not fought since a decision loss to Monte Barrett in their rematch in August 2011.

• The shakeup at HBO Sports continues under division president Ken Hershman as longtime director of programming Luis Ferrer, one of the deparment's main boxing executives, is leaving. Ferrer, 41, had worked in boxing programmning at the network since 2004, although he took a leave of absence from September 2010 through December 2012 when he joined the army and served in Afghanistan. Ferrer, who is going to NBC Sports, is the second major programming executive to leave HBO Sports in the past month, joining his boss and senior vice president Kery Davis, who recently resigned.
May, 23, 2013
5/23/13
10:46
AM ET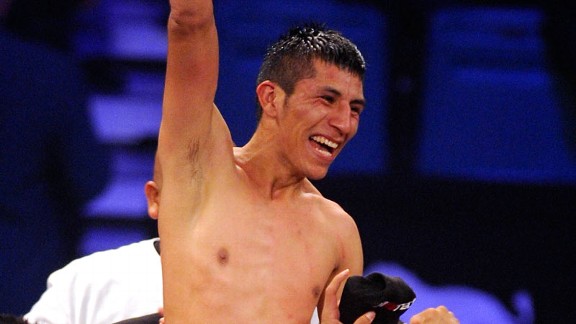 Ethan Miller/Getty ImagesJuan Carlos Burgos inked a new deal with co-promoters Thompson Boxing and Banner Promotions.
Junior lightweight contender Juan Carlos Burgos of Mexico re-signed Wednesday with co-promoters Artie Pelullo of Banner Promotions and Ken Thompson of Thompson Boxing after being sought after by other promoters.
Pelullo and Thompson made the announcement with Burgos at a media luncheon in Los Angeles.
"We know Juan Carlos Burgos can be the best 130 [pounder] in the world. He is ranked No. 1 in the world by the WBO and he should be challenging for that title in the very near future," Pelullo said. "I'm happy to have been able to work with Burgos thanks to my friendship and association with Ken Thompson and [Thompson Boxing general manager] Alex Camponovo. I know we will continue doing great things together."
Burgos fought to a split draw in a junior lightweight world title fight against titleholder Roman "Rocky" Martinez on Jan. 19 in New York in a fight many believed Burgos should have won.
"Juan Carlos Burgos should be recognized as the best 126-130 pounder out there," Thompson said. "He has done a great job in every facet of his young career and today we will solidify his future and we will make sure he gets what he so eagerly deserves, a belt around his waist. Although he is 25 years old, he is a veteran of the sport as he started his professional career at the age of 16 and we know one day he will be considered as one of the greats. This is a happy day for our company."
In Burgos' only other world title fight, he traveled to Japan in 2010 and challenged then-featherweight titleholder Hozumi Hasegawa and lost a spirited decision in a terrific fight.
Burgos, the nephew of former junior flyweight titlist Victor Burgos, then won five fights in a row against mostly solid competition before the disappointment against Martinez.
"All of them have given me the opportunity to get to a world title [fight on] two occasions and now is my turn to pay them back," Burgos said, speaking about trainer Gerardo Espinoza, manager Roberto Sandoval and his promoters. "I will be a world champion and that day we will have a big celebration because they have been with me during the happy and hard times of my career."
April, 11, 2013
4/11/13
1:46
PM ET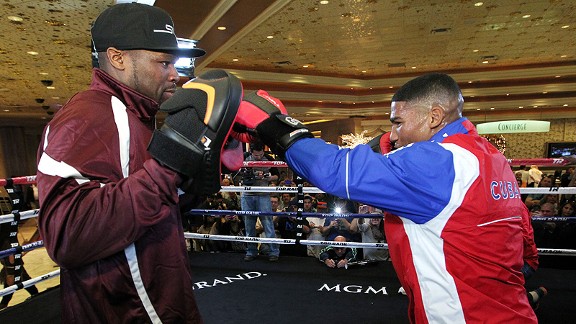 Chris Farina/Top RankPromoter 50 Cent, left, hasn't been able to secure an interim title fight for Yuriorkis Gamboa.
Three notes from the fistic world:
• Interim junior lightweight titlist Yuriorkis Gamboa is supposed to fight June 8, but it has not been easy for promoter Curtis "50 Cent" Jackson and HBO to finalize the opponent. Gamboa is supposed to fight at lightweight and an agreement was made for him to face Juan Carlos Burgos, who was on the bad end of a draw with junior lightweight titleholder Rocky Martinez in January. However, according to Artie Pelullo, Burgos' co-promoter with Thompson Boxing, after accepting an offer from Jackson for the fight about a month ago, Jackson came back to them recently apologizing for being unable to pay the dollars they had agreed to.
"So the fight is off," Pelullo told ESPN.com. "I made a deal with 50 Cent for a certain number but a month later he was unable to deliver the number he was supposed to pay me and then he wanted us to take seriously less money and I said we couldn't do that."
Pelullo said he has talked to Top Rank's Carl Moretti about the possibility of a Martinez-Burgos rematch.
Meantime, the search continues for a Gamboa opponent. At one point the fight was going to take place at its own site and be part of an HBO split-site card topped by the Chad Dawson-Adonis Stevenson light heavyweight championship fight at the Bell Centre in Montreal. But now, according to the network, if Gamboa fights June 8 the bout will be in Montreal on the Dawson-Stevenson undercard.
• Junior middleweight Demetrius Andrade (19-0, 13 KOs) of Providence, R.I., is on the cusp of getting a world title shot. The 25-year-old former world amateur champion and 2008 U.S. Olympian has great talent but faced pretty soft opposition so far as a pro but is now the mandatory challenger for titleholder Zaurbek Baysangurov (28-1, 20 KOs), 28, of Russia. A purse bid is scheduled for Friday morning at WBO headquarters in Puerto Rico.
Pelullo and Joe DeGuardia, Andrade's co-promoters, told ESPN.com that they are in talks with K2 Promotions Ukraine promoter Alexander Krassyuk but that they are prepared to go to the purse bid.
"We are trying to make a deal, trying to work it out," Pelullo said.
The minimum purse offer is $200,000. HBO has shown interest in Andrade but for some reason has not committed to this fight, which is easily the most interesting of Andrade's career. Baysangurov, who will be making his third defense, is a good fighter but not nearly as quick as Andrade. Still, it's a very solid fight on paper. Pelullo and DeGuardia said they and Andrade are willing to fight Baysangurov in Russia or Ukraine but, obviously, would like to win the bid and hold the bout in the United States. Their chances of winning a purse bid would be greatly enhanced if they knew HBO would buy the fight so they could know what kind of money they have available to make a more intelligent bid.
• Former heavyweight title challenger Dereck Chisora (15-4, 9 KOs) of England has a new opponent for his fight on April 20 in London, Argentina's Hector Alfredo Avila, promoter Frank Warren announced. The fight is on the undercard of light heavyweight titlist Nathan Cleverly's mandatory defense against Robin Krasniqi and will be part of the Epix telecast in the United States. Chisora is seeking to end a three-fight losing streak -- his rip-off split-decision loss to Robert Helenius, a decision loss to heavyweight titlist Vitali Klitschko and a fifth-round knockout loss to former titleholder David Haye last July. As usual, Chisora is talking a big game. "I'm back in business and I'm on the road back to the world title," Chisora said. "I'm looking to destroy Avila first at Wembley Arena and then face one of the other so-called rivals next. If it's David Price then great. I know he wouldn't be able to stand up to my power and he'd be a good step in the right direction for me."
January, 22, 2013
1/22/13
2:09
PM ET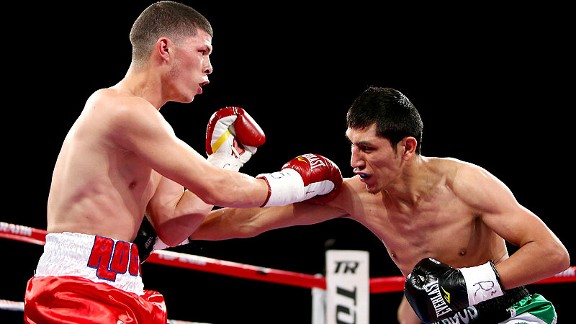 PR Best Boxing Promotions/Joel ColonMost ringside observers believed Juan Carlos Burgos, right, did enough to take Rocky Martinez's title.
Junior lightweight contender Juan Carlos Burgos did everything he needed to do in order to win a world title on Saturday night at the Theater at Madison Square in New York, yet he didn't get to walk out of the ring with the belt.
That is because his title challenge against Roman "Rocky" Martinez was ruled a split draw, allowing the undeserving Martinez (26-1-2, 16 KOs) to keep the 130-pound belt in his first defense.
It's not that Martinez fought badly, it's just that Burgos fought better and, in the opinion of many at ringside (not to mention all of those who tweeted to me), deserved the decision.
I had the fight 116-112 in favor of Burgos (30-1-1, 20 KOs), whom I gave ample credit to for his dominant body attack. The score was common at ringside, although HBO's scoring guru, Harold Lederman, had it even wider for Burgos at 117-111, as did official judge Waleska Roldan. But judge John Signorile had it 114-114 and Tony Paolillo (not the first time he has been way off with a card in a title fight) absurdly had it 116-112 for Martinez.
Burgos was upset with the decision as were his co-promoters, Artie Pelullo of Banner Promotions and Alex Camponovo of Thompson Boxing. They plan to ask the WBO, which sanctioned the bout, for an immediate rematch.
I hope Burgos is given one.
"Juan Carlos won that fight hands down and this week we will file for an immediate rematch," Pelullo said. "The kid worked hard and should be a world champion. We just hope the WBO agrees with what the whole world saw and does the right thing by granting us this rematch."
Said Camponovo, "The draw left Juan Carlos Burgos completely dejected and angry. We all felt the same way as his dream of becoming a champion turned into a New York nightmare. We hope the WBO does not punish a young man who has given everything to his craft since the age of 10 and joined the pros when he was 16 years old. An immediate rematch should be the only solution to a poor ending and I think Martinez's people and the champion himself know deep down that he did not do enough to retain the belt."
Although judges do not have access to CompuBox's punch statistics (and the stats merely reflect the quantity of punches, not quality), Burgos did land a lot more blows. According to CompuBox, Burgos landed 286 of 805 punches (36 percent) while Martinez connected on 193 of 827 (23 percent). Burgos also landed more shots in 10 of the 12 rounds.
In the power shot category, Burgos was dominant, landing 234 of 507 shots (46 percent) while Martinez landed 164 of 576 (28 percent).
January, 17, 2013
1/17/13
1:39
PM ET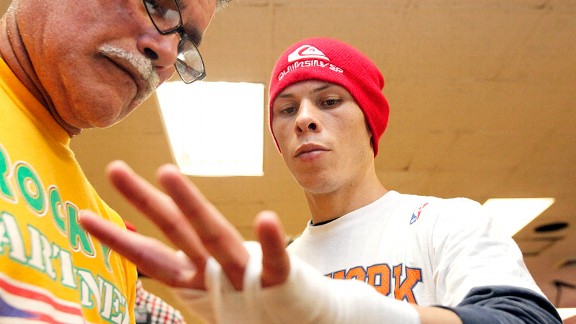 Chris Farina/Top RankRocky Martinez and Saturday's opponent, Juan Carlos Burgos, are a pair of crowd-pleasers.
On paper, at least, HBO has put together an excellent tripleheader to kick off its year of boxing coverage. In my view, all three fights -- which are being put on in a joint promotion by Top Rank and K2 Promotions -- should produce action.
The main event on Saturday night (HBO, 9:45 ET/PT) at the Madison Square Garden Theater in New York will pit featherweight titlist Orlando Salido against Mikey Garcia. The co-feature will match middleweight titlist Gennady Golovkin (one of the most crowd-pleasing fighters in boxing) against Gabriel Rosado.
As interesting as those two fights are -- and they are both very compelling -- I think that the opener, which will match junior lightweight titlist Roman "Rocky" Martinez (26-1-1, 16 KOs) and mandatory challenger Juan Carlos Burgos (30-1, 20 KOs), has a chance to steal the show.
The fight, a classic matchup of Puerto Rico (Martinez) versus Mexico (Burgos), is the least-publicized of the three bouts, but it could wind up being the best.
Martinez has been in some very good fights. When he lost his junior lightweight belt via decision to Ricky Burns in Scotland in 2010, it was a tremendous battle. And when Martinez reclaimed his old belt (which Burns had vacated) in September in a bloody split-decision slugfest with Miguel Beltran Jr., it was a legit candidate for the fight of the year. In fact, aside from the epic 12th round of the Sergio Martinez-Julio Cesar Chavez Jr. main event, that Martinez-Beltran fight basically stole the show.
Martinez said he will be even better for this fight than he was in the tough fight with Beltran.
"We have been working hard for this fight against Burgos because we know he is a good fighter and slick," Martinez said. "But I'm better than for the fight against Miguel Beltran. We have a plan for this fight, but we are ready for all Burgos brings.
"I learned a lot in my last fight against Beltran. After that fight, I went right back to the gym and haven't stopped training since."
Burgos (30-1, 20 KOs) is on a nice run and has also been in crowd-pleasing fights. In his past three bouts, Burgos bumped off undefeated Puerto Rican Luis Cruz in what many considered an upset; he clearly outpointed former featherweight titlist Cristobal Cruz; and in July, Burgos destroyed undefeated Cesar Vazquez in the third round.
Burgos is a mandatory challenger who actually deserves his title shot because of his results, not just good connections. Also, his only loss -- a decision -- came at the hands of Hozumi Hasegawa in a 2010 vacant featherweight world title fight in Japan. Hasegawa won the fight, and deservedly so, but it was a very, very good scrap.
Now Burgos is getting his second title shot, and he doesn't plan to let it go by the wayside.
"I don't want to let this opportunity get away from me," he said. "I have been in this position before when I faced Hasegawa and I know I could've done much better that night. It could have been a life-changing victory for me, but I let that one get away. Not this time. I have grown mentally and physically, and I am prepared for a fight like this and I know it will be exciting.
"Not only do I want to get the victory and be a champion, but I want to please the crowd and make sure that the fans get their money's worth."
January, 3, 2013
1/03/13
10:55
AM ET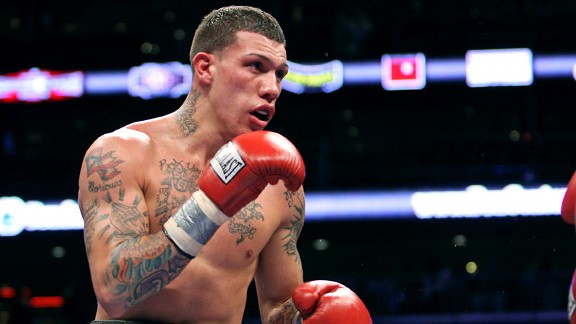 AP Photo/Gregory PayanGabriel Rosado doesn't want the weight to be an excuse if he takes the belt away from Gennady Golovkin.
When promoters Tom Loeffler of K2 and Russell Peltz put on a media lunch in New York last month to discuss the middleweight title bout between Gennady Golovkin and Gabriel Rosado, the issue of the contract weight for the fight came up.
Rosado, who emerged in 2012 as a quality junior middleweight contender, was going to challenge Golovkin for his middleweight title in the middle fight of an excellent HBO tripleheader on Jan. 19 at the Madison Square Garden Theater in New York, so I was thinking that perhaps there would be a catchweight.
Sure enough, Peltz said that the agreement called for a catchweight of 158 pounds -- two fewer than the 160-pound division limit -- to which Rosado quickly chimed in, "I never asked for a catch."
"I did," Peltz immediately answered.
Peltz negotiated the weight believing it was better for his fighter not to have to go all the way up to 160, and that it would also benefit Rosado to force Golovkin (24-0, 21 KOs) to lose an extra two pounds. Peltz was looking out for his guy, and Golovkin, so confident in his ability, was fine with it because he continues to say that, for the right fight, he would drop to 154.
Well, on Wednesday, the promoters announced that the catchweight was off and that the contract was being amended to contest the fight at 160 pounds.
"The first I heard about the catchweight was at the media lunch on Dec. 1," Rosado said. "I never asked for it. That was my adviser Russell Peltz's idea. I'm happy Russell is looking out for my best interests, but we're fighting at 160."
The 26-year-old Rosado (21-5, 13 KOs) is an old-school Philadelphia fighter. He respects boxing history and wants the fight at the real division limit, not an artificial catchweight. Win or lose the title, he wants no excuses.
"Golovkin is the champion, and out of respect to him and toward the sport of boxing, we will fight at the middleweight limit of 160 pounds," Rosado said. "When I beat him, I don't want any excuses about the extra two pounds he had to lose. I will beat him at his best, fair and square. The old-timers didn't need any catchweights; they were real men. Middleweight champions fight at 160, and that's what I want."
(One quick note: There are tons of examples of catchweight fights throughout history, although it seems more prevalent today. Still, I must commend Rosado for his stance.)
"I was surprised when I got the call to increase the weight to 160," Loeffler said. "I have to give Rosado a lot of credit. He is very confident, and that is what makes this such a great fight."
In the main event, featherweight titlist Orlando Salido (39-11-2, 27 KOs) of Mexico will make his third defense against Miguel Angel "Mikey" Garcia (30-0, 26 KOs) of Oxnard, Calif. In the opening televised bout, junior lightweight titlist Roman "Rocky" Martinez (26-1-1, 16 KOs) of Puerto Rico will make his first defense against Mexico's Juan Carlos Burgos (30-1, 20 KOs).
September, 28, 2012
9/28/12
11:28
AM ET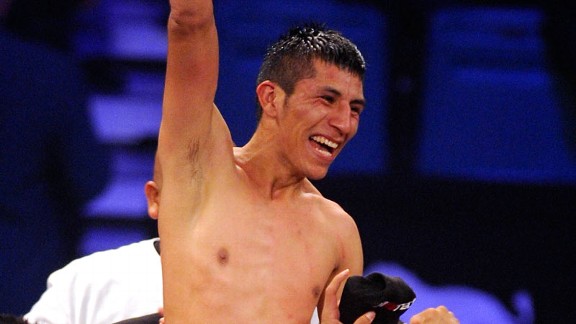 Ethan Miller/Getty ImagesJuan Carlos Burgos seems to be ready to challenge Roman Martinez for the junior lightweight title.
Juan Carlos Burgos has had one title shot so far, but lost that featherweight challenge to Hozumi Hasegawa by decision in a terrific 2010 battle.
Since then, Burgos moved up to junior lightweight and stamped himself as a quality contender in that weight class by winning five fights in a row, including handing Luis Cruz (W10) and Cesar Vazquez (TKO3) their first professional defeats.
Mexico's Burgos (30-1, 20 KOs) is ready to fight for a world title again and he will get the shot as the mandatory challenger for 130-pound titlist Roman "Rocky" Martinez of Puerto Rico.
According to Burgos' co-promoters, Banner Promotions and Thompson Boxing, the WBO has ordered Martinez to make the mandatory defense against Burgos next.
Martinez (26-1-1, 16 KOs) claimed the vacant belt via split decision victory against Mexico's Miguel Beltran Jr. in a slugfest that served as the HBO PPV co-feature to the Sergio Martinez-Julio Cesar Chavez Jr. middleweight championship fight on Sept. 15.
"I am ready for Rocky Martinez," Burgos said. "He showed his ability on his fight against Beltran Jr., and was the deserving of the title. But I'm ready to challenge him for it."
Burgos said he would get the job done this time after falling short against Hasegawa.
"I won't let this one get away from me," he said. "I want to fulfill my destiny with the WBO belt around my waist. I just need to know the date so I can prepare to go to war with Martinez."
Burgos' knockout of Vazquez on ESPN2 in July was as impressive as any of his recent wins.
"Juan Carlos has shown that he is more than ready for this opportunity," Banner Promotions chief Artie Pelullo said. "He has defeated the best at 130 pounds and we are very confident that he will defeat Martinez in what should be a fabulous fight. This will be another classic fight between Puerto Rican and Mexican fighters."