February, 27, 2014
Feb 27
8:26
PM ET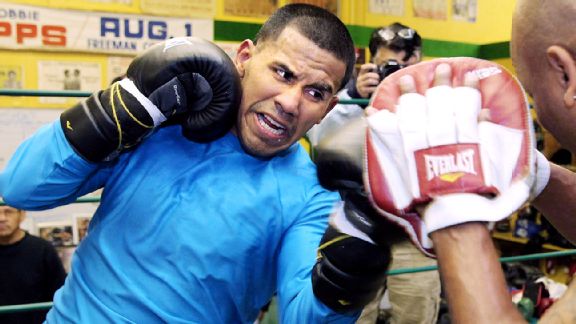 Chris Farina/Top RankJuan "Baby Bull" Diaz returns to the ring Saturday on the Chavez-Vera II undercard in San Antonio.
SAN ANTONIO -- The next stop on the comeback trail for former unified lightweight titleholder Juan Diaz comes Saturday night.
"The Baby Bull" made the 200-mile drive from his hometown of Houston to San Antonio in order to face Gerardo Robles in a 10-round lightweight bout at the Alamodome on the undercard of the super middleweight rematch between Julio Cesar Chavez Jr. and Bryan Vera.
A lot of people don't even realize that Diaz is on the show, as his fight is not going to be televised (although it will stream live on Top Rank's website), and that's OK with Diaz.
He has taken the time to make a comeback the right way -- slowly but surely as he works his way back to a title fight. He knows the TV coverage and attention will come if he keeps winning. Right now it's about getting back into top shape and getting sharp.
"A lot of people don't know that I am fighting on here and I don't take offense to that," Diaz told ESPN.com before Thursday's final news conference. "It doesn't bother me. But one thing I'm not feeling is excitement because that's for when you're an 18- or 19-year-old and you're fighting on these big undercards. That's excitement. Right now what I'm feeling is motivation.
"I'm motivated to become champion again. I don't care if I'm the first fight of the night. I'm motivated to be back on top and be the main event again."
The fight against Robles (16-12, 7 KOs), 31, of Mexico, will be the fourth of Diaz's comeback. He retired in 2010
after a second loss to Juan Manuel Marquez -- and a third loss in four fights -- but came out of retirement last April, feeling hungry to box again and hoping to make another run at a world title.
Diaz (38-4, 19 KOs), 30, won a 135-pound world title in 2004 and made seven defenses, including unifying three of the major belts, and established himself as a consistently crowd-pleasing brawler before losing his belts to Nate Campbell via split decision in 2008.
A college graduate who also has had success in business during retirement -- he owns both a trucking and coffee company -- Diaz wants another title opportunity. As much as he enjoys business, he doesn't get the same excitement out of it as he does boxing.
"After this fight I feel I will be ready to step into the ring against a champion or a top contender, so that's what I'm looking for," Diaz said. "I've been speaking with Carl [Moretti] at Top Rank and we're confident I can be ready for a title shot in the summer or the maybe in the fall. I'm ready."
Diaz said when he thought about his plans for a comeback, he wanted to take it slowly, to get a few fights under his belt to work off the rust and get back into top shape, and he feels like he has done that.
"I'm a smart fighter. I know that after being retired for three years I wasn't going to come in and be the fighter that I once was," Diaz said. "This will be my fourth fight [of the comeback]. I feel I've done it right. This is the way you should do it when you come out of retirement and I will be more than ready for the championship fight."
October, 19, 2013
10/19/13
2:14
PM ET
DENVER -- Former lightweight and junior lightweight titlist Acelino "Popo" Freitas is now a congressman in his native Brazil, but he still is involved in boxing.

His 20-year-old nephew, Vitor Jones de Oliveira, who is like a son to Freitas, is on Saturday night's Mike Alvarado-Ruslan Provodnikov card; Freitas and brother Luiz Freitas train him.

Jones de Oliveira -- who won his pro debut by first-round knockout in July 2012 but had the result changed to a no-decision after he tested positive for a banned substance -- faces Denver's Martin Quesada (2-7, 2 KOs) in a four-round junior lightweight fight.

Freitas, one of boxing's most exciting punchers, retired after an eight-round TKO loss to Juan Diaz in a 2007 lightweight title fight. But Freitas came out of retirement in June 2012 and knocked out Brazilian countryman Michael Oliveira, who had been calling him out, in the ninth round in a junior middleweight fight.

Freitas (39-2, 33 KOs) looked sharp, but retreated back to politics and training his nephew after that victory. He also works with his 16-year-old son -- a heavyweight and the only one of six sons who followed Freitas into the ring -- who is a 2-1 amateur.

(As many readers know, Popo is one of my all-time favorite fighters, and I have a cat named Popo, after him. And, yes, he asked about the cat when I saw him Friday; I did, in fact, show him pictures on my phone.)

The reason Freitas ended his retirement to fight Oliveira, he said, is because his son asked him to fight.

"He said, 'Dad, I never saw you fight before. Do one fight for me,'" Freitas said through a translator. "So I had to come back for my son."

He said he won't fight again except for one specific bout -- a welterweight match against Manny Pacquiao.

Some might laugh, but it's not out of the question if Pacquiao beats Brandon Rios on Nov. 23.

Top Rank's Bob Arum, Pacquiao's promoter, and Artie Pelullo, Freitas' longtime promoter, are here together in Denver because Arum promotes Alvarado and Pelullo promotes Provodnikov. They work well together, and told ESPN.com that they will speak more seriously about the prospect of that potential fight, which, if it happened (still a big "if") would likely take place in Brazil -- if they can drum up a government sponsorship to make it financially viable. Given Freitas' place in the government, it might have a chance.

At Friday's Alvarado-Provodnikov weigh-in, Freitas, 38, himself spoke briefly to Arum about the fight -- which surely would be billed as "Congressman vs. Congressman," given that Pacquiao is a legislator in the Philippines.

"I never got to fight some of the top fighters of my era, like Floyd Mayweather and Marco Antonio Barrera," Freitas said. "I wanted those fights. Now, the only fight I want is Pacquiao. It's not even about the money. It is just about showing I can do it. It would be a personal satisfaction to fight against Manny Pacquiao. He is the only one who can make me come back to the ring."
August, 2, 2013
8/02/13
10:31
AM ET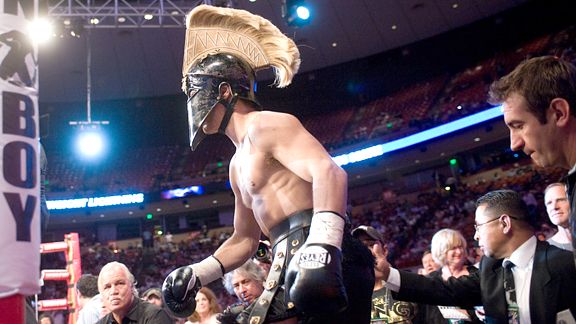 Chris Cozzone/FightWireImages.com All-action fighter Michael Katsidis is ready to climb into the ring for one more fight.
Lightweight Michael Katsidis was one of the most exciting action fighters of the era. Time and again, he was in dramatic slugfests.
In 2007 and 2008, he had three consecutive fight of the year contenders in interim lightweight title bouts -- winning a ridiculous fight with Graham Earl by a fifth-round knockout in England, a bloody unanimous decision against Czar Amonsot in Las Vegas (in which Amonsot suffered a brain injury) and a 10th-round knockout loss to Joel Casamayor in a mayhem-filled bout in Cabazon, Calif.
There were other grueling fights, such as a decision loss to Juan Diaz and a knockout loss to Juan Manuel Marquez, whom he dropped hard and nearly knocked out.
The brutal battles took their toll, however, and Katsidis lost four of his last five fights, including what we all thought would be his final bout, a decision to Albert Mensah in an April 2012 junior welterweight bout that headlined an ESPN2 card.
Although Katsidis never formally retired, there was a lot of chatter that he had gotten a bad medical report, forcing him to call it quits.
But now, according to The Chronicle newspaper in his hometown of Toowoomba, Australia, Katsidis (28-6, 23 KOs), who turns 33 this month, is looking for one more fight and has reunited with former manager/trainer Brendon Smith to help make it happen. Katsidis and Smith split after a decision loss to Ricky Burns in 2011, the fight before the Mensah bout.
According to the report, Katsidis is eyeing a possible farewell fight in his hometown, where he has not fought since a first-round knockout victory against Guillermo Mosquera in 2006. Although Katsidis has business interests and a clothing line that he is looking after, boxing isn't out of his system just yet.
"I'm clear to fight. My health is a No. 1 priority. I've got a little daughter now," Katsidis told the paper. "I'm in the transition period of my career now as I begin moving into the business world, but I want to give back something to Toowoomba and my fans. I want to fight again and go out on my terms. This is where I want to have my send-off. I believe I've achieved everything I can in boxing but I just want to fight again."
There is no date or opponent yet.