Dan Rafael:

Juergen Braehmer
August, 27, 2014
Aug 27
10:12
AM ET
Germany's Juergen Braehmer is 35 and has twice claimed light heavyweight belts (even if his current one is a secondary version). Still, he has been a good fighter for a long time, a pro since 1999. He hasn't lost since 2008, even if he did walk out on a fight with Beibut Shumenov the week of the bout for no good reason.
[+] Enlarge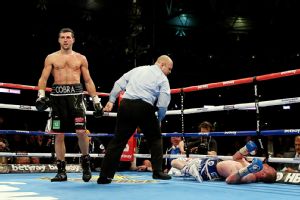 Scott Heavey/Getty ImagesFresh off a knockout of George Groves in their May 31 rematch, Carl Froch could find himself in a fight with Germany's Juergen Braehmer.
But Braehmer, who has looked good in recent fights, wants a big fight and said he is willing to drop down to super middleweight for an opportunity to fight titleholder Carl Froch of England, who is 37 and winding down his superb career.
Froch (33-2, 24 KOs) hoped for a showdown with Julio Cesar Chavez Jr. in Las Vegas in January, but those talks appear dead. Froch could opt for a mandatory fight with countryman James DeGale. But Braehmer (44-2, 32 KOs) isn't such a bad option.
"If Froch is worried he doesn't stand a chance of taking my title in my weight class, I'll drop a division or we'll agree a catch weight," said Braehmer, adding he would be happy to go England for the fight if it could be made. "A Germany versus England duel in Great Britain? What more could you want? After all, such highlights are why I became a sportsman, and they electrify boxing fans around the world."
Promoter Kalle Sauerland, who represents Braehmer, said he talked to Froch promoter Eddie Hearn of Matchroom Boxing about the fight this week.
"It is something that we will be discussing [again] in the coming weeks," Sauerland said. "Obviously, there is a score to settle from the amateur days, but it also would represent a new challenge to Froch."
December, 18, 2013
12/18/13
1:06
PM ET
The absurdity of the WBA knows no bounds. I've harped on the organizations and their sheer madness and audacity for years -- not to mention putrid rankings, multiple titles and not following their own rules -- but things are just way out of hand now with this particular alphabet soup body.

It's bad enough that the WBA will sanction as many as four titleholders in the same weight class (for a small sanctioning fee, of course). It has super, regular, unified and interim titleholders. Take your pick. It is just pathetic.

But where it really is ridiculous is when two of its so-called titleholders perform on the same night rather than fighting each other.

On Saturday, light heavyweight titlist Beibut Shumenov, inactive for 18 months (yet allowed to keep his belt) was "elevated" to "super" titleholder and defended the belt against Tamas Kovacs on the big card in San Antonio.

On the very same day in Germany, Juergen Braehmer outpointed Marcus Oliveira -- a massive joke to be fighting for a world title given his woeful résumé -- to win the vacant "regular" title.

Here you had Shumenov and Braehmer, both quality top-10 175-pounders, fighting for belts in the same organization on the same day rather than facing each other.

As bad as that was, it gets even worse on Feb. 1 in Monte Carlo. That is where Gennady Golovkin, also recently "elevated" (which really means another title that the greedy organization can charge another sanctioning fee for) to "super" titleholder, will defend against Osumanu Adama.

On the very same card, England's Martin Murray (26-1-1, 11 KOs), the interim titlist, will face Australia's Jarrod Fletcher (17-1, 10 KOs) for the now-vacant "regular" title when Murray really should be facing Golovkin, for whom he was the mandatory. But the WBA didn't order the fight. Instead, it is content to collect another fee and pass off this fight as a title bout.

It's insanity, yet the Murray camp made Wednesday's announcement of the fight with Fletcher -- knocked out in the second round the only time he ever faced a decent opponent in Billy Joe Saunders last year -- out to be some huge deal.

"Martin Murray will look to fulfill his dream of becoming St Helens' first-ever world champion in Monte Carlo on February 1," the Hatton Promotions press release read.

The winner of that fight won't be a real world champion. He'll have a gaudy belt but no credibility as a serious champion. How can the winner be a real world champion when Golovkin (28-0, 25 KOs), in the main event, is active and already holds a title in the same organization?

I can't blame Murray. Is he supposed to turn down the opportunity? Of course not. He's already had two other title shots, a draw with Felix Sturm and a tight loss to Sergio Martinez (the real, honest-to-goodness middleweight champ of the world). So from Murray's point of view, the fight with Fletcher is meaningful, even if to most others it is pointless as far as being a title fight.

"Jarrod Fletcher is a good kid. I've not seen too much of him, but we'll be working on that now we've got a date," Murray said. "He's got a good pedigree, and he beat [2008 British Olympic gold medalist] James DeGale in the amateurs, which isn't easy and proves he's a good fighter.

"He's going to be well up for this, but I think I'll be the favorite and rightly so, given who I've fought before and how I've done against them. It's going to be interesting for both of us, but I want everyone to know that there's no way I'm coming home to St Helens without that world title."

Indeed, Murray said "that" world title. Just not a legitimate one, thanks to the WBA's continuing joke of having multiple belts in the same division.
June, 13, 2013
6/13/13
1:15
PM ET
A little of this and a little of that from the world of boxing:

• There's been a big shake-up behind the scenes at Golden Boy as chief executive Richard Schaefer recently announced a major restructuring of the staff of the world's No. 1 promotional company.

Chief operating officer David Itskowitch is leaving the company after six years, effective July 31, which set off a slew of changes. Bruce Binkow, the chief marketing officer, will also now be the COO, and longtime vice president of operations Armando Gaytan will also assume the newly created position of deputy COO and has been promoted to senior VP of operations. Chief of staff Robert Gasparri will take on the role of VP of operations. Schaefer also announced that attorney Arnold Joseph, who has done work for the company for years, is joining the staff full-time as general counsel. Longtime director of communications and events Monica Sears was promoted to VP of operations and digital marketing coordinator Nicole "The Spark" Sparks is moving up to director of marketing. Marylyn Aceves is returning to the company as VP of public relations.

"Given his contributions to Golden Boy Promotions over the past six years, David Itskowitch's departure from the company is significant and he will be missed, but with the restructuring we have implemented we will have a smooth transition that will ensure the continued success of Golden Boy Promotions," Schaefer said.

• Golden Boy announced the full undercard for its June 22 Showtime tripleheader at the Barclays Center in Brooklyn, N.Y. In addition to the TV fights -- welterweight titlist Paulie Malignaggi defending against lightweight titleholder Adrien Broner, the heavyweight rematch between Johnathon Banks and Seth Mitchell and Sakio Bika-Marco Antonio Periban for a vacant super middleweight belt -- junior middleweight prospect Julian Williams (12-0-1, 7 KOs) will face chin-challenged former titleholder Joachim Alcine (33-4-1, 19 KOs) in the most notable other bout. Three of the other bouts will involve members of the 2012 U.S. Olympic team: Staten Island light heavyweight Marcus Browne (4-0, 4 KOs), who always has a fan section cheering for him at Barclays, bantamweight Rau'Shee Warren (4-0, 2 KOs) and lightweight Jamel Herring (3-0, 2 KOs).

• Promoters Lou DiBella and Curtis "50 Cent" Jackson announced that they have acquired the rights to "Tapia," a documentary on the late former five-time world champion Johnny Tapia, who died in May 2012 at age 45. The world premiere of the documentary will take place at the Los Angeles Film Festival on Saturday. The film, directed by Eddie Alcazar, chronicles Tapia's tumultuous personal and professional life using first-person narration from Tapia himself, archival footage and personal photos. Alcazar spent many hours with Tapia filming, including in the weeks before Tapia's death. Those last interviews are included in the film, as are interviews with Mike Tyson, trainer Freddie Roach (who trained Tapia at one point during his career) and Teresa Tapia, Johnny's widow.

"I was drawn to the intensity of this project," Jackson said. "His story resonated with me because like Tapia, I too lost my mother to violence and grew up with limited means. It's a heartfelt story and it was important for me to get involved with bringing this to a broader audience."

Said DiBella, who, when he programmed boxing at HBO, put Tapia on the network, "This is not a boxing film, but a film about tragedy, triumph, demons and redemption. Johnny gives us an honest assessment of his strengths and frailties; he reminds us of the power and resiliency of the human spirit."

• European light heavyweight champion Juergen Braehmer (40-2, 31 KOs), a former world titleholder, will make his second defense against Italy's Stefano Abatangelo (17-2-1, 6 KOs) on Aug. 24 in Schwerin, Germany, Sauerland Event announced. Abatangelo is 11-0-1 in his past 12 fights. Braehmer is the mandatory challenger for world titleholder Nathan Cleverly, who he could meet later this year. Also on the card is supposed to be the return of former middleweight and super middleweight titlist Arthur Abraham (36-4, 28 KOs) against Willbeforce Shihepo (20-6, 15 KOs). In his last fight, Abraham was destroyed in four rounds and lost his super middleweight belt to Robert Stieglitz in their March 23 rematch.

• Some interesting stats from last Saturday's head-to-head clash between the HBO and Showtime cards. According to Nielsen Media Research, HBO's undercard fight of Yuriorkis Gamboa-Darleys Perez drew 947,000, which increased to 1,024,000 viewers for the Adonis Stevenson-Chad Dawson main event. Showtime, which had a tripleheader, drew a measly 207,000 viewers for the Jermell Charlo-Demetrius Hopkins opener, which grew to 471,000 for the Erislandy Lara-Alfredo Angulo co-feature and then 594,000 for the Marcos Maidana-Josesito Lopez main event. Although Showtime (which is in about 8 million fewer homes than HBO) had the better overall card for sure and has seen its boxing viewership on an overall upswing, the dreadful Gamboa-Perez undercard fight on HBO still drew 353,000 more than Showtime's main event.