February, 20, 2013
2/20/13
10:16
PM ET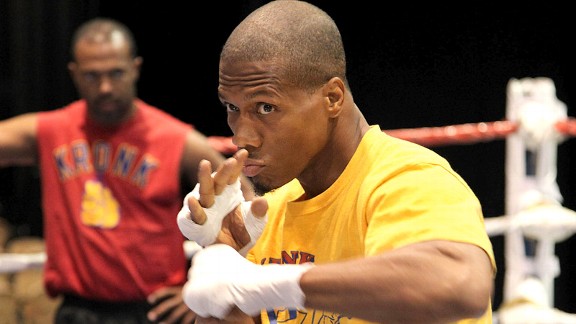 Tom Casino/ShowtimeCornelius "K9" Bundrage may have the edge if Saturday's fight with Ishe Smith turns into a brawl.
Junior middleweight titlist Cornelius "K9" Bundrage (32-4, 19 KOs) will defend his title in his hometown of Detroit at the Masonic Temple Theatre against Las Vegas' Ishe Smith (24-5, 11 KOs) on Saturday night (Showtime, 9 ET/PT).
A number of fighters are interested in facing the winner, including titleholder Austin Trout (26-0, 14 KOs), who would like to unify belts with the victor; contender Alfredo Angulo (22-2, 18 KOs); looming mandatory challenger Carlos Molina (21-5-2, 6 KOs); and up-and-comer Jermell Charlo (20-0, 10 KOs).
So how do they see the fight unfolding? Showtime gathered their predictions:
Trout:
"I think this is going to be a good old-fashioned brawl. Ishe has more technical skills than 'K9,' but he still likes to bang it out. I really don't know who to pick, but it will be a good fight between two guys who are both kind of inactive, up in age and evenly matched. I'll be tuned in and watching, but I have no personal interest in who wins. I respect both fighters; they are men of God. I'll respect the winner even more if he's willing to unify the belts. If one guy has an edge, I think it's probably Ishe more than 'K9.' But good luck to whoever wins, and let's unify."
Angulo:
"I'll be watching because these are two important fighters in my weight class in a world title fight. One of them [Bundrage] holds the IBF title, and the other might be the new titleholder. The outcome could affect my career, so it's important for me to watch this fight. As for picking a winner, I don't have a preference either way. Both are talented, yet have contrasting and distinct styles. One is more of a technical fighter [Smith], the other is a brawler [Bundrage], so it should make for a very interesting fight. I think a lot will depend on Ishe's condition and if he can handle the pressure, because K9 throws punches with a lot of power and a lot of fighters can't handle that."
Molina:
"I plan on attending the fight and look forward to watching. I'm the mandatory challenger in the IBF for whoever wins, so I'm hoping to be fighting the winner. Really, I just want my first world title shot. It's what I've worked for my whole career. It doesn't matter to me who wins as long as there's no controversy. I wish them both the best. They're both good people. Ishe said I deserve the title shot and he would fight me next if he wins. 'K9' has not been as committal. Still, this is a tough fight to predict. Smith is a good boxer, and I expect he'll be boxing more and using his defense. 'K9' is a slugger whose style is to be aggressive, go right after Smith and try to land something early. If Ishe is more aggressive, he can win a decision."
Charlo:
"There will be a lot of competent fighters in this weight class who'll have their eyes glued to the TV for this one. The main reason I'll be watching is to see who will win. I'm anxious to see if Ishe actually made the changes to his style and, if so, if they made him better. I suppose I'm rooting for Ishe because 'K9' turned me down for a fight before, after I thought it was a 95-percent done deal. If he wins I'm pretty sure he'd turn me down again. Ishe is a guy with a lot of heart who comes to fight. Who knows whether, if he won the title, that he would fight me, but I'd be willing. As for a flat-out prediction, I see it going either way but have a feeling someone's going to get caught with a good shot. At his age and the route he's been going, I can see Bundrage winning if it goes the distance. But I see Ishe, who doesn't get knocked out and is more of a boxer than 'K9,' coming along. It's very possible he can win by KO. My pick is Ishe by KO, but Bundrage if it goes the distance."
December, 12, 2012
12/12/12
5:00
PM ET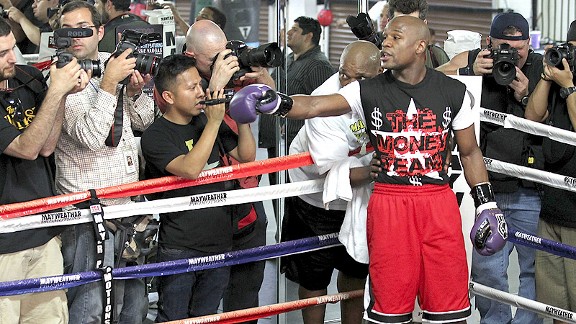 Jeff Bottari/Getty ImagesGolden Boy will co-promote Floyd Mayweather Jr's return to the ring in the spring.
Golden Boy Promotions chief executive Richard Schaefer has been working on the schedule for the company's major cards in the first half of 2013 and walked me through it this week. Here's what Golden Boy is working on:
• On Jan. 19 on Showtime, Devon Alexander is supposed to defend his welterweight belt against Kell Brook at the Nokia Theater in Los Angeles with interim junior welterweight titlist Lucas Matthysse facing Hank Lundy on the undercard. A third fight for the telecast is in the works: welterweight contender Selcuk Aydin against Jesus Soto Karass.
However, there is a chance the show could be postponed -- or at least the main event -- because Brook is dealing with an ankle problem that might force a short delay in the fight. Schaefer said if the main event has to be postponed, he would try to convince Showtime to do a doubleheader with the other two bouts and move Alexander-Brook into late February.
• Golden Boy will be back for the second show at the Barclays Center in Brooklyn, N.Y., on Feb. 9 (Showtime) with junior welterweight titlist Danny Garcia defending against former titleholder Zab Judah of Brooklyn in the main event. Middleweight titlist "Kid Chocolate" Peter Quillin, who calls Brooklyn a second home, will make his first defense on the undercard, possibly against former middleweight champion Jermain Taylor. (That is a very, very poor fight and hopefully will not happen.) Middleweight prospect Daniel Jacobs of Brooklyn will also see action in his third fight since returning to boxing after nearly dying from cancer.
Another fight on the card that Schaefer said could happen, although it would probably go on Showtime Extreme coverage of the undercard, would pit welterweights Dmitriy Salita of Brooklyn against Hector Camacho Jr., the son of the late Hector Camacho Sr., who had a big fan base in New York. Salita-Camacho might sell some tickets as a local attraction because Salita has fans in the Jewish community and Camacho would attract Puerto Rican fans.
• Golden Boy will have an HBO card on Feb. 16 at a site to be determined. Lightweight titlist Adrien Broner will headline. Schaefer hopes to make a unification with Ricky Burns, whose fight on Saturday fell apart when opponent Jose Ocampo dropped out this week. The undercard is expected to feature a heavyweight rematch between Johnathon Banks and Seth Mitchell, whom Banks knocked out in the second round of an upset on Nov. 17.
• Schaefer said Feb. 23 is the date for another Showtime card. It could include Alexander-Brook if the fight is postponed with the location to be determined. But if Brook-Alexander stays in January, Schaefer said he would put the Feb. 23 card in Detroit, the hometown of junior middleweight titlist Cornelius "K9" Bundrage, who would defend his belt against Ishe Smith. For the undercard of that fight, Schaefer said he hopes to make a match between Khabib Allakhverdiev, who recently won a vacant junior welterweight belt by handing Joan Guzman is first defeat, and former lightweight titleholder Humberto Soto.
"I have to see what happens with Alexander and Brook and then adjust," Schaefer said.
• Former light heavyweight champ Bernard Hopkins returns on March 9, when he will be 48, at the Barclays Center on Showtime. Schaefer hopes to give Hopkins a shot at one of the world titleholders and has mentioned Tavoris Cloud, Beibut Shumenov and Nathan Cleverly, but so far, there is no opponent set. On the undercard, Schaefer said he has finalized a fight between featherweight titlist Daniel Ponce De Leon, who will be making his first defense, against Jayson Velez, a prospect co-promoted by Golden Boy and Miguel Cotto.
"Velez is an exciting fighter and he feels he's ready," Schaefer said of Velez, who is close to Cotto (and won on his Dec. 1 undercard) because he was discovered and brought along in the pros by Cotto's late father. "For Miguel to be able to have Jayson fight for a world title against Ponce De Leon is very special for him. I'm excited for Jayson and happy for Cotto, but also happy for Ponce De Leon to get the fight. The fight is done. It's Mexico versus Puerto Rico. Stylistically, it's an exciting fight."
[+] Enlarge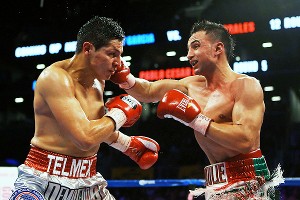 Al Bello/Getty ImagesPaulie Malignaggi could be back in Brooklyn April 27 to defend his welterweight title.
• Schaefer said he has April 27 at the Barclays Center on hold for a likely Showtime card to be headlined by welterweight titleholder Paulie Malignaggi of Brooklyn. No opponent yet. Malignaggi scraped by in a split decision to retain his title against Pablo Cesar Cano in the Barclays Center's first card on Oct. 20.
• Also in April -- date not set -- Schaefer is working on a tripleheader with HBO. One of the bouts they are discussing is a featherweight match between former titlist Jhonny Gonzalez and 2011 ESPN.com prospect of the year Gary Russell Jr. Another is welterweight slugger (and former junior welterweight titlist) Marcos Maidana against prospect Keith Thurman. Former welterweight titlist Andre Berto could also be on the card.
• May 4 is the target date for the return of Floyd Mayweather Jr. on pay-per-view. No TV company yet has the rights to the fight, which Golden Boy will promote with Mayweather, as it has for his last several bouts. Schaefer wouldn't divulge Mayweather's opponent, but all signs point to Robert Guerrero.
• June 8 is another date Schaefer said he has on hold at the Barclays Center for a card on the weekend of the annual Puerto Rican Day parade in New York.
• On June 15 at the MGM Grand, Schaefer said he would present "Knockout Kings II." In September, he put on a card there called "Knockout Kings," in which three of the four televised bouts ended in a KO. The idea is to make matches that likely will end with a knockout, Schaefer said. "I want to do a card like that, a 'Knockout Kings' card, once a year at the MGM."
July, 27, 2012
7/27/12
3:19
PM ET
Main Events won a purse bid on Thursday for the right to promote the junior middleweight title eliminator between Gabriel Rosado -- who has distinguished himself in recent fights on Main Events' NBC Sports Net "Fight Night" series -- and Charles Whitaker.

The winner of the bout will become the mandatory challenger for titleholder Cornelius "K9" Bundrage.

Main Events was the lone bidder and won with an offer of just $10,000. Under the IBF's rules, Whitaker is entitled to 60 percent ($6,000), with Rosado entitled to 40 percent ($4,000).

Main Events' Kathy Duva told me that if the fight is signed, it would go on either the Tomasz Adamek-Travis Walker pay-per-view undercard on Sept. 8 or the Sept. 21 "Fight Night" card.

If the fighters agree to the bout, Main Events almost certainly would bump up the purses from the paltry figure they would technically be due under the terms of the purse bid, especially with the company having six-figure dates on NBC Sports Net. Main Events put in such a low bid most likely because there was nobody else at the purse offer and the promoter knew it would win regardless of its bid. Usually promoters have multiple offers ready to go in sealed envelopes and pick one to use depending on who else might show up to bid. When nobody else showed for this one, Main Events went with the lowest bid to secure the rights to the bout.

"We do not yet know on which one of our September shows this fight would be placed," Duva said. "No need to speculate about anything until signed contracts are returned."

Duva, who works with Rosado, said a contract was sent to Whitaker's promoter.

"He has 15 days to return it to us signed," Duva said. "If he does, we have a fight. We will not announce exactly where we intend for the fight to take place until we have a signed contract from Whittaker."

Philadelphia's Rosado (20-5, 12 KOs), 26, has won six fights in a row since late 2010, including his past two in impressive fashion on "Fight Night." He dominated Jesus Soto Karass in a fifth-round knockout in January and then stopped longtime contender Sechew Powell in the ninth round on June 1.

Whitaker (38-12-2, 23 KOs), 38, of the Cayman Islands, has won 14 consecutive fights since 2004, albeit against very limited competition.