Dan Rafael:

Karim Mayfield
June, 25, 2014
Jun 25
6:53
PM ET
Junior welterweights Emanuel Taylor and Karim Mayfield were both on the doorstep of a major fight but each lost their last outing against a quality opponent.
In February, on ESPN2's "Friday Night Fights," Taylor dropped a decision to Chris Algieri, who went on to win a world title in his next fight when he edged Ruslan Provodnikov in a controversial decision on June 14. Had Taylor (17-2, 12 KOs) beaten Algieri, he probably would have gotten the title opportunity.
[+] Enlarge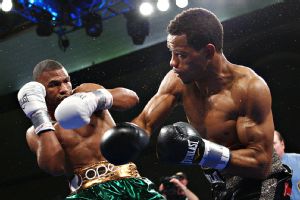 AP Photo/Tim LarsenKarim Mayfield, right, is one fight removed from losing a competitive decision against Thomas Dulorme in March.
Mayfield (18-1-1, 11 KOs) got the chance to fight on HBO in his last fight on March 29, but he lost a competitive decision to Thomas Dulorme.
Now Taylor and Mayfield are each in dire need of a victory, which adds intrigue to their 10-round showdown scheduled to take place on July 18 at The Paramount in Huntington, New York, and headline "Friday Night Fights" (ESPN2, 8 p.m. ET).
The Paramount is Algieri's home arena, so the card will also include a tribute to the new titleholder, who is from Huntington and sold out the arena several times on his way to the title.
"Taylor and Mayfield is a true crossroads fight with the winner getting right back in the upper tier of the world rankings," Star Boxing promoter Joe DeGuardia said. "Each is coming off a tough loss and looking to gain the terrific momentum their careers previously held.
"We are also going to pay special tribute to our new champion, Chris Algieri. He made his bones fighting at The Paramount, selling it out numerous times and his story of winning the title over Ruslan Provodnikov on June 14 has captured the interest of boxing fans all over the world."
The eight-round co-feature will involve Brooklyn, New York welterweight prospect Cletus Seldin (13-0, 10 KOs), known as "The Hebrew Hammer," making his national television debut against an opponent to be determined.
April, 2, 2014
Apr 2
12:23
PM ET
Light heavyweight titlist Sergey Kovalev is as exciting as any fighter out there these days. He's a knockout machine, so even though Cedric Agnew, Kovalev's opponent last Saturday night, was totally obscure, not very accomplished as a professional and something like a 38-to-1 underdog, people still tuned in for Kovalev's first HBO main event.

According to Nielsen Media Research, the live first airing of the fight drew 1.006 million viewers, who saw Kovalev dominate and score three knockdowns en route to a seventh-round knockout.

The audience peaked at 1.048 million viewers, which I view as pretty darn good, especially when you consider that the vast majority of the attention of the sports world was on the NCAA tournament, and the HBO card, which was horrible on paper, did not get all that much publicity.

Kovalev's main event showed a significant increase on the 742,000 viewers who tuned in for the desultory welterweight fight between Thomas Dulorme and Karim Mayfield that opened the show.

Now just imagine what kind of numbers Kovalev could do if he had an elite opponent? Paging super middleweight champion Andre Ward.
March, 26, 2014
Mar 26
8:12
PM ET
Junior welterweight Karim Mayfield is unbeaten, but also has been inactive.

The San Francisco fighter boxed only once in 2013, knocking out a journeyman opponent. But in the fight before that, Mayfield clearly outpointed Mauricio Herrera in October 2012. That win looks pretty darn good now, considering that Herrera gave 140-pound champion Danny Garcia such a hard fight on March 15 and lost a controversial majority decision.

"I thought Herrera pulled off the victory against Garcia because he landed more punches and was the aggressor for most of the fight," Mayfield said. "The fact that I dominated Herrera and he got the world title opportunity means there's something wrong. I've been calling Danny Garcia out for the last couple of years, but he's been running from me because I put it on him when he brought me in camp. I'll beat the breaks off Garcia if we ever fight. First I have to take care of [Thomas] Dulorme, and that is where my 100 percent focus is right now."

Mayfield's victory against Herrera ranks as the best of his career on second look and now he is shooting for another big win when he meets Dulorme (20-1, 18 KOs), 24, of Puerto Rico, on Saturday night (HBO, 10 ET/PT) at the Adrian Phillips Ballroom at Boardwalk Hall in Atlantic City, N.J.

The fight is the co-feature with light heavyweight titlist Sergey Kovalev (23-0-1, 21 KOs) making his second defense against Cedric Agnew (26-0, 13 KOs).

"I'm very excited to be fighting on HBO again. This is a big opportunity to prove I'm one of the top fighters in the division," Mayfield said. "This is the type of fight the fans are seeking, two guys at the top of their game who are hungry to prove their great."

The Dulorme-Mayfield winner is a top candidate to land a June 14 shot at junior welterweight titlist Ruslan Provodnikov. Mayfield (18-0-1, 11 KOs) believes he can score a knockout against Dulorme, who was stopped in his only loss.

"Dulorme is a technical guy with a long jab who has some fast hands," said Mayfield, 33. "He's nothing special though. I've seen him get knocked out before so I know his chin is suspect. I've fought guys who are long and rangy just like him, so I'm confident in my ability to land some powerful shots. If I touch that chin of his, there's no doubt, he's getting knocked out. ... [Trainer Virgil Hunter] has got me working on some new punches that I'll display against Dulorme."
March, 18, 2014
Mar 18
4:49
PM ET
Junior welterweight prospect Thomas Dulorme is in his first training camp with new trainer Robert Garcia at his gym in Oxnard, Calif., and so far, so good, according to Dulorme.

"I've been here training with Robert Garcia in Oxnard for the last eight weeks," Dulorme said. "He's a tremendous coach and I'm learning a lot about myself and what I need to improve on. There is always room for growth and Garcia is bringing the best out of me. I've been getting great sparring and I'll be 100 percent ready for [Karim] Mayfield's awkward style."

Puerto Rico's Dulorme (20-1, 14 KOs) faces Mayfield (18-0-1, 11 KOs) in a scheduled 10-round fight on March 29 (HBO) at the Adrian Phillips Ballroom at Boardwalk Hall in Atlantic City, N.J. The fight will be the televised co-feature on the card headlined by light heavyweight titlist Sergey Kovalev (23-0-1, 21 KOs) making his second defense against Cedric Agnew (26-0, 13 KOs).

The 24-year-old Dulorme said the sparring he is getting in Garcia's camp is the best of his career, although he didn't say specifically who he is working with -- although there is a lot of talent at Garcia's gym.

"I don't want to give up the names of my sparring partners but everyone that Garcia has me sparring have excellent professional records and all of them are giving me great work," Dulorme said. "There are a couple of Russian fighters along with a few Olympians in camp with me. During this camp there is no room to make mistakes or else you will pay for them. These are the best sparring partners I've had for any camp in my pro career."

The winner of Dulorme-Mayfield is one of the candidates to get a title shot against Ruslan Provodnikov on June 14.

Dulorme remains a quality prospect even after getting knocked out in the seventh round when he was moved a bit too quickly into a fight with Luis Carlos Abregu in October 2012. Dulorme has won four fights in a row since the defeat.

He is confident of adding Mayfield, 33, of San Francisco, to his win column. Among Mayfield's victories is a 2012 decision against Mauricio Herrera, who many believe deserved the decision in his world title fight with Danny Garcia on Saturday night in Puerto Rico.

"Mayfield is a great fighter but he's never faced the type of punches that I'll be throwing at him," Dulorme said. "I possess speed and power unlike any of Mayfield's past opponents. His awkward style will not be a problem. He also has physical disadvantages that I will exploit. I know he thinks he's unbeatable but I will prove him wrong."
February, 26, 2014
Feb 26
5:45
PM ET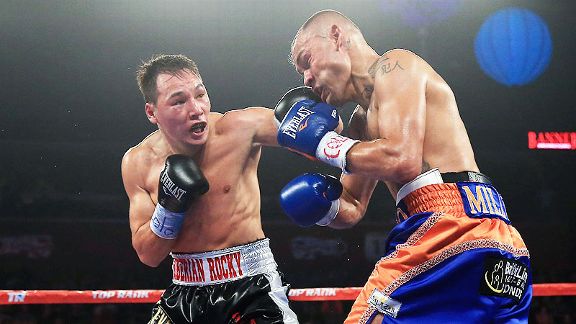 Doug Pensinger/Getty ImagesRuslan Provodnikov is still waiting for an opponent to defend his title against in June.
Junior welterweight titlist Ruslan Provodnikov is penciled in for his first title defense on June 14, location to be determined.
Besides figuring out where the fight will take place, promoter Artie Pelullo told ESPN.com that he is in discussions with HBO, which will televise the bout, about an opponent -- a situation they do not see eye to eye on at the moment.
Pelullo said that he and Bob Arum, Provodnikov's co-promoter for the next fight, want to match Provodnikov either with former lightweight titlist Antonio DeMarco (30-3-1, 23 KOs) of Mexico, who has won his past two fights since moving up in weight, or Chris Algieri (19-0, 8 KOs) of Huntington, N.Y., who looked good outpointing Emmanuel Taylor on ESPN2's "Friday Night Fights" on Feb. 14.
"Arum and I want DeMarco or even [promoter] Joe DeGuardia's guy, Algieri," Pelullo said. "But HBO wants us to wait for the winner of the Thomas Dulorme-Karim Mayfield fight and we don't want to wait another month. Besides, what happens if the guy who wins that fight gets injured or cut? We want to make a fight now and get it done as soon as possible so we can go out and sell the fight, get a site and really promote it. But we're trying to work things out with HBO."
Dulorme (20-1, 14 KOs) and Mayfield (18-0-1, 11 KOs) meet on March 29 in Atlantic City, N.J., on HBO on the undercard of light heavyweight titlist Sergey Kovalev's defense against Cedric Agnew.
Provodnikov (23-2, 16 KOs) lost the 2013 fight of the year by decision to welterweight titlist Timothy Bradley Jr. but then returned to junior welterweight, went to Mike Alvarado's hometown of Denver in October and stopped him in the 10th round of a bruising fight to win a 140-pound title.
Whomever Provodnikov faces, Pelullo said that the co-feature could be junior middleweight titlist Demetrius Andrade making his first defense against mandatory challenger Brian Rose (25-1-1, 7 KOs) of England.
Pelullo and DeGuardia co-promote Andrade and are working to make a deal with Rose promoter Matchroom Sport.
"HBO tells us they are interested in Demetrius, but not really interested in that fight [with Rose]," Pelullo said. "But it's a mandatory so we are trying to work it out."
Andrade (20-0, 13 KOs) won a vacant title by split decision against Vanes Martirosyan on Nov. 9 on HBO, which holds the first right of refusal and a last look option on his next bout.
February, 18, 2014
Feb 18
4:41
PM ET
The deal is not done yet but a fight between junior welterweights Thomas Dulorme and Karim Mayfield is in the works for HBO's March 29 "Boxing After Dark" telecast from the Adrian Phillips Ballroom at Boardwalk Hall in Atlantic City, N.J., according to the promoters for both boxers.

If the bout is finalized -- and Gary Shaw, Dulorme's promoter, and Top Rank, which represents Mayfield, are working on it -- it would open the telecast headlined by light heavyweight titlist Sergey Kovalev (23-0-1, 21 KOs) making his second defense against Cedric Agnew (26-0, 13 KOs).

The card belongs to Main Events' Kathy Duva, Kovalev's promoter, so getting a fight involving Shaw on it was difficult. But HBO, which wanted this specific match, basically gave her no choice but to accept the fight. Shaw once was the chief operating officer of Main Events before a falling out with Duva, after which he left the company and started his own promotional outfit.

Dulorme (20-1, 14 KOs), 24, of Puerto Rico, remains a quality prospect even after getting knocked out in the seventh round when he was overmatched with Luis Carlos Abregu on HBO in October 2012. Dulorme has won four fights in a row since and this would be his first bout since his recent hiring of trainer Robert Garcia.

Mayfield (18-0-1, 11 KOs), 33, of San Francisco, has been fairly inactive, fighting only once in 2013. But in the fight before that (in October 2012), he outpointed Mauricio Herrera, who is getting a shot at junior welterweight champ Danny Garcia on March 15.
May, 31, 2013
5/31/13
10:45
AM ET
Junior welterweight Karim Mayfield of San Francisco caused a stir when he got into a shouting match and near-physical confrontation with unified titleholder Danny Garcia and his father/trainer Angel Garcia in the media center during Floyd Mayweather Jr.'s postfight news conference after his win against Robert Guerrero on May 4 at the MGM Grand in Las Vegas.

It was quite a scene, and it was clear that Mayfield was trying to lure Garcia into a fight (in a ring, not a press room). But pushing and shoving doesn't normally land a hungry contender a fight unless he has the right backing. Mayfield probably won't get a shot at Garcia, but after signing this week with Top Rank, he figures to be in the mix for some other meaningful bout.

Garcia is with Golden Boy, which has many of the top junior welterweights and welterweights, and it doesn't do business with Top Rank. Garcia also has much bigger plans, which hopefully include a showdown with destroyer Lucas Matthysse in September.

But Top Rank also has top fighters at 140 and 147, such as Manny Pacquiao, Juan Manuel Marquez, Timothy Bradley Jr., Brandon Rios and Mike Alvarado, so it's trying to add depth to its roster in order to give it more matchmaking flexibility. That's the reason it recently signed 140 titleholder Khabib Allakhverdiev, and that's also where Mayfield (17-0-1, 10 KOs), who is trained by 2011 trainer of the year Virgil Hunter, fits in.

Mayfield is not an A-side of a fight at this point, but with a couple more solid wins and a promotional push, he might get there.

"Top Rank is extremely happy with the signing of Karim," matchmaker Brad "Abdul" Goodman said. "He is a top fighter who will take on anyone, anytime, and that in itself deserves credit. Our goal, along with (co-promoter) Prize Fight Boxing, is to get Karim to the world championship and win it."

Mayfield is coming off his two most notable victories -- a fifth-round knockout of previously undefeated Raymond Serrano in a May 2012 "Friday Night Fights" headliner, followed by a 10-round decision against Mauricio Herrera on HBO.

So Mayfield is getting some television exposure, which is vitally important, but he is 32 already, and there is not a lot of time to waste, even though he has been a pro only since 2006.

"I was maybe 20 years old before I even started boxing," said Mayfield, who played football in high school and was 54-4 as an amateur. "There was a local gym in my neighborhood and I went to check it out. I sparred with a kid who had been boxing for a year or so and I did extremely well. It just inspired and motivated me. I've been with my trainer, Ben Bautista, since day one."

He calls himself "Hard Hitta'" for a nickname because, as he said, "I hit everything hard. I don't win by decision, but by collision."

Perhaps in coming fights, he can put himself on a collision course for a title shot.