February, 18, 2014
Feb 18
4:41
PM ET
The deal is not done yet but a fight between junior welterweights Thomas Dulorme and Karim Mayfield is in the works for HBO's March 29 "Boxing After Dark" telecast from the Adrian Phillips Ballroom at Boardwalk Hall in Atlantic City, N.J., according to the promoters for both boxers.

If the bout is finalized -- and Gary Shaw, Dulorme's promoter, and Top Rank, which represents Mayfield, are working on it -- it would open the telecast headlined by light heavyweight titlist Sergey Kovalev (23-0-1, 21 KOs) making his second defense against Cedric Agnew (26-0, 13 KOs).

The card belongs to Main Events' Kathy Duva, Kovalev's promoter, so getting a fight involving Shaw on it was difficult. But HBO, which wanted this specific match, basically gave her no choice but to accept the fight. Shaw once was the chief operating officer of Main Events before a falling out with Duva, after which he left the company and started his own promotional outfit.

Dulorme (20-1, 14 KOs), 24, of Puerto Rico, remains a quality prospect even after getting knocked out in the seventh round when he was overmatched with Luis Carlos Abregu on HBO in October 2012. Dulorme has won four fights in a row since and this would be his first bout since his recent hiring of trainer Robert Garcia.

Mayfield (18-0-1, 11 KOs), 33, of San Francisco, has been fairly inactive, fighting only once in 2013. But in the fight before that (in October 2012), he outpointed Mauricio Herrera, who is getting a shot at junior welterweight champ Danny Garcia on March 15.
January, 23, 2014
Jan 23
7:51
AM ET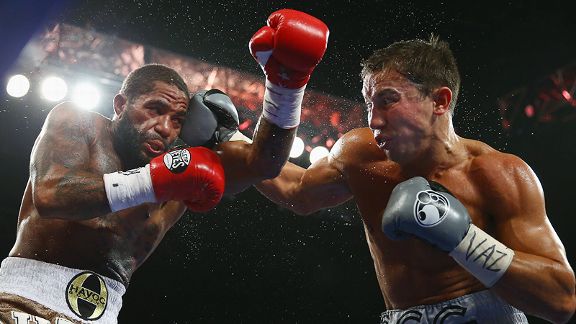 Al Bello/Getty ImagesCurtis Stevens, left, is set to get back into the ring following his stoppage defeat to Gennady Golovkin.
Less than three months ago, middleweight contender Curtis Stevens was wrecked by world titleholder Gennady Golovkin, getting dropped in the second round and punished until the fight was called off in the eighth round.
Stevens, fighting in his hometown of New York, lost virtually every second of the Nov. 2 fight, but he was game to the end and surely gained fans with his gutsy, fan-friendly performance.
So, now begins the comeback, even if it's a bit quicker than one would have imagined. Stevens is set to take on Patrick Majewski (21-2, 13 KOs) in the season debut of "Fight Night" on Friday night (NBC Sports Net, 10 ET) at Resorts International Casino and Hotel in Atlantic City, N.J.
"He made it clear to us that he wanted to get back in the middleweight title picture as soon as possible," Main Events chief executive Kathy Duva said of Stevens at Wednesday's final news conference. "This one really should be a brawl."
Stevens (25-4, 18 KOs), 28, said he did not feel as though he was coming back too quickly after such a punishing loss.
"Well, if I wasn't prepared I wouldn't have taken the fight," Stevens said. "I just came off a loss so why would I want to lose again? I trained very hard. I thought a little too much in my first title match. I overthought, so my job is no thinking, just reacting.
"Come Friday, it is my road to redemption. I just have to go in there and not think so much and let my hands go. Friday starts my way back to the top of the elite in the middleweight division."
Majewski, 34, a native of Poland based in Atlantic City, is coming off a lopsided decision loss to Patrick Nielsen in Denmark in September. He is looking at the fight with Stevens as a way to put himself at least on the fringes of the middleweight picture. What better way to do that than by beating a former title challenger who has had a lot of television exposure?
"This is my shot in the middleweight division, to start existing in the middleweight division," he said. "Curtis Stevens is a known fighter. I'm not yet. To be known I have to pass through him. I am ready to get it on."
In the co-feature, cruiserweight contender Thabiso Mchunu (13-1, 9 KOs), 25, of South Africa, takes on Olanrewaju Durodola (15-1, 14 KOs), 33, a Nigeria native who has fought most of his career in the United States.
The fight will be Mchunu's second in a row in the U.S., a follow-up to his lopsided decision win against former heavyweight contender Eddie Chambers, who had dropped down in weight and was a big favorite, in August.
October, 4, 2013
10/04/13
8:56
AM ET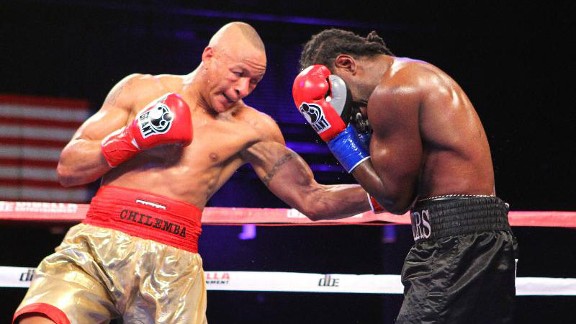 DiBella Entertainment/Ed DillerIsaac Chilemba plans to make a statement in the 175-pound division with a new promoter.
One established contender -- light heavyweight Isaac Chilemba -- signed with Main Events this week, and one Olympic bronze medal winner -- Yamaguchi Falcao -- did the same with Golden Boy Promotions.
In his two most recent bouts, both light heavyweight title eliminators, Chilemba (20-2-2, 9 KOs), 26, born in Malawi and living in South Africa, drew with England's Tony Bellew in March and lost a unanimous decision in the May rematch.
Chilemba owns wins against Edison Miranda and Maxim Vlassov and has a draw with super middleweight contender Thomas Oosthuizen.
"I am pleased to be with Main Events and I look forward to getting back in the ring. Everything happens for a reason," said Chilemba, who had been with promoter Lou DiBella.
Main Events promoter Kathy Duva said she would keep Chilemba busy on her NBC Sports Network "Fight Night" series.
"Isaac's most impressive fights occurred during times when he was very active. We believe that the combination of activity and the exposure he will receive fighting on the NBC Sports Network will create the right environment to bring out his full potential," Duva said.
He has no set date yet, but Duva said Chilemba would fight before the end of the year.
Falcao won a light heavyweight bronze medal for Brazil at the 2012 London Olympics and is one of his country's most promising prospects. There has not been a top pro from Brazil since the early 2000s heyday of former lightweight and junior lightweight titlist Acelino "Popo" Freitas.
"Yamaguchi Falcao is a top-tier talent and a major signing for us," Golden Boy chief executive Richard Schaefer said. "He has the skill and charisma to become a star, and with the entire country of Brazil behind him, the sky's the limit for him."
Said Falcao, who also signed with manager Rolando Arellano, "I'm honored to be signed with Golden Boy Promotions, and I appreciate the faith they have in me. I promise to train my hardest and fight my best to one day become a world champion."
Falcao's unusual first name comes from his father, a former MMA participant who named his son after his trainer, Yamaguchi.
Falcao's brother, Esquiva, won a 2012 Olympic middleweight silver medal. Their medals marked the first time in 44 years that a Brazilian boxer had won an Olympic medal.
January, 3, 2013
1/03/13
4:05
PM ET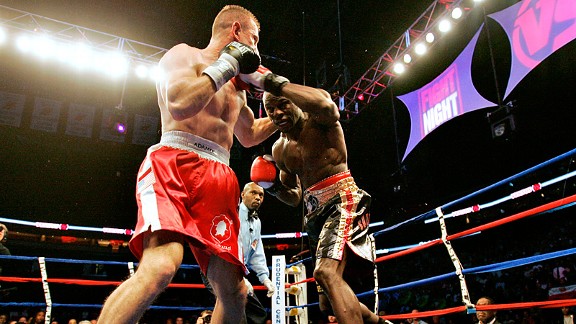 AP Photo/Rich SchultzBoxing fans were treated to a great fight on network TV between Adamek and Cunningham.
There's more good news for boxing fans: the return of live Saturday afternoon boxing to NBC was a hit.
In ratings released by the network on Wednesday -- they were later than usual because of the holidays -- the Main Events card headlined by the rematch between heavyweights Tomasz Adamek and Steve Cunningham on Dec. 22 did a 1.2 rating and a 3 share.
The 2-hour telecast averaged 1.6 million viewers and peaked at 2.2 rating and 3.2 million average viewers, quite an impressive showing considering its lead-in was snowboarding, which did a 0.5 rating. Another positive for the boxing telecast: the audience steadily grew throughout the show.
NBC also said the show had an "audience reach" of 3.9 million. It defines "audience reach" as any viewer who watched at least six minutes of the program.
The only network sports program to do a better rating on Dec. 22 was the Kansas-Ohio State college basketball game (1.4) on CBS, which aired opposite the fight card.
"We are pleased with the rating of the show on Dec. 22 and the overall performance of the 'Fight Night' series in its first year," said Gary Quinn, senior director of programming for the NBC Sports Group.
NBC was so pleased with the performance that Quinn said there would be "at least" one more show on the network this year. NBC Sports Net, NBC's all-sports cable channel, televises the "Fight Night" series, but as part of the renewal of its deal with Main Events, the Dec. 22 show went on NBC.
"We are very happy," said Main Events promoter Kathy Duva.
She should be. She and her staff worked their rear ends off promoting the card and it paid off with strong viewership. It turned out to be a heck of a fight too, although Adamek won a highly suspect split decision.
It was the second consecutive week with a strong performance for boxing on network television, which had not had regular boxing since the 1990s. On Dec. 15, boxing returned to CBS for the first time in 15 years for a fight between bantamweight titlist Leo Santa Cruz and Alberto Guevara, and it generated a 1.3 rating, a 3 share and had about 1.5 million households tuning in. It also had a far superior lead-in with an overtime NCAA basketball game between then-No. 1 Indiana and unranked Butler.
CBS was happy with the ratings for its fight and now we have NBC also very pleased with boxing's performance. That bodes well for more network boxing, which is huge for the long-term health of the sport.
December, 28, 2012
12/28/12
10:25
AM ET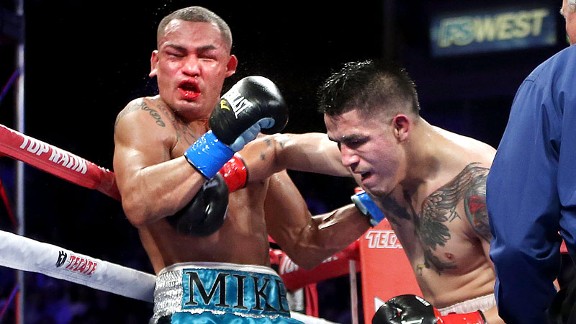 Chris Farina/Top RankMike Alvarado and Brandon Rios went toe-to-toe in an all-action fight last October.
Over the course of two meetings, one on Dec. 1 in New York on the day the Austin Trout-Miguel Cotto fight and one on Dec. 8 in Las Vegas on the day of the Juan Manuel Marquez-Manny Pacquiao IV, members of the Boxing Writers Association of America met to finalize the ballot for the organization's annual awards.
Over the next week or so, members will begin to receive their ballots, which are due back by Jan. 19. The winners will be honored at the annual BWAA awards dinner (public can purchase tickets). The date and location is not set, but it likely will take place around a major fight in the spring.
Here's a look at who is on the ballot in each category:
•
Fighter of the year:
Nonito Donaire, Danny Garcia, Robert Guerrero, Juan Manuel Marquez and Brian Viloria.
•
Fight of the year:
Brandon Rios-Mike Alvarado, Roman Gonzalez-Juan Francisco Estrada, Guerrero-Andre Berto, Orlando Salido-Juan Manuel Lopez II, Viloria-Hernan Marquez and Marquez-Manny Pacquiao IV.
•
Trainer of the year:
Nacho Beristain, Eric Brown, Robert Garcia, Ruben Guerrero, Virgil Hunter.
•
Manager of the year:
Luis DeCubas Jr., Cameron Dunkin, Frank Espinoza, Gary Gittelsohn, Al Haymon.
•
Long and meritorious service to boxing:
Bob Canobbio (CompuBox), promoter Lou DiBella, promoter Kathy Duva, referee Steve Smoger, Top Rank matchmaker Bruce Trampler.
•
Excellent in broadcast journalism:
Bruce Beck (my broadcast partner at Epix), Max Kellerman (HBO), Tony Paige (WFAN radio), Bob Papa (HBO), Travis Pomposello (Epix executive producer), Dan Rafael (ESPN and Epix -- and honored to be nominated). Nominees in this category can only win once and it's open to broadcasters, TV executives and production people.
•
Good guy:
Don Chargin (Hall of Fame promoter), Steve Farhood (Showtime), Norm Frauenheim (writer), Scott Ghertner (MGM and Mandalay Bay media relations), Wladimir Klitschko (heavyweight champ).
•
Courage in overcoming adversity:
Alfredo Angulo, Johnathon Banks, Danny Jacobs, Peter Quillin, Paul Williams.
November, 8, 2012
11/08/12
9:43
AM ET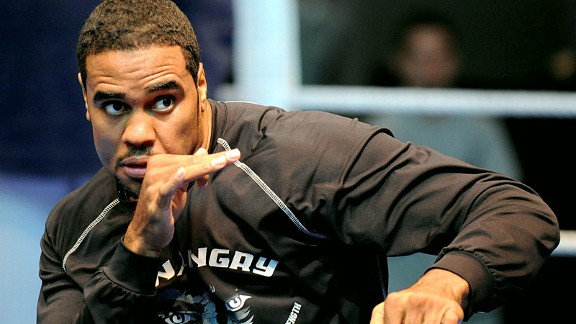 Clemens Bilan/AFP/Getty ImagesEddie Chambers would benefit greatly by moving down from heavyweight to cruiserweight.
Eddie Chambers has finally seen the light and is moving down to cruiserweight.
Although he has been a good heavyweight contender in recent years, Chambers is very small for the division. He goes 6-foot-1 and has weighed less than 210 pounds for his past four fights. He is talented but his lack of size and the fact that he does not pack much of a punch are huge detriments.
When he challenged heavyweight champion Wladimir Klitschko in a 2010 mandatory fight, Chambers was massively outgunned in terms of size and power. It was amazing that he hung in against Klitschko for as long as he did, but he took a serious beating before being put to sleep in a sick one-punch knockout in the 12th round. It left Chambers nearly out of the ring and unconscious with just five seconds left in the fight.
Eleven months later, Chambers returned to easily outpoint Derric Rossy, an average heavyweight at best, and then lost a decision to Tomasz Adamek in June. It was a close, competitive fight that some thought Chambers won, but he didn't get the call.
If Chambers had stayed at heavyweight, where was he going? There was nothing out there for him, so the move down in weight made sense since he is so close to the weight limit already.
But even before the losses to Klitschko and Adamek, I thought that Chambers (36-3, 18 KOs) could easily make the cruiserweight limit of 200 pounds and be a force in the weight class.
Although I don't think he will ever be a heavy hitter, Chambers has the boxing skills and defense to be a very successful cruiserweight.
And at long last, he does too. The 30-year-old from Philadelphia announced on Wednesday that he had made the decision that I think he should have made years ago to drop down to cruiserweight.
"The cruiserweight division is better because I'll be fighting guys my size," Chambers said. "I may have had some advantages at heavyweight, but imagine me at cruiser, fighting against someone my own size.
"I want to be a world champion. That's what you set out to do when you start boxing. That's what I want to be, and I've worked my entire boxing career, and most of my life, at that. I want to achieve it. I see that title wrapped around my waist."
Chambers' decision coincided with the announcement that he had signed with promoter Main Events, which plans to feature him on its "Fight Night" series on NBC Sports Net.
"I think it's a great opportunity," Chambers said. "Main Events puts on nothing but great fights. I'm just happy to be part of it. They really have confidence in my ability, and it led me to believe that these were the people for me."
Said Main Events CEO Kathy Duva, "I don't think anyone in the cruiserweight division can beat Eddie Chambers, period. We are very happy that he has decided to work with us towards his goal of winning the cruiserweight title and I have no doubt in my mind that he will get there very soon."