May, 14, 2013
May 14
1:50
PM ET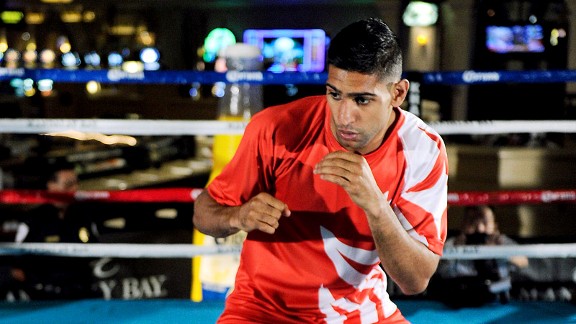 David Becker/Getty ImagesAmir Khan has no interest in giving countryman Kell Brook a payday by agreeing to face him.
One of the most talked-about potential fights, in England anyway, is a showdown between countrymen Amir Khan, the former unified junior welterweight titlist, and welterweight contender Kell Brook.
But Khan (28-3, 19 KOs), who has heard the talk and listened to Brook trash-talk him, said forget about it. Khan said he is not interested and has bigger fish to fry. He is looking for a world title fight and/or a shot against Floyd Mayweather Jr. and doesn't plan to "waste his time" with Brook (29-0, 19 KOs).
I spoke to Khan on Monday and he said he has no interest in fighting Brook, who should have been challenging welterweight titlist Devon Alexander on Saturday night in Atlantic City, N.J., but pulled out for a second time because of a foot injury.
Khan will be at the card, but not in action. He'll be there to support his kid brother, bantamweight Haroon Khan, in his second professional fight.
"A lot of people want to see me fight Brook but when we put that fight to HBO and [later] Showtime, they weren't interested," Khan said. "So if they're not interested, I'm not interested."
But Khan said his lack of interest goes deeper than just simple television business. He said he has felt disrespected by Brook's constant insults whenever he is mentioned to him.
"I don't want to give him that payday," Khan said. "He talks so much crap. I might never give him the opportunity to fight me. He's not worth it. It's waste of time and it has gone further than personal. I don't even want to beat him up now. I just don't even want to step in the ring with him because I don't gain anything from it and I don't want to fill his pockets. If he wants to do it for free, fine. I'll beat him up and he doesn't have to get paid. But I got my own path and my own goals and I don't need to be wasting my time with him. He hasn't even accomplished anything. All he does is irritate me.
"He's a fellow countryman and keeps dissing me and has never shown me and support or respect. All he had to do is say, 'Amir Khan, he's a good fighter,' and maybe we can fight someday. His promoter, Eddie Hearn, is OK. I have no problem with Eddie but Kell Brook, all he does it talk bad about me. If he was respectful, maybe it could happen. But he just says nasty stuff. It's like he's desperate for the fight and the payday. He's just looking for the big payday I would bring him and I won't give it to him."
Khan said even if he was interested, nobody in the United States is, and that is where Khan primarily fights.
"Only in England would that fight make sense, but nobody in the States cares about that fight," Khan said. "They want to see me fight the big names over there, not a nobody like Kell Brook, who hasn't done anything. Let him win a world title or fight a top opponent. Right now he has not done anything whatsoever to shout about. And if I did [agree] to fight him maybe he'd pull out twice on me like he's done to Devon Alexander."
March, 21, 2013
Mar 21
9:33
AM ET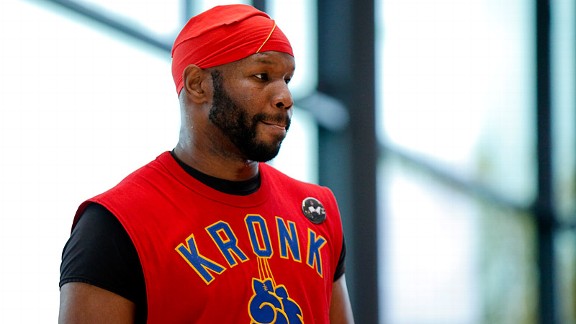 AP PhotoJohnathon Banks was looking forward to a rematch with Seth Mitchell ... before he got injured.
The heavyweight rematch between Johnathon Banks and Seth Mitchell is still supposed to take place, but it will be put off a little longer because of Banks' injured thumb.
Banks scored an upset when he knocked out Mitchell in the second round on Nov. 17 in Atlantic City, N.J. Mitchell (25-1-1, 19 KOs), who had a rematch clause, exercised his option and they were due to meet again in Atlantic City on Feb. 16 on the Adrien Broner-Gavin Rees undercard.
However, 10 days before the fight Banks broke his right thumb in a sparring session and the bout was postponed.
Golden Boy promoter Richard Schaefer told ESPN.com on Wednesday that he was hoping to add the fight to his May 18 Showtime card in Atlantic City and had already worked it out with the network. It would have turned an already outstanding doubleheader into a tripleheader. Welterweight titlist Devon Alexander is set to defend against mandatory challenger Kell Brook on the show and Schaefer said he is in the process of finalizing the main event, which would feature junior welterweight titlist Lamont Peterson against Lucas Matthysse, an interim titlist.
On Wednesday, Schaefer got word from K2 promoter Tom Loeffler, who handles Banks, that Banks (29-1-1, 19 KOs) would be ready for May 18 and that they would take the fight.
However, later in the day Loeffler apologized to Golden Boy, saying that he checked with Banks, who said his thumb was still pretty sore and that he didn't feel like he could be ready for the fight until after June 1.
"The fault lays with me for agreeing to something before confirming with Banks," said Loeffler, a stand-up guy who admitted his error, something many in boxing would never do.
Another issue -- although it was not raised -- could be the fact that Banks is also training heavyweight champion Wladimir Klitschko for his May 4 defense with Francesco Pianeta. Banks pulled double duty preparing for the first Mitchell fight while also training Klitschko for a defense the week before, but that was a huge grind.
One thing Schaefer said is that whenever Banks-Mitchell II is rescheduled, it will take place on Showtime, where he now does all of his premium cable business. HBO, which televised the first fight and was set to air the rematch last month, cut its ties with Golden Boy this week because of ongoing issues with the promoter.
March, 5, 2013
Mar 5
1:01
PM ET
Golden Boy Promotions chief executive Richard Schaefer said he is closing in on finalizing a main event to go along with the Devon Alexander-Kell Brook welterweight title fight on May 18 in Atlantic City, N.J.: a match between junior welterweight titlist Lamont Peterson and knockout artist Lucas Matthysse.

"Matthysse is on board," Schaefer told ESPN.com. "So now we are waiting on Peterson, but that looks very promising. If we can pull it off, it will be one of the best one-two-punch doubleheaders we could make."

Schaefer is absolutely right about that. I like both of those fights a lot, but Peterson-Matthysse is one of my favorite fights that has been scheduled or is on the drawing board.

Also, Schaefer said he has the Mandalay Bay Events Center in Las Vegas on hold for June 15 to feature the return of lightweight titlist Adrien Broner. That's likely an HBO show. No opponent yet, but Schaefer said he hopes he can make a deal for Broner to face titlist Ricky Burns, of Scotland, now that Burns' March 16 fight with Miguel Vazquez has been postponed and seems on shaky ground.

Schaefer said welterweight titlist Paulie Malignaggi is due back June 22 for a title defense at the Barclays Center in his hometown of Brooklyn, N.Y., on a likely Showtime card.

For good measure, in addition to the festivities surrounding the Floyd Mayweather Jr.-Robert Guerrero Showtime PPV event on May 4 in Las Vegas, Golden Boy will put on a Fox Deportes/FSN show May 3 at the Cosmopolitan, Schaefer said.
March, 1, 2013
Mar 1
12:19
PM ET
Welterweight titlist Devon Alexander's mandatory defense against England's Kell Brook is in the process of being formally rescheduled for May 18 (Showtime) at Boardwalk Hall in Atlantic City, N.J.

The fight -- Alexander's first defense since winning the belt from Randall Bailey in October -- already has been postponed twice. It was originally scheduled for Jan. 19 in Los Angeles, but Brook (29-0, 19 KOs) suffered an ankle injury. It was rescheduled for Feb. 23 in Detroit, but Alexander (24-1, 13 KOs) suffered a severely strained right biceps.

Golden Boy's Richard Schaefer told ESPN.com that he notified Team Alexander and Brook promoter Eddie Hearn on Thursday, telling them to be ready for May 18 while he finalizes his deal with Showtime and the venue.

Schaefer doesn't want to announce the new date yet because he is trying to close the main event for the card, which he hopes will match junior welterweight titlist Lamont Peterson, in his second title defense, against monstrous puncher Lucas Matthysse, an interim titleholder.

Peterson-Matthysse would be a terrific fight. If it gets paired with Alexander-Brook, it will be a doubleheader all boxing fans should be excited about.

Kevin Cunningham, Alexander's trainer and manager, is happy to be going to Atlantic City.

"I like Atlantic City. There are great boxing fans there," he said. "I've been out there working with Adrien Broner [as an assistant trainer last month] and there's a great boxing atmosphere. I always had pretty good luck there."

Cunningham's biggest win as a trainer came at Boardwalk Hall, where Cory Spinks outpointed Ricardo Mayorga in 2003 to become the undisputed welterweight world champion.

Cunningham said Alexander would be ready for May 18.

"He started back in the gym on Monday, so he's basically at 90 percent, and so we'll step it up a little more next week," Cunningham said. "Within the next couple of weeks, he should be back to 100 percent and we're expecting to do some sparring in the next couple of weeks. We'll be ready, and Kell Brook will finally get his wish to be in the ring with Devon Alexander -- but that's about as far as that wish will go."
December, 12, 2012
12/12/12
5:00
PM ET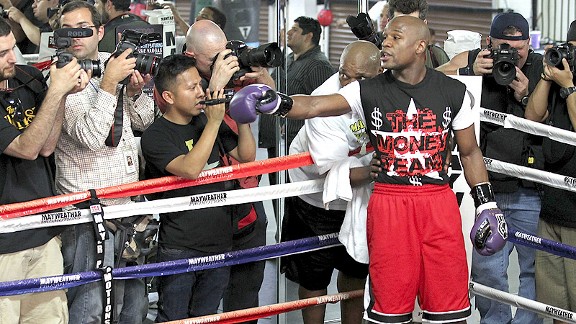 Jeff Bottari/Getty ImagesGolden Boy will co-promote Floyd Mayweather Jr's return to the ring in the spring.
Golden Boy Promotions chief executive Richard Schaefer has been working on the schedule for the company's major cards in the first half of 2013 and walked me through it this week. Here's what Golden Boy is working on:
• On Jan. 19 on Showtime, Devon Alexander is supposed to defend his welterweight belt against Kell Brook at the Nokia Theater in Los Angeles with interim junior welterweight titlist Lucas Matthysse facing Hank Lundy on the undercard. A third fight for the telecast is in the works: welterweight contender Selcuk Aydin against Jesus Soto Karass.
However, there is a chance the show could be postponed -- or at least the main event -- because Brook is dealing with an ankle problem that might force a short delay in the fight. Schaefer said if the main event has to be postponed, he would try to convince Showtime to do a doubleheader with the other two bouts and move Alexander-Brook into late February.
• Golden Boy will be back for the second show at the Barclays Center in Brooklyn, N.Y., on Feb. 9 (Showtime) with junior welterweight titlist Danny Garcia defending against former titleholder Zab Judah of Brooklyn in the main event. Middleweight titlist "Kid Chocolate" Peter Quillin, who calls Brooklyn a second home, will make his first defense on the undercard, possibly against former middleweight champion Jermain Taylor. (That is a very, very poor fight and hopefully will not happen.) Middleweight prospect Daniel Jacobs of Brooklyn will also see action in his third fight since returning to boxing after nearly dying from cancer.
Another fight on the card that Schaefer said could happen, although it would probably go on Showtime Extreme coverage of the undercard, would pit welterweights Dmitriy Salita of Brooklyn against Hector Camacho Jr., the son of the late Hector Camacho Sr., who had a big fan base in New York. Salita-Camacho might sell some tickets as a local attraction because Salita has fans in the Jewish community and Camacho would attract Puerto Rican fans.
• Golden Boy will have an HBO card on Feb. 16 at a site to be determined. Lightweight titlist Adrien Broner will headline. Schaefer hopes to make a unification with Ricky Burns, whose fight on Saturday fell apart when opponent Jose Ocampo dropped out this week. The undercard is expected to feature a heavyweight rematch between Johnathon Banks and Seth Mitchell, whom Banks knocked out in the second round of an upset on Nov. 17.
• Schaefer said Feb. 23 is the date for another Showtime card. It could include Alexander-Brook if the fight is postponed with the location to be determined. But if Brook-Alexander stays in January, Schaefer said he would put the Feb. 23 card in Detroit, the hometown of junior middleweight titlist Cornelius "K9" Bundrage, who would defend his belt against Ishe Smith. For the undercard of that fight, Schaefer said he hopes to make a match between Khabib Allakhverdiev, who recently won a vacant junior welterweight belt by handing Joan Guzman is first defeat, and former lightweight titleholder Humberto Soto.
"I have to see what happens with Alexander and Brook and then adjust," Schaefer said.
• Former light heavyweight champ Bernard Hopkins returns on March 9, when he will be 48, at the Barclays Center on Showtime. Schaefer hopes to give Hopkins a shot at one of the world titleholders and has mentioned Tavoris Cloud, Beibut Shumenov and Nathan Cleverly, but so far, there is no opponent set. On the undercard, Schaefer said he has finalized a fight between featherweight titlist Daniel Ponce De Leon, who will be making his first defense, against Jayson Velez, a prospect co-promoted by Golden Boy and Miguel Cotto.
"Velez is an exciting fighter and he feels he's ready," Schaefer said of Velez, who is close to Cotto (and won on his Dec. 1 undercard) because he was discovered and brought along in the pros by Cotto's late father. "For Miguel to be able to have Jayson fight for a world title against Ponce De Leon is very special for him. I'm excited for Jayson and happy for Cotto, but also happy for Ponce De Leon to get the fight. The fight is done. It's Mexico versus Puerto Rico. Stylistically, it's an exciting fight."
[+] Enlarge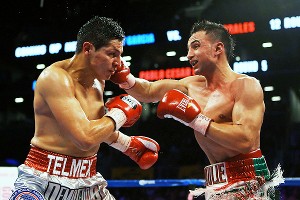 Al Bello/Getty ImagesPaulie Malignaggi could be back in Brooklyn April 27 to defend his welterweight title.
• Schaefer said he has April 27 at the Barclays Center on hold for a likely Showtime card to be headlined by welterweight titleholder Paulie Malignaggi of Brooklyn. No opponent yet. Malignaggi scraped by in a split decision to retain his title against Pablo Cesar Cano in the Barclays Center's first card on Oct. 20.
• Also in April -- date not set -- Schaefer is working on a tripleheader with HBO. One of the bouts they are discussing is a featherweight match between former titlist Jhonny Gonzalez and 2011 ESPN.com prospect of the year Gary Russell Jr. Another is welterweight slugger (and former junior welterweight titlist) Marcos Maidana against prospect Keith Thurman. Former welterweight titlist Andre Berto could also be on the card.
• May 4 is the target date for the return of Floyd Mayweather Jr. on pay-per-view. No TV company yet has the rights to the fight, which Golden Boy will promote with Mayweather, as it has for his last several bouts. Schaefer wouldn't divulge Mayweather's opponent, but all signs point to Robert Guerrero.
• June 8 is another date Schaefer said he has on hold at the Barclays Center for a card on the weekend of the annual Puerto Rican Day parade in New York.
• On June 15 at the MGM Grand, Schaefer said he would present "Knockout Kings II." In September, he put on a card there called "Knockout Kings," in which three of the four televised bouts ended in a KO. The idea is to make matches that likely will end with a knockout, Schaefer said. "I want to do a card like that, a 'Knockout Kings' card, once a year at the MGM."
October, 29, 2012
10/29/12
1:16
PM ET
On Oct. 20, Kell Brook knocked out china-chinned Hector Saldivia with a jab in the third round to become the mandatory challenger for one of the alphabet welterweight titles.

Hours after Brook (29-0, 19 KOs) won his title eliminator in front of a huge crowd in his hometown of Sheffield, England, Devon Alexander (24-1, 13 KOs) easily outboxed Randall Bailey for a unanimous decision on the debut boxing card at the Barclays Center in Brooklyn, N.Y., to claim a 147-pound belt, thus inheriting Brook as his mandatory opponent.

Alexander-Brook is a somewhat attractive fight that has been ordered to happen unless Alexander gives up the title or Brook elects to go in another direction and doesn't take the fight.

Assuming neither of those scenarios plays out, the big question about Alexander-Brook is where the fight will take place. Kevin Cunningham, Alexander's trainer and manager, told me he has no problem making the fight with Brook but wants it in the United States.

"I don't see anything special about Kell Brook," Cunningham said. "He can be next if he comes to the U.S. We plan on defending the title, and we will fight Brook anywhere in the U.S."

Matchroom Sport promoter Eddie Hearn, who promotes Brook, wants the fight to take place in England, where Brook is a significant draw. (Alexander is a good draw in his hometown of St. Louis, but not as big as Brook is in Sheffield.)

Hearn said he will do everything he can to make the fight in the U.K. despite Cunningham's lack of interest in going there. Hearn also said he already was negotiating the fight with Alexander's camp, which presumably means Golden Boy Promotions.

"We will be doing all we can to try and make this fight in the U.K.," Hearn said. "I read Kevin Cunningham's comments and, with all due respect, it's not up to him or Devon where the fight is. We have now entered an official negotiation period with his team, and if we can't find a middle ground, then we will go to purse bids. If I win the purse bids, then Alexander has no choice but to come and fight in England or vacate the title.

"I know we can easily fill the 12,000-seat Sheffield Arena, and we also have significant domestic and international TV backing. If we are in a purse bid situation, I am confident we can be very competitive."

If the sides can't come to an agreement, the fight would indeed go to a purse bid and be awarded to the promoter who makes the biggest offer. But the fighter with the title is always at an advantage. As titleholder, Alexander is entitled to 75 percent of the winning bid; Brook will be entitled to just 25 percent.
October, 12, 2012
10/12/12
6:02
PM ET
Kell Brook is a top-10 welterweight contender and Amir Khan, a former junior welterweight titlist, hopes to become one himself, when he eventually moves up in weight.

They are also both from England and if they ever fight each other, it will be a really big fight for their country, and also a pretty darn interesting match even for those of us who couldn't care less where they are from.

If -- more likely when -- they do fight, it won't be for a little bit. They both have fights already on the schedule with Brook slated to face Argentina's Hector Saldivia in a title eliminator on Oct. 20 at the Motorpoint Arena in Brook's hometown of Sheffield, while Khan returns from his July knockout loss to Danny Garcia to face Carlos Molina on Dec. 15 in the Sports Arena in Los Angeles.

If Brook beats Saldivia, he will be the mandatory for the winner of the Randall Bailey-Devon Alexander title bout, which is also on Oct. 20, although on a different card.

But after that? If you listen to Eddie Hearn, Brook's Matchroom Sport promoter, the talks for a Brook-Khan showdown are already under way.

Khan and Brook also stoked interest in a possible future match with a joint appearance on Sky Sports' "Ringside" boxing news studio show last week.

"I spoke with Khan's team a month or so ago and again after their appearance on Ringside," Hearn said. "It's certainly a fight that can be made. It's too big to be ignored and it's only a matter of time before the public virtually insist on Brook versus Khan happening."

September, 25, 2012
9/25/12
2:42
PM ET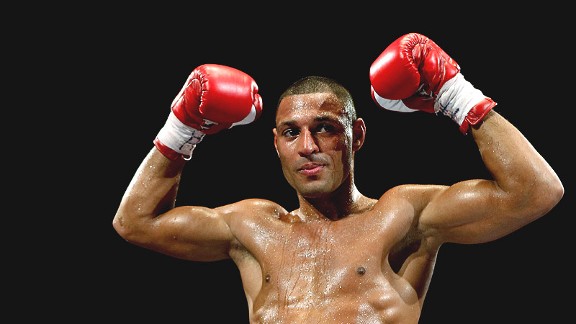 Scott Heavey/Getty ImagesKell Brook turned down a title shot with Timothy Bradley Jr. in favor of an eliminator close to home.
When Top Rank's Bob Arum sat with some boxing writers in Las Vegas two weeks ago during the Sergio Martinez-Julio Cesar Chavez Jr. promotion, one of things he talked about was the list of potential opponents for welterweight titlist Timothy Bradley Jr. for his Dec. 15 HBO date.
One of the names on his list was British contender Kell Brook.
Bradley had hoped to fight a rematch with Manny Pacquiao, but Pacquiao instead opted for a fourth fight on Dec. 8 with Juan Manuel Marquez.
Top Rank did make an offer to Brook, although HBO had not fully signed off on having him as the opponent. Also, Top Rank's offer of about $500,000 was nothing spectacular.
Brook and promoter Eddie Hearn turned it down. Brook already has an Oct. 20 fight in his hometown of Sheffield, England scheduled against Hector Saldivia -- a fight Brook is a heavy favorite in.
Brook-Saldivia is a title eliminator that will give the winner a mandatory shot at titlist Randall Bailey (or Devon Alexander, should Alexander defeat Bailey on Oct. 20 on Showtime).
But why not take a title shot against Bradley rather than fight an eliminator first?
"The Bradley fight was put in front of me, but I believe the mandatory position in the IBF is the right move," Brook said. "Eddie [Hearn] has worked hard to get me into this position and providing I beat Saldivia, I'll be fighting for a world title at the start of 2013, and it will be on my terms. I would love that to be in Sheffield, too, and I know Eddie would do his best to get it here as it would be an amazing event."
Said Hearn, "Top Rank contacted me in August and made us an offer for the Bradley fight. It was a nice ego boost for Kell to be offered a fight of such magnitude, but we begun this journey with a goal of becoming a mandatory challenger and now we are just one win away."
Nice spin from Hearn, since Brook could have had the title shot immediately. But I get it. Brook gets to stay at home -- rather than come to the United States to face Bradley -- and faces Saldivia, which should be an easy win.
Brook can make that payday and then be in position for the title bout, where he is guaranteed at least 25 percent of the money under a potential purse bid and, as a mandatory, won't have to give up options or a rematch clause.
Besides his own upcoming fight, Brook (28-0, 18 KOs) plans to pay close attention to the return of former junior welterweight champion and welterweight titlist Ricky Hatton, who is coming out of retirement in November. Brook, 26, would love a showdown with Hatton, England's biggest boxing star.
"When I fought his brother Matthew you could see that the Hatton name still means a lot in boxing and we would fill a big stadium fighting for a world title," Brook said.
Maybe at some point Ricky will be motivated to avenge his brother's defeat to Brook, who smacked Matthew around for a lopsided decision in March.
August, 7, 2012
8/07/12
2:35
PM ET
England's Kell Brook is one win away from a mandatory shot at welterweight titleholder Randall Bailey (or Devon Alexander, if Alexander wins the title from Bailey next month).

All that stands between Brook and the opportunity is Argentina's Hector Saldivia, whom he will meet in a final eliminator on Oct. 20 at the Motorpoint Arena in Sheffield -- Brook's hometown.

Saldivia isn't much to write home about. Frankly, he's a step down from Carson Jones, the tough fringe contender whom Brook (25-0, 18 KOs) went to war with in a semifinal eliminator on July 7 in Sheffield. Brook escaped with a majority decision in a very tough fight.

"I proved I have massive heart against Carson," Brook said. "I said after the fight that there needs to be an improvement, and on Oct. 20 my fans are going to see me at my very best."

Said Eddie Hearn, Brook's promoter: "It was always our goal to secure a mandatory position, and now we are just one fight away from making that happen."

Saldivia (41-2, 32 KOs) has been stopped in both of his losses. I was quite unimpressed when I was at his first-round knockout loss to Said Ouali in Las Vegas in May 2010, when they met on the Floyd Mayweather Jr.-Shane Mosley undercard. Saldivia came into the fight with a big reputation but got destroyed, albeit in an exciting shootout.