November, 7, 2014
Nov 7
1:36
PM ET

ATLANTIC CITY, N.J. -- In Bernard Hopkins' fourth middleweight title defense, he knocked out John David Jackson in the seventh round in Shreveport, Louisiana. Many years later, long after Jackson retired, he began training fighters and has become one of the sport's elite cornermen. In fact, he worked alongside Naazim Richardson for several fights as an assistant trainer for Hopkins, with whom Jackson developed a good relationship.

Jackson and Hopkins, however, are in opposite corners now. Jackson, a former world titleholder, is the head trainer of light heavyweight titlist Sergey Kovalev, who will fight Hopkins to unify their three belts on Saturday night (HBO, 10:45 ET/PT) at Boardwalk Hall in Atlantic City.

On the one hand, Hopkins knocked out Jackson in a dominant performance years ago, so how can he teach Kovalev how to beat Hopkins? On the other hand, having worked with Hopkins in recent years -- including his upset victories against Antonio Tarver and Kelly Pavlik -- Jackson is well-versed in the nuances of Hopkins' style and knows his fighting style as well as anyone.

Hopkins (55-6-2, 32 KOs), who turns 50 – yes, 50 – in January, doesn't think Jackson's presence in Kovalev's corner will mean a thing.

"John David Jackson says he knows everything there is to know about me," Hopkins said at Thursday's final prefight news conference at Caesars Atlantic City. "Sergey is the student. I'm not fighting John. But how can a teacher teach with credibility when the teacher has all F's? How can a teacher teach a student to have all A's when he has an F? I guarantee John did not show our fight to Sergey."

Jackson is not a big talker, but he has confidence in his ability to break down Hopkins' style, regardless of that loss almost two decades ago.

"I warned Bernard's camp a few years ago, don't fight this Kovalev kid," Jackson said. "I don't know what they told Bernard. But I told them please don't fight this kid. This is business at the end of the day. Bernard can talk about me all night long, but I don't have to get in the ring with him."

Kovalev (25-0-1, 23 KOs), of Russia, said he has confidence in Jackson, and has had confidence in him for all of their fights together.

"He has the keys to my victory," Kovalev, 30, said. "I understand that everybody wants to hear what happened in my training camp with John David Jackson, but everything you will see [on Saturday]."

July, 30, 2013
7/30/13
2:52
PM ET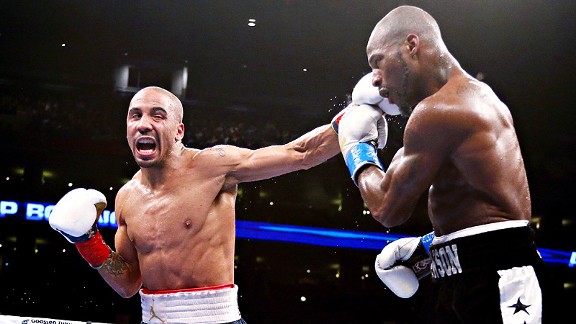 Ezra Shaw/Getty ImagesAfter cleaning out the 168-pound division, Andre Ward can't find a suitable opponent.
Super middleweight champ Andre Ward and promoter Dan Goossen, who appear to have worked out their issues following Ward's unsuccessful attempt to break their contract (although they're not discussing the issue publicly), are seemingly at loggerheads with HBO over the opponent Ward should face in his tentative Sept. 28 fight.
Ward hasn't fought since beating down then-light heavyweight champion Chad Dawson (who dropped down to super middleweight) last September because of a shoulder tear and subsequent surgery that forced a January fight with former middleweight champ Kelly Pavlik to be canceled.
HBO is resistant to spending good money for Ward to face the likes of Dimitri Sartison (a former titlist of the ultimate paper variety with zero name recognition in the United States), equally unknown interim titlist Stanyslav Kastanov, or Caleb Truax, a fun fighter to watch but not in the same league as Ward. Truax's claim to fame is a recent knockout win over Donovan George and dropping badly faded former middleweight champ Jermain Taylor in a 2012 loss.
So it's unclear who Ward will face and there does not seem to be many quality available opponents.
One of the biggest problems for Ward is that he's already cleaned out the super middleweight division. The Super Six World Boxing Classic champion has easily defeated two reigning titleholders (who picked up their belts after Ward dominated them), Carl Froch and Sakio Bika. Ward also routed former titleholders Mikkel Kessler and Arthur Abraham. Even if a Froch rematch floats your boat, like it does for some, he's unavailable, as he is scheduled to fight George Groves in the fall.
Robert Stieglitz, another titleholder, and his handlers have no interest in facing Ward. That's an almost certain loss that Stieglitz needs no part of as long as he has a fat TV contract in Germany from which he can earn plenty of money facing handpicked opponents on home turf rather than make similar money to come to the United States to give up his title.
One viable opponent is Edwin Rodriguez, who is coming off an impressive first-round knockout of Denis Grachev on July 13 in the final of the Monaco Million Dollar Super Four. However, Lou DiBella, his promoter, has said repeatedly they have no interest in fighting Ward. DiBella is a smart matchmaker. He knows that's not a good fight for his guy.
One guy who fought his way out of a possible shot at Ward is Thomas Oosthuizen, who was featured June 29 on HBO for the express purpose of seeing if he could create some buzz as a possible Ward opponent. He did the exact opposite by looking terrible in a draw against Brandon Gonzalez, who was never a serious candidate for the fight since he also didn't exactly set the world on fire but mainly because he's Ward's pal; they share the same gym and trainer, Virgil Hunter.
One guy who is calling Ward out is Zsolt Erdei (33-1, 18 KOs), a former cruiserweight and long-reigning light heavyweight titlist who suffered his only defeat by debatable split decision to Grachev in the semifinals of the Monaco tournament.
Erdei clearly didn't learn anything from Dawson's ill-advised drop down in weight because he, too, said he would drop down to 168 pounds to face Ward, who has maintained that he will eventually go to 175 but is not ready yet.
"When I decided to sign with Lou DiBella and fight in America, it was for me to face the best boxers in the world," Erdei said. "Ward is considered to be the best boxer in the world above the middleweight division and he is a great champion. I respect his skills very much, but I know that I have what it takes to get the job done and shock the world. A win over Ward makes me a superstar in America and that is my ultimate goal."
When Erdei, a 1996 and 2000 Olympian for Hungary, faced Grachev, he was coming off a nearly two-year layoff because of a retirement and then an injury.
"Everybody knows that I won my last fight and was clearly robbed of the victory," Erdei said. "For that reason, I still consider myself an undefeated two-division champion and I still want to fight the best."
DiBella also is campaigning for his man to get the shot with Ward.
"Many people who saw his fight with Grachev thought that Erdei won," DiBella said. "Regardless though, he showed that he is still one of the best 168-/175-pound fighters in the world, having performed at the level that he did after not fighting for nearly two full years."
Ward and HBO are both in tough spots here. The fighter (who also serves as an HBO broadcaster) is coming off an injury and a long layoff, so it's understandable that he and his team would want a tuneup-level fight. HBO sure doesn't want to buy an inferior product for premium money, but there are not a lot of good options.
November, 3, 2012
11/03/12
1:24
PM ET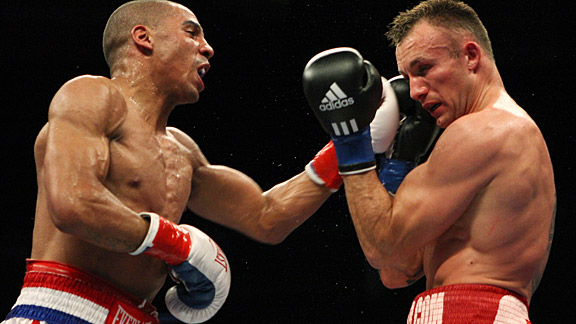 Jed Jacobsohn/Getty ImagesAndre Ward would consider a rematch if Mikkel Kessler wins on Dec. 8 to become Ward's mandatory.
While the promoters for super middleweight champ Andre Ward and former middleweight champ Kelly Pavlik continue to work toward finalizing their fight in January, others are lining up for a chance to face Ward, assuming he beats Pavlik.
At this week's WBA convention in Jakarta, Ward (26-0, 14 KOs) was ordered to face the winner of the Dec. 8 fight between Brian Magee (36-4-1, 25 KOs), the organization's "regular" titlist, and former titleholder Mikkel Kessler (45-2, 34 KOs).
Ward, who hasn't made a mandatory defense, would have to fight the winner by June 8, six months after the Magee-Kessler bout.
Kessler was happy about the order because he believes he will have an opportunity for a rematch with Ward, who took his title in the opening round of the Super Six World Boxing Classic in November 2009. Ward manhandled Kessler and was beating him easily when the fight was stopped because of an accidental head-butt and ruled a technical decision in the 11th round.
"I did not think it was possible to be more motivated to beat Magee and become world champion again on Dec. 8, but now I have found a reason," Kessler said. "Andre Ward knows that he owes me a rematch. That was not the real 'Viking Warrior' in the ring on that night. I was at my best against [Carl] Froch and Allan Green, and I will be at my best against Magee. Now I just have to regain my title on Dec. 8, and then we will have the rematch. Ward had better get ready."
Naturally, Sauerland Event promoter Kalle Sauerland used the ruling to hype the Magee-Kessler fight.
"This makes the Magee clash Mikkel's most important fight ever," Sauerland said in a massive overstatement. "Ever since that dubious night in Oakland, where Mikkel suffered cuts only from elbows and head-butts, he has wanted nothing more than a Ward rematch on even terms. Now, if he can reclaim the world championship against Magee -- and that's a big if, because Magee is an accomplished fighter -- we will finally have the rematch."
Whoever comes out on top, Ward promoter Dan Goossen told me Friday that Ward would entertain the fight.
"We're always happy to see someone go out there and fight their way to another opportunity, so if Kessler can do that, it is one of the options we will have," Goossen said. "I know that Andre and the whole team talked about Magee before. He was someone we were looking to fight at one point anyway. So if Magee beats Kessler, he'd certainly earn his right. We always need options, and the winner is an option."