December, 17, 2013
12/17/13
5:52
PM ET
Welterweight prospect Javier Molina hopes to put his hand-injury woes behind him, get on a roll and move toward a title fight as he steps up his opposition. Kendall Holt, meantime, is trying to hang on to the remnants of his career.

So it will make for an interesting crossroads fight when they meet Jan. 24 at the Little Creek Casino Resort in Shelton, Wash., on Jan. 24 (ESPN2).

"This is a great opportunity for me, and I believe I'm up for the challenge," said Molina.

Said Holt, "Molina hasn't been where I've been, and I intend to remind him this is the big leagues when he steps in the ring with me."

Molina (14-1, 6 KOs), of Norwalk, Calif., is a 2008 U.S. Olympian who has moved a bit slowly because of injuries, but he is only 23 so there is plenty of time for him. He has won five fights in a row since an eight-round decision loss to Artemio Reyes in 2011.

Holt (28-6, 16 KOs), 32, of Paterson, N.J., is a former junior welterweight titlist who has seen better days but is trying to hang on. He has not fought much lately, just once in 2013 and once in 2012; he is 1-2 in his last three fights, with the losses coming by decision to Danny Garcia (before Garcia won a world title) and by eighth-round knockout to Lamont Peterson in a February world title fight. Now Holt is moving up to welterweight.

"The main event is a major step up for Javier Molina and, for Kendall Holt, it's a do-or-die bout," promoter Dan Goossen said, accurately outlining the stakes. "For Molina, it's an opportunity to take another step toward a world ranking, and for Holt, it's a chance to re-establish himself as a world-class fighter. The fight will have a lasting impact on both men: one fighter trying to record the biggest win of his career, the other fighting to stay relevant. All the makings of a great fight."

The co-feature is a scheduled 10-round featherweight fight between former junior featherweight titlist Rico Ramos (22-3, 12 KOs) and Jonathan Arrellano (14-2-2, 3 KOs), both Southern California fighters.

November, 6, 2013
11/06/13
10:32
AM ET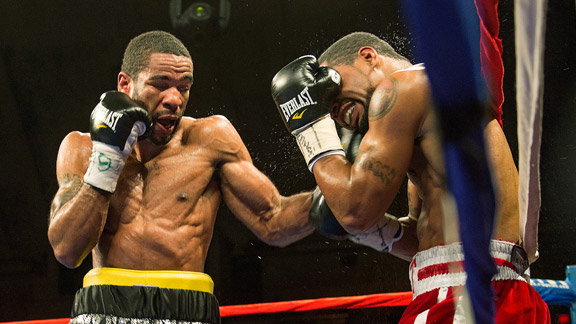 Jim Watson/AFP/Getty ImagesA purse bid was held for Lamont Peterson's junior welterweight title defense against Dierry Jean.
Golden Boy Promotions won the purse bid for junior welterweight titleholder Lamont Peterson's mandatory title defense against Dierry Jean on Tuesday and has 90 days to put on the fight.
Golden Boy, which promotes Peterson, won with an offer of $156,000 at the auction at IBF headquarters in Springfield, N.J., beating the only other bid, which was $111,121 by Jean promoter Eye of the Tiger.
As the titleholder, Peterson is entitled to 75 percent of the winning bid ($117,000) with Jean to receive the remaining 25 percent ($39,000).
Golden Boy chief executive Richard Schaefer told ESPN.com that although the exact date and location for the 140-pound world title bout has not been set, he is looking at doing the fight on Jan. 30 at the Barclays Center in Brooklyn, N.Y., or in early February at a venue in Washington, D.C., which is Peterson's hometown.
"The plan is clearly to have it on the East Coast," Schaefer said. "I'm planning to do an event tied to Super Bowl week in New York, so we could have the fight then in Brooklyn or we might go to Washington in early February. It depends on finalizing the TV platform. I am going to talk to those who have expressed an interest in the fight and I will work on that in the next few days."
Schaefer said the bout could be on Showtime, Fox Sports 1 or ESPN2.
Although Peterson (31-2-1, 16 KOs), 29, holds the title, he is coming off a nasty knockout loss. On May 18 in Atlantic City, N.J., Lucas Matthysse drilled Peterson in the third round of a one-sided nontitle bout fought at a contract limit of 141 pounds, one over the division maximum. So even though Peterson lost, he still has the title.
"Lamont Peterson is an exciting guy who got caught in his last fight by Lucas Matthysse, but many before him have been caught by Lucas Matthysse. That happens," Schaefer said. "I am sure Lamont has learned from this. He knows this fight is high noon for him. It's like do or die for him. I know Lamont will come prepared.
"He doesn't want the road to end here. He knows what's at stake. The 140-pound weight class is still a loaded weight class and so defending his title is important and I am sure he wants to do it in spectacular fashion."
Peterson won his title in Washington by controversial split decision against Amir Khan in December 2011. The rematch was slated for a few months later, but Peterson failed a random pre-fight drug test for elevated levels of testosterone and the fight was canceled.
Peterson was stripped of one of his two world title belts and did not fight again until scoring an eighth-round knockout of former titleholder Kendall Holt in a February title defense in Washington. In Peterson's next fight, Matthysse knocked him out.
Jean (25-0, 17 KOs), 31, a native of Haiti living in Montreal, scored his biggest win in his last fight on May 10, a fourth-round knockout of Cleotis Pendarvis in Miami, Okla., in a title eliminator that made him Peterson's mandatory challenger.
"Dierry is exciting and even though he is not that well known in the United States, I think that based on his style, we will see a helluva fight between him and Lamont," Schaefer said.
April, 9, 2013
4/09/13
11:16
AM ET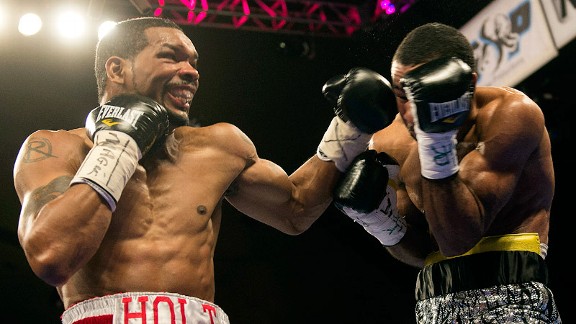 Jim Watson/AFP/Getty ImagesKendall Holt, left, still needs some medical testing, even after being cleared of taking HCG.
Former junior welterweight titlist Kendall Holt believes the issues surrounding his atypical urine test following an eighth-round knockout loss to Lamont Peterson in their Feb. 22 world title fight have been cleared up, but he still needs further medical testing.
Holt's sample showed the presence of the banned substance human chorionic gonadotropin (HCG). However, the test results were deemed atypical -- simply not normal -- as opposed to a failed drug test because HCG can be naturally produced by the body and could be an indicator of some other medical issue, including the presence of cancer.
On Monday Holt released a statement updating the situation.
"I am pleased to announce that according to laboratory results I am not under suspicion of having taken a banned substance in connection with my bout against Lamont Peterson," Holt said. "We have received an email from Dr. David Eichner, director of the [World Anti-Doping Agency] accredited Sports Medicine Research and Testing Laboratory that my results 'do not suggest doping.'
"As explained to me, 'intact HCG' indicates the use of that banned substance. A confirmatory test reflected that I did not have 'intact HCG' and thus doping was ruled out in my case. There is an atypical finding for 'non-intact HCG,' which, as explained to me, is naturally produced. That finding will be explored further by my physicians. This explanation, too, was provided directly by the Sports Medicine Research and Testing Laboratory located in Salt Lake City.
"I requested a full WADA drug screening at the time of my bout with Lamont Peterson. Under the circumstances I am very glad that I did because it not only provided protection against drug cheating but also alerted me when I finally got the proper information of the need for further medical testing. I look forward to returning to the ring at 147 pounds."
March, 30, 2013
3/30/13
9:23
PM ET

Former junior welterweight titlist Kendall Holt put out a statement to react to the fact that his urine sample came back with an "atypical finding" following his eighth-round knockout loss to titleholder Lamont Peterson on Feb. 22 in Peterson's hometown of Washington, D.C.

Holt's sample showed the presence of the banned substance human chorionic gonadotropin (hCG).

However, the test is not technically a failed test, just a result that was not normal. Having hCG show up could be an indicator of the presence of cancer. Holt addressed the situation in a carefully worded statement, undoubtedly crafted by his attorney, Pat English.

Here is Holt's statement in its entirety:

"First and foremost, I want everyone to know that I did not knowingly take any PED, nor do I believe I unknowingly took any PED.

"The facts are as follows: My camp, at my instruction, requested (World Anti-Doping Association)-level testing in connection with my bout with Lamont Peterson. Post-bout urine samples were sent to the WADA accredited laboratory testing lab in Salt Lake City.

"We repeatedly attempted to obtain the lab results from the D.C. Commission, with no success until (Thursday). We did, however, receive an email from the commission stating that both fighters had passed their test. Nonetheless we wanted the actual lab results.

(Thursday) we received those lab results. The lab results were not identified by fighter but one of the results showed an elevated HCG level. It was labeled as an 'atypical finding.'

There are three levels of findings for WADA testing. There is a 'negative' finding, meaning that the athlete has tested 'negative' for prohibited substances, there is an 'adverse analytical finding,' meaning that there is a prohibited substance, and there is an 'atypical finding,' meaning there should be further investigation. In part, this is because there are certain medical conditions, which can cause elevated hCG levels.

We briefly believed that the test involved was that of Mr. Peterson. In fact it may be mine. At this point, we do not have a full chain of custody report, which we will obtain. We will also, once the full chain of custody report is obtained, have the 'B' sample tested. Finally, when that is completed we will have the medical tests as indicated by the results."
March, 4, 2013
3/04/13
3:20
PM ET
Former junior welterweight titlist Kendall Holt is doing the only thing that makes sense if he wants to continue his career in a meaningful way: He is moving up to the welterweight division.

Holt (28-6, 16 KOs) announced the decision Monday, a little more than two weeks after he was knocked down twice and stopped in the eighth round by Lamont Peterson, who retained his 140-pound junior welterweight belt in his hometown of Washington, D.C., on Feb. 22.

Holt, 31, of Paterson, N.J., has spent most of his 12-year career at junior welterweight. He won a title in 2008 and, after one successful defense, lost it to Timothy Bradley Jr. in 2009.

But Holt's time at 140 is over. He is 3-4 in his past seven fights and has trouble making weight (he had to lose eight pounds in the final two days to make weight for the Peterson fight). He is also unlikely to get another significant opportunity at junior welterweight.

"The time is right for me to make this transition to welterweight," Holt said. "I feel like I've still got a lot of fight in me, and what better way to exercise it than to be in a division with so many interesting matchups. It isn't just what I want; it's also what my body is telling me to do, and my body is telling me that I'm going to be a physically better fighter in the move up."

The 147-pound division is ripe with name fighters. Besides the big guns -- Floyd Mayweather Jr., Juan Manuel Marquez and Manny Pacquiao -- the fighters in the welterweight division include Robert Guerrero, Bradley, Andre Berto, Paulie Malignaggi, Devon Alexander, Marcos Maidana and Victor Ortiz.

"I'm trying to get as far as I can and I'm looking to make this welterweight run count," Holt said. "I'm not some kid coming into the division. I am a proven fighter with a recognized name and I'm looking to land some of the most interesting fights that can be made. The good thing is, the division is stacked 1 to 10, and I'm looking to knock one of those guys out of their spot."

January, 25, 2013
1/25/13
7:30
PM ET
Since junior welterweight titlist Lamont Peterson's mandatory title defense against former titleholder Kendall Holt was finalized a couple of weeks ago, I have been inundated with questions about ticket availability from folks on Twitter and Facebook who want to attend the Feb. 22 fight at the D.C. Armory in Washington.

I'm looking forward to covering the fight, which will take place just a short car ride from my home in Northern Virginia and be televised on ESPN2's "Friday Night Fights." For those who want to attend, tickets are slated to go on sale Monday at 1 p.m. ET, a late start for a fight that will happen in less than a month, but D.C. is a good fight town, so hopefully folks will turn out.

Tickets are priced at $250, $150, $100, $75, $25 (not including applicable service charges). They will be on sale at the D.C. Armory box office and all Washington, D.C., Ticketmaster locations. To charge by phone with a major credit card, call Ticketmaster at 800-745-3000 or log on to www.ticketmaster.com.

Peterson (30-1-1, 15 KOs), who is from D.C., will be making his first title defense since winning a controversial split decision against Amir Khan in Washington in December 2011. He hasn't fought since because he tested positive for the banned substance synthetic testosterone in a random urine test just as the promotion for a May rematch with Khan was kicking off. Peterson wound up being stripped of one of his world titles, but he was allowed to keep the other.

Holt (28-5, 16 KOs) won a 140-pound title in 2008, made one defense and then lost a competitive decision to Timothy Bradley Jr. in a 2009 unification fight.
January, 10, 2013
1/10/13
5:53
PM ET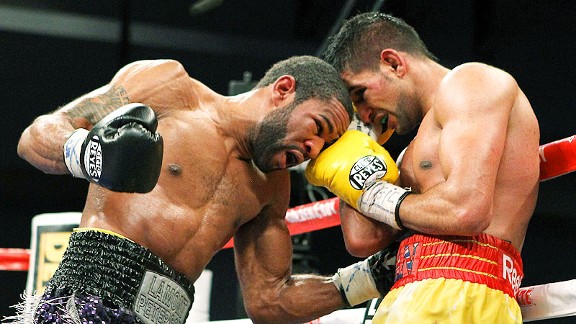 Al Bello/Getty ImagesLamont Peterson returns to the ring for the first time since his split decision win against Amir Khan.
The deal between junior welterweight titlist Lamont Peterson and mandatory challenger Kendall Holt, which was agreed to last Friday, is now finalized with the contracts signed and submitted to the IBF, which is sanctioning the bout.
The fight is Feb. 22 on ESPN2's "Friday Night Fights" and will take place at the Washington, D.C., Armory in Peterson's hometown.
Gary Shaw, Holt's promoter, won the purse bid for the fight last month. The IBF requires contracts to be filed within a couple of weeks of the purse bid, but it gave Peterson manager/trainer and father figure Barry Hunter a few extra days to return the paperwork because of the recent death of his mother. Former titlist Holt (28-5, 16 KOs) already had filed his contract and Peterson's was returned on Wednesday, according to Shaw.
The fight will be Peterson's first since December 2011, when he won a controversial split decision against Amir Khan. Peterson (30-1-1, 15 KOs) later tested positive for a banned substance -- synthetic testosterone -- which forced the rematch in May to be canceled. He has not fought since.
Peterson looked in tremendous shape when I saw him train this week in Washington, although I got there just after he had sparred with Raymond Serrano (18-1, 8 KOs), who is getting ready for his fight with Emmanuel Taylor on Jan. 25 on Showtime's "ShoBox." Hunter said he has been training regularly since he began training for the aborted Khan rematch.
Hunter also told me that lightweight Anthony Peterson (31-1, 20 KOs), Lamont's brother, would be on the Feb. 22 card. Anthony hasn't fought since appearing on the Peterson-Khan undercard. Hunter said he had some nagging injuries that kept him sidelined.
December, 18, 2012
12/18/12
3:40
PM ET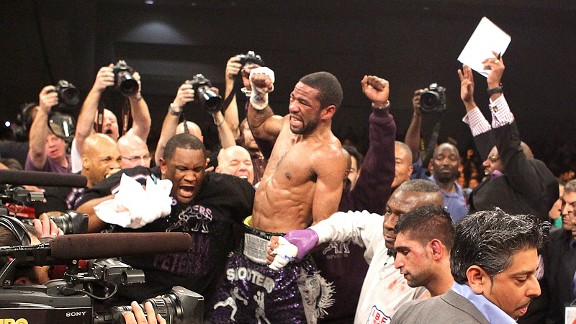 Al Bello/Getty ImagesLamont Peterson hasn't been in the ring since a controversial victory over Amir Khan last December.
Gary Shaw, who promotes junior welterweight contender (and former titleholder) Kendall Holt, won the promotional rights to Holt's mandatory shot against titleholder Lamont Peterson on Tuesday.
Shaw grabbed the rights for a mere $50,000. Since his company was the only one that showed up at the IBF offices for the purse bid, he submitted the envelope with the cheaper total. He would have bid a much higher amount had their been competition at the auction.
As the titleholder, Peterson (30-1-1, 15 KOs) is entitled to 75 percent of the money ($37,500) with Holt (28-5, 16 KOs) getting the remaining 25 percent ($12,500).
Under IBF rules, signed contracts are due back by Jan. 4 and the fight must take place within 90 days, meaning by March 18.
It was a surprise that nobody from the Peterson camp showed up. Originally, Peterson's mandatory defense was due against former titlist Zab Judah. In that purse bid, Headbangers Boxing, run by Barry Hunter, Peterson's manager and trainer, was the lone bidder at $50,000, mainly done as a way to protect Peterson's belt and make sure they had the rights so it could keep whatever gate money there was if they went through with the fight.
But the fight did not happen because Judah took a far more lucrative offer to challenge Danny Garcia for his version of the 140-pound title on Feb. 9 on Showtime.
With Judah out of the picture, Holt became the IBF's leading available contender and when Shaw and Hunter did not make a deal, a new purse bid was ordered.
It remains to be seen if Peterson -- out since last December after his positive drug test forced a May 19 rematch with Amir Khan to be canceled -- will fight for such short money.
Shaw said he hopes to work something out with Hunter to put the fight in Washington, D.C., Peterson's hometown and the one place on Earth where it will do a strong live gate.
"We're going to do the fight so I want to get with Barry Hunter and see if we can do it in D.C., and if not, then I'll take the fight somewhere else," Shaw said. "Kendall Holt wants this fight. Peterson? That will be up to him and Barry if I can make a deal with them."
Shaw said he is willing to make a deal on the gate that would enable Peterson to earn more than the $37,500 he is entitled to under the bid.
"I've been spoken to Barry and I thought we'd make a deal before the purse bid," Shaw said. "He said he would call Lamont and get back to me, but I have not heard back from him."
Hunter could not be reached for comment.
"Let's see if Barry comes around and see what kind of gate we can do," Shaw said.
Shaw said he has talked to ESPN about doing the fight, as well as with HBO about carrying it as an undercard bout. For the money on the table from the purse bid, however, I have a hard time seeing Peterson accepting the fight.
October, 22, 2012
10/22/12
4:40
PM ET
For those of you who bet that the mandatory fight between junior welterweight titleholder Lamont Peterson and mandatory challenger (and former titleholder) Zab Judah would never happen, you win.

On Monday, Judah was dropped from the fight by the IBF because he failed to sign his contract by the deadline following the purse bid for the match. Now the organization is moving on. It ordered negotiations to begin between Peterson and former titlist Kendall Holt, the next-highest available contender in the IBF's ratings.

"My plan is to try a negotiation and hopefully make the fight without going to a purse bid," Gary Shaw, Holt's promoter, told me Monday after he received the letter from the IBF ordering the fight.

"I believe it's a very competitive fight. Kendall is very healthy now and he is excited for the opportunity."

Holt had right shoulder surgery in August to repair a longtime nagging problem.

I was one of those people who never believed that Peterson-Judah would happen, for one simple reason: money.

As in, there was none in the fight.

Headbangers Promotions, which is run by Cologne Hunter, the wife of Barry Hunter, who trains and manages Peterson -- who is basically a son to them -- won the purse bid for the bout for peanuts, just $50,000. Nobody else bid, and none of the television networks were interested in the match.

The only reason Headbangers bid was to make sure Peterson was protected from getting stripped. It was a hedge against their real plan -- a big-money rematch in December against welterweight titlist Timothy Bradley Jr. on HBO. When Bradley was a junior welterweight titleholder, he schooled Peterson in a near-shutout in 2009. Still, the rematch was being planned until Bradley decided he didn't want to fight Peterson again and did us all a favor by turning down a $2.3 million purse.

That left Peterson in position to make just $37,500 (his 75 percent share of the purse bid) against Judah, who would have made just $12,500 for the fight.

Peterson signed his contract and seemed ready to take the fight. He probably could have made more than $37,500 because his people controlled the fight and would have had revenue from the gate (Peterson would draw for this fight in his hometown of Washington, D.C.) as well as whatever other revenue they could generate from a small TV deal or sponsorships.

That said, I think Peterson called Judah's bluff by signing and won.

Never in a million years did I believe Judah (42-7, 29 KOs) would fight for such chump change, even though he told me in an interview earlier this month that he would.

"We are in," Judah told me after the purse bid. "I know the bigger picture. I know what Zab Judah winning means. I said I ain't doing this only because of the money. I'm fighting because I still love the sport and I love what I do, and I know I'm good at it. I'm doing pretty fine in life. I'm not starving. I ain't never worked in my life. Boxing is all I ever did and I live great, and every time my back is against the wall, like with this here fight, I pull it out."

Maybe Judah believed it when he said it, but ultimately, he passed on the fight by not returning a signed contract to the IBF by its deadline.

So now we are down to Peterson (30-1-1, 15 KOs) -- who still has a huge public relations problem after testing positive for the banned substance synthetic testosterone, which forced the cancellation of his May 19 rematch with Amir Khan -- against Holt (28-5, 16 KOs).

If the major networks wouldn't buy Peterson-Judah, I very much doubt they will show much interest in Peterson-Holt, at least not for premium money.

The IBF ordered that negotiations be completed by Nov. 22. If they are not, there will be a purse bid. And we'll go through this whole process all over again.
September, 12, 2012
9/12/12
11:01
PM ET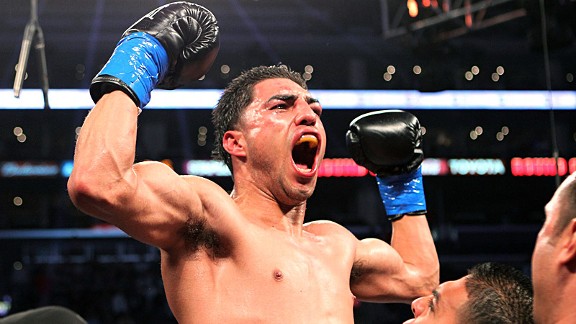 Tom Casino/ShowtimeJosesito Lopez has hard work and luck to thank for the series of events that landed him a Sept. 15 title shot against Saul Alvarez, not to mention Kendall Holt for pulling out of their June 22 bout.
LAS VEGAS -- When Josesito Lopez steps into the ring to challenge junior middleweight titlist Saul "Canelo" Alvarez on Saturday night (Showtime, 9 ET) at the MGM Grand Garden Arena, he has many people to thank for the opportunity.
There are co-promoters Dan Goossen and Thompson Boxing, manager Henry Ramirez, adviser Al Haymon, Alvarez and his promoter, Golden Boy, and Showtime.
But nobody deserves a bigger thank you than former junior welterweight titlist Kendall Holt.
Without Holt's decision to pull out of their June 22 main event on ESPN2's "Friday Night Fights", Lopez would never have gotten the opportunity for his huge upset of Victor Ortiz on June 23. Without that fight, there is no title shot or career payday against Alvarez (40-0-1, 29 KOs).
Lopez (30-4, 18 KOs) had already been in training for five weeks when Holt pulled out of the fight.
According his promoter Gary Shaw, Holt decided not to go through with the fight because he did not want to fight outdoors in the desert heat at the Soboba Casino in San Jacinto, Calif. The venue had been finalized after Holt accepted the fight.
When Holt pulled out on Lopez, and Ortiz's fight with Andre Berto fell apart after Berto tested positive for steroids, Lopez was free to accept the bout with Ortiz, whom he went on to stop at the end of the ninth round
because he broke Ortiz's jaw in two places.
Ortiz was supposed to have faced Alvarez after what was supposed to be a tune-up fight against Lopez.
I suggested that maybe Lopez should send Holt a Christmas card as a thank you.
"Come Christmas time, maybe I should," Lopez laughed. "I was really mad at him for pulling out but then we got the news basically the following day [about the Ortiz fight]. I guess now I got to thank him.
"Without him punking out, I would never have gotten the opportunity to be here today."