Dan Rafael:

Kermit Cintron
April, 9, 2013
4/09/13
11:34
AM ET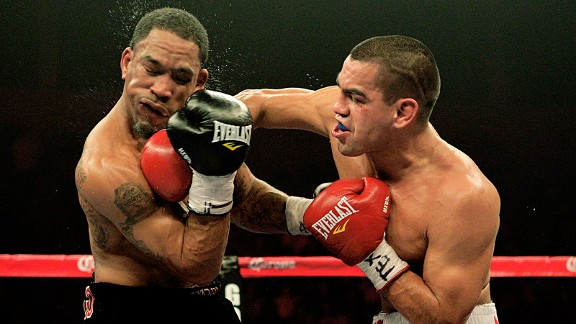 Bob Levey/Getty ImagesCarlos Molina, right, will have his first world title opportunity against Ishe Smith.
Junior middleweight contender Carlos Molina, a guy nobody really wants to fight, is the reason why mandatory challengers exist. If a sanctioning organization did not make him a mandatory challenger, it is very likely he would never get a title shot because he's too much risk for too little reward.
But Chicago's Molina (21-5-2, 6 KOs) now has a deal in place for his first world title opportunity. He won a lopsided decision against former titleholder Cory Spinks on Feb. 1 in a title eliminator to become the IBF's mandatory challenger and, according to Warriors Boxing promoter Leon Margules, Molina's promoter, a deal has been reached for Molina to get his shot against titleholder Ishe Smith.
Smith (25-5, 11 KOs), the first native of Las Vegas to win a world title, claimed a 154-pound belt via decision against Cornelius "K9" Bundrage on Feb. 23 and is obligated to make his first defense against Molina.
Margules said he worked out a deal with Mayweather Promotions CEO Leonard Ellerbe for the fight, so a scheduled April 16 purse bid was called off. Margules said the terms of their agreement call for the bout to take place on or before July 27 at a site to be determined.
"We made an agreement to let [Mayweather Promotions] promote the fight," Margules said. "We made a deal on the money, on the airline tickets, on the parameters of the fight. I went back and forth with Leonard and we worked it out."
Now the sides have two weeks to send signed contracts to the IBF.
Nobody handed Molina the shot. He actually earned it following a return to the ring in 2011 after a nearly two-year layoff caused by a promotional battle with Don King.
Upon his return, Molina got a draw in a fight he deserved to win against top contender Erislandy Lara, knocked out Allen Conyers, rolled past former welterweight titlist Kermit Cintron and then dominated James Kirkland before being wrongly disqualified in the 10th round. Two more wins followed, a shutout of Damian Frias and then the easy win over Spinks.
"I think Molina can beat anybody in the division, whether it's Ishe Smith, Canelo Alvarez, Austin Trout, anybody," Margules said. "He's hell for anybody, so we're excited to get a shot at the title."
March, 15, 2013
3/15/13
5:51
PM ET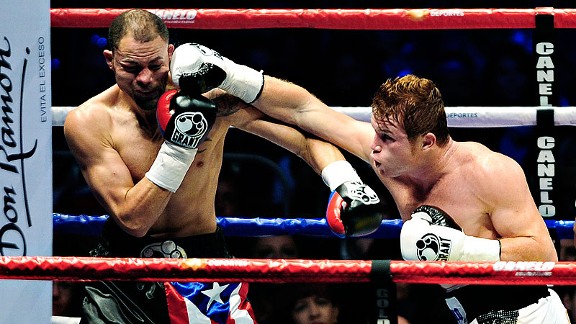 Francisco Estrada/Getty ImagesFormer welterweight titlist Kermit Cintron looks to rebound from a 2011 loss to Saul "Canelo" Alvarez.
When last seen in a boxing ring, former welterweight titlist Kermit Cintron was getting the stuffing beaten out of him by Saul "Canelo" Alvarez in a junior middleweight world title fight in November 2011.
Alvarez dominated the entire fight, dropped Cintron in the fourth round and knocked him out in the fifth round in Mexico City.
The Puerto Rico-born Cintron (33-5-1, 28 KOs), 33, who grew up in Reading, Pa., has been out of the ring for 16 months since that beating and has lost three of his last four fights, including a woeful performance against Carlos Molina and a bizarre technical-decision loss to Paul Williams when Cintron fell out of the ring and did not continue.
Now Cintron is looking to resume his career -- at welterweight -- and is scheduled to face Adrian Granados (11-2-1, 7 KOs) on March 22 (ESPN2) in Chicago on the undercard of super middleweight Donovan George's bout with David Lopez.
"I feel that its always been my weight," said Cintron, who has not fought at 147 since 2008. "I took my last couple fights at 154 pounds because they were good opportunities, but you know I was always a better fighter at 147. I didn't gain the weight of a true 154-pounder. I went up to 153 pounds on fight night while the guys I was fighting went up to 170 to 175 pounds. I feel that 147 pounds is where I belong. I'm already on weight and I have a week left. It was never a problem to make welterweight."
After the loss to Alvarez, Cintron said he didn't want to think about boxing anymore and took the extended break.
"I just wanted to go home and spend time with my kids," Cintron said. "My family is important to me and I think that going away for camps eight or nine weeks at a time was getting to me. I was focusing too much on what my kids were doing, wondering if they were OK. After a while, my kids started asking when I'm fighting again? They said, 'We want to see you on TV.' My kids still want me fight, so here I am."
Cintron is now working with trainer Milton Santiago, who he has known since he was eight, and recently signed with promoter Leon Margules of Warriors Boxing.
"If I wanted to come back, the only person I had in mind to train me was Milton," Cintron said. "He's the true coach that brought me to the gym when I was in school. So I'm going back to my roots, back to basics. We've been working together the past six months. I'm not a shot fighter. I had a rough year, that's it. You'll see. I have lots left. I have dedicated myself to the sport once again. I'm feeling great and I've improved. You guys will see. I just want to fight. I'm excited to come back after 16 months off. I'm excited and rejuvenated and ready to go."
November, 29, 2011
11/29/11
9:26
AM ET

We all know that Antonio Margarito was caught red-handed trying to enter his January 2009 welterweight title fight with Shane Mosley at the Staples Center in Los Angeles wearing illegal hand wraps -- whether he knew they were loaded or not.

He was caught in the dressing room because of Mosley's astute trainer, Naazim Richardson, who insisted that the gloves and wraps be checked.

Margarito, who got beaten down and knocked out by Mosley, later had his license revoked in California and didn't fight for 16 months because of the illegal wraps (which contained elements of plaster). He has stuck by his story ever since -- that his then trainer, Javier Capetillo, was responsible. Margarito has claimed repeatedly that he didn't know anything about the loaded wraps.

But with the discovery, it certainly cast doubts about the results of Margarito's other fights, especially the one before he faced Mosley. That was an 11th-round knockout of Miguel Cotto in July 2008. Because of the way Margarito disfigured Cotto's face late in a bout that Cotto had been dominating early on, many believe Margarito got away with wearing illegal wraps in that fight in Las Vegas.

Cotto has called out Margarito for it, referring to him as "a criminal" as they prepare for a hotly anticipated grudge rematch at New York's Madison Square Garden on Saturday night (HBO PPV, 9 ET, $54.95).

But because we know Margarito tried to wear illegal wraps against Mosley, and if you believe that Margarito wore illegal wraps for the Cotto fight, it's fair to ask: What about Margarito's previous fights?

In his last fight before facing Cotto, in April 2008, Margarito was way ahead of Kermit Cintron on the scorecards before knocking him out in the sixth round to win a slice of the welterweight title.

Margarito also knocked out Cintron in the fifth round in an April 2005 title defense. Those were the first two losses of Cintron's career.

So does Cintron, who was stopped by Saul "Canelo" Alvarez last Saturday night in a junior middleweight title challenge, believe Margarito wore illegal wraps in their fights?

"I honestly don't know," Cintron said. "I have no proof to show that he used plaster [in] my fights, but only he knows. I'm a clean fighter. You know I go in there as a clean fighter and I go in there to do my job, and that's to put up a performance and try to come out of there with victories. It sure made him look bad after he got caught.

"Was there a lot of questions in my mind about it? Yes, but I have no proof to prove that he did use plaster, and I believe that if you're caught once, what makes [anyone] think that you haven't done it before?"

Although Cintron wouldn't outright accuse Margarito of fighting dirty against him, he said he did notice that he and Cotto were both cut, and badly hurt in a fight for the first time in their careers, against Margarito.

"It's one of them things, like the only fighter that's ever hurt me and that's cut me has been Margarito," Cintron said. "Only fighter that I've seen hurt Cotto bad, where he gets cut bad, it was against Margarito. I mean, it's a weird situation that we both fought Margarito and we both ended up the same way -- busted up.

"And you just never know. I don't know what to say about it. Again, I just go in there as a clean fighter and I always prepare myself the right way, to be ready to fight and have a clean fight."