Dan Rafael:

Kevin Cunningham
August, 23, 2013
8/23/13
11:57
PM ET
It's no secret that one of the fights Golden Boy promoter Richard Schaefer hopes to finalize for Dec. 7 is between welterweight titlist Devon Alexander and former junior welterweight titlist Amir Khan.
[+] Enlarge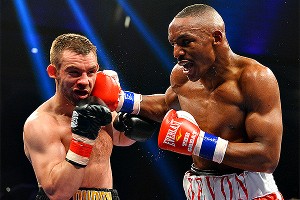 : Rich Kane/Hoganphotos/Golden Boy PromotionsDevon Alexander, right, suffered a broken bone in his left hand during his May title defense against Lee Purdy.
In fact, Schaefer recently flew to Dubai to meet with potential investors interested in bringing the fight to the United Arab Emirates, although it seems more likely that if the match is finalized it will wind up in Brooklyn, N.Y., at the Barclays Center.
But regardless of where it happens, or even if Alexander fights somebody other than Khan, the key for him is that his damaged left hand is on the mend.
Alexander (25-1, 14 KOs), a southpaw, broke the fifth metacarpal bone in the hand during the first round of a defense against Lee Purdy on May 18 in Atlantic City, N.J., and is close to being able to use it again for training.
Kevin Cunningham, Alexander's manager and trainer, told ESPN.com that Alexander, who stopped the overmatched Purdy in the seventh round, is out of his splint and has completed his rehabilitation therapy.
"He's been cleared by the doctor to start training on Monday," Cunningham said.
Cunningham, however, added that he is still waiting to hear from Schaefer and adviser Al Haymon on the particulars of an offer for the proposed fight with Khan (28-3, 19 KOs).
August, 12, 2013
8/12/13
7:07
PM ET
By
jasonlangendorf
| ESPN.com
Welterweight titlist Devon Alexander and Amir Khan are on the path to a Dec. 7 showdown, and one of the big questions about the fight, should it be finalized, is where will it take place?
[+] Enlarge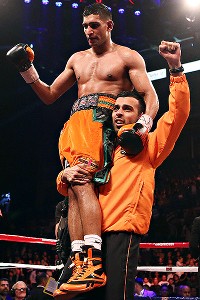 AP Photo/Dave ThompsonIf Amir Khan challenges for Devon Alexander's welterweight title in Dubai, it could be a hyped local event and give boxing a new exotic fight destination.
Golden Boy Promotions chief executive Richard Schaefer is keen to make the fight, as is Showtime, and both fighters have professed interest in it. So while everyone works to make a deal, the location of such a fight is significant because it could be in Dubai in the United Arab Emirates, where Schaefer said there is interest in hosting Khan -- a devout Muslim -- in a world title bout.
Now, Dubai is thrown around a lot these days as a possible location for fights, but it's rarely anything other than a fantasy or red herring. However, Alexander-Khan is a real enough possibility that Schaefer flew there recently to meet with investors interested in bringing the fight there. Schaefer was pleased with what he saw.
"I met with the right people, they made all the presentations and they are very interested," Schaefer told ESPN.com. "Now it's a matter of evaluating if the financials make sense for them and for us. But when I was there I looked at potential venues, and if it does come through, it's going to be spectacular."
One of the issues, of course, is the television timing. Will the fight take place in Dubai prime time, which is eight hours ahead of the United States, or at a time conducive for a live Showtime telecast in prime time in the United States?
"There are different financials if it's on American time or Dubai time," Schaefer said. "But they are interested and their preference is Dubai time."
Whatever the time the card would take place, the deal, like almost everything in boxing, will come down to money.
"I have talked to [Alexander adviser] Al [Haymon] and [manager and trainer] Kevin [Cunningham] and they said if it's the right deal that Devon Alexander will pack his bags and travel," Schaefer said. "But if the money is the same in Dubai as in the U.S., then he feels as the champion that he doesn't need to travel to Dubai. I can appreciate and agree with his position. But if the money is right, he would go to Dubai, so we are discussing numbers."
Schaefer said the issue probably won't be resolved for a few weeks.
"But I really want to do that fight," he said, adding that he is also looking at other venues.
Schaefer said it is possible that the fight could take place in England, where Khan is from, or the Barclays Center in Brooklyn, N.Y., where Golden Boy is holding the arena for Dec. 7.
"I discussed going to the U.K. with Devon's team, and it comes down to the same thing -- if it means substantially more money for Devon, he has no problem going there," Schaefer said.
If the fight does wind up in Dubai, Schaefer said the group there would build a temporary facility at the base of the Burj Al Arab, a hotel that is one of the tallest buildings in the world.
"It's right in the middle of downtown Dubai, surrounded by an unbelievable skyline," Schaefer said. "It's one of the most spectacular things I have ever seen. They could build a 20,000- or 30,000-seat venue. This fight would have a tremendous impact on Dubai."
March, 1, 2013
3/01/13
12:19
PM ET
Welterweight titlist Devon Alexander's mandatory defense against England's Kell Brook is in the process of being formally rescheduled for May 18 (Showtime) at Boardwalk Hall in Atlantic City, N.J.

The fight -- Alexander's first defense since winning the belt from Randall Bailey in October -- already has been postponed twice. It was originally scheduled for Jan. 19 in Los Angeles, but Brook (29-0, 19 KOs) suffered an ankle injury. It was rescheduled for Feb. 23 in Detroit, but Alexander (24-1, 13 KOs) suffered a severely strained right biceps.

Golden Boy's Richard Schaefer told ESPN.com that he notified Team Alexander and Brook promoter Eddie Hearn on Thursday, telling them to be ready for May 18 while he finalizes his deal with Showtime and the venue.

Schaefer doesn't want to announce the new date yet because he is trying to close the main event for the card, which he hopes will match junior welterweight titlist Lamont Peterson, in his second title defense, against monstrous puncher Lucas Matthysse, an interim titleholder.

Peterson-Matthysse would be a terrific fight. If it gets paired with Alexander-Brook, it will be a doubleheader all boxing fans should be excited about.

Kevin Cunningham, Alexander's trainer and manager, is happy to be going to Atlantic City.

"I like Atlantic City. There are great boxing fans there," he said. "I've been out there working with Adrien Broner [as an assistant trainer last month] and there's a great boxing atmosphere. I always had pretty good luck there."

Cunningham's biggest win as a trainer came at Boardwalk Hall, where Cory Spinks outpointed Ricardo Mayorga in 2003 to become the undisputed welterweight world champion.

Cunningham said Alexander would be ready for May 18.

"He started back in the gym on Monday, so he's basically at 90 percent, and so we'll step it up a little more next week," Cunningham said. "Within the next couple of weeks, he should be back to 100 percent and we're expecting to do some sparring in the next couple of weeks. We'll be ready, and Kell Brook will finally get his wish to be in the ring with Devon Alexander -- but that's about as far as that wish will go."
October, 26, 2012
10/26/12
3:46
PM ET
The boxing world continues to mourn the passing of Hall of Fame trainer and HBO broadcaster Emanuel Steward, who died on Thursday at age 68.

There has been an outpouring of good words for a man who was beloved by people in the boxing business as well as by fans around the world, who appreciated his keen observations as a broadcaster as well as his genuine excitement during the fights he called.

Here are just two thoughts from a couple of boxing lifers who knew Steward:

• Ring announcer Michael Buffer, one of Steward's longtime friends, is heartbroken by his passing. "Twenty-four hours have gone by since the passing of Emanuel Steward. It has been and remains an emotionally painful time dealing with this loss," Buffer said. "I am still unable to actually speak without choking up. The comments and statements of admiration and respect, honoring and memorializing his life, legacy and career have been honest, beautiful and deserving. He was and shall always be true boxing royalty. But to those of us blessed to have been closer he was so very much more. As a fan and colleague, I mourn the loss of a legend, an icon. As a friend, I have lost a loved one and my heart is broken."

• Trainer Kevin Cunningham, who greatly admired Steward, opposed him as trainer in 2007 when former undisputed welterweight champ and junior middleweight titlist Cory Spinks lost a decision to then-middleweight champion Jermain Taylor, who was being trained by Steward. "The highlight of my career was going up against Manny Steward for Taylor-Spinks," Cunningham said. "After the fight he told me I was a damn good trainer. That was one of the greatest compliments of my life."
May, 17, 2012
5/17/12
9:43
PM ET
Ask super middleweight champ and undefeated pound-for-pound star Andre Ward who gave him his toughest fight. He'll tell you it was Sakio Bika.
Australia's Bika, who won "The Contender" reality series tournament in 2007, is as rugged as they come. Even though he lost a lopsided decision in a world title fight against Ward in November 2010, Bika was very physical and came to fight, as always.
[+] Enlarge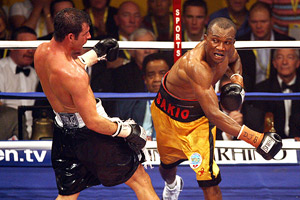 Paul Ellis/AFP/Getty ImagesSakio Bika, who has fought just once since losing a 12-round decision to Andre Ward in November 2010, will return June 2.
Bika, however, has been chronically inactive and has had just one fight since facing Ward -- a third-round knockout of sub-.500 Alfredo Contreras in a December walkover.
But Bika (29-5-2, 20 KOs), 33, is coming back in an interesting fight against Dyah Davis (21-2-1, 9 KOs), 30, of Coconut Creek, Fla., on June 2. Davis is the son of 1976 U.S. Olympian Howard Davis Jr. and is experienced.
The fight will take place at the Home Depot Center in Carson, Calif., on the undercard of a Showtime quadrupleheader headlined by former light heavyweight champ Antonio Tarver against Lateef Kayode in a cruiserweight bout. The rest of the card includes middleweight Winky Wright against "Kid Chocolate" Peter Quillin, junior middleweight titlist Austin Trout in a defense against Delvin Rodriguez, and Leo Santa Cruz and Vusi Malinga vying for a vacant bantamweight title.
That means Bika-Davis will be part of the Showtime Extreme coverage of preliminary bouts that precedes the Showtime broadcast.
Bika has been in St. Louis for nearly six weeks working with new trainer Kevin Cunningham to get ready for the fight.
"He's a pleasure to work with," Cunningham said of Bika on Thursday when we were catching up on the phone. "He works hard. He's strong. He's in tremendous shape. And he listens."
Cunningham said he is working with Bika specifically to tighten his defense "a little more, get him a little sharper. But he's so strong. He's ready to go. He'll be pressing Davis from the opening bell. He's prepared to go 10 rounds, a hard 10 rounds."
Cunningham trains and manages Devon Alexander, a former junior welterweight titlist and now a welterweight contender. Cunningham recently brought in Al Haymon as an adviser to help him work on Alexander's career. Haymon, also Bika's adviser, put Bika and Cunningham together.
"We just hit it off from the time I picked him up at the airport," Cunningham said of Bika. "Devon and Sakio hit it off really well in the gym also, because Devon has been in there doing some light work."