Dan Rafael:

Khabib Allakhverdiev
May, 24, 2014
5/24/14
9:55
AM ET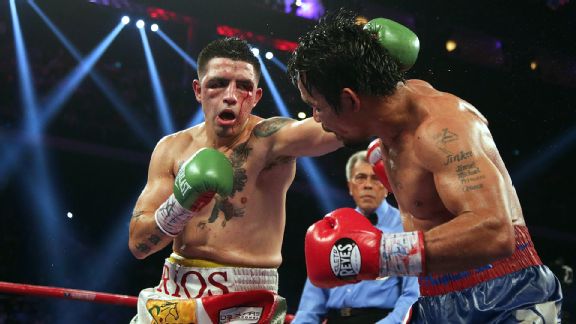 Nicky Loh/Getty ImagesBrandon Rios, left, will be back in the ring Aug. 2 after a tough November loss to Manny Pacquiao.
Former lightweight titlist Brandon Rios is penciled in for his ring return on Aug. 2 on HBO's "Boxing After Dark."
Rios, who will fight at welterweight, likely will face former interim titlist Diego Chaves of Argentina on a card that will take place in Las Vegas or in Fresno, California, Top Rank promoter Bob Arum told ESPN.com on Friday.
Rios (31-2-1, 23 KOs), 28, of Oxnard, California, will try to end a two-fight losing streak, having been outpointed by Mike Alvarado in their fight of the year contender/rematch in March 2013 followed by a one-sided decision loss to Manny Pacquiao in November in Macau. After the fight with Pacquiao, Rios failed a postfight drug test and was suspended for five months.
"If Rios wins this fight, he will have a major match in the fall, either against Tim Bradley or against Alvarado in a third fight," Arum said.
Chaves (23-1, 19 KOs), 28, lost his interim belt by 10th-round knockout to Keith Thurman in July in San Antonio but rebounded for a third-round knockout of journeyman Juan Alberto Godoy in Argentina in February.
Jessie Vargas (24-0, 9 KOs), 25, of Las Vegas, is also likely to be on the telecast in his first junior welterweight title defense. He claimed a 140-pound belt April 12 on the Pacquiao-Bradley II undercard by winning a debatable unanimous decision against Khabib Allakhverdiev.
Arum said the leading candidate to face Vargas is another fighter he promotes, Anton Novikov (29-0, 10 KOs), a 26-year-old southpaw from Russia.
The telecast could be a split-site tripleheader. While Rios and Vargas have fights at one site, plans are in the works for light heavyweight titlist Sergey Kovalev (24-0-1, 22 KOs), 31, of Russia, to make his third defense against an opponent to be determined in Atlantic City, N.J.
Kovalev is coming off a seventh-round knockout of Cedric Agnew on March 29 and had hoped to be moving on to a fall showdown with champion Adonis Stevenson, but that was before Stevenson bolted from HBO to go to Showtime.
September, 23, 2013
9/23/13
9:10
PM ET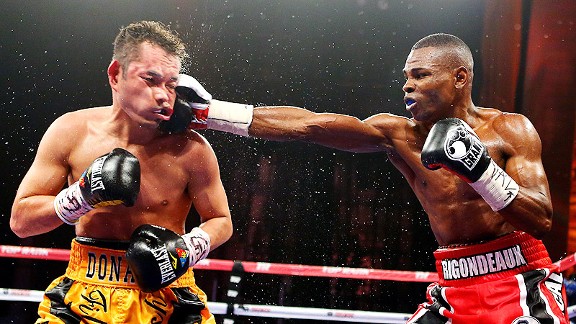 Al Bello/Getty ImagesGuillermo Rigondeaux, right, hasn't connected with audiences or network execs, despite his talent.
In April, Guillermo Rigondeaux outpointed Nonito Donaire to unify junior featherweight world titles. Although it wasn't a crowd-pleasing performance, Rigondeaux's talent is undeniable.
So when Top Rank chairman Bob Arum went to HBO to talk about his next fight -- and it was HBO that pressured Arum to make Rigondeaux-Donaire in the first place -- he was rather surprised when the network showed no interest in putting Rigondeaux back on.
The quote Arum gave me on the topic was one of his all-time classics:
"Every time I mention him, they throw up," Arum said of HBO executives.
Well, apparently those execs can now keep their food down because they have changed course and agreed to feature Rigondeaux (12-0, 8 KOs) as a headliner. Arum said that the network is giving him a date for the two-time Cuban Olympic gold medalists' next fight before the end of the year, which the network has acknowledged.
"He will definitely fight on HBO in December," Arum said.
The date will be either Dec. 7 or Dec. 14, Arum said.
"We're working on a good fight," Arum said, declining to name the prospective opponent. However, Arum did say it would not be Chris Avalos, a name floated recently as a possible Rigondeaux opponent but understandably declined by HBO.
Arum hopes to line up a fight for junior welterweight titlist Khabib Allakhverdiev (19-0, 9 KOs), a Russian southpaw, in the co-feature. He was due to fight on HBO in March in the Mike Alvarado-Brandon Rios II co-feature before an injury knocked him off the show.
September, 2, 2013
9/02/13
1:42
PM ET
By
jasonlangendorf
| ESPN.com
Junior featherweight champion Guillermo Rigondeaux is coming off his biggest victory, by far, when he got up from a knockdown and won a decision to unify 122-pound titles against 2012 fighter of the year Nonito Donaire in April.

But Rigondeaux (12-0, 8 KOs) still has nothing specifically lined up because HBO, less than enthralled with his non-aggressive performance against Donaire, has resisted putting him back on the air -- even though it was network executives who pressured Top Rank promoter Bob Arum to match Rigondeaux with Donaire.

However, it's Arum who says he remains hopeful that he can work something out with the network and that a potential December date for Rigondeaux is being discussed.

"I don't think it's right for them to abandon Rigondeaux, whatever his style is," Arum said of the two-time Cuban Olympic gold medalist. "He's still an amazing talent. We have to get him in with a guy who is aggressive."

Arum also hopes to feature junior welterweight titlist Khabib Allakhverdiev (19-0, 9 KOs), a Russian southpaw -- possibly on the same card with Rigondeaux. Allakhverdiev was scheduled to fight on HBO in March on the Mike Alvarado-Brandon Rios II undercard in Las Vegas, but an injury forced him off the show. He returned in July and made his mandatory defense in Monaco, scoring a lopsided 11th-round knockout of Souleymane M'baye.

If Arum has his way, Allakhverdiev will be headed back to America for his next defense.

"Khabib is a very entertaining and interesting fighter," Arum said. "I'd like to match him with [former lightweight titlist Antonio] DeMarco."

DeMarco lost his 135-pound title to Adrien Broner in November but returned on Aug. 10 to stop Fidel Monterrosa in the fifth round in an entertaining junior welterweight fight.
July, 10, 2013
7/10/13
10:01
AM ET
A few notes from the boxing world:

• Junior lightweight contender Juan Carlos Burgos is in need of a new opponent for his fight on July 26 (ESPN2 and ESPN Deportes). Burgos (30-1-1, 20 KOs), who fought to a disputed draw with titleholder Rocky Martinez in January, was due to face Daulis Prescott in a 12-round bout at Thunder Valley Casino Resort in Sacramento, Calif. However, Prescott (26-2, 19 KOs), the brother of longtime junior welterweight and lightweight contender Breidis Prescott and a former featherweight title challenger, withdrew because of kidney stones.

• Promoter Rodney Berman has secured an American TV outlet for Saturday's "Monte Carlo Million Dollar Super 4" final between super middleweight contender Edwin Rodriguez (23-0-0, 15 KOs) of Worcester, Mass., and light heavyweight contender Denis Grachev (13-1-1, 8 KOs), a San Diego-based Russian, who will meet at a catch weight of 171½ pounds in Monaco. The card will be televised by beIN Sport beginning at 3 p.m. ET. beIN Sport, which bills itself as "the international sports channel," carries mostly soccer and is available on several outlets in the United States, inclucing DirecTV, Dish Network, Comcast and AT&T U-Verse TV.

Also on the card, junior welterweight titlist Khabib Allakhverdiev (18-0, 8 KOs) of Russia makes a mandatory defense against France's Soulemayne M'baye (40-4-1, 22 KOs), Max Bursak (26-1-1, 12 KOs) of Ukraine defends the European middleweight title against England's Prince Arron (23-4-1, 5 KOs) and Dmytro Kuchar (21-0, 15 KOs) of Ukraine faces South Africa's Ilunga Makabu (13-1-0, 13 KOs) in a scheduled 12-round cruiserweight bout.

• Famed broadcaster Col. Bob Sheridan, who has called more than 900 world title fights, has a history of heart trouble and is scheduled for triple bypass surgery on Monday. He's already had five heart attacks and nearly died from pneumonia, but he's still kicking and hopes to reach the 1,000 mark. Sheridan is in good spirits and, assuming all goes well, plans to be in New Zealand on Aug. 31 to work the broadcast of heavyweight David Tua (52-4-2, 43 KOs) against Alexander Ustinov (28-1, 21 KOs). Tua, the former title challenger and longtime contender, has not fought since a decision loss to Monte Barrett in their rematch in August 2011.

• The shakeup at HBO Sports continues under division president Ken Hershman as longtime director of programming Luis Ferrer, one of the deparment's main boxing executives, is leaving. Ferrer, 41, had worked in boxing programmning at the network since 2004, although he took a leave of absence from September 2010 through December 2012 when he joined the army and served in Afghanistan. Ferrer, who is going to NBC Sports, is the second major programming executive to leave HBO Sports in the past month, joining his boss and senior vice president Kery Davis, who recently resigned.
May, 31, 2013
5/31/13
10:45
AM ET
Junior welterweight Karim Mayfield of San Francisco caused a stir when he got into a shouting match and near-physical confrontation with unified titleholder Danny Garcia and his father/trainer Angel Garcia in the media center during Floyd Mayweather Jr.'s postfight news conference after his win against Robert Guerrero on May 4 at the MGM Grand in Las Vegas.

It was quite a scene, and it was clear that Mayfield was trying to lure Garcia into a fight (in a ring, not a press room). But pushing and shoving doesn't normally land a hungry contender a fight unless he has the right backing. Mayfield probably won't get a shot at Garcia, but after signing this week with Top Rank, he figures to be in the mix for some other meaningful bout.

Garcia is with Golden Boy, which has many of the top junior welterweights and welterweights, and it doesn't do business with Top Rank. Garcia also has much bigger plans, which hopefully include a showdown with destroyer Lucas Matthysse in September.

But Top Rank also has top fighters at 140 and 147, such as Manny Pacquiao, Juan Manuel Marquez, Timothy Bradley Jr., Brandon Rios and Mike Alvarado, so it's trying to add depth to its roster in order to give it more matchmaking flexibility. That's the reason it recently signed 140 titleholder Khabib Allakhverdiev, and that's also where Mayfield (17-0-1, 10 KOs), who is trained by 2011 trainer of the year Virgil Hunter, fits in.

Mayfield is not an A-side of a fight at this point, but with a couple more solid wins and a promotional push, he might get there.

"Top Rank is extremely happy with the signing of Karim," matchmaker Brad "Abdul" Goodman said. "He is a top fighter who will take on anyone, anytime, and that in itself deserves credit. Our goal, along with (co-promoter) Prize Fight Boxing, is to get Karim to the world championship and win it."

Mayfield is coming off his two most notable victories -- a fifth-round knockout of previously undefeated Raymond Serrano in a May 2012 "Friday Night Fights" headliner, followed by a 10-round decision against Mauricio Herrera on HBO.

So Mayfield is getting some television exposure, which is vitally important, but he is 32 already, and there is not a lot of time to waste, even though he has been a pro only since 2006.

"I was maybe 20 years old before I even started boxing," said Mayfield, who played football in high school and was 54-4 as an amateur. "There was a local gym in my neighborhood and I went to check it out. I sparred with a kid who had been boxing for a year or so and I did extremely well. It just inspired and motivated me. I've been with my trainer, Ben Bautista, since day one."

He calls himself "Hard Hitta'" for a nickname because, as he said, "I hit everything hard. I don't win by decision, but by collision."

Perhaps in coming fights, he can put himself on a collision course for a title shot.
March, 27, 2013
3/27/13
9:26
AM ET
Opportunity knocked and Terrence Crawford answered the door.
The 25-year-old junior welterweight prospect was getting ready to face the unknown Robert Osiobe on the untelevised undercard of the much-anticipated Brandon Rios-Mike Alvarado rematch on Saturday night (HBO, 10:15 ET/PT) at Mandalay Bay in Las Vegas.
But when junior welterweight titlist Khabib Allakhverdiev injured his elbow last week and was forced out of his defense against Breidis Prescott -- the televised co-feature -- Crawford was suddenly offered the opportunity of a lifetime.
With promoter Top Rank and HBO looking to salvage the opening TV fight, Crawford was given the opportunity to step in and take on Prescott. Crawford jumped at the chance.
Crawford (19-0, 15 KOs) was at home in Omaha, Neb., when co-manager Cameron Dunkin called to tell him about the fight.
"My reaction was, 'OK, let's go,'" Crawford said Tuesday. "I didn't hesitate or nothing. I felt like it's the time. I'm just ready, ready to get in there and display my talents.
"

Prescott is tall and rangy and everybody knows he's a big puncher. He's tough. He's a good fighter but I feel like I can be in there with anybody. I feel like I got the skills, the talent...

"

-- Terrence Crawford on Breidis Prescott, his opponent on Saturday.
"I had been training hard for Osiobe and camp was going real good. I feel strong, so this was the right time to take this fight. But I was really surprised. It just came out of the blue. But I feel like everything happens for a reason and they called my phone for a reason. This fight was meant to be. This opportunity is coming at the right time for me. I feel like I deserve the shot."
So instead of facing Osiobe for $15,000 with few watching, Crawford will earn $125,000 to face Prescott (26-4, 20 KOs) in the co-feature of a major fight on national television with a chance to launch his career.
"I never take a fighter lightly and I'm just excited to be in this position to make a name for myself," said Crawford, who served as a sparring partner for Timothy Bradley Jr. when he was a junior welterweight titlist and defeated such notable fighters as Danny Garcia, Diego Magdaleno, Mikey Garcia and Carlos Molina during his amateur career.
While Crawford and trainer/co-manager Brian McIntyre were all for the fight with Prescott, Dunkin -- a notoriously nervous manager -- was hesitant. Prescott is a bigger man -- Crawford has fought mainly as a lightweight -- with loads of experience and excellent power. But Dunkin is most concerned because the fight is on such short notice.
"I am concerned about Terrance, but not because I don't believe in him," Dunkin said. "I've been with him since his first pro fight. I love him. I'm concerned because the other guy has a lot of experience and is bigger. Terrence is really a 135-pounder. Prescott is a serious guy. He's a world class guy. He's a world championship level fighter. If we had another six or seven weeks to prepare, I'd feel a lot better.
"But my job was to offer him the fight. I know it's a very scary fight. (Top Rank's Bob) Arum told me the money and I called up Crawford and told him about the fight and there was no hesitation. He wanted to fight on HBO and he knew it was a great opportunity because if he beats Prescott, that puts his career at a whole different level. To (Crawford's) credit, it wasn't the money. He was excited to get on HBO. He didn't say anything about the money. I told him what it was but it wasn't the money that set him off. He just kept saying how excited he was to be fighting on HBO."
Prescott, 29, of Colombia, is a seasoned veteran contender who is a quantum leap up in competition level for Crawford, who will be fighting his first scheduled 10-rounder.
Among the several quality opponents Prescott has faced, he owns a memorable first-round knockout against Amir Khan and was way ahead of Alvarado in their 2011 fight before being stopped in the 10th and final round.
"Prescott is tall and rangy and everybody knows he's a big puncher," Crawford said. "He's tough. He's a good fighter but I feel like I can be in there with anybody. I feel like I got the skills, the talent, I'm dedicated in the gym, put my all into my workouts. I'm ready to take on anybody.
"This fight is going to boost my career to right where it should be, in the mix for a title fight. (Boxing fans) can expect a show from me on Saturday."
December, 12, 2012
12/12/12
5:00
PM ET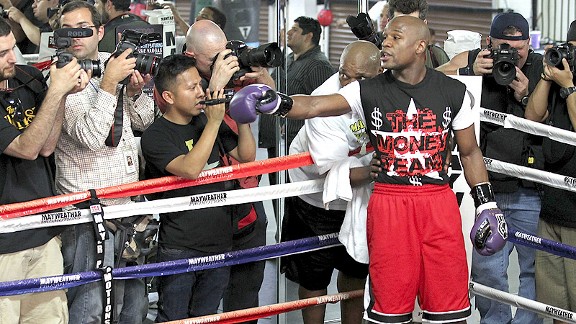 Jeff Bottari/Getty ImagesGolden Boy will co-promote Floyd Mayweather Jr's return to the ring in the spring.
Golden Boy Promotions chief executive Richard Schaefer has been working on the schedule for the company's major cards in the first half of 2013 and walked me through it this week. Here's what Golden Boy is working on:
• On Jan. 19 on Showtime, Devon Alexander is supposed to defend his welterweight belt against Kell Brook at the Nokia Theater in Los Angeles with interim junior welterweight titlist Lucas Matthysse facing Hank Lundy on the undercard. A third fight for the telecast is in the works: welterweight contender Selcuk Aydin against Jesus Soto Karass.
However, there is a chance the show could be postponed -- or at least the main event -- because Brook is dealing with an ankle problem that might force a short delay in the fight. Schaefer said if the main event has to be postponed, he would try to convince Showtime to do a doubleheader with the other two bouts and move Alexander-Brook into late February.
• Golden Boy will be back for the second show at the Barclays Center in Brooklyn, N.Y., on Feb. 9 (Showtime) with junior welterweight titlist Danny Garcia defending against former titleholder Zab Judah of Brooklyn in the main event. Middleweight titlist "Kid Chocolate" Peter Quillin, who calls Brooklyn a second home, will make his first defense on the undercard, possibly against former middleweight champion Jermain Taylor. (That is a very, very poor fight and hopefully will not happen.) Middleweight prospect Daniel Jacobs of Brooklyn will also see action in his third fight since returning to boxing after nearly dying from cancer.
Another fight on the card that Schaefer said could happen, although it would probably go on Showtime Extreme coverage of the undercard, would pit welterweights Dmitriy Salita of Brooklyn against Hector Camacho Jr., the son of the late Hector Camacho Sr., who had a big fan base in New York. Salita-Camacho might sell some tickets as a local attraction because Salita has fans in the Jewish community and Camacho would attract Puerto Rican fans.
• Golden Boy will have an HBO card on Feb. 16 at a site to be determined. Lightweight titlist Adrien Broner will headline. Schaefer hopes to make a unification with Ricky Burns, whose fight on Saturday fell apart when opponent Jose Ocampo dropped out this week. The undercard is expected to feature a heavyweight rematch between Johnathon Banks and Seth Mitchell, whom Banks knocked out in the second round of an upset on Nov. 17.
• Schaefer said Feb. 23 is the date for another Showtime card. It could include Alexander-Brook if the fight is postponed with the location to be determined. But if Brook-Alexander stays in January, Schaefer said he would put the Feb. 23 card in Detroit, the hometown of junior middleweight titlist Cornelius "K9" Bundrage, who would defend his belt against Ishe Smith. For the undercard of that fight, Schaefer said he hopes to make a match between Khabib Allakhverdiev, who recently won a vacant junior welterweight belt by handing Joan Guzman is first defeat, and former lightweight titleholder Humberto Soto.
"I have to see what happens with Alexander and Brook and then adjust," Schaefer said.
• Former light heavyweight champ Bernard Hopkins returns on March 9, when he will be 48, at the Barclays Center on Showtime. Schaefer hopes to give Hopkins a shot at one of the world titleholders and has mentioned Tavoris Cloud, Beibut Shumenov and Nathan Cleverly, but so far, there is no opponent set. On the undercard, Schaefer said he has finalized a fight between featherweight titlist Daniel Ponce De Leon, who will be making his first defense, against Jayson Velez, a prospect co-promoted by Golden Boy and Miguel Cotto.
"Velez is an exciting fighter and he feels he's ready," Schaefer said of Velez, who is close to Cotto (and won on his Dec. 1 undercard) because he was discovered and brought along in the pros by Cotto's late father. "For Miguel to be able to have Jayson fight for a world title against Ponce De Leon is very special for him. I'm excited for Jayson and happy for Cotto, but also happy for Ponce De Leon to get the fight. The fight is done. It's Mexico versus Puerto Rico. Stylistically, it's an exciting fight."
[+] Enlarge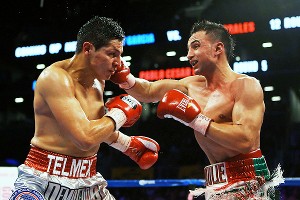 Al Bello/Getty ImagesPaulie Malignaggi could be back in Brooklyn April 27 to defend his welterweight title.
• Schaefer said he has April 27 at the Barclays Center on hold for a likely Showtime card to be headlined by welterweight titleholder Paulie Malignaggi of Brooklyn. No opponent yet. Malignaggi scraped by in a split decision to retain his title against Pablo Cesar Cano in the Barclays Center's first card on Oct. 20.
• Also in April -- date not set -- Schaefer is working on a tripleheader with HBO. One of the bouts they are discussing is a featherweight match between former titlist Jhonny Gonzalez and 2011 ESPN.com prospect of the year Gary Russell Jr. Another is welterweight slugger (and former junior welterweight titlist) Marcos Maidana against prospect Keith Thurman. Former welterweight titlist Andre Berto could also be on the card.
• May 4 is the target date for the return of Floyd Mayweather Jr. on pay-per-view. No TV company yet has the rights to the fight, which Golden Boy will promote with Mayweather, as it has for his last several bouts. Schaefer wouldn't divulge Mayweather's opponent, but all signs point to Robert Guerrero.
• June 8 is another date Schaefer said he has on hold at the Barclays Center for a card on the weekend of the annual Puerto Rican Day parade in New York.
• On June 15 at the MGM Grand, Schaefer said he would present "Knockout Kings II." In September, he put on a card there called "Knockout Kings," in which three of the four televised bouts ended in a KO. The idea is to make matches that likely will end with a knockout, Schaefer said. "I want to do a card like that, a 'Knockout Kings' card, once a year at the MGM."
November, 26, 2012
11/26/12
3:17
PM ET
In the past couple of years, boxing fans have seen upstart networks such as Epix, NBC Sports Net and WealthTV add boxing to their menu of programming selections. Now you can add Bounce TV to the growing list.

Bounce TV, whose other sports offerings include college football games from historically black schools, will carry its first boxing card on Friday night (7:30 ET) as a co-production with Pursuit TV, a hunting and fishing cable network that is available on DirecTV and Dish Network (and which carried a Don King card in June).

The card, promoted by South Florida-based Acquinity Sports, will take place at the BB&T Center (home of the NHL's Florida Panthers) in Sunrise, Fla. Headlining the show will be former junior featherweight and junior lightweight titlist Joan Guzman (33-0-1, 20 KOs), a native of the Dominican Republic based in New York, facing Khabib Allakhverdiev (17-0, 8 KOs) of Russia for a vacant junior welterweight belt.

On its website, Bounce TV cites Martin Luther King III as one of its founders and describes itself as "the first African-American broadcast network, featuring a programming mix of theatrical motion pictures, sporting events, documentaries, specials, inspirational faith-based programs, off-network series, original programming and more."

If you've never heard of Bounce TV, you probably aren't alone. I hadn't heard of it either, until Henry Rivalta of Acquinity Sports told me it would be carrying Friday's card. Then, lo and behold, I found it on my Northern Virginia cable system and set the DVR for the fight card. In addition to certain cable systems picking up Bounce TV, it's also free over the air on the signals of many local stations around the country.

Although Guzman is still undefeated and has won belts in two weight classes, his reputation has taken hits over the years because he has been in some awful fights and because he has blown weight multiple times, including being nine pounds overweight for a 2010 lightweight title fight against Ali Funeka. Guzman also tested postive for a banned substance after a 2010 fight in Las Vegas, sending him into an 11-month layoff because of a suspension.