Dan Rafael:

Kiko Martinez
March, 20, 2014
Mar 20
7:52
PM ET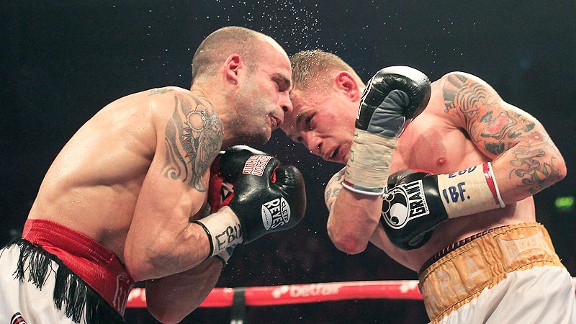 Lawrence Lustig/Matchroom SportsCarl Frampton, right, needs to get past Hugo Cazares before entertaining thoughts of Leo Santa Cruz.
Junior featherweight contender Carl Frampton is poised for the biggest fight of his career, one that would lead to an even more significant fight with a victory.
First up, Frampton (17-0, 12 KOs) will play to a partisan crowd in his hometown of Belfast, Northern Ireland when he faces former titlist Hugo Cazares of Mexico on April 4 in a final eliminator.
The winner of the fight at the Odyssey Arena will become the mandatory challenger for titleholder Leo Santa Cruz, an opponent Frampton has called out. Santa Cruz has returned the favor, saying after his last two fights that he would also like to fight Frampton -- a bout that would match high-pressure, crowd-pleasers.
But Frampton is first focused on Cazares, a wily southpaw veteran two-division titlist.
"The fight is now under three weeks away, it's great to be back in Belfast and the camp has gone well," the 27-year-old Frampton said this week at a news conference in Belfast. "We're 100 percent focused on Hugo Cazares and it is my time to secure my world title shot. I want that green WBC belt and I know what I have to do to get my hands on it.
"It is brilliant to be fighting in my hometown against a former two-weight world champion and I can't wait for April 4th."
Cazares (40-7-2, 27 KOs), who turns 36 on Monday, is a very experienced former junior flyweight and junior bantamweight titleholder whose previous four bouts have been in the junior featherweight division. He is a big-time underdog, although he has won five fights in a row since losing his junior bantamweight belt by split decision to Tomonobu Shimizu in Japan in 2011.
"I am happy, my camp has been good and I am looking forward to boxing in Belfast," Cazares said at the news conference. "I know the crowd will be behind him but the only thing that matters is what happens in the ring. The fans, the people that come along can say what they want but nobody will help us in the ring.
"I just do my job in the best way I can. I plan on doing a great job against Carl Frampton and this will give me the chance for another world title. I know he's a strong fighter, he has fought with a Mexican fighter Raul Hirales and also KO'd Kiko Martinez. But there's a big difference between Kiko Martinez, Raul Hirales and myself."
February, 6, 2014
Feb 6
3:19
PM ET
Junior featherweight Chris Avalos, of Lancaster, Calif., was due to fight in the main event of Top Rank's "Solo Boxeo" card on UniMas on Feb. 15, but was taken off the card so he would be available for a world title eliminator.

The purse bid for that eliminator against Rey Vargas (18-0, 15 KOs) of Mexico took place Tuesday and Top Rank, the only bidder, won with an offer of $25,000. Avalos (23-2, 17 KOs), the higher-ranked fighter in the IBF ratings, is entitled to 60 percent of the money ($15,000), with Vargas due the remaining 40 percent ($10,000).

Top Rank has 90 days to put on the bout, which will produce the mandatory challenger for the 122-pound title held by Kiko Martinez of Spain.

However, Top Rank vice president Carl Moretti said that based on what he hears, Vargas won't take the fight.

"We won the purse bid, we have followed the IBF procedures and sent out a bout contract," Moretti said. "We expect it to be signed, but if it's not, we will inform the IBF and move forward with their next available contender. But we believe Vargas won't take the fight."

Once Avalos was taken off the Feb. 15 card, Top Rank moved Las Vegas junior lightweight contender Diego Magdaleno (24-1, 9 KOs) into the main event of the show that will take place at the C. Robert Lee Activity Center in Hawaiian Gardens, Calif. Magdaleno, a 27-year-old southpaw, will face the Philippines' Ernie Sanchez (14-5, 5 KOs), 22, in a scheduled 10-round lightweight fight.

Magdaleno is seeking his second win a row since dropping a split decision in a world title challenge to then-titleholder Rocky Martinez in Macau last April. Sanchez has lost two decisions in a row, including to Vargas in December.

Opening the telecast will be the pro debut of 2012 Olympic silver medalist Esquiva Falcao of Brazil, who will face Paul Harness (4-4-1, 3 KOs) in a six-round super middleweight bout.

On the untelevised portion of the card, Las Vegas junior featherweight Jessie Magdaleno (17-0, 13 KOs), Diego's 22-year-old brother and one of boxing's elite prospects, takes on Mexico's Roberto Castaneda (20-5-1, 15 KOs) in a scheduled eight-rounder.
September, 20, 2013
9/20/13
5:52
PM ET
A few notes from the boxing world:

• European junior featherweight champion Carl Frampton is defending his title against Jeremy Parodi on Oct. 19 in Belfast, Northern Ireland, Frampton's hometown. The fight took on even bigger meaning this week, when it was announced that it would also serve as a world title eliminator. The winner will become the mandatory challenger for newly crowned 122-pound titlist Kiko Martinez of Spain.

Martinez won a world title Aug. 17 in Atlantic City, N.J., by knocking out Jhonatan Romero. If Frampton earns the title shot by beating Parodi, which he is heavily favored to do, he would meet Martinez in a rematch. In a European title fight in February, Frampton knocked out Martinez in the ninth round only to watch as he went on to win a world title two fights later.

• Lightweight titlist Miguel Vazquez's mandatory defense against Ammeth Diaz, scheduled for Sept. 28 in Tijuana, Mexico, has been moved to Oct. 26, still in Tijuana, according to Zanfer Promotions. The reason has to do with the television schedule on Mexico's TV Azteca. After Julio Cesar Chavez Jr.'s fight with Brian Vera, originally scheduled for Sept. 7, was postponed until Sept. 28 after Chavez suffered a small cut over his eye, it took up that date on TV Azteca, forcing the lower-profile Vazquez-Diaz rematch to be moved to the new date.

• Chicago's Carlos Molina, who outpointed Ishe Smith to win a junior middleweight world title last Saturday on the Floyd Mayweather Jr.-Canelo Alvarez undercard, will be honored in his hometown when he throws out the first pitch at U.S. Cellular Field before the Chicago White Sox-Toronto Blue Jays game.

"I am honored by this," Molina said. "This has been a dream come true for me, and even better than I pictured the day I started boxing. I want to thank the Chicago White Sox for thinking of me and I will continue to do my city of Chicago proud."
August, 16, 2013
8/16/13
12:13
PM ET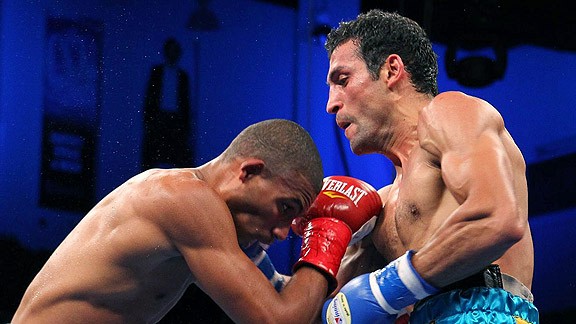 Courtesy of HBOAfter losing to Luis Carlos Abregu, right, in October, Thomas Dulorme is trying to get back on track.
There is no doubt that welterweight Thomas Dulorme took a big step backward when Luis Carlos Abregu knocked him out in the seventh round in October.
At the time, Dulorme was a red-hot prospect. He had been scoring big knockouts and had the attention of the media and HBO, which put on the Abregu fight and was super interested in him.
Since the loss, Dulorme and his team have regrouped, and he is being moved a bit slower. At 23, there is no hurry. He needs to be developed properly and not rushed into a fight he isn't ready for, which is what happened with Abregu.
Since the loss, Dulorme (18-1, 13 KOs) has won both of his fights against modest opposition, a first-round knockout of Eddie Brooks in Puerto Rico, where Dulorme lives, followed by an eight-round decision against Ben Ankrah in April.
Dulorme's rebuilding will continue against New York's Frankie Figueroa (20-5-1, 13 KOs) on Saturday night at the Revel Casino-Hotel in Atlantic City, N.J., on the undercard of Daniel Geale's middleweight title defense against Darren Barker.
While Geale-Barker will air live on HBO along with the junior featherweight title bout between Jonathan Romero and Kiko Martinez, Dulorme-Figueroa will be taped and air on HBO Latino immediately following the conclusion of Geale-Barker, at approximately 12:30 a.m. ET.
"I'm just excited to get back into the ring," Dulorme said. "Staying busy keeps me focused and motivated. My head is never clearer than when I am preparing for a fight. It takes a toll on most fighters, but I'm centered and very relaxed. I owe the fight game a lot, and I am doing this for my fans, the people who believe in me. I want to show my supporters that their belief in me is based on actual ability, and when I am on top, I will share that moment with those who stuck by me, especially my promoters Gary Shaw, Javier Bustillo and Lou DiBella."
Even with the setback against Abregu, Dulorme said he believes he can still win a world title.
"If you're not in the sport to become champion, then what's the point? I have every intention on winning a title one day, and I know that it is a real goal, one that I have control of accomplishing," he said. "I have a strong support group and plenty of people in my corner that believe in me, but from this point on, I must make believers out of everyone else. Come fight night, I will make believers out of anyone who may still have doubts."
Shaw said he believes Dulorme can regain the form that made him such a dynamic prospect.
"Thomas is a young fighter and young guys are always finding themselves, but he is special because he is so far ahead of his age group," Shaw said. "The maturity level he displayed after his setback was tremendously inspiring. He will challenge for a world title, and he has the potential to be one of the best fighters in the division period."
August, 13, 2013
8/13/13
4:55
PM ET
Junior featherweight titlist Jonathan "Momo" Romero worked hard to win his belt. But as focused as he was on reaching his goal of winning it, he said he is just as focused on keeping it.

"This is what boxers work towards," Romero, of Colombia, said through a translator. "We all want to be champions, but defending what we worked so hard for is the best kind of challenge to embrace. I have the same motivation and focus going into this fight as I have had for others, but getting this victory will prove to everyone that I have staying power in the junior featherweight division."

Romero will make his first title defense against former European champion Kiko Martinez on Saturday night (HBO, 9:45 ET/PT) at the Revel Casino-Hotel in Atlantic City, N.J., in the co-feature of the card headlined by middleweight titlist Daniel Geale's defense against Darren Barker.

The big break for Romero to fight for a title came after Nonito Donaire vacated a version of the 122-pound world title last fall. Eventually, the 26-year-old Romero (23-0, 12 KOs) squared off with Mexico's Alejandro Lopez for the vacant belt. They met Feb. 16 in Tijuana, Mexico and Romero, despite being on the road, won a split decision.

Now he faces Martinez (28-4, 20 KOs), 27, of Spain, the former three-time European champion, whose third reign came to an end via ninth-round knockout loss to Carl Frampton of Northern Ireland on Feb. 9.

Martinez -- promoted by middleweight champion Sergio Martinez (no relation) -- rebounded from the loss to Frampton by scoring a second-round knockout of Damian David Marchiano on April 27 in Argentina on the undercard of Sergio Martinez's homecoming defense against Martin Murray.

"I know he has a lot of power in either hand so we will have to watch out for that," Romero said of Martinez. "He's a worthy opponent that is looking to knock me down, but I'm not going to let that happen."

July, 5, 2013
7/05/13
1:25
PM ET
Junior featherweight titlist Jonathan Romero (23-0, 12 KOs) of Colombia, who outpointed Alejandro Lopez in February to win a 122-pound belt that Nonito Donaire vacated, will make his first defense Aug. 17 (HBO) at the Revel Casino Hotel in Atlantic City, N.J. The opponent isn't set, but the leading candidate is Spain's Kiko Martinez (28-4, 20 KOs), a former European champion who is promoted by middleweight champion Sergio Martinez.

Whomever Romero faces, the fight will be the co-feature on the card headlined by middleweight titlist Daniel Geale (29-1, 15 KOs) of Australia, who will be making his American debut in a defense against England's Darren Barker (25-1, 16 KOs), whose only loss came by 11th-round knockout against Martinez in a 2011 championship fight in Atlantic City.

Welterweight prospect Thomas Dulorme (18-1, 13 KOs) of Puerto Rico will also be on the card, and his bout will be televised on HBO Latino. Dulorme was being lined up to face former lightweight titlist Paul Spadafora (48-0-1, 19 KOs), who has been fighting at junior welterweight and welterweight for the past several years. However, according to HBO, after going far down the road on a deal, Spadafora ultimately rejected the fight. Dulorme's team is still searching for an opponent.

• Assuming Julio Cesar Chavez Jr. gets his visa issues worked out and his planned fight with Brian Vera goes on as planned at the Staples Center in Los Angeles on Sept. 7, Top Rank and HBO are planning for Las Vegas welterweight Jesse Vargas (22-0, 9 KOs) to be in the televised co-feature. HBO and Top Rank want to match him with Luis Carlos Abregu (35-1, 28 KOs), but Vargas' team has so far balked at the match, according to Top Rank.

• Ryota Murata, the heralded 2012 Olympic middleweight gold medalist from Japan, will make his pro debut Aug. 25 in Tokyo. He'll face Akio Shibata (21-7-1, 9 KOs) in a scheduled six-rounder. Murata recently signed a co-promotional contract with Akihiko Honda's Teiken Boxing, the No. 1 promoter in Japan, and Top Rank, which will handle any of his bouts outside of Japan. Murata's gold medal was the first for a Japanese boxer in the Olympics since Takao Sakurai claimed one at the 1964 Tokyo Games. Murata is also the first Japanese fighter to win an Olympic medal in a division other than bantamweight or flyweight.

• Puerto Rican flyweight prospect Jonathan "Bomba" Gonzalez (13-0, 11 KOs) is stepping up his level of opposition in a major way. He will face former junior flyweight champion Giovani Segura (29-3-1, 25 KOs) of Mexico on Aug. 17 in a 10-rounder in Carolina, Puerto Rico. Promoter Peter Rivera said that the winner could face flyweight titlist Juan Francisco Estrada, who will first defend against Milan Melindo on July 27 (HBO2) in Macau, China.

"Segura beat two times our champion Ivan Calderon, and the fight is a fight that Bomba always has told us he wanted since he started his professional career," Rivera said.

• Middleweight titlist/knockout artist Gennady Golovkin is steadily building his name and audience. According to Nielsen, Golovkin's vicious third-round body-shot knockout of Matthew Macklin on Saturday drew 1.1 million viewers, the biggest audience of GGG's three HBO fights. It was a 35 percent increase over his January undercard fight against Gabriel Rosado, which drew 813,000 viewers -- a nice increase over his HBO debut last year against Grzegorz Proksa, which drew 685,000 viewers for a main event. What it means is that Golovkin is clearly gaining an audience with each successive fight.

• British lightweight contender Kevin Mitchell (33-2, 24 KOs), 28, was blown out in his most recent fight, getting stopped in the fourth round by titleholder Ricky Burns in September. Mitchell will return Saturday in London against Sebastien Benito (10-6, 3 KOs) of France for what should be a routine destruction. The scheduled 10-rounder is designed to get Mitchell back in the ring so that he can shake off some rust and move back in the direction of another title shot.

"It's a great division, and I want to get back up there," Mitchell said. "Where do I see myself in it? I want to be a world champion. I'm not here to mess around and play games, be second best and get stopped in four rounds. I'm in it for the long haul and I want to beat the top boys. Anthony Crolla just beat Gavin Rees [last Saturday], and they both interest me, and I'll be keeping a close eye on the Derry Mathews and Tommy Coyle fight next week. There are some big British dust-ups out there, and I love those fights as much as the fans and TV do. I want to correct the loss against Ricky for the world title and become a world champion. I've been out of the ring for too long and it's time to get back in there. I feel a lot of relief, really, as I feel like I've got something to work."
February, 12, 2013
2/12/13
12:10
AM ET
Junior featherweight Carl Frampton went from top-notch prospect to contender by knocking out Kiko Martinez in spectacular fashion in the ninth round to win the European title on Saturday.
[+] Enlarge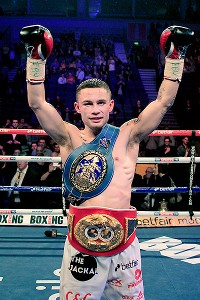 Lawrence Lustig/Matchroom SportNow that Carl Frampton has the European junior featherweight belt, he's aiming even higher: a world title.
Although the win was a huge one for the 25-year-old Frampton, who did the business in front of his hometown fans at the Odyssey Arena in Belfast, Northern Ireland, he hasn't reached his ultimate goal, which is to win a world title. But Frampton is on his way.
"I'm not there yet, because I want to be a world champion," said Frampton, the first man to stop Martinez. "We're halfway there, but I feel the excitement and the buzz now. The atmosphere was amazing; they were very, very noisy. I was in the zone, so you sort of block it out, but I know when I watch it back, it's going to feel amazing."
Although Frampton (16-0, 11 KOs) ended the fight in fine fashion -- and was ahead 78-74, 78-74, 77-75 on the scorecards going into the ninth round -- Martinez (27-4, 19 KOs) posed a stern test and landed some very solid shots.
"I think I proved that I have a good chin," Frampton said. "I got hit with some clean shots, so I could feel his power, but he never once shook me -- and he's a big puncher. He's a guy that has never been hurt before, never been on his back and never really been wobbled. He's been in with some good opposition, and I took him out of there.
"I'm going to be respectful to Kiko. He was a tough man. He took a lot of punches and kept coming forward. He shook my hand after the fight and he's a good champion. I felt that my uppercut was working well and I am getting better on the inside, and I think I was outfighting him in there, which is how he wanted the fight to go. I've always been confident in my ability, and when you beat a good champion like that, it's always going to give you a bit of extra confidence."
Matchroom Sport promoter Eddie Hearn said the plan is to have Frampton back in the ring on May 11 to headline another card at the Odyssey Arena, where Frampton can be expected to draw another big crowd.
Hearn said he will likely steer Frampton toward the IBF version of the world title. That vacant title will be filled on Saturday (assuming there is no draw) in Tijuana, Mexico, where Alejandro Lopez and Jhonatan Romero will fight for the belt that Nonito Donaire gave up last fall.
"After the IBF title is fought for, they will put out a final eliminator for the mandatory position and I would expect us to be in there," Hearn said.
December, 12, 2012
12/12/12
3:08
PM ET

Junior featherweight Carl Frampton of Northern Ireland is one of the best prospects in boxing and he has wanted a fight with European champion Kiko Martinez of Spain for some time.

Twice, Martinez pulled out of the fight while working out his promotional issues, and he is now signed with the company belonging to middleweight champion Sergio Martinez.

Now, finally, Martinez and Frampton are scheduled to fight, this time seemingly for real. It goes down Feb. 9 (Sky in the United Kingdom) at the Odyssey Arena in Belfast, Frampton's hometown.

The 25-year-old Frampton (15-0, 10 KOs), who is managed by Hall of Fame former featherweight champion Barry McGuigan, is psyched for the fight that he wanted.

"He's pulled out on me twice so I have a score to settle with him there," said Frampton, who is coming of a dominant sixth-round knockout of former junior featherweight titlist Steve Molitor in September.

"It's a great fight for the fans and one that I have craved for a long time. I had too much for Steve Molitor and he was a step-up, so I am confident I can beat Kiko and do so in style.

"Martinez pulling out in September was a blessing in disguise really, as I have been able to mature and learn even more and in February in front of another packed crowd at home, I'm looking to make another statement."

Martinez (27-3, 19 KOs), 26, will be making his second European title defense and is on a seven-fight winning streak since back-to-back decision losses in 2009 to Rendall Munroe in a European title fight and former world titleholder Takalani Ndlovu in a world title eliminator.

"I do not read much into Carl beating Molitor as he took the fight at late notice and that's (Molitor's) only fight of 2012," Martinez said. "I will beat him by KO -- there's no alternative outcome. It is not my fault that we have not been able to do this fight so far. There have been many circumstances around that but I know that the Belfast fans will come out and support Carl as always and it will be an electric atmosphere."

Sergio Martinez, who is from Argentina but spent several years living and fighting in Spain, recently founded a promotional company and was happy to sign Kiko Martinez.

"He is the best boxer in Spain, top three in Europe in (his) division and top 10 in the World," Martinez said. "We have also been friends for years and he wanted to make a leap in his career and my company was there for him to do so. Carl is a talented young fighter but I believe he needs to beat the champions in hostile territory to prove that, which is what Kiko is doing."
August, 20, 2012
8/20/12
2:24
PM ET
Hot junior featherweight prospect Carl Frampton of Northern Ireland was supposed to take a step up in competition by facing former European champion Kiko Martinez on Sept. 22 at the Odyssey Arena in Belfast, Northern Ireland, but Martinez suffered an injury and dropped out of the fight.

His replacement looks like an even more interesting opponent for Frampton: former two-time junior featherweight world titleholder Steve Molitor.

Molitor (34-2, 12 KOs), 32, of Ontario, hasn't been very active, but beating him easily would mark the biggest win of Frampton's career. Molitor lost his title in March 2011 via decision to Takalani Ndlovu, whom Molitor had beaten twice previously, and he returned with a victory in November.

And Molitor certainly won't be put off by traveling to the United Kingdom for the fight. He has fought there four times and won on each occasion, including a fifth-round knockout of Michael Hunter to win his first world title in 2006.

"I love fighting across the pond," Molitor said. "I'm 4-for-4 over there and plan on retaining that perfect record. I am excited about fighting Frampton. Although he is not a household name amongst the rest in my division, he is recognized as a future star. Scott Quigg, Kid Galahad and Carl are all names that are trying to make a name for themselves in the 122-pound division, but unfortunately none of them will be making it off the Molitor name.

"Although I am coming in off of Martinez stepping out, I have been training like a madman for several months. I am not hungry; I am starving. ... I'd like to thank the Irish public in advance for coming out to the show, and I have to tell them: Don't blink; you're going to love the fireworks."

Frampton (14-0, 9 KOs), 25, will be defending his Commonwealth belt. Barry McGuigan, Frampton's manager, is very high on his charge and, like many, views Molitor as a tougher foe than Martinez.

"Steve has boxed at a higher level than Kiko, so this is a much tougher fight for Carl -- but the kind of fight we want him to be in," McGuigan said. "We could've looked further down the list of opponents and taken an easier fight, but Carl wants to operate at the world level, and Molitor is certainly there."
July, 19, 2012
7/19/12
4:56
PM ET
When I was in Nottingham, England covering the Carl Froch-Lucian Bute super middleweight title bout on May 26, I had the pleasure of seeing junior featherweight prospect Carl Frampton fight live on the undercard from ringside.

I'd seen Frampton several times on video and liked what I saw, but it's always nice to see an up-and-comer in person. You can better gauge his speed, power and general ring demeanor.

Although Frampton (14-0, 9 KOs) -- who was in supreme condition -- didn't get the knockout he had hoped for, he still looked good that night. He easily outboxed and outfought the game Raul Hirales (16-1-1, 8 KOs), who suffered his first pro defeat, for a lopsided decision.

Big things are expected from the 25-year-old Frampton, who is managed by former featherweight champion and Hall of Famer Barry McGuigan. McGuigan and promoter Eddie Hearn have Frampton on the fast track, which got a little faster on Thursday.

Hearn announced that Frampton will challenge European junior featherweight champion Kiko Martinez of Spain on Sept. 22. The fight will take place at Odyssey Arena in Frampton's hometown of Belfast, Northern Ireland (with live TV coverage on Sky Sports in the U.K.), and it should be quite a night.

Martinez (25-3, 19 KOs) is no joke. His losses are two decisions (one of the majority variety) to Rendall Munroe, a good world-class contender, in European title fights, and a decision to former world titlist Takalani Ndlovu in a world title eliminator.

A win against Martinez would be quite significant for Frampton at this stage of his career.

"It's going to be a great fight and a great occasion, and the kind of big night that Belfast fans love," Frampton said. "I know he's a great fighter but I believe that I will beat him."

"Kiko is an exceptional fighter, world class puncher and a good chin but we are convinced Carl can win," McGuigan said. "We are certainly not underestimating him by any means, but I believe Frampton is better than him in every department and he will show it on Sept. 22."

Since the loss to Ndlovu in 2009, Martinez has won six fights in a row and regained the European crown. He will be making his second defense against Frampton.

"Frampton is a good fighter but I am the champion and I will retain the belt," Martinez said.

Hearn announced that the undercard will include the return of junior welterweight Paul McCloskey (23-2, 12 KOs), of Northern Ireland, who has lost two of his last three fights -– a lopsided six-round technical decision to Amir Khan in a world title bout in April 2011 and a stunning 10th-round upset knockout loss to faded former titlist DeMarcus "Chop Chop" Corley on May 5. In between, McCloskey eked out a debatable decision against Breidis Prescott, who is best known for his first-round knockout win of Khan in 2008.