Dan Rafael:

Krzysztof Wlodarczyk
December, 6, 2013
12/06/13
9:39
AM ET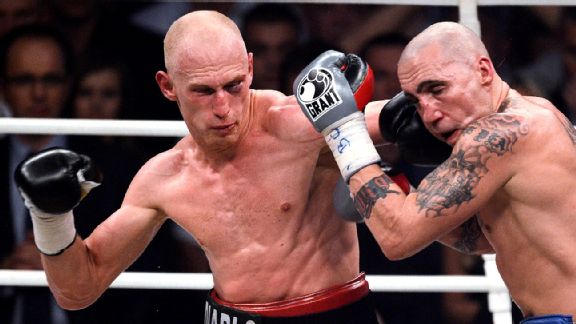 Janek Skarzynski/AFP/GettyImagesKrzysztof Wlodarczyk returns to Chicago to defend his title against Giacobbe Fragomeni on Friday.
Krzysztof Wlodarczyk of Poland was still five years away from winning his cruiserweight world title when he fought twice in Chicago in scheduled six-round preliminary bouts in 2005. He won both and returned to fighting in his home country, eventually winning his title in 2010.
Eight years after those bouts in Chicago, Wlodarczyk is returning to the city, where the large Polish community has a history showing big support to its fighters, to make the sixth defense of his world title when he faces Italy's Giacobbe Fragomeni, a former titleholder, for the third time.
They meet Friday night (ESPN3.com, 9:30 p.m. ET) at the UIC Pavilion, and Wlodarczyk is pleased to be fighting again in Chicago, where he will be the clear crowd favorite.
"I'm here to show the world and the fans in Chicago how good I am," he said through a translator at this week's final news conference. "I'm here to prove I'm the best, like I did in Moscow in my last fight. Thanks everyone for coming. This is a great city."
The 32-year-old Wlodarczyk (48-2-1, 34 KOs) has become one of the best 200-pounders in the world, having faced several quality opponents during his title reign, including that last fight he mentioned in Moscow -- an eighth-round knockout of 2008 Russian Olympic gold medalist and top contender Rakhim Chakhkiev.
Now Wlodarczyk owes a mandatory shot to the 44-year-old Fragomeni (31-3-2, 12 KOs). They have fought twice before. In 2009, Fragomeni retained the title when they fought to a disputed draw. One year later, almost to the day, Wlodarczyk dominated Fragomeni in an eighth-round knockout victory to win what had become the vacant title.
After two tough fights with Wlodarczyk, Fragomeni knows what he is up against, and he is also a fan of Chicago.
"I respect Krzysztof Wlodarczyk. He is a great champion," Fragomeni said at the news conference. "I am honored to fight in this great city and hope it will be an exciting fight for the fans."
Warriors Boxing promoter Leon Margules had been looking for the right spot to bring Wlodarczyk to the United States for a title defense, and this time it worked out.
"This is going to be a great show for a number of reasons. First of all, we've got Poland's only current world champion defending his title in a great fight," Margules said. "He and his challenger are here to lay it on the line. I've been working with Wlodarczyk for years and that's what he always does in every fight."
Another reason the show could be exciting is because it also includes Poland native and Chicago resident Andrzej Fonfara (24-2, 14 KOs), a light heavyweight contender who makes action fights, in the co-feature. Fonfara, who could get a shot at titleholder Sergey Kovalev in 2014, takes on Samuel Miller (26-7, 23 KOs) of Colombia.
"Assuming Andrzej gets by Samuel Miller, I predict a big year next year for him," Margules said of Fonfara. "He will be world champion next year, doesn't matter who he ends up fighting for it. And he will make his HBO debut [possibly against Kovalev]. I see all great things for Fonfara."
November, 25, 2013
11/25/13
4:08
PM ET
Cruiserweight is a dormant division in the United States, but it's hot in Europe, where most of the top 200-pounders fight. The best fight that could be made in the division would match titleholders Marco Huck and Yoan Pablo Hernandez in a unification bout.

It would probably be a helluva fight, one matching 29-year-olds with different styles. Huck (36-2-1, 25 KOs) is an aggressive brawler who has made 11 defenses and Hernandez (28-1, 14 KOs), a former Cuban amateur star, is more of a boxer, although he has also been in some excellent fights, including his 10th-round knockout of mandatory challenger Alexander Alekseev in his third title defense on Saturday in Bamberg, Germany.

But don't count on seeing a Huck-Hernandez showdown, even though both fighters are based in Germany, both are featured on the same German television network (ARD) and both fight for promoter Sauerland Event.

They also have the same trainer, German legend Ulli Wegner, and that is the problem.

Wegner addressed the notion of a showdown between his two titleholders at the news conference after Hernandez stopped Alekseev.

"This fight is only going to happen if we have nothing to eat anymore," Wegner said.

In other words, until they have no other way of making a buck, he is not going to allow the fight to happen.

Promoter Kalle Sauerland shares Wegner's view, saying that he would rather pursue unification fights with the other titleholders -- Denis Lebedev and Krzysztof Wlodarczyk -- before matching Wegner's two fighters.

It's easy for Sauerland to say that, but since he promotes Huck and Hernandez, it would be a lot easier to make that fight than one with either of those other guys. Besides, Lebedev and Wlodarczyk both have mandatory obligations in front of them, not to mention that Huck already owns a 2010 win against Lebedev.

The bottom line is that Huck-Hernandez is the best fight in the weight class. Wegner and Sauerland should not stand in the way of the lucrative, fan-friendly showdown from happening. Sauerland needs to make the best fight in the division and get out there and promote it. Wegner needs to either pick a side or sit out one fight and let his guys go at it. Their bank accounts and legacies would thank him, as would fight fans.
November, 14, 2013
11/14/13
12:57
PM ET
When super middleweight contender James DeGale (16-1, 11 KOs), a 2008 British Olympic gold medalist, faces Dyah Davis (22-3-1, 10 KOs), son of 1976 U.S. Olympic gold medalist Howard Davis Jr., on Saturday in Greenhithe, England, the fight will have a U.S. broadcast home.

ESPN has signed a deal for rights to stream the fight live in the United States on ESPN3.com, the network said. The stream will begin at 5 p.m. ET and will use the British call of the fight, which will air on Ch. 5 in Great Britain.

ESPN also acquired rights to stream another notable fight: On Dec. 6, cruiserweight titlist Krzysztof Wlodarczyk (48-2-1, 34 KOs) of Poland and Italy's Giacobbe Fragomeni (30-3-2, 12 KOs), who briefly held a belt from late 2008 until mid-2009, will meet for the third time in a mandatory fight at the UIC Pavilion in Chicago, where there is a large Polish community that has regularly turned out to support its fighters.

The stream for that card will begin at 9:30 p.m. ET and will also include the co-feature between light heavyweight contender Andrzej Fonfara (25-2, 14 KOs), a Poland native living in Chicago, against Samuel Miller (26-7, 23 KOs). Fonfara is closing in on a mandatory title shot at the belt held by Sergey Kovalev.

Wlodarczyk, making his sixth title defense, owns an eighth-round knockout victory against Fragomeni in a 2010 fight for the vacant belt and they also fought to a draw in 2009 (when Fragomeni held the title).

Bouts involving Chicago junior welterweight Adrian Granados (12-2-2, 8 KOs) and Puerto Rican junior middleweight Jonathan Gonzalez (16-0-1, 13 KOs) could also be part of the stream. Announcers Col. Bob Sheridan and Benny Ricardo will call the show.

A third fight could also be added to the ESPN3.com schedule. ESPN said it is in talks to pick up the rights to the junior middleweight bout between former champion Shane Mosley (47-8-1, 39 KOs) and former super middleweight titlist Anthony Mundine (44-5, 26 KOs) of Australia. The fight is scheduled for Nov. 27 in Sydney.

The bout was originally scheduled for Oct. 23 -- and ESPN had made a deal for American rights to the fight -- but it was postponed because of financial issues with the card before being rescheduled.
September, 2, 2013
9/02/13
1:49
PM ET
By
jasonlangendorf
| ESPN.com
Former junior featherweight and featherweight titlist Daniel Ponce De Leon (44-5, 35 KOs) lost his featherweight belt by ninth-round knockout to Abner Mares in May and has decided to move up in weight, manager Frank Espinoza told ESPN.com. He said Ponce De Leon, having trouble continuing to make 126 pounds, will move up to the 130-pound junior lightweight division for his next fight, which hasn't yet been scheduled.

• Cruiserweight contender Ola Afolabi (19-3-4, 9 KOs) of England concluded his trilogy with titleholder Marco Huck by losing a spirited majority decision in June to go 0-2-1 in the rivalry. Now Afolabi is moving on and will fight Nov. 2 at the Theater at Madison Square Garden in New York, K2 promoter Tom Loeffler told ESPN.com. Afolabi, whose opponent isn't set, will fight on the undercard of middleweight titlist Gennady Golovkin's defense against Curtis Stevens.

• Former heavyweight titlist Ruslan Chagaev has only two losses in his career, both in world title bouts, against Wladimir Klitschko and Alexander Povetkin. For his next fight, Chagaev will appear on the undercard of their championship showdown on Oct. 5 in Moscow. Chagaev (31-2-1, 20 KOs) will face Jovo Pudar (30-3, 17 KOs) of Serbia in a scheduled 12-round bout. Pudar is 42 and was retired from 2004 to 2010 but has won his eight fights since returning, although he has faced low-level opposition.

• Cruiserweight titlist Krzysztof Wlodarczyk (48-2-1, 34 KOs) of Poland and Italy's 43-year-old Giacobbe Fragomeni (30-3-2, 12 KOs), who briefly held a belt from late 2008 until mid-2009, are due to meet for the third time in a mandatory fight. Wlodarczyk promoter Leon Margules of Warriors Boxing told ESPN.com that if the sides don't make a deal, there will be a purse bid on Sept. 7. Wlodarczyk was saddled with a disputed draw against Fragomeni in a 2009 title fight and then knocked him out in the eighth round of a dominant performance in a 2010 rematch. If Margules wins the purse bid, he might try to bring the fight to Chicago, where there is a large Polish community that has been very supportive of Polish fighters.
July, 18, 2013
7/18/13
9:31
PM ET
The trilogy nobody demanded is upon us as cruiserweight titlist Krzysztof Wlodarczyk (48-2-1, 34 KOs) of Poland is going to have to fight Italy's 43-year-old Giacobbe Fragomeni (30-3-2, 12 KOs), who briefly held a belt in late 2008 until mid-2009, for a third time. If the sides don't make a deal, a purse bid is scheduled for Aug. 2.

Wlodarczyk, coming off a very impressive eighth-round knockout of 2008 Russian Olympic gold medalist Rakhim Chakhkiev in a June 21 title defense in Moscow, was saddled with a heavily disputed draw against Fragomeni in a 2009 title fight and then dominated him in an eighth-round knockout victory to win the belt in 2010.