June, 10, 2014
Jun 10
5:19
PM ET
On Jan. 22, 1988, Mike Tyson, smack in his prime, defended the undisputed heavyweight championship against aging former champ Larry Holmes and blasted him out in the fourth round of a one-sided fight.

Twenty-six years later, the former champions were reunited at the Turning Stone Resort Casino in Verona, New York, last week, where Tyson's Iron Mike Productions was putting on the ESPN2 "Friday Night Fights" card.

Tyson and Holmes spent time answering questions from fans during one of the fight-related activities, and they, of course, were asked about their fight with each other.

"What I remember was [promoter] Don King knocking at my door around 9 at night," Holmes said. "I was retired two years. Don said he wanted me to fight somebody he said he knew I could beat. I asked him who and he said, 'Mike Tyson.' I said, 'I can't beat Mike Tyson.' Don said, 'What if I give you 3˝ million dollars?' And I said, 'Where's Mike at?'

"I'm just glad he didn't kill me. He knocked me down a few times, but I didn't feel it because the first time he hit me I was numb. After the fight, Mike said he loved me and I said, 'Why'd you knock out my ass?' Mike's a great guy."

Said Tyson: "It was a great opportunity to be in the ring with one of the great fighters of all time. It was a milestone in my career. He didn't have time to prepare. I never fought the great Larry Holmes. I had no delusions. By all means, I didn't fight the [prime] Holmes who fought [Muhammad] Ali.

"I was very objective in the ring, nothing personal, but I'd have hit my mother. If I had mercy on him, he may have knocked my ass out. He didn't have enough time to prepare when he fought me. Don didn't give him the opportunity."
April, 16, 2014
Apr 16
4:11
PM ET

World heavyweight champion Wladimir Klitschko's 16th title defense will be televised in the United States live on ESPN after the network reached a deal on Wednesday with IMG, the company selling the international rights for the bout.

Contracts are not signed yet, but both sides told ESPN.com that they have agreed to the television deal for Klitschko's mandatory defense, which will come against Alex Leapai on April 26 at the König-Pilsener-Arena in Oberhausen, Germany.

By securing the rights to the fight ESPN will be televising two heavyweight title bouts in two weeks, although Klitschko is the recognized champion and has been for years. A few weeks ago, ESPN made a deal to televise live the May 10 rematch between Bermane Stiverne (23-1-1, 20 KOs) and Chris Arreola (36-3, 31 KOs), who meet at the Galen Center on the campus of USC in Los Angeles for the belt that Vitali Klitschko, Wladimir's older brother, vacated in December.

"With our coverage of the Stiverne-Arreola heavyweight title match on May 10th, we want to give boxing fans the complete heavyweight picture with a fight that features the other three major belts," ESPN senior director of programming and acquisitions Brian Kweder said of Klitschko-Leapai. "Two heavyweight championship fights in two weeks is just too good to pass up. We are working on finalizing the deal."

In addition to airing on the main ESPN channel (5 p.m. ET), the fight will also air on ESPN Deportes in Spanish and be available on WatchESPN. ESPN will have its own announcers call the bout rather than rely on K2 Promotions' English-language international feed.

"I think it's perfect, the best I could imagine," Klitschko manager Bernd Boente said of the deal with ESPN. "Wladimir is very happy. ESPN is the No. 1 sports station worldwide and to cover two heavyweight title bouts in two weeks, I think that's a dream come true. As always, we wait until the fight is over and, knock on wood, Wladimir will win the fight, but after that it's not a secret that he would like to fight the [Stiverne-Arreola II] winner."

Leapai (30-4-3, 24 KOs), 34, a native of Samoa living in Australia, came out of nowhere to be appointed as the mandatory challenger by the WBO after scoring a major upset of Russian Denis Boytsov on Nov. 23 in Bamberg, Germany.

Klitschko (61-3, 52 KOs), 38, who is in his second title reign, will be fighting in his 25th heavyweight championship bout. The 1996 Olympic super heavyweight gold medalist is 22-2 with 17 knockouts in world title bouts and coming off a shutout decision victory against Alexander Povetkin, whom he knocked down four times, on Oct. 5 in Moscow.

Klitschko, whose current reign began with a seventh-round knockout of Chris Byrd in April 2006, has held a heavyweight title longer than anyone in boxing history other than Joe Louis (nearly 12 years) and has made the third most title defenses in heavyweight history, trailing only Louis (25, a record in any division) and Larry Holmes (20).
July, 4, 2013
7/04/13
8:37
AM ET
Wladimir Klitschko is the most underappreciated heavyweight champion in history. In his time, Larry Holmes, coming into his own in the shadow of Muhammad Ali's exit, was in a similar boat and also vastly underappreciated.

Despite receiving heavy criticism in his day for a lack of top-tier opponents (not his fault), Holmes wound up with one of boxing's most dominant championship reigns. He defended the title 20 times, good for the second most in heavyweight history behind only the great Joe Louis, who made 25 defenses -- a record for any weight division. Holmes also had the second-longest heavyweight title reign -- seven years, three months and 12 days. It was only after his retirement that his greatness began to be truly appreciated.

Now look at Klitschko. He is heavily criticized for his lack of competition (also not his fault) but is in the midst of one of boxing's most dominant heavyweight championship reigns. He has defended the title 14 times -- all in dominant fashion, including 11 by knockout -- good for third most in heavyweight history behind Louis and Holmes.

Now Klitschko, whose 15th defense was signed this week for Oct. 5 in Moscow against Alexander Povetkin, is on the verge of surpassing Holmes and claiming second place all time in terms of length of title reign. Undoubtedly, Klitschko won't truly be appreciated until after he retires.

Klitschko won his title (to begin a second reign) on April 22, 2006, by stopping Chris Byrd in the seventh round. Along the way, Klitschko has collected three of the major sanctioning organization belts, restored the lineage and faced all comers.

On Aug. 4, Klitschko will have held his title for seven years, three months and 13 days, meaning nobody else will have held the heavyweight title longer than Klitschko except for Louis, who was champion for 11 years, eight months and eight days.

Klitschko is 37, remains in tip-top shape, still has the desire to fight and has taken little punishment in his career. Since 2004, he is basically untouched, and there is no reason to believe he can't continue on this way for years to come.

When I informed Klitschko that he would soon surpass Holmes, he was surprised -- and the fact he was surprised did not surprise me. Klitschko has never been one to focus on statistics or records or want to discuss them. More than once, I have brought the records up to him and he has told me he wasn't interested. He would say we can talk about it when he is retired.

But with his title reign about to eclipse Holmes', Klitschko made an exception and agreed to talk about the milestone.

"I was never counting for how long have I been a champion or trying to pass anyone in history," Klitschko said. "I'm just enjoying myself in this sport and always, with excitement, look forward to any challenge in my life. I've heard about the records from [late trainer and friend] Emanuel [Steward] but was never comparing myself or thinking where am I at this point. I'm in the middle of the action and just care about staying focused on my game, as Emanuel told me. I miss that man so much."

As for Holmes, Klitschko said he is familiar with his fights and enjoyed meeting him.

"Of course I watched the fights of Larry Holmes and, of course, he is one of the best fighters in my division," he said. "I'm happy that I've met him in person and had a chat with him about life and boxing."

Klitschko (60-3, 52 KOs), a 1996 Olympic gold medalist for Ukraine, said he isn't thinking about retirement and is completely focused on the fight with Povetkin (26-0, 18 KOs), who won Olympic gold for Russia in 2004.

"I'm looking forward to my next challenge in Moscow on Oct. 5, and who knows for how long I'm gonna stick around?" Klitschko said.

With few on the horizon who appear to be legitimate challengers for Klitschko, including Povetkin, he may stick around for a long time to come, perhaps as champion for at least 11 years, eight months and nine days.
November, 6, 2012
11/06/12
4:50
PM ET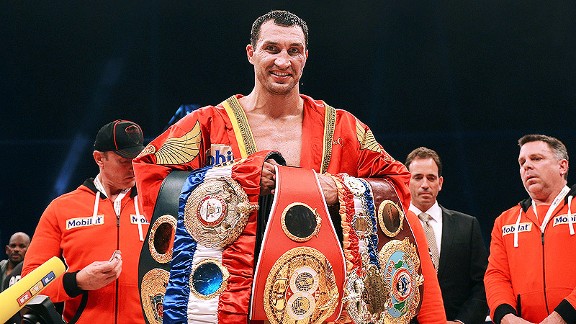 Lars Baron/Bongarts/Getty ImagesBelts or no belts, Wladimir Klitschko has firmly re-established the heavyweight championship lineage.
Since the dawn of the alphabet age of boxing belts in the mid-1980s, a lot of fighters have held versions of the heavyweight title.
Many of them have been good big men who happened to pick up a trinket but were never regarded as the legitimate champ. There were forgettable reigns of mere titleholders such as Herbie Hide, Oleg Maskaev, John Tate, James "Bonecrusher" Smith, Tony Tucker, Michael Bentt, David Haye and several others.
What counts in my book, especially in the heavyweight division, is the lineal championship (some call it the linear championship). That is, the man who beat the man, who beat the man, etc., regardless of which belt the champ holds, or even if he doesn't hold one at all (which has happened).
We're talking about men such as Jack Johnson, Jack Dempsey, Joe Louis, Rocky Marciano, Sonny Liston, Muhammad Ali, Joe Frazier and George Foreman.
The heavyweight lineage has had a few breaks in the more than 120 years since John L. Sullivan became the first champion, but generally an accepted new lineage has been established when the two leading legitimate contenders (not just some manufactured alphabet-rated guys) have met.
It isn't exact science, to be sure, but the identity of the lineal champion is often easy to determine. When Mike Tyson had all of the sanctioning body belts, he still wasn't the lineal champion. He couldn't make that claim until after he knocked out Michael Spinks, who, despite having been stripped of his alphabet title, carried on the lineage because he had defeated Larry Holmes.
Of course, when Buster Douglas knocked out Tyson, he claimed organization titles as well as the lineage. Then Evander Holyfield knocked Douglas out, and on and on it went.
When Foreman knocked out Michael Moorer in 1994 to become the lineal champ (for the second time, 20 years after his first reign), he claimed two of the main alphabet belts. Foreman was eventually stripped of both for failing to make mandatory defenses, but that had no bearing on the lineage. The only way to lose that title is to fall in the ring or retire (or move to another division).
In 1997, Foreman, sans any belts, lost a controversial decision to Shannon Briggs. It was one of the worst decisions in heavyweight history, and Foreman never fought again. But the silver lining in the mess was that Briggs held the lineage when he faced alphabet titleholder Lennox Lewis in 1998. Lewis waxed him in five rounds to hold on to his trinket and, more important, assume the lineage.
Lewis kept it until 2001, when Hasim Rahman knocked him out, then regained it later that year when he drilled Rahman in the rematch. But then Lewis retired in early 2004, breaking the lineage.
This is where recent heavyweight lineage gets a bit murky.
In his final bout, Lewis defeated Vitali Klitschko, the clear No. 1 contender, in a very competitive fight that Klitschko was winning on the scorecards until it was stopped because of his badly cut eye. Under the circumstances, it was only logical that Klitschko should be involved in the fight to re-establish the lineage.
Fighting for the alphabet belt that Lewis vacated upon his retirement, Klitschko eventually faced the late Corrie Sanders, a legitimate contender who was coming off an upset knockout win against titleholder Wladimir Klitschko, Vitali's younger brother.
Vitali Klitschko stopped Sanders in the eighth round in April 2004 in an excellent fight. Besides winning a vacant alphabet belt, Klitschko was also awarded the vacant Ring magazine title, which had been created to clearly identify the legitimate champion in each division (before the magazine's championship policy had been radically altered and muddled).
There are many who view Vitali's victory over Sanders as his having re-established the lineage following Lewis' retirement. Others aren't so sure.
Regardless, after Klitschko defeated Danny Williams in his next fight, he retired for nearly four years because of various injuries. That broke the lineage again (or, depending on your view, left it unrepaired post-Lewis).
But during Vitali's retirement, Wladimir emerged as the dominant heavyweight force. In 2006, he won an alphabet belt by knocking out Chris Byrd (who owns a win over Vitali), and in 2008 he unified two belts.
It wasn't until 2009 that Wladimir re-established the lineage. The Ring title was still legit at that time, when he thrashed leading contender Ruslan Chagaev, who, for good measure, had never lost his alphabet belt in the ring (he had been stripped).
Thus, whatever your perception is of Vitali's claim on the lineage, Wladimir has clearly restored it.
Even if, on its own, hammering Chagaev wasn't enough, Klitschko surely should have persuaded any remaining doubters by now, having won five more fights in a row (four by knockout) against mostly top contenders to firmly establish himself as the man in the weight class -- the legitimate and lineal champion.
The next lineal champ will be the man who beats Wladimir. And if Wladimir retires and the lineage is broken, we'll just have to wait and see who can restore it.