December, 6, 2013
12/06/13
12:15
AM ET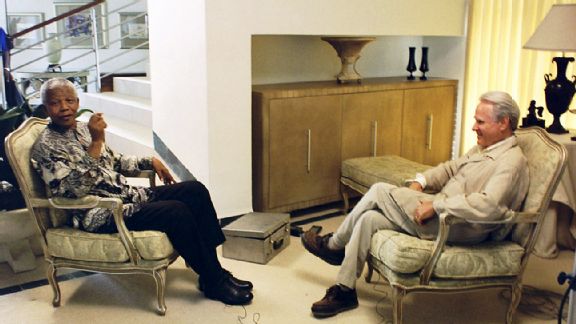 Courtesy of Larry MerchantNelson Mandela gave Larry Merchant the thrill of a career when he agreed to talk shop before a fight.
As a sports columnist, author and broadcaster, Larry Merchant has spent the better part of 60 years conducting interviews with a who's who of boxing luminaries, not to mention all of the other famous figures he dealt with during his newspaper days.
But of the thousands of interviews Merchant has done, there is one that stands out as his most memorable: a 2001 sitdown at the home of Nelson Mandela, the South African hero and former president who died on Thursday at age 95.
"I would say it's probably the most memorable I've done in more than half a century -- say, 60 years -- of doing this," Merchant said after hearing news of Mandela's passing.
After all, it's not every day that Merchant has an opportunity to sit down with a world-renowned hero and receive instruction on the proper way to throw a left hook. More on that in a minute.
Merchant, then an analyst for HBO, had gone to South Africa for the network's coverage of then-heavyweight champion Lennox Lewis' first fight with Hasim Rahman, which resulted in Rahman's massive upset via fifth-round knockout.
But before the fight, as part of a pre-taped segment for the broadcast, Merchant interviewed Mandela -- a serious boxing fan and former amateur fighter -- at his home in Mozambique, where he spent a lot of time after he was no longer president.
"I had somewhere read that he had been an amateur boxer," Merchant said, "and so when we found out we were going to cover that fight in Johannesburg it triggered that pathway in my brain and we set in motion the process to get an interview with him."
It was touch-and-go as to whether the interview would take place. It got to the point that network officials thought it wouldn't happen. But the morning before the fight, Merchant got a call from a producer, waking him up and telling him the approval had come through.
"The understanding was, we weren't going to be talking politics, that we would be talking boxing," Merchant said.
They flew to Mozambique and arrived at Mandela's home a few hours later.
"He came into the room where we had set up the interview looking regal, like there was an aura about him that matched his reputation and his achievements as a powerful political figure," Merchant said. "He was the George Washington and Abraham Lincoln of South Africa. He was very friendly and gracious. He had watched many of our fights, so he knew who I was.
"He said to me when we met, 'It's an honor for me to meet you,' and I said back to him, 'It's much more of an honor for me to meet you,' and that was the opening of our meeting."
Merchant said there are three things that stand out in his memory about the interview.
"One was when I asked him about Muhammad Ali and about what he meant to him while he was in prison," Merchant said. "He talked about how important Ali was as a huge international figure throughout Africa, and particularly to him as a former boxer and boxing fan.
"The second thing was that at some point in the interview he sat there and showed me how to throw a left hook. If fireworks could go off in my head, if rainbows could go off in my head, I couldn't have been happier watching Nelson Mandela demonstrate how you throw a left hook and roll your shoulder into it, and he rolled his shoulder into it. He was talking about the correct way to box and how to throw punches."
The third memory Merchant recalled was when he asked Mandela about how he reconciled his beliefs about non-violence and his love for boxing.
"He gave as perfect an answer as was possible," Merchant said. "He said, 'Boxers do it voluntarily.' What he was saying was, he was in favor of political non-violence as a way of changing South Africa because South Africans didn't have a choice in the system of apartheid."
A couple of years later, Merchant got an unexpected message from Mandela when he ran into a South African journalist he was acquainted with at a fight they both attended.
"This journalist came to me and said that Mandela had wanted me to know that he liked this one particular interview I had done with Bernard Hopkins," Merchant said, speaking of a particularly contentious interview he had with Hopkins on HBO after the fighter had beaten Morrade Hakkar, an utterly unworthy mandatory challenger.
"The word I got back from Mandela was that he appreciated the fact that I let Hopkins answer my tough questions in his own way," Merchant said. "It suggested that he was a real boxing fan. I don't know any other significant head of state in modern times who could have been considered a serious boxing fan."
As memorable as interviewing Mandela was for Merchant, there was one disappointment.
Although he has a photo displayed in his home of them sitting across from each other during the interview, Merchant said that when it was over, he and Mandela stood close to each other in a fighting pose.
"But the photographer blew it," Merchant said. "I had in my head an image of blowing that up as big as it could possibly be blown up to put in my office, but it never happened."
The wonderful memory of a great man will suffice.
October, 11, 2013
10/11/13
4:13
PM ET
Former undisputed heavyweight champion and Hall of Famer Lennox Lewis, who announced his retirement in early 2004 and is now 48 years old, is not coming back, is not in talks for a fight with one of the Klitschko brothers and never received an offer for such a fight.

But that didn't stop several members of the breathless British media from running wild this week with their "world exclusive" that England's Lewis had been offered $50 million by an unidentified investor to come out of retirement to face either Wladimir or Vitali Klitschko in a heavyweight title fight, but that Lewis demanded $100 million for such a fight.

In reality, Lewis attended champion Wladimir Klitschko's one-sided title defense against Alexander Povetkin in Moscow last week, where he was asked about fighting a Klitschko. Lewis, of course, retired following his 2003 cut-induced TKO win against Vitali Klitschko and there was speculation about a rematch.

Lewis said the comments he gave to British media members were based strictly on hypotheticals, even though the articles neglected to point that out, making it look as if Lewis was seriously considering a comeback and that talks for a Klitschko fight were taking place.

"I was asked a hypothetical question and gave a hypothetical answer," Lewis told ESPN.com. "There are no negotiations with the Klitchkos. As I've always said, $100 million and I'll get out of my PJs, knowing it would never happen.

"But if the money was real and on the table, I'm all ears. I did say $50 million is not enough to put my legacy on the line, but all this was under cover of a hypothetical comeback. [There is] nothing in the works."
September, 11, 2013
9/11/13
10:15
PM ET

LAS VEGAS -- Floyd Mayweather Jr. versus Canelo Alvarez is the biggest fight of the year, but if you look at the picks compiled by Showtime, Mayweather is the overwhelming favorite to win Saturday night's pay-per-view headliner at the MGM Grand Garden Arena.

Showtime polled 69 fighters and media members. The result was 60 picks for Mayweather, seven for Alvarez and two picked a draw.

Here's a look at how some of the fighters see the fight:

• Mike Tyson: "I've only seen Canelo fight twice -- against [Josesito] Lopez and [Austin] Trout. Trout gave him some trouble and he isn't as experienced and as technically skilled as Floyd is. Floyd stays in tip-top shape and is a very relaxed fighter. He is at his peak. It's going to be hard for anybody to beat Floyd now unless he doesn't train. Floyd has transcended the game so much that the best fighters out there now try to emulate his style. Floyd wins by a decision."

• Lennox Lewis: "Mayweather will win because of his speed and experience. He's been at this level before so that will also be an advantage. He's the best until proven otherwise. Canelo is talented, young, strong and dangerous -- makes it all the more exciting."

• Zab Judah: "Mayweather is too fast and has great timing. I just don't see Canelo hitting him. I don't see Canelo being able to do anything to Floyd."

• Adrien Broner: "Floyd Mayweather will win by KO in the late rounds."

• Paulie Malignaggi: "You can't count Canelo out because he's a natural junior middleweight, so he has a chance. But at the end of the day it's Mayweather winning on points."

• Cristobal Arreola: "[Mayweather has] the experience and he's been in a lot of big fights before. That is not to say Canelo hasn't, but Mayweather has been in more and knows what to do in a fight of this magnitude. I think Canelo took this fight two fights too soon. Mayweather by decision."

• Seth Mitchell: "Floyd's boxing IQ is just too great. His offense, defense is just too good."

• Rafael Marquez: "The winner of this fight is the boxer with the most intelligence and power, and I hope it is going to be Canelo."

• Gary Russell Jr.: "In order for Floyd to beat Canelo, he has to keep Canelo on the outside and outbox him and pot shot him. Floyd needs to make it clear that he's landing the cleaner and more effective punches. For Canelo to win, he needs to make the fight ugly and finish his combinations with a hook. He has to make it ugly and rough for Floyd. If Canelo makes it close, he will win."

• Carlos Molina: "At first it looks like Mayweather's experience and speed will be too much for Canelo. But then you think about it and Canelo is young and strong. This is boxing. You just never know. I would say at this point it is 60-40 Mayweather."

• Lucas Matthysse: "If the fight goes the distance then Floyd Mayweather will win. But if Canelo Alvarez fights intelligently, he could win the fight."
August, 14, 2013
8/14/13
10:37
AM ET
Remember heavyweight David Tua?

At one time, in the second half of the 1990s, the Samoan knockout artist from New Zealand was the No. 1 contender. He was powering through the division and knocking out everyone, including several top opponents of his day -- John Ruiz, David Izon, Hasim Rahman and Oleg Maskaev. But when he got his long-awaited title shot in 2000, he ran into a prime Lennox Lewis and lost a decisive decision.

Tua continued to fight, although he had multiple lengthy layoffs and was never really a top contender again.

The 40-year-old Tua (52-4-2, 43 KOs) has not fought since losing a unanimous decision in a rematch to Monte Barrett in August 2011. He was due to come off his latest long layoff -- almost two years to the day -- Aug. 31 to face Alexander Ustinov (28-1, 21 KOs), who is one fight removed from an 11th-round knockout loss to contender Kubrat Pulev in a title elimination fight last September.

However, according to promoter David Higgins of Duco Events, who was putting on the fight in Hamilton, New Zealand, Tua suffered a grade one calf muscle tear during training last week, forcing the fight to be postponed until Nov. 16.

"This is the fight game and every now and again fighters get injured and plans change," Higgins said. "Alexander and his crew from K2 Promotions have been exceptional. They understand that delays are commonplace in the world of boxing. They couldn't have been more accommodating in terms of accepting the new date. And David Tua, too, has been excellent to deal with. He has put in an enormous amount of work to get himself into peak condition for the bout. But he has kept his spirits up and has accepted the new date and has already begun re-strategizing his buildup."

Russia's Ustinov, who lives in Belarus, will return home and get set for the new date.

"Coming to New Zealand to prepare for Aug. 31 has been great," Ustinov said. "Even though the fight has been delayed, when I come back in November I will know what to expect inside and outside of the ring. These things happen in boxing. I'm just looking forward to the fight and taking on the world famous David Tua."

As for Tua, he said he will remain positive.

"It is what it is," Tua said. "All you can do is be positive, and to be honest, there is plenty to be positive about. The delay gives me even more time to get into peak condition and it also allows me to leave no stone unturned when it comes to the strategy of the fight."
June, 3, 2013
6/03/13
1:47
PM ET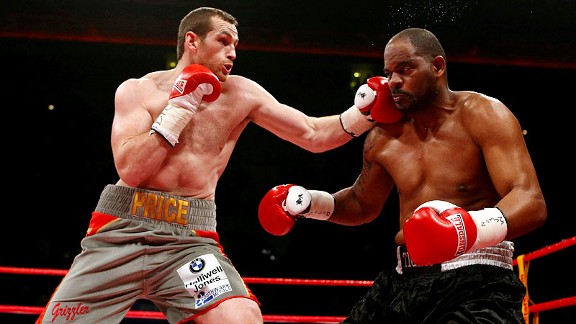 Dave Thompson/Press Association/AP ImagesDavid Price has a plan to enter his rematch with Tony Thompson in a more relaxed state of mind.
Maybe it's hype, maybe it's for real, but heavyweight hopeful David Price has announced an intertesting prefight plan for his next bout.
Price (15-1, 13 KOs) hopes to avenge February's shocking second-round knockout loss at the hands of Tony Thompson (37-3, 25 KOs) of Washington, D.C., when they meet in a rematch on July 6 at Echo Arena in Price's hometown of Liverpool. Price's plan: He said he will have a king-sized bed installed in his dressing room before the fight so that he can take a nice, long nap ahead of time (and, for his sake, hopefully not be put to sleep in the fight).
Price said he got the idea from former heavyweight champ and countryman Lennox Lewis, who is working with him as one of his trainers for the rematch. Price, 29, recently spent three weeks working with Lewis in a training camp in Canada and, according to Price, Lewis figures Price would be more relaxed if he went to bed after he arrived at the venue. So the 6-foot-9 Price said he has asked promoter Frank Maloney to deliver a king-sized bed to his dressing room.
"I will certainly have one there after listening to Lennox telling me what he used to do," Price said. "He always had a bed in his dressing room and had something like two hours sleep before the fight after getting to the arena early. He said that helped him get rid of all the prefight tension because he would switch off, go to sleep and then wake up. It's a good idea and something I will certainly be trying. Look, if someone like Lennox Lewis benefited from that approach, it can't do me any harm, can it?"
Price, a 2008 Olympic bronze medalist and the 2012 ESPN.com prospect of the year, said it was good for him to spend the time working with Lewis, who will be in England two weeks before the fight to continue working with him.
"We always work hard before every fight, but working with Lennox took me to a whole new level of training," Price said. "We got to see what he used to do when he was at the top of his game, and it was an eye-opener. There would be three people watching me punch a bag and as soon as I made a mistake, they were on me. It was a refreshing change and a lot of the training was completely different. It was also good to sit down and talk to Lennox about the obstacles he had to overcome. He showed me so many different things that I wouldn't be able to use them all in this one fight."
May, 15, 2013
5/15/13
2:24
PM ET
Tuneup fights can be a recipe for disaster. Just ask, for example, former heavyweight contender Tommy Morrison.

He had a done deal worth $8 million to fight Lennox Lewis but took what was supposed to be an easy tuneup fight against Michael Bentt in 1993. In shocking fashion, Bentt -- a massive underdog -- knocked Morrison out in just 93 seconds and the huge-money fight with Lewis went down the drain.

Although they would eventually fight two years later, it was not nearly as big of a fight and Morrison made a fraction of the money.

That is perhaps the most stark example of the tuneup fight turning into a nightmare, but there is always a danger and Russia's Alexander Povetkin faces just that when he defends his secondary heavyweight belt against anonymous and untested Andrzej Wawrzyk (27-0, 13 KOs) of Poland on Friday night in Moscow.

If Povetkin (25-0, 17 KOs) blows through Wawrzyk then the decision to fight him will be forgotten. But if Povetkin should lose or get hurt it will be an absolute disaster for him.

Povetkin is going into the fight with a long-awaited showdown against champion Wladimir Klitschko on the schedule for Aug. 31. Klitschko crushed Francesco Pianeta in six one-sided rounds on May 4 in his tuneup defense.

Making the stakes even greater than just Povetkin's shot at the real champion is the sheer amount of money at stake.

When the Klitschko and Povetkin camps could not make a deal the fight went to a purse bid and Russian promoter Vladimir Hryunov, who doesn't promote either fighter, stunned everyone with an astronomical bid of $23,333,330, the third-biggest winning purse bid ever for a fight that most experts believe won't come even close to generating that kind of money. But Hryunov put down his 10 percent deposit and both sides believe his bid is legit and that he won't default.

Based on that massive bid -- which blew away bids from Klitschko's K2 Promotions ($7.13 million) and Povetkin promoter Sauerland Event ($6.014 million) -- Klitschko is due a career-high payday of $17,499,997 (75 percent of the bid) with Povetkin due the remaining 25 percent for a career-best $5,833,333.

Povetkin knows what is at stake Friday but did his best to ignore the Klitschko talk at Wednesday's final news conference.

"I am putting my belt on the line, so this is a very important fight for me," Povetkin said. "I promise to give it all I have. My opponent's name on Friday is Wawrzyk and not Klitschko. I am fully focused on him and want to give the fans inside the arena a great show."

Wawrzyk would love nothing more than to repeat what Bentt did to Morrison 20 years ago.

"As soon as they offered me to fight Povetkin, I accepted," he said. "This could be the chance of a lifetime. I have been in training anyways so I was ready from the get-go and I will try everything possible to burst the bubble that is the fight between Povetkin and Klitschko."
April, 30, 2013
4/30/13
6:56
AM ET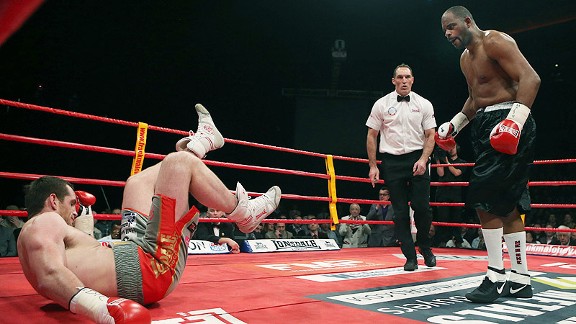 AP Photo/Dave ThompsonDavid Price hopes the tutelage of Lennox Lewis can help ready him for a Tony Thompson rematch.
Hall of Fame former heavyweight champ Lennox Lewis was a star amateur who won an Olympic gold medal. He was also shockingly stopped in a pair of upset losses -- the only defeats of his career -- in world title fights by Oliver McCall and Hasim Rahman, both of which were avenged in knockout victories.
So Lewis, who developed a close relationship with trainer Emanuel Steward -- one of the great boxing minds in history -- took an interest in helping British heavyweight prospect David Price. Lewis knows what Price, a 2008 Olympic bronze medalist and the 2012 ESPN.com prospect of the year, is going through.
In February, the heavily favored Price (15-1, 13 KOs), 29, was shockingly stopped in the second round by 41-year-old American contender Tony Thompson (37-3, 25 KOs). The fighters are now set for a July 6 rematch at Echo Arena in Liverpool, England, Price's hometown.
To help Price prepare for the fight -- and undoubtedly impart some of the wisdom he learned from Steward -- Lewis will come on board as part of Price's training team. About 10 days from now, they will start working together in Canada, where Lewis lived for several years and the country he represented in the Olympics.
"David is a dedicated fighter," Lewis said. "He takes his training seriously and is single-minded in wanting to avenge that defeat. And as a fighter, I understand that and want to help him towards his goal."
Price and longtime trainer Franny Smith have been in talks with Lewis since Price's loss to Thompson.
"This is a fantastic opportunity to be able to work with one of the greatest heavyweights of all time, and I'm sure his knowledge will prove to be invaluable," Price said.
Lewis and Courtney Shand, who was an integral part of Lewis' training team, will work alongside Smith to get Price ready for the Thompson rematch. Lewis said he will also be ringside for the fight.
November, 6, 2012
11/06/12
4:50
PM ET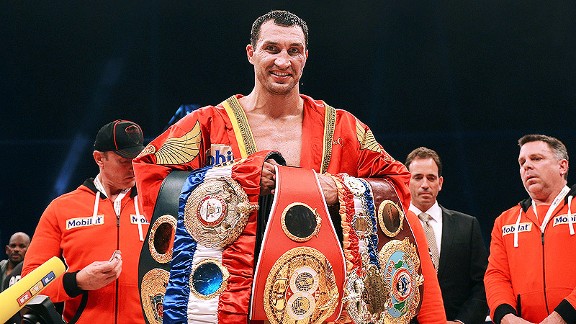 Lars Baron/Bongarts/Getty ImagesBelts or no belts, Wladimir Klitschko has firmly re-established the heavyweight championship lineage.
Since the dawn of the alphabet age of boxing belts in the mid-1980s, a lot of fighters have held versions of the heavyweight title.
Many of them have been good big men who happened to pick up a trinket but were never regarded as the legitimate champ. There were forgettable reigns of mere titleholders such as Herbie Hide, Oleg Maskaev, John Tate, James "Bonecrusher" Smith, Tony Tucker, Michael Bentt, David Haye and several others.
What counts in my book, especially in the heavyweight division, is the lineal championship (some call it the linear championship). That is, the man who beat the man, who beat the man, etc., regardless of which belt the champ holds, or even if he doesn't hold one at all (which has happened).
We're talking about men such as Jack Johnson, Jack Dempsey, Joe Louis, Rocky Marciano, Sonny Liston, Muhammad Ali, Joe Frazier and George Foreman.
The heavyweight lineage has had a few breaks in the more than 120 years since John L. Sullivan became the first champion, but generally an accepted new lineage has been established when the two leading legitimate contenders (not just some manufactured alphabet-rated guys) have met.
It isn't exact science, to be sure, but the identity of the lineal champion is often easy to determine. When Mike Tyson had all of the sanctioning body belts, he still wasn't the lineal champion. He couldn't make that claim until after he knocked out Michael Spinks, who, despite having been stripped of his alphabet title, carried on the lineage because he had defeated Larry Holmes.
Of course, when Buster Douglas knocked out Tyson, he claimed organization titles as well as the lineage. Then Evander Holyfield knocked Douglas out, and on and on it went.
When Foreman knocked out Michael Moorer in 1994 to become the lineal champ (for the second time, 20 years after his first reign), he claimed two of the main alphabet belts. Foreman was eventually stripped of both for failing to make mandatory defenses, but that had no bearing on the lineage. The only way to lose that title is to fall in the ring or retire (or move to another division).
In 1997, Foreman, sans any belts, lost a controversial decision to Shannon Briggs. It was one of the worst decisions in heavyweight history, and Foreman never fought again. But the silver lining in the mess was that Briggs held the lineage when he faced alphabet titleholder Lennox Lewis in 1998. Lewis waxed him in five rounds to hold on to his trinket and, more important, assume the lineage.
Lewis kept it until 2001, when Hasim Rahman knocked him out, then regained it later that year when he drilled Rahman in the rematch. But then Lewis retired in early 2004, breaking the lineage.
This is where recent heavyweight lineage gets a bit murky.
In his final bout, Lewis defeated Vitali Klitschko, the clear No. 1 contender, in a very competitive fight that Klitschko was winning on the scorecards until it was stopped because of his badly cut eye. Under the circumstances, it was only logical that Klitschko should be involved in the fight to re-establish the lineage.
Fighting for the alphabet belt that Lewis vacated upon his retirement, Klitschko eventually faced the late Corrie Sanders, a legitimate contender who was coming off an upset knockout win against titleholder Wladimir Klitschko, Vitali's younger brother.
Vitali Klitschko stopped Sanders in the eighth round in April 2004 in an excellent fight. Besides winning a vacant alphabet belt, Klitschko was also awarded the vacant Ring magazine title, which had been created to clearly identify the legitimate champion in each division (before the magazine's championship policy had been radically altered and muddled).
There are many who view Vitali's victory over Sanders as his having re-established the lineage following Lewis' retirement. Others aren't so sure.
Regardless, after Klitschko defeated Danny Williams in his next fight, he retired for nearly four years because of various injuries. That broke the lineage again (or, depending on your view, left it unrepaired post-Lewis).
But during Vitali's retirement, Wladimir emerged as the dominant heavyweight force. In 2006, he won an alphabet belt by knocking out Chris Byrd (who owns a win over Vitali), and in 2008 he unified two belts.
It wasn't until 2009 that Wladimir re-established the lineage. The Ring title was still legit at that time, when he thrashed leading contender Ruslan Chagaev, who, for good measure, had never lost his alphabet belt in the ring (he had been stripped).
Thus, whatever your perception is of Vitali's claim on the lineage, Wladimir has clearly restored it.
Even if, on its own, hammering Chagaev wasn't enough, Klitschko surely should have persuaded any remaining doubters by now, having won five more fights in a row (four by knockout) against mostly top contenders to firmly establish himself as the man in the weight class -- the legitimate and lineal champion.
The next lineal champ will be the man who beats Wladimir. And if Wladimir retires and the lineage is broken, we'll just have to wait and see who can restore it.