Dan Rafael:

Leonard Ellerbe
September, 18, 2014
Sep 18
3:43
PM ET
Floyd Mayweather Jr. had just beaten Marcos Maidana in their rematch Saturday night and did so in far easier fashion than when they met in May. Yet when Mayweather arrived at the news conference after the fight, he did not seem happy.
Instead, Mayweather was low-key -- well, at least as low-key as Mayweather is capable of being. There was no boasting, no direction to chant, "Hard work! Dedication!" Even before the fight, Mayweather's ring walk was decidedly uneventful with zero of the usual theatrics we've become accustomed to. Shoot, for the first Maidana fight in May, there were juggling clowns leading him to the ring!
[+] Enlarge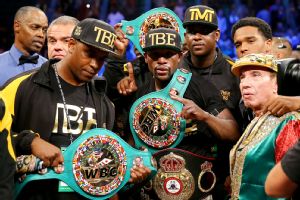 Al Bello/Getty ImagesDespite a clear victory over Marcos Maidana in their rematch, turmoil persisted within Floyd Mayweather Jr.'s corner.
Now it seems as though there is a reason: Mayweather was not a happy camper going into the rematch, and he appears ready to clean house on his team with the possible ouster of longtime adviser Leonard Ellerbe, now the CEO of Mayweather Promotions, and longtime cutman/hand wrapper Rafael Garcia.
"I think we're just getting to a point where we're outgrowing each other. I think I just see things my way and I think he sees things in another way," Mayweather was quoted as saying in an interview with Fighthype.com, which has served as Mayweather's mouthpiece website for years. "For example, this time around when I went out and fought, my WBC and WBA titles in both weight classes were on the line and I didn't approve of that at all. That's something I didn't approve of.
"Also, my daughter was sitting in the front row and her mother wasn't sitting next to her, so the ticket arrangements were totally wrong. It just got to a point to where everyone wants to do what they want to do instead of communicating and compromising like we used to. We got to this point by us communicating and compromising. ... There's just a lot of other things within our team that's just not right. Leonard wasn't in my corner, so, you know, it's not any hard feelings. It's just people outgrow one another. I'm not mad at him. There's no hard feeling like I hate the guy; not at all. No hard feelings whatsoever. People just outgrow one another, just like when people get a divorce. They're no longer on the same page mentally.'
Ellerbe could not be reached for comment, as his cell phone continually went directly to voice mail. Kelly Swanson, Mayweather's longtime publicist, also could not be reached for comment.
After wrapping Mayweather's hands and serving as his cutman since 2001, Garcia did not wrap Mayweather for Saturday's fight and apparently was not happy about it. Mayweather said that Bob Ware took over the duties after being shown an alternative method by former Maidana strength and conditioning coach Alex Ariza, who was an unofficial member of Mayweather's camp after being fired by Maidana trainer Robert Garcia.
"He's one of the best, if not the best, but even Alex was able to show Rafael some different things, which was great, and then Bob, he wrapped my hands in training camp and it was the best it felt in my life," Mayweather told the website. "But I told Rafael that we work together as one, as a team, and his pay is not going to change. I told him there's enough to go around. ... I love Rafael and I'm going to always love him, but I don't know who's out and who's in. I don't know if Rafael Garcia left me. I don't know."
Garcia told ESPNDeportes.com that
he will retire
before hearing Mayweather's decision.
One thing Mayweather made clear is that adviser Al Haymon will remain on his team.
"I think when May [the likely next fight] comes around and you guys see [Showtime's] 'All Access' in May, I'll have a totally new team and probably a totally new staff," Mayweather said. "We may make a lot of changes in my team, but Al Haymon ain't going nowhere."
There has been rampant speculation that former Golden Boy CEO Richard Schaefer, with whom Mayweather is close, could be headed to Mayweather Promotions. If Ellerbe is out, it will only stoke the speculation that Schaefer is on his way, although he is embroiled in a $50 million arbitration with Golden Boy, which claims he is under contract into 2018.
Schaefer, who attended Saturday's fight and sat in the front row near Mayweather's corner, was traveling outside the country and told ESPN.com only, "I am retired for now."
September, 9, 2014
Sep 9
8:33
AM ET
The glove situation for the rematch between welterweight champ Floyd Mayweather Jr. and former titlist Marcos Maidana is all squared away for their rematch on Saturday night (Showtime PPV, 8 ET), isn't it?
Yes?
When asked on a recent media teleconference whether Maidana would be wearing a pair of Everlast Powerlock model gloves, Maidana trainer Robert Garcia said, "I'm still not very sure. I know [Maidana manager] Sebastian Contursi is still on that. I haven't talked to him lately. I know Maidana was still asking me if we had resolved that. I told him no. So maybe that's a question Sebastian or maybe [Mayweather Promotions CEO] Leonard Ellerbe could answer, but we have no problem. We don't have a problem with the Powerlocks.
"We just wanted enough time to train and not use them the day of the fight when we had never worn those gloves before. There is no problem. The Powerlock is a good glove, and we have to wear that. We are already training in it just in case, but I have no problem. I'm already training my fighter to be prepared for that."
At that point, Ellerbe, who was also on the call, interjected, "Yes, Marcos will be fighting in the Powerlock gloves."
The day before Mayweather outpointed Maidana in a rough majority decision in May, there was a raging debate over which gloves Maidana would wear.
Mayweather was just fine in his normal Grant gloves. But he had a problem with Maidana's pair of custom Everlast MX gloves and complained to the Nevada State Athletic Commission, which disallowed the custom model at the rules meeting after the weigh-in over concerns about how the padding was distributed.
Maidana's team didn't argue the point too strenuously, and then the commission approved a pair of stock Everlast MX gloves. But Mayweather still was unhappy and refused to fight him if he wore that model, which are supposed to be conducive to punchers like Maidana.
Ultimately the managers made a deal in which Maidana agreed to compete in a pair of regular Everlast gloves after threats that the fight would be called off.
I was told by a source directly involved in the fight who had knowledge of the agreement that Maidana was paid $1.5 million on top of his purse to switch, even though Maidana denies it. Team Mayweather has declined to discuss whether a deal was made.
[+] Enlarge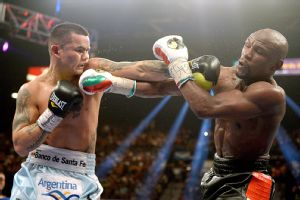 Harry How/Getty ImagesMarcos Maidana, left, was forced to change gloves the day before of the first meeting with Floyd Mayweather Jr.
"There were rumors that I got paid to use Floyd's gloves, but that's not true," Maidana said through a translator. "I had to accept his gloves because otherwise there was not going to be a fight. He basically called off the fight if I didn't use his gloves, so I had to. I had no choice. Unlike him, I had come to fight, not to whine."
However, it is incomprehensible that Mayweather would have walked out on a guaranteed minimum purse of $32 million and left himself open to never-ending criticism and possible litigation over canceling a fight because of a pair of commission-approved gloves.
In any event, it appears Maidana will wear the Everlast Powerlock gloves on Saturday.
"There's nothing we can do. We agreed, we're fighting in those gloves, so there's not going to be no excuses," Garcia said. "The fight is going to be the fight, but it does make a difference, and Mayweather's the only fighter that can make those calls, make those decisions, and we also have to understand that that's the way it is. That's what business is. But no, we are not going to have any, and we can't have any excuses."
Maidana said the sudden change in his model of glove did affect him in the May fight.
"In our first fight, the glove issue affected me a little," he said through a translator. "But now, I know how [Mayweather] operates, and if he wants different gloves, I'll have different gloves waiting for him. I'll bring a few options so I'm not caught off guard again.
"One hundred percent the gloves made a difference in the last fight. The gloves I use are fit to my hand and are more comfortable. But the ones that I was forced to wear were not comfortable. But the bottom line is, this time I'm going to win with any glove that I wear."
September, 6, 2014
Sep 6
3:23
PM ET
Mayweather Promotions announced Friday that it has signed a pair of fighters –- Junior Benjamin and Kevin Newman II -- both of whom will make their professional debuts on the undercard of Floyd Mayweather Jr.'s rematch with Marcos Maidana on Sept. 13 at the MGM Grand in Las Vegas.

"We couldn't be more thrilled about how Mayweather Promotions is continuing to grow and how top talent from around the world are recognizing our progress and are eager to join the team," Mayweather Promotions chief executive Leonard Ellerbe said.

Benjamin, 20, is a featherweight from England who has been training at Mayweather's Las Vegas gym.

"It's a dream come true to be promoted by Mayweather Promotions," Benjamin said. "Anyone that knows me and my uncle [trainer Tunde Ajayi] knows that it has been our dream from day one. To finally have it happen proves that if you believe in God first, work hard and dedicate yourself to your job, dreams come true. I'm making my pro debut on the biggest boxing stage of the year, and I want to thank Floyd Mayweather and Leonard Ellerbe for giving me this opportunity."

Newman, 22, of Las Vegas, is also a super middleweight. He is trained by Jeff Mayweather, Floyd's uncle.

"This is a blessing. It's really a dream come true," he said. "I'm humbled by it. This is where everyone wants to get to, and I'm glad and thankful to be here."
February, 3, 2014
Feb 3
3:15
PM ET
Super middleweight contenders James DeGale and Badou Jack are supposed to meet in a title elimination bout for the right to become the mandatory challenger to world titleholder Sakio Bika.

However, since the deal between the camps has not been made, DeGale (17-1, 11 KOs), 28, is going to fight an interim bout March 1 in Bristol, England.

His opponent for the scheduled 12-round fight will be Gevorg Khatchikian, promoter Mick Hennessy announced Monday. The fight will be televised in the United Kingdom on Channel 5.

"I'm looking forward to it," said DeGale, a 2008 Olympic gold medalist. "You're going to see a lot more power, a lot more spite -- an aggressive me -- and you'll see a good finish. [Khatchikian is] in trouble, trust me."

The fight with Khatchikian (20-0, 8 KOs), 25, of the Netherlands, should be DeGale's last bout before meeting Jack (16-0-1, 11 KOs).

Hennessy said he hoped to make a deal with Jack promoter Leonard Ellerbe of Mayweather Promotions in order to stage the bout on March 1 in England, but Ellerbe said they were not interested in going to England for the fight. If they don't make a deal, a purse bid is supposed to take place March 14 -- unless DeGale loses March 1, in which case he would probably be removed from the eliminator.

Even though the Jack fight looms, DeGale said he is not looking past Khatchikian, who has a sterling record but one built against extremely low-level opposition.

"I'm not looking too far past him," DeGale said. "He's unbeaten, he's ambitious, and he's coming to win. I've had a look at him on YouTube, and he's tough, he's game, he likes to have a fight, he's kind of fast. But the way I'm feeling now, I'm going to look to put on a wicked performance and prove that I am world class and I'm ready to box for the world title and win the world title."
November, 12, 2013
11/12/13
5:13
PM ET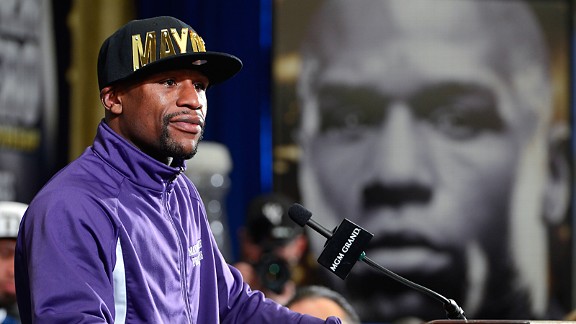 Jeff Bottari/Golden Boy/Golden Boy/Getty ImagesDespite recent reports, Floyd Mayweather Jr.'s camp claims he has yet to choose his next opponent.
For the past few weeks, British media members have been writing breathlessly in their so-called "world exclusives" that Floyd Mayweather Jr.'s next fight in May will be against England's Amir Khan.
In recent days, one publication again declared the fight a done deal, without so much as even citing an unnamed source. There were no quotes, no specifics, no nothing. Just a lot of declarative statements with no sources whatsoever.
Now, there sure is a good chance that Mayweather's next fight will indeed be a welterweight title defense against the chinny former junior welterweight titleholder. But it's simply not a done deal as some have wrongly reported, according to Leonard Ellerbe, Mayweather's adviser.
But why let the facts get in the way of a good story, right?
"How many times have you heard rumors in this business about things being done and it's not even close to the case," Ellerbe said. "It's the nature of the boxing business. I've heard Floyd is fighting Tim Bradley next. I heard a lot of things. We just sit back and laugh. It's hilarious.
"I don't know what we're doing next. Floyd Mayweather is the topic of everyone's conversations. I've heard things from we're fighting Bernard Hopkins to Amir Khan. You hear a lot of things that people say and all you can do is sit back and laugh. But it's great to be in a position where everyone wants to fight the king. He represents the biggest payday for any fighter out there if their number gets called. I can't blame them for speculation or rumors.
"But we haven't had one conversation about any of that [about his next fight]. Floyd is relaxing and enjoying the time off. He is enjoying time with his family and marveling at the record breaking year he has had."
Mayweather, the pound-for-pound king, has had a huge 2013 and is a frontrunner for fighter of the year honors. He defended his welterweight crown in May with a near-shutout of Robert Guerrero in the first fight of his mega deal with Showtime/CBS. In September, he returned to easily outpoint Canelo Alvarez in a junior middleweight unification fight that generated 2.2 million pay-per-views buys (second all time) and set the numerous other records, including the all-time pay-per-view revenue mark of $150 million.
"Floyd is not even thinking about who he is fighting next," Ellerbe said. "He's relaxing. He has had a record-breaking year where he made a sh--load of money and had two phenomenal performances."
So what about the premature and/or wrong stories about Mayweather-Khan being a done deal?
"Everyone knows when it's time to go out and do something they know who it will come from," Ellerbe said. "Floyd determines how, when, where and what he is doing. He is calling all the shots. So until you hear it from Floyd it is what it is -- rumors. We're not even thinking about what's next. We ain't working on nothin'."
September, 11, 2013
9/11/13
10:00
AM ET

LAS VEGAS -- So which side was it that suggested that Floyd Mayweather Jr. and Canelo Alvarez, both holders of 154-pound world titles, have their super fight on Saturday (Showtime PPV, 9 p.m. ET) at the MGM Grand Garden Arena at a catch weight of 152 pounds?

It's the biggest mystery of the fight, a case of he said, he said. However, Alvarez -- the naturally bigger man with no interest in dropping more weight than he has to -- certainly has the more believable story than Mayweather, the smaller man and also a reigning 147-pound champion.

The sides have argued about who was responsible for the deal point since the fight was made.

As soon as the fight was signed in late May, Alvarez said it was the Mayweather side that wanted the catch weight.

"To make the fight I had to give a little, he had to give a little, too," Alvarez said at the time. "I feel it was fair, and both sides are happy. He fought [with a contract weight of] 154 before, but he wanted the [catch weight] and I accepted it. He gave a little, I gave a little, and we got the fight done."

Mayweather adviser Leonard Ellerbe immediately took exception and called Alvarez a liar.

Fast-forward to Tuesday, when Alvarez met the media after the grand arrivals at the casino and revealed more details about how the catch weight drama went down.

"I'm the bigger guy, why would I give up weight?" Alvarez said through translator Eric Gomez, the Golden Boy Promotions matchmaker. "You want to know what happened? I'll tell you what happened. They asked me to come to 147, to fight at welterweight. I told them, 'No way, those days are over for me.' Then they said let's do the fight at 150. I said I couldn't do that. Then 151. Then we finally agreed on 152.

"I would come down two pounds to make this important fight. They told us not to disclose anything [to the media] and we were fine with that. The reason why we are talking about the weight today is because they called us idiots and they are lying."

Indeed, Ellerbe has been disparaging Alvarez and manager Chepo Reynoso. He called Reynoso "an idiot manager" and insists that Alvarez suggested the catch weight. On last week's third episode of Showtime's "All Access" series, which has been following the buildup to the fight, Ellerbe talked about it.

"His management put out something on [the website] BoxingScene that they would be willing to fight at a catch weight," Ellerbe said in the episode. "Because his management is inept, we take advantage of those kinds of things. Why would we go in a different direction? They suggested it, why would we say no and do something different? They put him at a disadvantage, his management did."

On Tuesday, Mayweather declined to discuss the catch weight -- something he has previously railed against Manny Pacquiao for insisting on in some of his recent fights -- but Ellerbe spoke out again.

"We took advantage of a situation," Ellerbe said. "The kid suggested it himself a long time ago. He put himself out there like that and we're going to hold his feet to the fire."

Previously, Mayweather did address the 152-pound decision.

"He's not forced to do nothing he don't want to do," Mayweather said of Alvarez. "If he wanted the fight, he could take it. If he don't want it, he don't got to.

"The weight is what it is. That's all I have to say. We can't talk about what-ifs or woulda, coulda and shoulda. The weight is what it is. Leonard is the first to tell me about what they asked for. We went back and forth negotiating with their team. We finally came up with something where both parties were happy and we made the fight happen."

Although Alvarez has to lose two more pounds than usual to get to 152, he said on Tuesday that he was already at 153, so making 152 by Friday's weigh-in would be no issue.

"I've been able to make the weight in the past without a problem," Alvarez said. "In fact, in my most recent fights I've been under on the day of the weigh-in. I really don't do that much work, so I think that it's going to be fine. I feel very, very good right now, and in fact, I think it's going to help me. I'm going to be a lot faster."
September, 5, 2013
9/05/13
1:16
PM ET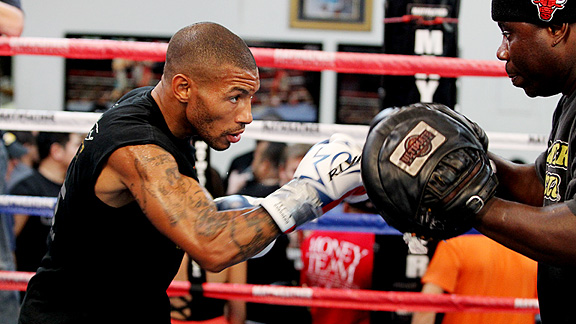 Tom Hogan/Hoganphotos/Golden Boy PromotionsWelterweight Ashley Theophane looks to make a big impression on Sept. 14 against Pablo Cesar Cano.
Floyd Mayweather Jr. liked what he saw in British welterweight Ashley Theophane, and that meant a lot -- enough to land him a coveted slot on the undercard of the year's biggest fight, Mayweather's junior middleweight unification match with Canelo Alvarez.
The world will be paying attention to the main event Sept. 14 (Showtime PPV) at the MGM Grand, not to mention the A+ co-feature -- junior welterweight titlist Danny Garcia against Lucas Matthysse -- giving Theophane a big opportunity to also make an impression before a worldwide audience against Mexico's experienced Pablo Cesar Cano (26-3-1, 20 KOs) in the pay-per-view opener.
Only a week after signing with Mayweather Promotions this summer, Theophane was rewarded with the fight. How the former British junior welterweight champion wound up so tight with Mayweather was the product of hard work in his gym.
"Ashley's a gentleman that I'm very familiar with," said Leonard Ellerbe, CEO of Mayweather Promotions. "I've been watching him work for the last couple months."
Ellerbe said he was also familiar with Theophane from his hard-fought 2010 split decision loss to Garcia.
"It was a fight that I personally thought that he got the bad end of the stick," Ellerbe said. "And he's a gentleman that has tremendous character. I think that he's had a tough road, with going in other fighters' backyards and getting it done the hard way. So now with us, with him being part of Mayweather Promotions, I think that we're going to go out and create these opportunities, and he just has to go out and win. And I think that he will be a guy that the world will get a chance to see on Sept. 14. He'll put on a tremendous fight, and he's going to make a lot of noise."
Theophane (33-5-1, 10 KOs), 33, has won some and lost some against better opponents (and never been stopped). He lost to Garcia and Ali Oubaali. He has defeated junior welterweight titlist DeMarcus "Chop Chop" Corley and former two-time title challenger Delvin Rodriguez.
"

He's fought Erik Morales. He's fought Paulie Malignaggi. He's fought Johan Perez, Shane Mosley. He is a very tough operator, and I'm going to be in great shape.

"

--Ashley Theophane on Pablo Cesar Cano, his opponent on Sept. 14.
The road to this opportunity began when Theophane met Mayweather last year during his training camp for Miguel Cotto. Theophane, training in New York, decided to go to Las Vegas for two weeks and was allowed to work at Mayweather's gym.
"Leonard and Floyd were very nice to me. The sparring there, it was great," Theophane said. "When I left back [to New York], I wished Floyd well in his fight with Miguel Cotto, and then the next time came the Robert Guerrero fight [that Mayweather had in May], and I said I'll go out to Vegas again. Went out to Vegas for four weeks for this time. I was sparring with great guys, and I just liked the vibe at the gym."
Theophane said that it was such a good experience that he stayed for Mayweather's whole camp and that Mayweather and Ellerbe were impressed by his work ethic.
"I think Leonard and Floyd just heard about the work that I was putting in the gym, and then I got to spar with Floyd and it was just step-by-step, bit-by-bit, just keep working, the way I've done my whole career," Theophane said. "Floyd and Leonard listened to what others were saying, that I was a good boxer and they got my record, and then the rest is history. I signed up with Mayweather Promotions to take it to the next level."
Theophane is pumped to be part of such a big show in his first fight with Mayweather Promotions.
"It's the biggest boxing event in the world. It's going to be one of the biggest ever and it's a big achievement on that," he said. "Leonard and Floyd have put me on the card and I'm looking forward to it. And for me, obviously, I've got Pablo Cano. He's fought Erik Morales. He's fought Paulie Malignaggi. He's fought Johan Perez, Shane Mosley. He is a very tough operator, and I'm going to be in great shape. I'm training with the best in the world. I've got a great training team, and we're going to be ready for 'The One' and it's an honor to be on the show."
Ultimately, Theophane hopes connecting with Mayweather will lead him to an elusive world title.
"I still feel good. I haven't been in many hard fights because I'm a smart boxer and I have a good defense," Theophane said. "The age, it doesn't play a role. I eat well. I don't smoke. I don't drink. You don't see me out in the clubs, so the age is not an issue."
August, 30, 2013
8/30/13
5:11
PM ET

With training camp winding down ahead of his Sept. 14 megafight against fellow junior middleweight titleholder Canelo Alvarez at the MGM Grand in Las Vegas, Floyd Mayweather Jr. opened his gym for media day this week.

Mayweather hit the mitts, heavy bag and speed bag, jumped rope, stretched, did calisthenics and, of course, did a ton of interviews.

Mayweather fought in May, easily outpointing Robert Guerrero, and is returning very quickly -- at least by his usual standards. Without a long layoff, Mayweather figures to be in better form than usual, a scary prospect.

"I think I'll be a lot sharper for this fight," Mayweather said. "My training camp has been great. Actually, this is one of my best training camps I've had, probably since 2005. On my first day back, I got right back into sparring. I think I sparred seven rounds.

"I've been boxing a lot of rounds, so I'm sharp. I'm in great condition and happy to get right back in there. I feel tremendous."

The fight, although to be contested for the 154-pound titles that Mayweather and Alvarez hold, is at a catchweight of 152 pounds, which is more of a concession by Alvarez to the smaller Mayweather, who has no issues making weight.

"My weight is made," Mayweather said. "I came into training camp weighing 150 or 149 and I came into the gym [for Thursday's media day] probably weighing 150 or 149. "Canelo is a solid competitor, but it is what it is: I've faced the best in this sport, I know what it takes to be involved in a fight of this magnitude and I'm dedicated to my craft. I was born for this."

Mayweather also talked up the match that so many fight fans are anxious to see.

"This is a great matchup. He's a puncher. I'm a sharp boxer," he said. "You know, a lot of times I hit these guys and I make them go into survival mode. Even in the Robert Guerrero fight, I was looking for the knockout, but I hurt my hand. So I wasn't impressed with myself, because I didn't get the knockout. This time around, I'll be looking for the knockout.

"He's banking on his youth, I'm banking on my experience. I have a lot of experience in championship fights. Look at his résumé, look at my résumé and see what you come up with."

Mayweather has faced numerous titleholders, former titleholders or future titleholders and many fighters who will someday be in the Hall of Fame. Alvarez's experience level isn't even close, but Mayweather said he believes Alvarez is one of the best active fighters.

"He is one of the best in boxing at this particular time. He's young and strong," Mayweather said. "He's got guts, so we'll see how the fight plays out.

"It's not about the weight, it's about the skills. The skills pay the bills. I can't wait to get in there and compete and test my skills against this young guy. I feel good. I'm still hungry."

One of the many topics Mayweather addressed was the prediction from Alvarez and Golden Boy promoter (and former Mayweather victim) that Canelo would win by knockout.

"Did Canelo KO [April opponent] Austin Trout? This is a whole different ballgame," Mayweather said. "He may be predicting a knockout, but all you have to do is look at the opponents he's faced. I really don't know too many, but a lot of the guys went the distance with him. And we're not just talking about A-fighters, but D- and C-fighters. Guys that he should have knocked out in the fourth round, they were able to go into the eighth and ninth rounds even though they were caught with numerous shots. I don't think Ricky Hatton's brother [Matthew] is on the level of a Floyd Mayweather."

As for De La Hoya making the KO prediction?

"Oscar said he was gonna knock me out also," Mayweather said. "Did you see what happened in that fight? People are entitled to their opinion. People are going to say what they're going to say. My job is to be the best I can be and continue to do my job. There's a reason I do record-breaking numbers."
April, 30, 2013
4/30/13
10:32
AM ET
Pound-for-pound king Floyd Mayweather Jr. has never boxed outside of the United States as a professional and has not fought outside of Las Vegas since a 2005 fight against Sharmba Mitchell, which took place in Portland, Ore. That's eight consecutive fights in Sin City.

Yet Mayweather, who defends his welterweight title against interim titlist Robert Guerrero on Saturday night (Showtime PPV, 9 ET) at the MGM Grand in Las Vegas, has often mentioned the possibility of going on the road, specifically to the United Kingdom, at some point before his career is over.

Leonard Ellerbe, Mayweather's adviser, reiterated that prospect, saying that Mayweather hopes to fight there at some point in the next 18 months.

"Floyd cannot wait until we can come over there and give the U.K. fans a big, big fight," Ellerbe said. "Floyd has a tremendous fan base in the U.K. and we're looking at working on something now where he's going to come over there. Ever since the Ricky Hatton fight back in 2007, U.K. fans have been very loyal to Floyd and he definitely acknowledges that and he wants to bring a big, big event to the U.K.

"There's definitely a very strong possibility that Floyd will fight in the U.K. We'll see how this thing plays out. His focus is Saturday night and then we'll go from there. But we're definitely going to bring a big, big event to the U.K."

I will, of course, believe it when I see it. The "Money" man loves Las Vegas, which is where he also lives and trains. I'd say there's at least a remote chance of it happening.

Fighting overseas is complicated because of the need to time the main event to United States primetime for pay-per-view purposes, but you never know.

If Mayweather did take his game to the U.K., it would not surprise me at all if he faced England's Amir Khan, a former unified junior welterweight titlist. Khan tested the welterweight waters on Saturday night, struggling to a 12-round decision win against Julio Diaz in a fight with a contract weight of 143 pounds. But if Mayweather did pick him to fight, it would probably be an easy deal to make because Khan is with Golden Boy Promotions, the company that will be promoting Mayweather's seventh consecutive fight on Saturday night.
January, 18, 2013
1/18/13
1:24
PM ET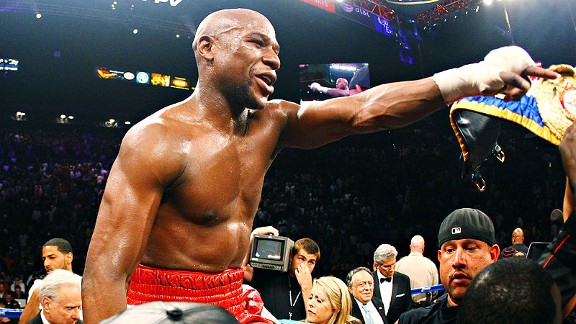 Al Bello/Getty ImagesWhile Floyd Mayweather Jr. is expected to return on May 4, the exact details have yet to be finalized.
I can't look at my Twitter or Facebook pages without seeing a variation of one single question being asked dozens of times per day -- every day -- for about the last two months, back to when pound-for-pound king Floyd Mayweather Jr., through adviser Leonard Ellerbe, announced he was going to fight May 4 at the MGM Grand in Las Vegas.
The question goes something like this: What's up with the Mayweather fight?
Here is what's up: He still plans to fight on that date, there is no official opponent just yet (and when there is you can be sure it will be covered on ESPN.com) and there is no date set yet for the official announcement.
In other words, it's status quo and not an issue, Ellerbe told me when we spoke on Thursday evening.
"Any time you're talking about tens of millions of dollars it's always a process," Ellerbe said. "Floyd is the biggest thing in sports, so when he comes out, he's coming out with a bang. So we don't rush to do anything.
"But we are going on May 4 and it's going to be a spectacular event."
Clearly Mayweather, who holds titles at welterweight and junior middleweight (and remarkably has been allowed to keep both for many months, contrary to sanctioning body rules) will be fighting either interim welterweight titlist Robert Guerrero or junior middleweight titlist Saul "Canelo" Alvarez.
My money is on Guerrero getting the fight.
There's been a lot of discussion about Alvarez perhaps being on the May 4 undercard. My belief since all this began is that the only way Alvarez would agree to go on the undercard is if he had a done deal to face Mayweather in the fall (he also said he will fight in September), as long as they both win in May.
If that is the case, these are complicated deals to finalize. In essence, Golden Boy promoter Richard Schaefer, the point person putting everything together and the promoter of Guerrero and Alvarez, would be doing deals for multiple fights: Mayweather-Guerrero, terms of a rematch in the event Guerrero wins, Alvarez's undercard fight (and, no, I don't think it would be against titlist Austin Trout) and the fall Mayweather-Alvarez fight, not to mention terms for that rematch clause.
You can see why it might take a while to get this all nailed down, especially since Schaefer has been out of the country for most of the past two weeks.
It could also be a situation where Mayweather is negotiating deals with Guerrero and Alvarez simultaneously and using the leverage of both wanting to fight him to get the deal with his preferred opponent exactly how he wants it.
Ellerbe, poker player 'til the end, wasn't giving up anything.
"We don't have a timeline [for an announcement]," Ellerbe said. "Everybody is working hard at doing what we need to do be able to move forward on May 4 and it's a lot of work."
If history is any indication, you can count on an announcement by the Super Bowl, because the promotion will want to kick off with the fighters heading to the big game to angle for attention from the media throng.
Another aspect of the fight that has not been announced is which television company will handle the pay-per-view: HBO, Mayweather's career-long home, or Showtime, which is now closely aligned with Golden Boy and badly wants Mayweather. My money is on HBO retaining Mayweather's services but who knows? Mayweather's people could be playing them off each other to get the exact deal he wants.
Whatever is up with the business side of things, Ellerbe said Mayweather is not yet in serious training, but that he's been in the gym.
"Floyd has been around the gym," Ellerbe said. "He stays around the gym and keeps his body in great condition."
The fight will be Mayweather's first since May 5, 2012, when he outpointed Miguel Cotto in a terrific fight to win a junior middleweight belt.