Dan Rafael:

Lionell Thompson
February, 21, 2014
Feb 21
1:58
PM ET
Main Events doesn't have a deep stable of fighters under contract, but many of the fighters it does promote are in the light heavyweight and heavyweight divisions.

At light heavyweight, its central figure is titleholder Sergey Kovalev. A good promoter is always looking to build interest in a division in which it has a stake as well as build opponents for the star to fight.

That brings us to Cuban light heavyweight Sullivan Barrera (10-0, 6 KOs), who signed Thursday with Main Events, adding yet another 175-pounder to a roster that already includes Kovalev, Anatoliy Dudchenko, Isaac Chilemba, Lionell Thompson and Ilshat Khusnulgatin.

"I am very happy and very excited. I thank Main Events for the opportunity to let people know who Sullivan Barrera is," Barrera said. "I feel I am the best in the light heavyweight division. The problem I've faced is that I wasn't given the opportunity to compete. Now that Main Events will give me the opportunity, I will be able to show my talent."

Barrera figures to gain national exposure on Main Events' slate of "Fight Night" cards on the NBC Sports network.

"We are very excited to have Barrera on board with us here at Main Events. He has it in him to be an electrifying performer and the sky is the limit," Main Events chief executive Kathy Duva said.

Barrera, 31, lives in Miami and turned pro in 2009, and he has had long stretches of inactivity. He fought only twice in 2011 and once each in 2012 and 2013. But as an amateur, he was 282-27 and holds victories against former light heavyweight world champion Chad Dawson and reigning titleholder Beibut Shumenov.

Barrera found his way to Main Events in part because his adviser, Egis Klimas, manages Kovalev and Khusnulgatin.

"Sullivan was always a fighter, but even as a veteran he continues to want to learn more," trainer Milton Lacroix said. "He wants to continue progressing towards his ultimate goal, which is to be the best light heavyweight and champion of the world."

Said Klimas, "The light heavyweight division is getting to be one of the most interesting in boxing today, with champions like Bernard Hopkins, Beibut Shumenov, Adonis Stevenson and Sergey Kovalev. When we started with Sergey in 2009, the division was almost dead. We have a lot of young talents coming up into the division, young and aggressive fighters. Adding Sullivan Barrera to my list of fighters is great. He was not recognized for some time, just like Sergey Kovalev, until we signed him with Main Events."

November, 5, 2013
11/05/13
6:55
PM ET
Heavyweights Amir Mansour and Kelvin Price will fight in a 10-rounder in the main event of the final "Fight Night" card of the year on Dec. 14, Main Events announced Tuesday.

In the co-feature of the card (8 p.m. ET, NBC Sports Net) at the Resorts Casino and Hotel in Atlantic City, N.J., light heavyweight Lionell Thompson, who recently signed with Main Events, will face Ryan Coyne in a scheduled 10-rounder.

Mansour (19-0, 14 KOs), of Wilmington, Del., is 41, but missed many of his best years because he was in prison and did not fight from 2001 until 2010. He has beaten some retreads such as Dominick Guinn and Maurice Harris in the last couple of years.

Price (14-1, 6 KOs), 38, of Pensacola, Fla., got drilled by Deontay Wilder in the third round in December and rebounded with a 10-round decision against the long-faded onetime Mike Tyson conqueror Danny Williams in Russia in May.

Thompson (14-2, 9 KOs), 28, of Buffalo, N.Y., has won two fights in a row in 2013 since back-to-back losses in 2012, including getting steamrolled in three rounds by Sergey Kovalev, who went on to win a world title. St. Louis' Coyne (21-1, 9 KOs), 31, got stopped in the 11th round of his last fight by Marcus Oliveira in April.
January, 16, 2013
1/16/13
4:34
PM ET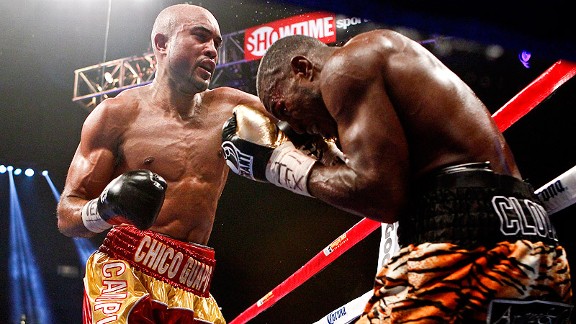 Esther Lin/ShowtimeGabriel Campillo has been on the wrong side of many bad decisions, including against Tavoris Cloud.
Eleven months ago, former light heavyweight titleholder Gabriel Campillo of Spain challenged titlist Tavoris Cloud, and although Campillo was knocked down twice in the first round, he stormed back and many believed he had clearly won the fight.
Then the scores were read and he lost a highly disputed split decision. It was a very tough loss for Campillo (21-4-1, 8 KOs), a southpaw who at least had made a name for himself among the American boxing public.
He was due to return in September to face hot prospect Sergey Kovalev (19-0-1, 17 KOs) of Russia, but Campillo hurt his back, the fight was postponed and Kovalev wrecked replacement opponent Lionell Thompson in three rounds.
Now Campillo's wait is over.
"My back is completely recovered," Campillo said. "Even though I only fought one time last year, I kept training and had sparring sessions throughout the whole year. So I am in great shape."
And ready for the rescheduled fight with Kovalev, which takes place Saturday night (NBC Sports Net, 9 p.m. ET) at Mohegan Sun in Uncasville, Conn., in the main event on "Fight Night."
"Ever since Feb. 12, I hear a couple of times each day from the people that I deserved that decision," Campillo said of the fight with Cloud.
Kovalev said he also thinks that Campillo beat Cloud.
"He is the strongest, most talented opponent in my professional career," Kovalev said of Campillo. "In my opinion, he should be the champion after his last fight."
Cloud also hasn't fought since facing Campillo, but his next fight was announced on Tuesday. It will be the biggest fight of his career -- a defense against the great Bernard Hopkins on March 9.
Campillo, meanwhile, is taking on the rough, tough Kovalev for a lot less money than he would be making had he been awarded the title many believe he deserved. However, he isn't dwelling on what could have been.
"I want to fight every big name in the division until I am considered the No. 1 boxer in the 175-pound weight class," he said.
To get a chance for those fights, he has to beat Kovalev, a daunting task.
"He's a dangerous boxer with a very good right cross," Campillo said. "But he has never fought a world class boxer like me. I am great at bobbing and weaving and counterpunching. If we go to the scorecards, I have no doubt I'll win by a huge margin. But just maybe one of my counterpunches will end the fight."
In the co-feature, former middleweight title challenger Elvin Ayala (26-5-1, 12 KOs) will face Curtis Stevens (22-3, 16 KOs) in a scheduled 10-rounder.
September, 27, 2012
9/27/12
6:53
AM ET
Light heavyweight Sergey Kovalev, days after a dominant third-round knockout of Lionell Thompson on national television, has signed with promoter Main Events.

Kovalev (19-0-1, 16 KOs) was supposed to headline a "Fight Night" card on NBC Sports Net last Friday against former titleholder Gabriel Campillo, but Campillo pulled out because of a back injury and Kovalev was moved onto the undercard and matched with late replacement Thompson.

Main Events had been evaluating Kovalev with the idea that it would eventually sign him.

"We are finally in the right place," said Egis Klimas, Kovalev's manager. "I knocked on many doors: Golden Boy, Top Rank and more. However, no one took it seriously that Sergey Kovalev will be the next big champion in his weight division. But Main Events has the same beliefs. They did take us seriously. We signed with them and we are very happy with our decision."

Kovalev, 29, of Russia, said signing a promotional contract was "the most important decision I have made in my professional career. I feel I have made a very good choice by signing with Main Events. I am ready for my next fight right now. I will fight anyone."

There is nothing set for Kovalev's next fight, but he is likely to appear again on "Fight Night," which Main Events supplies fights for.

"When Sergey is in the ring, he is simply electrifying," Main Events promoter Kathy Duva said. "We look forward to seeing more fireworks from Kovalev, who will undoubtedly become a force in one of boxing's hottest divisions."
September, 20, 2012
9/20/12
5:42
PM ET
A back injury to former light heavyweight titlist Gabriel Campillo has pushed junior middleweight contender Gabriel Rosado into the spotlight.

Campillo was supposed to face Russian prospect Sergey Kovalev in the main event of a "Fight Night" card on Friday night (NBC Sports Net, 9 ET) at the Sands Hotel and Casino in Bethlehem, Pa. But when Campillo pulled out a couple of weeks ago because of a back injury, Main Events turned the Rosado-Charles Whittaker title eliminator -- which was a late addition to the show in the first place after Main Events won a purse bid to promote the bout -- into the main event.

Now, Philadelphia's Rosado (20-5, 12 KOs), who looked good in his previous two fights by knocking out Sechew Powell and Jesus Soto Karass on "Fight Night" cards, is a solid favorite to take care of the Cayman Islands' Whittaker (38-12-2, 21 KOs). The winner of the bout will become the mandatory challenger for the 154-pound belt held by Cornelius "K9" Bundrage.

"It's a great opportunity again to be in the main event on NBC Sports Network," said the 26-year-old Rosado, who is riding a six-fight winning streak. "I'm excited to showcase my skills nationally again. I've trained extremely hard. We finished up our last couple of weeks in camp in Phoenix. Camp was great there and I feel strong. I am not taking Charles Whittaker lightly.

"I expect him to bring his 'A' game and I'm ready for that. I want him to come with his 'A' game because it will bring out the best in me. [Co-promoter] Russell [Peltz] said I am ranked No. 3 [by the IBF], but after Friday I will be ranked No. 1. I feel like mentally and physically I will break him down. I will set him up in the early rounds and I will take him out in the middle rounds. My plan is to get him out of there by the sixth round."

It's a bold prediction from Rosado because Whitaker, 38, is on a 14-fight winning streak since 2004, although he has faced modest opposition. He has not been stopped since a fifth-round TKO loss to Vincent Harris in 2000, a defeat that came in the midst of a five-fight losing streak.

Whitaker said he has watched plenty of Rosado and knows he's not in for an easy fight.

"Gabriel is young. I've seen a few of his fights," Whitaker said. "He comes hard and he comes in shape. He says he is going to be No. 1 and I know I'm going to be No. 1 after Friday. The fans are going to be the recipient of a great fight."

The tripleheader will also include Kovalev (18-0-1, 15 KOs) against a new opponent in New York's Lionell Thompson (12-1, 8 KOs) and welterweight Ronald Cruz (17-0, 12 KOs), who is responsible for the bulk of the ticket sales since the fight is in his hometown, meets Antwone Smith (21-4-1, 12 KOs) of Miami.