April, 25, 2013
4/25/13
12:41
PM ET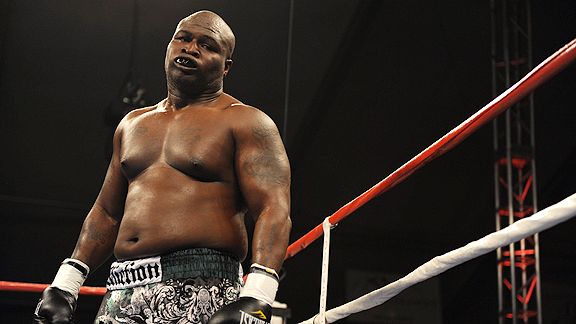 Jacob De Golish/ Icon SMIDespite claims made by Lucas Browne, 44-year-old James Toney is no longer a credible opponent.
Hyping fights is part of the game. We all get that. But pure delusion is another matter altogether.
No offense, Lucas Browne.
Browne (15-0, 14 KOs), for those who don't know who he is -- and that's probably most of you -- he's a 34-year-old Australian heavyweight who turned pro in 2009. Nicknamed "Big Daddy," Browne, who is promoted by Ricky Hatton, has a perfect record but has never faced anyone of remote consequence.
On Sunday (Saturday in Australia), Browne will face James Toney (74-7-3, 45 KOs), in name only, in Melbourne, Australia. Toney, 44, is a completely shot, once-great former three-division champion who hasn't been a factor since 2007 when he took a massive beating in a heavyweight rematch against Samuel Peter. Yet, Toney has trudged on. He's fought four times since 2009, beating lesser opponents but getting pummeled in a sad display against Denis Lebedev in an interim cruiserweight title fight that went the distance. (As much as Toney's skills have eroded, he still has one of the all-time great chins.)
The point is, Toney, a future Hall of Famer, is way beyond his expiration date. So when Browne declared this week that a win would "announce" his "presence on the world stage" if he beat Toney, it was hard not to snicker. The only thing it will announce is that he can beat a guy who should no longer be fighting.
"A win here against Toney would get my name out there like I want and need it to be if I'm to continue to be successful," Browne said.
I suppose it might get his name out there a bit. I have, after all, written this blog about Browne.
Browne added, "Regardless of his age and who he has lost to, he's a very crafty fighter and he knows all the tricks. This is the hardest fighter I've faced so far so there's no taking him lightly in any regards."
Fair enough with that comment.
But Matt Clark, Browne's manager and trainer, is even more delusional than Browne in believing that a win over Toney at this stage will mean much.
"I truly believe that Lucas can establish himself as a contender for the world title with a win over James Toney," Clark said.
Wrong again.
Beating Toney in 2013 will not establish anyone as a heavyweight contender. All it will establish is that Browne, if he wins, can beat a guy who was done six years ago.
October, 29, 2012
10/29/12
1:24
PM ET
Although former junior welterweight champ Ricky Hatton is set to emerge from a 3½-year retirement to face former welterweight titleholder Vyacheslav Senchenko on Nov. 24 in his hometown of Manchester, England, he hasn't forgotten about his promotional endeavors.

Hatton owns Hatton Promotions, which has put on many cards throughout the United Kingdom since the fighter's retirement, but now he is branching out.

Hatton announced on Monday that he is expanding his promotional arm by launching Hatton Promotions Asia Pacific, with which he plans to promote boxing events in Asia.

He announced that the first card will take place Dec. 11 at the Hong Kong Convention and Exhibition Centre.

The card will be headlined by a scheduled 10-round heavyweight fight between Australia's Lucas Browne (13-0, 12 KOs) and England's Richard Towers (14-0, 11 KOs), who are pals and both promoted by Hatton. The fighters became friendly earlier this year when they sparred together in Sheffield, England, Towers' hometown.

Browne-Towers is slated to be an eliminator for the right to face Commonwealth champion David Price.

"What a fight to start our new promotional company, and how much more could be at stake?" Hatton said in making the announcement. "Lucas and Richard are both punchers and hungry for success, and it will show on the night."