March, 4, 2014
Mar 4
10:34
AM ET
Light heavyweight titleholders Bernard Hopkins and Beibut Shumenov are getting ready for their unification fight on April 19 at the DC Armory in Washington, D.C. But they might want to take a look at Main Events' card on April 4 (NBC Sports Net).

It is on that show that the April 19 winner can find out the identity of one of his mandatory challengers.

Main Events on Monday won a purse bid for the title eliminator between Dmitry Sukhotsky (21-2, 16 KOs), and Anatoliy Dudchenko (19-2, 13 KOs) and announced that the fight would take place on the April 4 card at the Liacouras Center in Philadelphia. The card is headlined by the heavyweight fight between former cruiserweight titlist Steve Cunningham (26-6, 12 KOs) and Amir Mansour (20-0, 15 KOs).

Main Events, which promotes Dudchenko, was the only bidder on the fight. It offered $12,000. Sukhotsky gets 75 percent ($9,000) and Dudchenko is entitled to the remaining 25 percent ($3,000), although Main Events plans to work something out with him to give him a bigger purse.

Dudchenko, 35, a Ukraine native living in Los Angeles, signed with Main Events in December, and this will be his first fight with the company. He has won 16 fights in a row since losing two in a row in 2007 and 2008.

Sukhotsky, 32, of Russia, will be fighting in the United States for the second time. He has won three fights in a row, all by knockout. He lost a decision to Juergen Braehmer in a 2009 light heavyweight world title bout. His other loss was a decision to Cornelius White in July 2012.

"The winner will be in line to challenge Bernard Hopkins for the IBF light heavyweight championship, so it's great that fight fans will get to see this eliminator," Main Events promoter Kathy Duva said.
November, 6, 2013
11/06/13
7:04
PM ET
Heavyweight David Rodriguez and light heavyweight Ilshat "The Sheriff" Khusnulgatin have both signed promotional contracts with Main Events, the company announced.

Rodriguez (36-0, 34 KOs), 36, of El Paso, Texas, is 6-foot-4 and 250 pounds and has built a tremendous record, although he has faced extremely weak opposition. Rodriguez has not fought since late 2011 because he was attacked and stabbed in the face outside a Scottsdale, Ariz., pizza restaurant on Dec. 30, 2011.

Rodriguez is lucky to be alive. He needed 369 stitches to close his wounds and nearly had his jugular vein cut. He has a large scar that runs down the side of his face, from his ear to his chin. He has recovered from the stabbing but missed more time when he suffered a knee injury getting ready for a fight in the summer of 2012.

"Through God, I was given a second chance at life, and through Main Events, I was given a second chance at a career," Rodriguez said. "I'm deeply humbled and grateful for the opportunity. I finally feel like I'm in good hands and the sky is the limit."

Rodriguez, who is with adviser Luis DeCubas Jr. and manager Rick Pineda, is scheduled to fight on Main Events' Dec. 14 undercard, but not in a televised bout.

"David has made it clear that his intention is to step up in 2014 and take on everyone at the top of the heavyweight division," Main Events promoter Kathy Duva said. "David has the personality, the looks and the punch to be a big star. It will be Main Events' job to give him the opportunities necessary for him to reach his goal of becoming the heavyweight champion of the world."

Khusnulgatin (11-0, 6 KOs), 23, has fought mainly in his native Russia but has had three fights in the United States.

"These are exciting times in the light heavyweight division and for fighters from Eastern Europe," Duva said. "Ilshat makes another great addition to our light heavyweight lineup at Main Events. At 23, he is the youngest fighter at Main Events, and we look forward to watching him develop."

Main Events also promotes light heavyweight titlist Sergey Kovalev, who shares manager Egis Klimas with Khusnulgatin. Former world titleholder John David Jackson trains Khusnulgatin.
January, 3, 2013
1/03/13
4:05
PM ET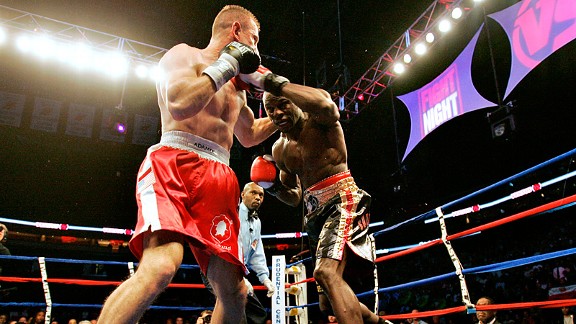 AP Photo/Rich SchultzBoxing fans were treated to a great fight on network TV between Adamek and Cunningham.
There's more good news for boxing fans: the return of live Saturday afternoon boxing to NBC was a hit.
In ratings released by the network on Wednesday -- they were later than usual because of the holidays -- the Main Events card headlined by the rematch between heavyweights Tomasz Adamek and Steve Cunningham on Dec. 22 did a 1.2 rating and a 3 share.
The 2-hour telecast averaged 1.6 million viewers and peaked at 2.2 rating and 3.2 million average viewers, quite an impressive showing considering its lead-in was snowboarding, which did a 0.5 rating. Another positive for the boxing telecast: the audience steadily grew throughout the show.
NBC also said the show had an "audience reach" of 3.9 million. It defines "audience reach" as any viewer who watched at least six minutes of the program.
The only network sports program to do a better rating on Dec. 22 was the Kansas-Ohio State college basketball game (1.4) on CBS, which aired opposite the fight card.
"We are pleased with the rating of the show on Dec. 22 and the overall performance of the 'Fight Night' series in its first year," said Gary Quinn, senior director of programming for the NBC Sports Group.
NBC was so pleased with the performance that Quinn said there would be "at least" one more show on the network this year. NBC Sports Net, NBC's all-sports cable channel, televises the "Fight Night" series, but as part of the renewal of its deal with Main Events, the Dec. 22 show went on NBC.
"We are very happy," said Main Events promoter Kathy Duva.
She should be. She and her staff worked their rear ends off promoting the card and it paid off with strong viewership. It turned out to be a heck of a fight too, although Adamek won a highly suspect split decision.
It was the second consecutive week with a strong performance for boxing on network television, which had not had regular boxing since the 1990s. On Dec. 15, boxing returned to CBS for the first time in 15 years for a fight between bantamweight titlist Leo Santa Cruz and Alberto Guevara, and it generated a 1.3 rating, a 3 share and had about 1.5 million households tuning in. It also had a far superior lead-in with an overtime NCAA basketball game between then-No. 1 Indiana and unranked Butler.
CBS was happy with the ratings for its fight and now we have NBC also very pleased with boxing's performance. That bodes well for more network boxing, which is huge for the long-term health of the sport.
September, 27, 2012
9/27/12
6:53
AM ET
Light heavyweight Sergey Kovalev, days after a dominant third-round knockout of Lionell Thompson on national television, has signed with promoter Main Events.

Kovalev (19-0-1, 16 KOs) was supposed to headline a "Fight Night" card on NBC Sports Net last Friday against former titleholder Gabriel Campillo, but Campillo pulled out because of a back injury and Kovalev was moved onto the undercard and matched with late replacement Thompson.

Main Events had been evaluating Kovalev with the idea that it would eventually sign him.

"We are finally in the right place," said Egis Klimas, Kovalev's manager. "I knocked on many doors: Golden Boy, Top Rank and more. However, no one took it seriously that Sergey Kovalev will be the next big champion in his weight division. But Main Events has the same beliefs. They did take us seriously. We signed with them and we are very happy with our decision."

Kovalev, 29, of Russia, said signing a promotional contract was "the most important decision I have made in my professional career. I feel I have made a very good choice by signing with Main Events. I am ready for my next fight right now. I will fight anyone."

There is nothing set for Kovalev's next fight, but he is likely to appear again on "Fight Night," which Main Events supplies fights for.

"When Sergey is in the ring, he is simply electrifying," Main Events promoter Kathy Duva said. "We look forward to seeing more fireworks from Kovalev, who will undoubtedly become a force in one of boxing's hottest divisions."