March, 13, 2014
Mar 13
6:21
PM ET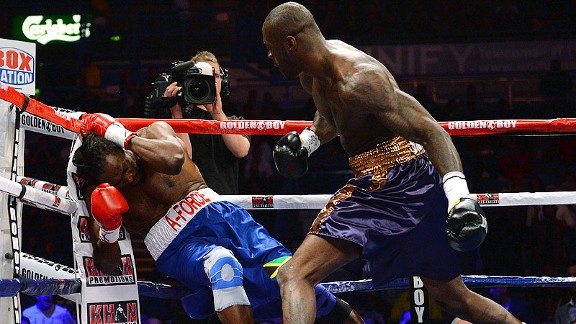 ANDREW YATES/AFP/Getty ImagesDeontay Wilder will look to finish his 31st straight opponent Saturday when he faces Malik Scott.
Deontay Wilder is as imposing as any heavyweight out there. The 2008 U.S. Olympic bronze medalist is 6-foot-7, a chiseled 225 pounds and possesses a devastating right hand.
That right hand has been the weapon Wilder (30-0, 30 KOs) has primarily used to knock out every one of his professional opponents, none of whom have lasted beyond the fourth round.
Clearly, Wilder
looks
like he could be the next heavyweight champion of the world, especially considering that he has done well as a regular sparring partner for champion Wladimir Klitschko, who can't speak highly enough about Wilder's potential.
But Wilder also has never faced an opponent of remote note. In boxing circles, the woeful opposition "The Bronze Bomber" has faced is mocked regularly.
Despite his pathetic opposition, Wilder, thanks to his connections -- adviser Al Haymon and promoter Golden Boy -- finds himself just one win from becoming a mandatory challenger for the now-vacant alphabet world title, which will be filled on May 10 by the winner of the Bermane Stiverne-Chris Arreola rematch.
And at least Wilder, 28, of Tuscaloosa, Ala., will be facing a legitimate opponent in the final eliminator when he tangles with Malik Scott on Saturday night (Showtime, 9 p.m. ET, with preliminary bout on Showtime Extreme beginning at 7 p.m. ET/PT) at the Coliseo Ruben Rodriguez in Bayamon, Puerto Rico.
The fight is on the undercard of junior welterweight champion Danny Garcia (27-0, 16 KOs) of Philadelphia -- but whose parents were both born in Puerto Rico -- defending against Mauricio Herrera (20-3, 7 KOs) of Riverside, Calif.
"I haven't seen Malik Scott personally fight but he has been in my camp before," Wilder said. "He was one of my sparring partners in my past camps. He was a lot of help and very competitive. He knows my style and what I bring to the table. We know each other's style. Whoever gets first to the punch will win. The smarter and better looking person will win and that's going to be me."
Scott (36-1-1, 13 KOs), a safety-first fighter, does not throw many punches and tries to frustrate his opponents. The two blemishes on his record both came in his past three fights, so maybe he is on the downside in his career.
Last year, he fought to a disputed draw with Vyacheslav Glazkov and then was controversially knocked out by Dereck Chisora in the sixth round in England. In a tune-up fight before facing Wilder, Scott scored a second-round knockout of a sub-.500 opponent in January.
The 6-4, 240-pound Scott, 33, of Philadelphia, has been a pro for 14 years and this is, by far, the most significant fight of his career. He understands the importance of Saturday's fight.
"I am extremely excited and I am taking on a dangerous fighter with the magnitude of Deontay's punching power and the aura that has been built around him," Scott said. "It will take that type of fighter for me to rise to the great level that I believe I am going to be at come Saturday night. I believe out of everyone that has fought Deontay, I have the highest skill. I am not coming to test him; I am coming to beat him. I'm happy for this opportunity and come Saturday night I am going to take full advantage of it. "
July, 19, 2013
7/19/13
10:16
AM ET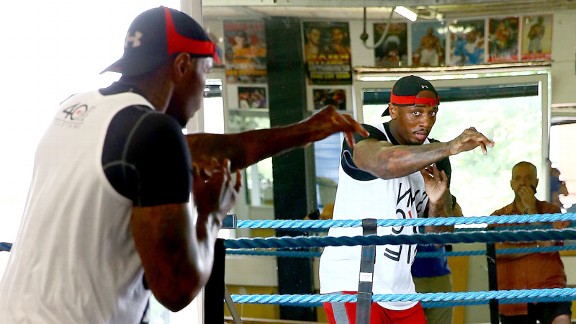 Scott Heavey/Getty ImagesMalik Scott is looking for another American victory when he faces Englishman Dereck Chisora.
On July 6 in England, American heavyweight contender and two-time world title challenger Tony Thompson knocked out British hopeful David Price -- for the second time -- in the fifth round.
Two weeks later another American heavyweight, Malik Scott, is in England seeking a similar performance when he faces former world title challenger Dereck Chisora on Saturday (BoxNation in the United Kingdom) at Wembley Arena in London.
"I saw the fight between Thompson and Price and I knew that Thompson would do it again second time around," Scott, 32, of Philadelphia, said. "It was a great accomplishment. He's a good, strong heavyweight. I've sparred with Thompson before and I support any fighter who wears the stars and stripes and, of course, I was happy that he won. Even if Thompson didn't beat Price, I'm on my own path and I will beat Mr. Chisora in devastating style. It will be exciting, and I'll be looking to do a real good job on him, and it could be early."
Scott devastating and exciting? It would be the first time, since he is one of the most boring heavyweights in the sport today. Scott rarely presses the action and has never shown one ounce of a desire to go for a knockout or mix it up in any way. That said, Scott (35-0-1, 12 KOs) has a ton more skill than Chisora (16-4, 10 KOs) and is an excellent technician.
Frankly, Scott, coming off a disputed 10-round draw in February against 2008 Olympic bronze medalist Vyacheslav Glazkov, should handle the 29-year-old Chisora, who ended a three fight-fight losing streak on April 20 by knocking out journeyman Hector Alfredo Avila in the ninth round, also at Wembley Arena.
Jesse Reid, Scott's trainer, believes his man can take out Chisora, who was dominated in a lopsided decision to loss to Vitali Klitschko in a 2012 world title fight and stopped in the fifth round by countryman David Haye last July.
"Malik's in tremendous shape. He's my prize racehorse and he's ready for Chisora," said Reid, who has trained fighters such as Johnny Tapia, Hector Camacho and Hall of Famer Orlando Canizales. "His strongest assets are his speed, footwork and intelligence. He knows how to stay calm under pressure. I'm more than confident. I've trained many world champions in my 42 years in boxing and some of the biggest names in the sport, but a world heavyweight champion has eluded me. But I believe I've got one in Malik."
Chisora, whose trash talking is better than his actual boxing ability, claimed that he saw fear in Scott's eyes when they faced off at Tuesday's final news conference, after Scott missed a previously scheduled media event (claiming he was unaware of it) Monday.
"I'm happy now that I've looked into his eyes and I see that the boy is scared," Chisora, nicknamed "Del Boy," said. "I don't believe all this rubbish he's saying that he didn't know about the press conference [on Monday]. He just didn't want to see me. He even had to be forced to take off his sunglasses as we went face to face. What counts is what happens in the ring on Saturday, and I'm going to do a real good job on this boy and pack him back off to America, defeated."
Don Charles, Chisora's trainer, claims Chisora is in the best shape he has ever been in, but we've all heard that before right?
"Scott looks in great shape, which is good news for us, as it will be all the better when Del beats him," Charles said. "Trust me, Del is in the best shape of his career and Scott will be not be able to stand the heat that Del is going to dish out. Scott has not met anyone like Del and he's caught him at the wrong time, Del is hungry and determined as he knows he can't afford to lose this fight."
January, 10, 2013
1/10/13
5:56
PM ET
Heavyweight prospect Vyacheslav "Czar" Glazkov (14-0, 10 KOs), a 2008 Olympic bronze medalist from Ukraine, got tremendous exposure in his last fight when he made Tor Hamer quit after four rounds in the opening bout of the return of boxing to NBC on Dec. 22.

Glazkov will look to build on that solid performance when he headlines the Feb. 23 edition of NBC Sports Net's "Fight Night" series.

The downside, however, is that Glazkov, 28, has been matched with 32-year-old Malik Scott (35-0, 12 KOs), who has a sterling record but has built it against 35 nobodies and put more people to sleep than Ambien. I've been hard on Scott through the years. I admit it. I hung the nickname "80-72" on him because so many of his fights -- against overmatched opponents -- went the distance and he won by shutout rather than even remotely try to press the action. It's a real shame, too, because Scott has the size and the skills but has never shown an ounce of fire in the ring. Even when in total control, he refuses to try to stop his opponent.

After more than a three-year-layoff, Scott returned last February and made a halfway decent fight (by his low standards, anyway) in an -- you guessed it -- 80-72 decision against Kendrick Releford on Showtime Extreme. I tried to give him another chance, but then, two fights later, Scott absolutely stunk the joint out again in a lame eighth-round TKO win against Bowie Tupou (who injured his arm, which caused the end of the fight) in September on the Andre Ward-Chad Dawson undercard. The fight was so bad, the crowd was booing before the first round was over. I watched the whole fight at ringside. I'll never get that half hour of my life back.

So I feel for Main Events matchmaker Jolene Mizzone. She did not want to make Glazkov-Scott. She tried hard to make a more fan-friendly match. She told me she offered the fight to 11 different heavyweights before having no other choice but to take Scott. Those other guys did not want to face Glazkov or were not happy with the money or both. Heavyweights such as Magomed Abdusalamov, Travis Kauffman, Joe Hanks, David Rodriguez and Franklin Lawrence all turned it down.

So now we're stuck with Glazkov-Scott. Maybe, for once, Scott will fight with a shred of passion. He doesn't deserve it, but Scott is going to be on national TV. If he isn't going to fight with passion then, when will he ever?

Whatever he does, I'm not worried because I refuse to watch the fight live. I'll DVR it, watch the Showtime card that is on opposite "Fight Night" and then find out the result of Glazkov-Scott before speeding through it. I've watched too many terrible Scott fights to be suckered again.