Dan Rafael:

Marco Antonio Rubio
August, 15, 2014
Aug 15
4:30
PM ET
A few notes from around the boxing world:

• The leading candidate to land an Oct. 18 HBO fight against middleweight titleholder Gennady Golovkin is interim titlist Marco Antonio Rubio of Mexico, who would have to vacate the interim belt he holds from a competing organization. Rubio has said he signed for the fight, but Golovkin promoter Tom Loeffler of K2 Promotions told ESPN.com that the Golovkin side has not even sent them any paperwork yet, although they have been negotiating. More likely, Rubio signed an agreement with his own promoter, Oswaldo Kuckle. Golovkin's next fight is ticketed for the Los Angeles area.

"Rubio is a strong option for Gennady to fight," Loeffler said.

Another possible opponent is Bryan Vera, who fought Julio Cesar Chavez Jr. twice at middleweight, as long as Vera comes through his Big Knockout Boxing fight against Gabriel Rosado on Saturday night.

• The junior middleweight non-title fight between former titlist Canelo Alvarez and reigning titleholder Erislandy Lara on July 12 at the MGM Grand in Las Vegas generated about 300,000 buys on Showtime PPV, according to industry sources. Showtime and Golden Boy Promotions have declined to release the total, but at 300,000 buys -- perhaps slightly more -- the fight grossed around $17 million in U.S. television revenue (although roughly half of that figure goes to the cable and satellite providers). Alvarez won a split decision.

• Former unified lightweight titlist Juan Diaz (39-4, 19 KOs), who headlines a "Solo Boxeo" card on Sept. 6 (UniMas) at the Laredo Energy Center in Laredo, Texas, will face Carlos Cardenas (21-8-1, 14 KOs) of Venezuela, Top Rank announced. The fight will be Diaz's fifth since ending a three-year retirement in April 2013. Welterweight Brad Solomon (22-0, 8 KOs) is also on the card in a 10-rounder against former title challenger Freddy Hernandez (30-7, 20 KOs).

• Light heavyweight contender Andrzej Fonfara (25-3, 15 KOs), who is from Poland and based in Chicago, has signed with adviser Al Haymon. Warriors Boxing promoter Leon Margules, who promotes Fonfara, told ESPN.com that the Polish fighter signed on Thursday. Fonfara, due back on a Nov. 1 card in Chicago, is coming off a decision loss challenging world champion Adonis Stevenson -- who is also with Haymon -- on May 24. Fonfara survived two knockdowns in the first half of the fight to mount a huge rally and drop Stevenson in the ninth round of a brutal fight that almost resulted in an upset.
November, 6, 2013
11/06/13
1:42
PM ET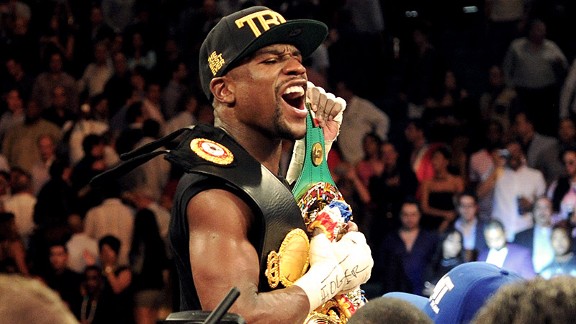 Jayne Kamin-Oncea/USA TODAY SportsFloyd Mayweather has to decide soon on an opponent for his next fight.
As much as I rail against the WBC's rule-breaking and divisional rankings, those rankings affect the mandatory fights that are made for the organization's belt. So that makes its annual convention notable in that many of those mandatory situations are clarified.
This year's convention is going on this week in Bangkok, where organization officials, promoters and managers gathered to argue and debate the rankings and mandatory fights that are not yet set.
Here's a look at some of the key rulings related to mandatory fights made Wednesday:
•
Heavyweight:
The situation with titleholder Vitali Klitschko is up in the air. He is running for president of Ukraine in 2015 and has made no decision about his boxing career, even though his mandatory defense against Bermane Stiverne is way overdue. Klitschko addressed the crowd at its opening, but not about his boxing plans. Stiverne, however, was still traveling to Thailand on Wednesday, so the debate was put off until at least Thursday.
•
Super middleweight:
Titleholder Sakio Bika must make two mandatory defenses. The first is against Anthony Dirrell on Dec. 7. The winner of the fight was approved for one optional defense. Marco Antonio Periban and James DeGale were ordered to meet in a semifinal eliminator with the winner ordered to meet Julio Cesar Chavez Jr. to determine the second mandatory challenger. Keep in mind that these orders are the WBC's wishes and that often what it lays out does not wind up happening because either a fighter decides to go in another direction or, as often happens, the WBC ignores its own ruling.
•
Middleweight:
If champion Sergio Martinez, sidelined with a knee injury, can't make his mandatory defense against Marco Antonio Rubio, Rubio will be ordered to face Domenico Spada for the interim belt. This will be interesting because Martinez has no interest in Rubio and instead hopes for a June pay-per-view megafight with Miguel Cotto. It seems that Martinez, who has been very loyal to the WBC, will be allowed to face Cotto upon his return from injury with Rubio settling for the interim title bout for the time being.
•
Junior middleweight and welterweight:
Floyd Mayweather Jr. holds the WBC title in both divisions, as well as another alphabet junior middleweight title. Holding titles in multiple weight classes is against sanctioning organization rules, but that hasn't stopped the WBC from allowing Mayweather to get away with it for 1½ years. Finally, the WBC ruled that Mayweather must decide which division title he wants to keep by Dec. 15. If Mayweather doesn't notify the WBC, however, I won't believe it would strip him of the title until I see it happen. He is one of the WBC's favorite sons in that he fills the coffers with enormous sanctioning fees.
•
Junior welterweight:
Danny Garcia's last fight in September was his mandatory against Lucas Matthysse, but a final eliminator to determine the next mandatory was approved between Viktor Postal and Selcuk Aydin.
•
Lightweight:
Adrien Broner has the title, but he also won another organization's belt this year -- in the welterweight division -- and has been allowed to keep both since the summer, which is against the rules. Broner is never going to see 135 pounds again -- did you see how he looked on Showtime on Oct. 26? -- but his request to wait to make a decision until after his Dec. 14 welterweight defense was approved. Daniel Estrada is the mandatory challenger. What should have happened is that Broner should have been forced to pick, and if he picked the welterweight belt (which he obviously would do), interim titlist Omar Figueroa should have immediately been elevated. But that would be too easy.
•
Junior featherweight:
A final eliminator between Hugo Cazares and Andres Gutierrez was approved to determine Leo Santa Cruz's mandatory.
•
Bantamweight:
An eliminator was approved for Stephane Jamoye to face Julio Ceja, with the winner to fight Suriyan Sor Rungvisai in a final eliminator to determine Shinsuke Yamanaka's mandatory.
•
Junior flyweight:
Adrian Hernandez's mandatory will be the winner of an eliminator between Javier Mendoza and Yodmongkil Wor Saengthep.
•
Strawweight:
A final eliminator was approved between Wanheng Menayothin and Osvaldo Novoa to determine Xiong Zhao Zhong's mandatory challenger.
January, 8, 2013
1/08/13
10:57
AM ET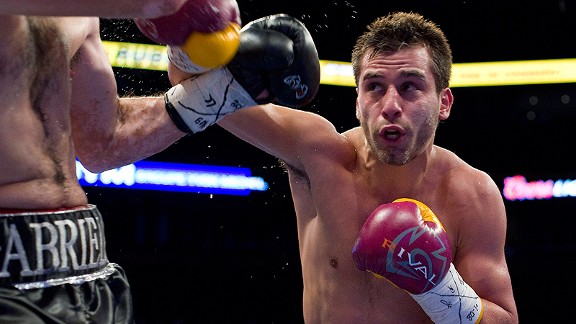 AP Photo/Graham HughesDavid Lemieux will have to rest his right hand for a few weeks before returning to the ring.
Middleweight knockout artist David Lemieux has a small fracture in his right hand and has withdrawn from his Feb. 8 main event on ESPN2's "Friday Night Fights."
Lemieux (28-2, 27 KOs) was supposed to face Colombia's Jose Miguel Torres (26-5, 23 KOs) in a scheduled 12-round bout at the Bell Centre in Montreal, Lemieux's hometown.
Promoter Yvon Michel forwarded ESPN a note on Monday from Dr. Francis Fontaine, Lemieux's doctor, confirming the injury to the fourth metacarpal on his right hand. Lemieux has previously suffered injuries to his second and third metacarpal. Lemieux will rest the hand for at least two weeks before he is re-examined.
Michel and ESPN are discussing a new main event for the card.
Lemieux, 24, has won three fights in a row by first or second-round knockout against low-level opponents to bounce back from his stunning back to back losses in 2011, a seventh-round knockout to Marco Antonio Rubio (in a fight Lemieux had been winning easily) followed by a split decision loss to faded former junior middleweight titlist Joachim Alcine.
July, 18, 2012
7/18/12
1:21
PM ET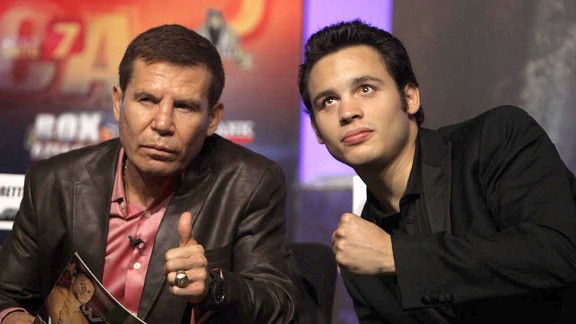 Courtesy Zanfer Boxing Julio Cesar Chavez Jr., right, knows how to throw a good body punch, just like his father.
Sergio Martinez, the real middleweight champion, has wanted to fight Julio Cesar Chavez Jr. for more than a year, ever since Chavez won a belt -– which had been stripped from Martinez -- from Sebastian Zbik.
Chavez Jr. has also wanted to fight Martinez in order to shut him up and show he's for real.
Top Rank, Chavez's promoter, understandably didn't want to make the fight until it felt that Chavez was ready for such a gigantic step up in competition. But after seeing how Argentina's Martinez (49-2-2, 28 KOs) has had at least some struggles in knockout wins against Darren Barker and Matthew Macklin in his past two bouts, and how good Mexican star Chavez (46-0-1, 32 KOs) has looked in his past two defenses -- a points rout of Marco Antonio Rubio and a seventh-round knockout of Andy Lee (a southpaw to boot, like Martinez) -- the fight has finally been made.
They'll hook up in one of the biggest fights of the of the year on Sept. 15 (HBO PPV) at the Thomas & Mack Center in Las Vegas in what is shaping up to a be a serious war or words before the actual fight.
Martinez and Chavez don't seem to like each other much. Martinez, 37, feels like the 26-year-old Chavez has been handed everything he has because of his famous name as the son of all-time great Julio Cesar Chavez Sr. That has rubbed Junior the wrong way.
Before any major pay-per-view, the fighters go out on tour to promote the event, which Martinez and Chavez did, hitting the road last week with stops in Los Angeles, Las Vegas and New York followed by a final news conference on Tuesday in Mexico City.
Throughout the tour, they sounded like they were ready to throw down already.
"This is the fight I've always wanted," Chavez said during the tour. "Martinez has said a lot of bad things. Let's see if he wants to go to the center of the ring and fight like a man. I have real one-punch knockout power. I don't think Martinez has that power. After all his verbal bravado, I just hope he stands in the middle of the ring and fights like a man.
"I have this great opportunity to shut Martinez's mouth. On Sept. 15 he will finally realize he has underestimated me -- when the referee is counting to 10 over him. My dad always stressed body punching. I have a very good chin. I can take a good punch and I can throw a good punch and those will be two very hard lessons Martinez will learn on Sept. 15."
Martinez has never been one to talk smack before his fights, but he has for Chavez. He seems as pumped up for the fight as any he's had.
"There is no way Chavez Jr. can beat me," he said during the Mexico City tour stop. "I will knock him out inside seven rounds. I gave his father a baby bottle (at the press conference) so he can take it to his baby after I give Junior a real beating. He won't be eating solid food with the few teeth remaining after I get through with him."
Earlier on the tour, Martinez said, "I am a much better fighter now than when I won the middleweight titles. Chavez Jr. cannot match up to the knowledge and experience I have acquired in the ring. Chavez may think the sun rises with him in Culiacan (Mexico) but on Sept. 15 he's going to find out that it's going to set on him in Las Vegas."
Martinez also addressed Chavez Sr., who turned 50 last week while accompanying his son on the tour.
"Mr. Chavez, take a look at your son now because you will not recognize his face without DNA after we have fought. I will beat him up."
June, 19, 2012
6/19/12
10:53
PM ET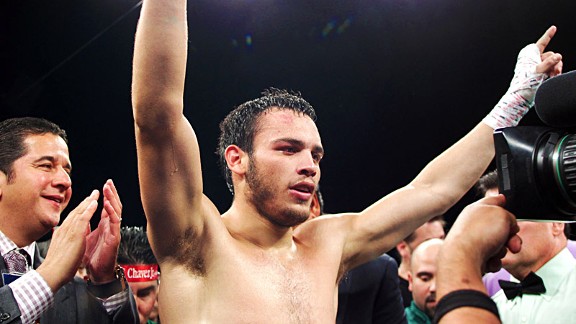 Chris Farina/Top RankNo conspiracy: Julio Cesar Chavez Jr. took a prefight drug test for Saturday's bout with Andy Lee.
As if there weren't enough scandal and controversy in boxing already, now we have a manufactured one due to an honest error -- but one that many fight fans can't seem to accept as just that.
I was watching HBO's "World Championship Boxing" telecast Saturday night, waiting for the start of Julio Cesar Chavez Jr.'s middleweight title defense against Andy Lee at the Sun Bowl in El Paso, Texas, when announcer Jim Lampley informed the audience that "there has been a delay in Julio Cesar Chavez's dressing room. ... Andy Lee has been gloved up and warming up for quite some time. We're told that in the other dressing room, Chavez tried and failed to provide a [urine] sample and the Texas state commission has elected to take the sample after the fight."
That sounded reasonable to me, but a look at my Twitter feed and Facebook page revealed a deluge of comments from boxing fans who, for whatever reason, believed that something was amiss -- that Chavez having difficulty providing a sample was evidence he was using some sort of illegal substance or was looking to duck the drug test.
That's a big reach.
In fact, Chavez (and Lee) did provide a prefight urine sample, according to his manager (Billy Keane), his promoter (Top Rank vice president Carl Moretti) and, most important, the Texas Department of Licensing and Regulation -- all of whom I spoke with to check on the issue.
On Tuesday, I spoke to Randy Nesbitt, a spokesperson for the TDLR, which oversees boxing in Texas.
"Both fighters, Chavez and Lee, submitted urine samples before the bout," Nesbitt said.
According to Nesbitt, the rules in Texas allow regulators to ask for a sample before or after a fight, and both fighters were tested before the bout. They were the only fighters on the card tested, which is permissible under Texas rules.
"Their samples have been sent to the lab, and the results will be looked at when we get them," Nesbitt said.
As for Lampley's ill-timed comment, HBO spokesman Kevin Flaherty told ESPN.com: "Jim's comments at the time were accurate. We were unaware that shortly thereafter a sample was provided. That was unfortunate."
In other words, it was an honest mistake by HBO, even though some won't accept that.
These are the same people who wrongly believe that Chavez refused to provide a sample for his previous fight, a victory against Marco Antonio Rubio in February in San Antonio. Once again, Chavez got a bad rap.
Chavez didn't refuse that drug test. Instead, as the TDLR admitted after the fact, it screwed up by not having the proper testing equipment on hand for the fight. In fact, Chavez did not flee the event after the fight to avoid the test. I was there. Chavez was at the postfight news conference and leisurely answered questions. He was not a man in a hurry to leave.
But once again, the conspiracy theorists want to believe the worst about Chavez. It's understandable that some are inclined to, because in November 2009 Chavez tested positive for Furosemide -- a diuretic that is typically used to help cut weight or as a masking agent for steroids -- in conjunction with his fight against Troy Rowland, which took place on the Manny Pacquiao-Miguel Cotto undercard at the MGM Grand in Las Vegas.
For the positive test, the result of a prefight urine sample, the Nevada State Athletic Commission suspended Chavez for seven months and fined him $10,000 (10 percent of his $100,000 purse). The fight result, originally a lopsided decision for Chavez, was changed to a no-decision.
But that positive test has nothing to do with Texas' blunder in February, nor does it have anything to do with Saturday night, when Chavez provided a prefight sample without any other issue than not being able to pee on command.
---
According to the TDLR, Chavez-Lee generated a gate of $756,461 from 10,799 tickets sold, with 2,677 complimentary tickets given away. The attendance (13,476) was a far cry from the 30,000 to 40,000 Top Rank originally anticipated, but Top Rank president Todd duBoef said the banning of beer sales at the Sun Bowl was one factor that hurt gate figures.
June, 14, 2012
6/14/12
3:32
PM ET

Middleweight titleholder Julio Cesar Chavez Jr. figures to be in a real fight against Andy Lee on Saturday night (10 ET, HBO) at the Sun Bowl in El Paso, Texas, so the outcome is in doubt.

But even before Chavez and Lee get into the ring, a question other than who will win is hanging out there: Will Chavez make the 160-pound weight limit at Friday's weigh-in?

Chavez struggled mightily to make weight for his first two defenses, which came against Peter Manfredo Jr. and Marco Antonio Rubio.

At the weigh-in for the Rubio fight in San Antonio in February, Chavez arrived quite late because he was struggling so badly to shed the extra weight, and when he got on the scale, he looked like he was going to pass out. When he finally got on the scale -- for about five seconds -- he hit 160, jumped off and began taking in liquid.

He had spent extra time in a sauna and swimming with strength and conditioning coach Alex Ariza, and eventually -- barely -- made the weight.

For the fight with Lee, Chavez banished Ariza (or it was Top Rank promoter Bob Arum, depending on which story you believe). In any event, Ariza is out and Luis Cornejo fills the role in Chavez's for the first time.


Cornejo and the fighter have been working together for three months to make sure Chavez, who blows up in a big way between fights, makes weight.

Head trainer (and newly elected Hall of Famer) Freddie Roach seemed unconcerned about the weight situation on Thursday.

Roach said Chavez, who trained for the Lee fight in Las Vegas, where he lived in a house Arum rented for him, weighed 165.5 pounds after their Wednesday night workout. That might seem like a lot at this point, but it's nothing compared to the insanity of making weight for Rubio.

"Last time, it was 16 pounds over at this point," Roach said. "He doesn't have so much to lose. He's healthy and happy and not starving himself. He looks good, and we did the mitts [Wednesday] night, six rounds, and he got a good sweat going. The last couple of pounds will be a chore, but nothing drastic. Last time was bad."

Chavez also might have a little less on his mind going into Saturday's fight. On the day of the Rubio fight, the news came out that Chavez had been arrested Jan. 22 on a DUI charge in Los Angeles, where he was training with Roach. That date was just two weeks before the bout.

However, as TMZ reported, Chavez recently struck a plea deal in the case, in which he got three years of probation and was ordered to attend 30 Alcoholics Anonymous meetings, which he has already completed. He has a Dec. 7 hearing scheduled.

And an important fight on Saturday.
February, 8, 2012
2/08/12
12:09
PM ET
One can criticize middleweight titlist Julio Cesar Chavez Jr. for a number of things. The caliber of opponents he has faced, for instance. His need for radical weight loss in the final days before a fight. The fact he was arrested and charged with drunken driving two weeks before last Saturday's defense against Marco Antonio Rubio in San Antonio, a fight Chavez wound up winning fairly easily.

But Chavez did not duck a postfight drug test after beating Rubio. Unfortunately, Rubio's team caused a stir when it claimed that Chavez "practically fled from the dressing room without leaving a sample."

Chavez did not flee. He was in his dressing room for more than a half-hour after the fight. He showered and waited for a Texas official to come for his sample. If he was fleeing the scene to avoid a urine test, would he have hung out in the dressing room and then spent another half-hour at the postfight press conference?

"It's no more Julio's responsibility to track down the commission so he can take a drug test than it was for Rubio to tell the referee to take a point after he hit Julio low for the fifth time," Billy Keane, Chavez's manager, said. "We abide by the rules. Nobody came to ask us for a sample, which he was ready to provide. We would abide by anything that the commission or sanctioning body asked us to do. No more and no less."

The Texas Department of Licensing and Regulation doesn't require boxers to be drug tested. The state, however, usually tests fighters, even if it means just some randomly selected fighters on a card. Texas will also test title-fight contestants at the request of a sanctioning organization.

The Texas rules (which should be changed to require testing, but that's a story for another day) state the following: "A person who applies for or holds a license as a contestant shall provide a urine specimen for drug testing either before or after the bout, if directed by the executive director or his designee."

That didn't happen in this case. Chavez was not tested. Neither was Rubio. And neither were co-feature fighters Nonito Donaire and Wilfredo Vazquez Jr., facts that the Rubio camp conveniently forgot to mention.

In fact, of the 18 fighters on the card, samples were collected from only two: junior middleweight Vanes Martirosyan and his opponent, Troy Lowry.

Texas had intended to collect samples from other fighters on the card, including Chavez, Rubio, Donaire and Vazquez. But Texas screwed up, not Chavez.

The WBC, which sanctioned Chavez-Rubio, screwed up, too. The WBC requires postfight testing in its rules, but says it must be conducted by the local commission. So that means the WBC can order testing but has no way to enforce it. The WBC dropped the ball by not making absolutely certain that Texas officials were prepared to properly administer the tests. Just talking about it at the prefight rules meeting wasn't good enough.

Checking with Texas officials would have derailed any gossip from the Rubio camp. I checked with Susan Stanford, the very capable and always helpful public information officer for the Texas Department of Licensing and Regulation, who gave me the following statement:

"The Texas Department of Licensing and Regulation did not book the drug testing laboratory for the Top Rank event on February 4, 2012. Specimens were taken from Lowry and Martirosyan, but in the absence of the independent testing laboratory the integrity of the samples could not be assured and they were destroyed. No further samples were taken. The Texas Department of Licensing and Regulation regrets this oversight and is addressing the procedure going forward."

There are reasons why somebody might be suspicious of Chavez, who struggled severely to make 159½ pounds for Friday's weigh-in and then blew up 21½ pounds to 181 on fight night. The reason: After a November 2009 fight in Las Vegas, Chavez tested positive for Furosemide, a diuretic. Diuretics are typically used to assist in weight loss or to mask steroid use.

Chavez should have been tested. So should have Rubio, Donaire and Vazquez. But they weren't. Chavez didn't avoid a drug test; he just fought his heart out.

Texas and the WBC messed up, and that shouldn't happen again. They, not Chavez, made a terrible blunder.
January, 30, 2012
1/30/12
1:43
PM ET
Your random thoughts ...
Anyone who reads my work knows I'm no fan of the way the sanctioning bodies do business. Most of their rankings are pathetic, and most of them break their own rules with impunity. And then there are the multiple titleholders per division they crown, which is one of the cancers of boxing.
However, there are times when an organization does something right and deserves credit. Although the WBA, WBC and WBO regularly hand out multiple titles per division, including the dreaded interim titles, I'll give credit to the IBF for its judicious and appropriate use of them.
Interim titles should be used in only one scenario: when the titleholder is legitimately injured and will be unable to defend the belt for an extended period. It isn't fair to strip somebody because of an injury, but neither is it fair to keep a title tied up during a lengthy injury.
The IBF has a provision in its rules regarding when it can use an interim title, and it's going to use it now -- for the right reasons.
Junior flyweight titlist
Ulises "Archie" Solis
of Mexico is injured. He hasn't fought since August and likely will be out of action for several more months, which will take him at least three months past the time during which he would have been expected to make a mandatory defense.
So the IBF has agreed to allow its two highest-rated 108-pound contenders to vie for the interim title. That means former titlist
Luis Lazarte
of Argentina and
Johnriel Casimero
of the Philippines will meet Feb. 10 in Argentina for the interim belt.
And what makes the IBF's rule legit is that it won't mess around: When Solis returns, his next defense will have to be against the winner of the interim title bout -- the way it should be. This isn't the way it's handled by the other organizations, which have allowed titleholders and interim titleholders to go about making defense after defense without being ordered to face each other.
The only negative in this IBF situation is that Solis has already had to fight Lazarte, the dirtiest fighter in boxing, twice. In 2010, Solis was robbed in Argentina in a draw with Lazarte, in which the referee and scoring were so poor that the IBF ordered a rematch. The fighters met again in 2011, with Solis outpointing Lazarte in another terrible fight. It would be a shame if they had to meet again. That's one rule the IBF could stand to tweak -- dropping the loser in a mandatory fight low enough in the rankings so that an entirely unnecessary fight isn't foisted on the titleholder and public.
But the interim title usage by the IBF is exactly as it should be. IBF championships chairman
Lindsey Tucker
, who has served in his role since 2003, is a by-the-books guy. Under his watch, this will be only the third time the organization will employ the use of an interim world title. It used it in 2004 when junior welterweight champ
Kostya Tszyu
was injured and
Sharmba Mitchell
claimed the interim belt (and later got knocked out by Tszyu, upon his return). In 2006,
Julio Diaz
claimed the interim lightweight title when
Jesus Chavez
was on the shelf because of an injury, and when Chavez returned he lost to Diaz.
• I was disappointed that President Obama took more than an hour to deliver his recent State of the Union address and couldn't find even a moment to bring up the national need for a Manny Pacquiao-Floyd Mayweather Jr. fight.
• I'm looking forward to my first trip to San Antonio later this week to cover the Julio Cesar Chavez Jr.-Marco Antonio Rubio and Nonito Donaire-Wilfredo Vazquez Jr. doubleheader. Friday's weigh-in is scheduled to take place in front of the Alamo. That should be pretty cool -- and probably means I will remember the Alamo.
• Chuck Giampa ... um, I forgot what I was going to write.
• Has Rico Ramos thrown a punch yet against Guillermo Rigondeaux?
• I happen to think that the Edwin Rodriguez-Donovan George super middleweight bout can't possibly be a boring fight. Promoter Lou DiBella and HBO went with that fight to open the March 17 card headlined by Sergio Martinez-Matthew Macklin when they couldn't finalize a fight for Andy Lee. I'm not disappointed. Rodriguez-George is a more interesting fight than any of the opponents who were mentioned as possible Lee foes.
• So Andre Dirrell has left adviser Al Haymon and promoter Gary Shaw and has created his own promotional company. Delusion knows no bounds in this business.
• Poor Cornelius "K9" Bundrage. The junior middleweight titlist has been kept maddeningly inactive by promoter Don King and now is saddled with an absolutely horrible mandatory defense against Cory Spinks, who brings no fan interest and whom Bundrage already destroyed to win the belt in the first place.
• Congratulations to Amir Khan on his engagement.
• I really hope Top Rank and HBO can finish a deal for Brandon Rios and Yuriorkis Gamboa to go right into a fight with each other April 14 rather than wasting time on a card with each of them in interim bouts. Fingers crossed.
• The good news is that the Alexander Povetkin-Marco Huck heavyweight title bout was sanctioned. The bad news is that the winner must face Hasim Rahman next. Ewwww.
• British super middleweight prospect James DeGale, a 2008 Olympic gold medalist, says he has left promoter Frank Warren and is a free agent. Warren says he still has DeGale under contract until April 14, 2013. This one should be fun to follow.
• Gotta be honest: It's hard to get excited for the April 28 rematch between Bernard Hopkins and Chad Dawson. But at least with it taking place in Atlantic City, N.J., I won't have to fly cross-country for it, as I did for the first fight in Los Angeles.
• Happy 28th birthday to junior welterweight titlist Lamont Peterson and 22nd birthday to welterweight Thomas Dulorme, one of the best prospects in boxing.