Dan Rafael:

Mayweather-Guerrero
May, 2, 2013
May 2
11:26
PM ET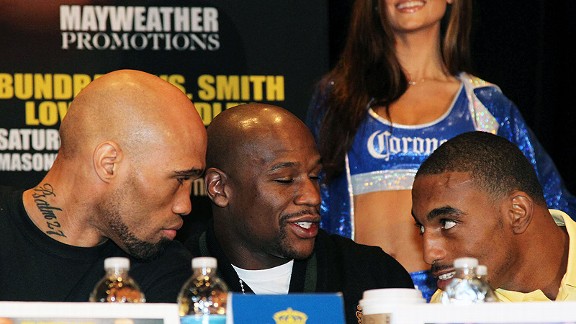 Tom Casino/ShowtimeFloyd Mayweather Jr. has bulit up a promotional stable with fighters like Ishe Smith and J'Leon Love.
LAS VEGAS--– When 36-year-old pound-for-pound king Floyd Mayweather Jr. signed his six-fight, 30-month contract with Showtime/CBS earlier this year, he knew it was for the final stage of his brilliant career.
So while Mayweather may earn in the neighborhood of $200 million-plus under the deal -- and maybe more depending on how his pay-per-view events perform -- he is also thinking about life after boxing.
Mayweather (43-0, 26 KOs) kicks off the deal with his welterweight title defense against interim titleholder Robert Guerrero (31-1-1, 18 KOs) on Saturday night (Showtime PPV, 9 ET) at the MGM Grand Garden Arena and intends to fight again on Sept. 14 in an effort to be as busy as he has been in years. But then there is the part about setting things up for the next stage of his career, which he wants to be as a promoter.
Like his one-time rival Oscar De La Hoya did in 2002 when he founded Golden Boy Promotions a few years before he retired -- and it has become one of the top two promotional outfits in the world along with Top Rank -- Mayweather founded Mayweather Promotions a few years ago.
But until recently it had not been very active putting on shows or signing fighters. That has changed with the company being involved in several shows, with Golden Boy's assistance, that didn't include the boss fighting on the card.
Mayweather's deal with Showtime undoubtedly has provisions that give his company dates and slots so his fighters can gain exposure. That's all part of the Mayweather plan.
"My long-term goal is hopefully to have a fighter surpass me," Mayweather said. "I want to be part of a fighter going to the pinnacle. Who don't want to be part of a fighter going to the top? I'd love to be a part of it. Only thing I can do is keep my fingers crossed and hope for the best and constantly put them in the best position possible. That's what it's about -- putting them in the best position possible."
Mayweather keeps his fighters close to him. They usually train at his gym in Las Vegas and he often watches over them and trains alongside them.
"Like I preach to them all the time -- we sit down and I talk to them and I tell them about my life, how I learned things at an early age," Mayweather said. "I want to help the young fighters. I always tell the fighters I see it from both sides as far as promoter and a fighter. I fight just like they fight. Don King can't see it from a fighter's point of view. Bob Arum can't see it from a fighter's point of view because they're not fighters, they're just promoters."
Mayweather Promotions, run on a daily basis by longtime Mayweather adviser Leonard Ellerbe, has eight fighters in its stable, including junior middleweight titlist Ishe Smith and some of the fighters on Saturday's undercard, including middleweight prospect J'Leon Love, who opens the pay-per-view broadcast against Gabriel Rosado, light heavyweight prospect Badou Jack and super middleweight youngsters Ronald Gavril and Luis Arias.
"We put our guys in solid," Mayweather said. "One thing about us is we match our guys solid. We're slowly building our team. With our fighters I think it's different than any other company. They all stick together even though one day they're gonna have to fight one another because this is the sport, this is the business. As of right now everything is flowing smooth."
May, 2, 2013
May 2
3:37
PM ET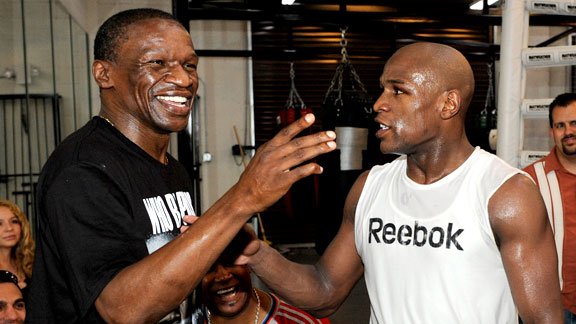 Ethan Miller/Getty ImagesFor the first time in 13 years, Floyd Mayweather Sr. will be working the corner of his son on Saturday.
LAS VEGAS – Floyd Mayweather Jr. and his dad, Floyd Mayweather Sr., have had a volatile relationship. Both are stubborn, proud men set in their ways and have had some very public battles.
The elder Mayweather had Junior wearing boxing gloves before he could even walk and was his original trainer. But eventually they had a very public falling out and Mayweather Sr.'s last fight as the head trainer came in 2000, when Junior was junior lightweight champion and defended against Goyo Vargas.
From that point on, Floyd Jr. was trained by his uncle, Roger Mayweather. Floyd Sr. came around the camp from time to time over the years, including before his son's 2007 fight against Oscar De La Hoya, but Roger remained the corner commander.
So it came as a surprise when Mayweather Jr. (43-0, 26 KOs) announced that he would be defending his welterweight title against Robert Guerrero (31-1-1, 18 KOs) on Saturday night in Las Vegas with his father returning to helm the corner for the first time in 13 years.
Roger, while still part of the daily training team and still responsible for overseeing the mitt work, will not be in the corner as an assistant come fight night. Floyd Jr. said his corner will include his father, cutman Rafael Garcia and assistants Leonard Ellerbe and Nate Jones.
The public reason for the change is health reasons, Floyd Jr. said. Roger has diabetes that is taking its toll.
"Roger's vision is getting bad and I can't afford anyone's bad vision in a big fight like this," Floyd Jr. said.
Floyd Sr. has his own issues with the lung disease sarcoidosis, but is in better shape that Roger.
"Well, my dad, of course, he's a boxing wizard and Roger's a boxing wizard, so you can't go wrong with either guy," Floyd Jr. said. "My dad is the main trainer and, of course, it's not like I fired anyone. It's just that my dad's a little sick, but he's a lot healthier than Roger is.
"Roger's health is not at its best right now and my main focus is I want a guy that's in my corner that's sharp and healthy. But he still works day in and day out with me every day as far as and keeping me sharp. But my dad is the main trainer and Roger still works me day in and day out, but fight night, my dad will be working my corner."
Floyd Jr. has also been open about the desire to have a closer relationship with his father as he gets older.
"I want to grow closer to my family, do things a lot different now," Floyd Jr. said. "My dad is sick. If I never made a bond with my father and he's sick and something harsh happened, because anything can happen -- he's older, he's lost a lot of weight from being sick -- it would hurt me not speaking to him. It would hurt me very, very bad for him not to have a relationship with his grandchildren. That's very, very important to me.
"Me, I had to be the bigger person and say [to him], 'You need to have a great relationship with your grandchildren and what do me and you have to argue about? We both are in the sport to be the best. So if you're trying to be the best and I'm trying to be the best, why not work together?'"
Floyd Sr. is happy to be back and accepted his son's invitation to train him again with no questions asked. He said training camp was tranquil, at least by Mayweather standards, and that he has sharpened Floyd's defense, which was penetrated like it hadn't ever been last May during his tough points win against Miguel Cotto.
"The Lord above is looking down on all of us and He knew," Mayweather Sr. said. "He's touched him and let him know, 'You need your daddy.'"
May, 2, 2013
May 2
10:46
AM ET
LAS VEGAS -- Those who give Robert Guerrero a good chance to upset pound-for-pound king Floyd Mayweather Jr. and take his welterweight world title on Saturday night (9 ET, Showtime PPV) at the MGM Grand point to specific aspects of the matchup.

They look at the age and recent results, for one. Guerrero is an in-his-prime 30 and is coming off perhaps the best performance of his career when he beat down former two-time welterweight titlist Andre Berto in November. Meanwhile, Mayweather is 36, has been out of the ring for one year -- two months of which was spent in jail last summer -- and is coming off a win against Miguel Cotto in which he was hit cleanly more than he ever has been.

Another aspect is their stance. Guerrero is a southpaw and on the rare occasions where Mayweather has had a few issues in his past fights, some have come against left-handers.

Mayweather beat DeMarcus "Chop Chop" Corley by convincing unanimous decision in a 2004 junior welterweight fight but Corley, a former titleholder, gave him a few problems and also rocked him.

In 2006, Mayweather outpointed Zab Judah to win a welterweight belt, but for the first four or five rounds of that fight Judah completely neutralized Mayweather and was winning easily, mainly because the southpaw style had him out of sorts.

"Oh, definitely the southpaw side gives him trouble," Guerrero said. "If DeMarcus Corley and Zab Judah didn't get tired, they were winning that fight and I believe that. I'm ready for this. I've had the right fights. I was built the right way. I've had the right experience.

"I've been there with a bunch of different styles. I've been in there with lefties, a lot of them; I've been in with a bunch of different power punchers, prowlers, boxers, sharp guys. But as I say, what I've been through, God's prepped me up for this and here it is."

When asked about if he has trouble with southpaws, Mayweather brushed it off.

"Last time I checked I was 43-0," Mayweather said. "I don't think he's a better boxer than Zab Judah. He's not faster than Zab Judah. I don't think he faced the competition that Zab Judah has faced.

"But we'll see how the fight plays out. Everybody has a game plan and my game plan is to just adjust and adapt once I get in that squared circle. But once again, everybody got to adjust and adapt to me because I control the tempo always."

March, 20, 2013
Mar 20
5:40
PM ET
If you didn't know any better, you would think this whole HBO-versus-Showtime boxing thing had devolved into the old Monday night wrestling wars between WWE and WCW.

The latest development came Tuesday when Showtime, in unveiling a slew of programming that will surround its marketing and promotion of the Floyd Mayweather Jr.-Robert Guerrero Showtime PPV fight on May 4 at the MGM Grand in Las Vegas, announced that it had tapped Ross Greenburg to serve as executive producer on two of its key pieces of programming associated with the fight.

To understand why that's a bombshell, one must understand the backstory. Greenburg is the former longtime president of HBO Sports, who was forced to resign in the summer of 2011. He had been having a rocky ride, but the last straw came when Top Rank's Bob Arum took HBO cornerstone fighter Manny Pacquiao to rival Showtime for his May 2011 pay-per-view fight with Shane Mosley. Greenburg's bosses had no idea that the relationship between Greenburg and Arum had deteriorated so badly, to the point that the network lost Pacquiao. It turned out to be for only one fight, but it, combined with other factors, ultimately cost Greenburg his job.

Hired to replace Greenburg was Ken Hershman, who resigned as the head of Showtime Sports to take the gig.

Last month, Mayweather, HBO's other cornerstone fighter, left the network to sign a massive exclusive deal with Showtime and parent company CBS, putting Hershman in an even worse spot that Greenburg had been in. After all, Greenburg lost Pacquiao for one fight. Hershman has lost Mayweather possibly for the rest of his career.

And earlier this week, HBO announced that it was no longer going to buy fights from Golden Boy Promotions, the company that it helped put in business and which has served as Mayweather's de facto promoter since 2007. Golden Boy also has been doing most of its business with Showtime since Hershman left and was replaced by Stephen Espinoza, who was previously Golden Boy's attorney.

Talk about a tangled web and musical chairs.

In any event, Greenburg, who has won more than 50 Sports Emmys and is a brilliant producer, has tons of experience working on Mayweather-themed projects after overseeing so many of his HBO events. Greenburg also oversaw the creation of HBO's "24/7" reality series, which became a tremendously popular vehicle that promoted Mayweather's fights. No matter how you slice it, Espinoza's bringing Greenburg on board for Mayweather-Guerrero is a superb move.
March, 11, 2013
Mar 11
3:50
PM ET
Since last month's announcement that pound-for-pound king Floyd Mayweather Jr. would defend his welterweight world title against interim titlist Robert Guerrero on May 4 at the MGM Grand in Las Vegas, I have been asked the same questions over and over: How much are the tickets and when do they go on sale?

Golden Boy announced the particulars on Monday about the Showtime PPV event, which has been titled "Mayday: Mayweather vs. Guerrero."

The co-feature was also formally announced, although it has been set for several days: Featherweight titlist Daniel Ponce De Leon (44-4, 35 KOs) will defend against Mexican countryman Abner Mares (25-0-1, 13 KOs), the former bantamweight and junior featherweight titlist who recently vacated his 122-pound title to move up to the 126-pound featherweight division.

In announcing the fight details, Mayweather (43-0, 26 KOs) said, "I know Guerrero has been campaigning to fight me for quite a while now and I am happy to give him his opportunity. His name is mentioned among the other great champions in boxing today, and that means he has proven himself in the ring. He will now have to prove himself against me, which is a whole other story.

"I'm excited for the challenge and fully expect a good, tough fight from him. However, I do expect the same outcome for him as all of the others who have challenged me before: Forty-two have tried, 42 have failed. He will be number 43."

Said Guerrero (31-1-1, 18 KOs), a former two-division titlist who has also won interim belts in two other weight classes: "Nothing has ever come easy to me, and that mental fortitude has prepared me to defeat the one fighter everyone perceives to be the pound-for-pound king in Floyd Mayweather. When we lock eyes across the ring on fight night, he's going to feel the presence of a man preordained for greatness.

"The time is now to show the world why I'm destined to dethrone Floyd, and when I come out victorious on May 4, the whole world will know I'm a man who willed his way to victory by putting God first in his life."