Dan Rafael:

Mayweather-Pacquiao
January, 15, 2015
Jan 15
7:56
PM ET
While the Manny Pacquiao and Floyd Mayweather camps have been working to make a deal for their proposed May 2 megafight at the MGM Grand in Las Vegas, there is more to it than just getting the fighters to agree to terms.

It will also require Showtime/CBS, which has Mayweather under contract, and HBO/Time Warner, which has Pacquiao under contract, to make a deal for what is expected to be a joint pay-per-view telecast if the fight is finalized.

At least that ball is rolling.

HBO chairman and CEO Richard Plepler and HBO Sports President Ken Hershman joined Showtime chairman and CEO Matt Blank and Showtime Sports Executive Vice President and General Manager Stephen Espinoza on Wednesday at an undisclosed restaurant in New York to discuss the framework of a deal, a source with knowledge of the meeting told ESPN.com.

There is a long way to go according to the source.

"If this was a 100-meter dash, it's at about the 40-meter mark," the source said.

Both networks declined to comment.

Showtime and HBO are fierce rivals in the premium cable business when it comes to boxing, original programming, documentaries, you name it. This is not an easy deal to make.

There are a slew of issues, including critical aspects such as which company would do the actual production, which company's announcers would call the fight and which network would get the delayed broadcast rights. There are also aspects not nearly as significant but which also must be dealt with, such as which network's ring announcer would handle the fight, Showtime's Jimmy Lennon Jr. or HBO's Michael Buffer.

But it has happened once before -- in 2002, for the Lennox Lewis-Mike Tyson heavyweight championship fight, when Lewis was signed to HBO and Tyson to Showtime.

That was a brutal deal to negotiate but it did get done. So there is a blueprint of how to make a deal already in place.

My thought is that they should simply bust out that contract and do it the same way for Mayweather-Pacquiao with whatever tweaks might need to be made.

In the 2002 deal, for example, Lennon and Buffer each introduced their network's fighter. Since Lewis won by knockout, Buffer announced the decision. Had it gone the distance they would have both read parts of the scoring.

In terms of the announcer team, the networks meshed their broadcast teams for a fight-night PPV telecast and each network also had its other guys call the fight as well for the possible replay.

The deal was that whichever network's fighter won, that network would get the delay rights. Lewis won and HBO showed the replay, and the fight was forever branded an HBO fight. The Showtime replay that was produced never aired.

So the deal can be done. It's just not easy.

Right off the bat, I'm told that HBO is reluctant to handle the delay the same way as in the 2002 deal, preferring instead to have any delay air simultaneously on both networks. Perhaps HBO was OK with the 2002 arrangement because Lewis was such a huge favorite over Tyson and it was worth the risk. In a Mayweather-Pacquiao fight, Mayweather will be the favorite.

So whether Mayweather and Pacquiao themselves can come to terms -- and Pacquiao's side claims he has agreed to terms negotiated by Top Rank promoter Bob Arum with CBS boss Leslie Moonves, who has been serving as the go-between with Mayweather's camp, while Mayweather has not yet -- the network deal is just as important as any agreement the boxers can come to.

In order for there to be a fight of this magnitude on May 2, any deal would almost certainly have to be wrapped up no later than early February and the clock is ticking.

December, 27, 2013
12/27/13
11:54
AM ET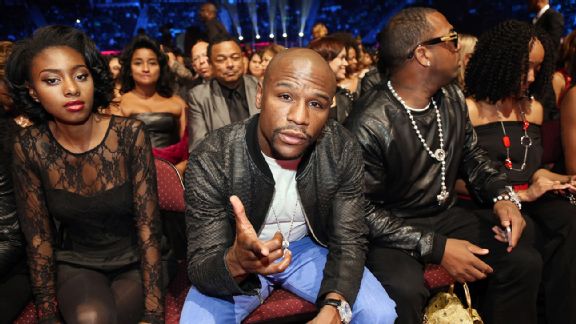 Johnny Nunez/BET/Getty ImagesWill Floyd Mayweather Jr. budge from his demands to make a megafight with Manny Pacquiao?
In the spirit of the holidays, ESPN is celebrating the season with our own "12 Days" wish list of the fights we want to see most, regardless of promotional or other entanglements. Keep checking back in the coming days to see new fights revealed, discuss our choices or even suggest some of your own in the comments section or via Twitter using #ESPN12Days.
When Muhammad Ali and Joe Frazier were the best heavyweights in the world, both undefeated and both with a claim to the title, they eventually fought. Because the public demanded it, because each could make his biggest payday and because they dared to be great.
It became one of the most storied rivalries in sports history and produced boxing's most famous trilogy.
Showdowns between all-time greats do happen, but it's rare when they take place with fighters at the peak of their powers. It happened when Sugar Ray Leonard and Thomas Hearns met to unify the welterweight title more than 30 years ago, a fight still talked about today.
In more recent years, the one fight that transcended boxing, one that even casual sports fans were interested in, was a showdown between Manny Pacquiao and Floyd Mayweather Jr. It has yet to happen, and its prospects look bleak.
Filipino icon Pacquiao is the humble spirit and whirlwind power puncher who has won world titles in a record eight weight divisions, has been named fighter of the year three times and was the 2000's fighter of the decade. Mayweather is the brash, technical wizard who is undefeated and has won world titles in five weight divisions. He also has a fighter of the year award to his credit.
For a few years, Pacquiao and Mayweather were regarded as the two best fighters in the world, pound for pound. However they ranked, they were always 1-2 (or 1A and 1B, for that matter) -- and nobody else was seriously in the conversation. And, oh yeah, they were both welterweights and beating many of the same opponents, including big names such as Oscar De La Hoya, Ricky Hatton, Juan Manuel Marquez, Shane Mosley and Miguel Cotto.
As all fight fans know by now, unless you've been on Mars or under a rock, the sides have tried to negotiate the fight multiple times, including, most notably, the first try in late 2009 for an early 2010 fight. In my estimation, it would have generated more than 3 million pay-per-view buys and left the record in the dust. I think the fight would have easily shattered every single boxing revenue record known to mankind.
It was a fight the world was begging to see. It was the ultimate showdown between boxing's best, two men with opposite personalities and contrasting styles.
The camps had worked out every single issue -- from purse split (50-50) to a date and location -- with one exception. Mayweather demanded that both fighters undergo random drug testing -- blood and urine -- leading up to the fight. At the time, Pacquiao objected to blood testing so close to the bout, and the deal cratered.
A second negotiation, one the Mayweather camp still has never admitted even took place (even though Pacquiao's side and HBO, which was involved, said it did), went nowhere. By this time, Pacquiao was OK with random blood testing (which he underwent for his Nov. 23 fight with Brandon Rios), but Mayweather had other ideas and wanted a lot more than half the money. When he and Pacquiao spoke directly on the telephone about a possible fight, Mayweather offered only a flat fee to Pacquiao rather than a rightful percentage of a promotion that might be worth in excess of $200 million.
The rancorous issues between Pacquiao promoter Top Rank and Mayweather adviser Al Haymon and Golden Boy, Mayweather's de facto promoter, were also huge roadblocks to making the fight.
While Mayweather has remained on top and is now the clear pound-for-pound king, Pacquiao suffered a pair of losses -- a bogus split decision to Timothy Bradley Jr. and a rough knockout to Marquez in their fourth showdown. Those results cooled excitement for the fight. But after Pacquiao rebounded with such a dominant win against Rios, the fight is on people's minds again.
And although it will never, ever be what it should have been -- the two best facing off at their best in 2010 -- it's still the biggest fight boxing has to offer, by far.
But that hasn't made a difference for the past several years and, sadly, doesn't appear to mean anything now, either, as both fighters remain as far apart as ever.
Pacquiao is due to fight April 12 and Mayweather on May 3. Neither has formally announced his opponent, but one thing you can take to the bank: They won't be fighting each other. And for all of boxing, that is a shame.