Dan Rafael:

Mayweather Promotions
October, 30, 2013
10/30/13
11:44
AM ET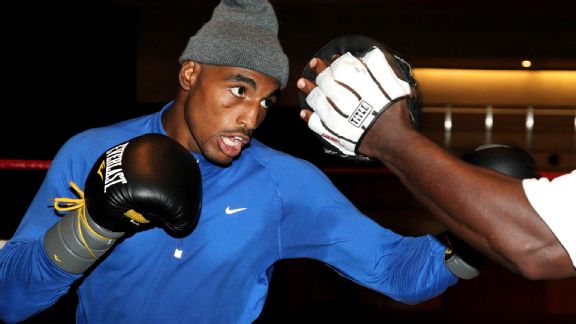 Tom Casino/ShowtimeJ'Leon Love is one of three Mayweather Promotions fighters who will headline a Dec. 6 tripleheader.
When pound-for-pound king Floyd Mayweather Jr. signed his gargantuan 30-month contract for up to six fights with Showtime/CBS earlier this year, the deal was about more than just the money, even if those millions were the deciding factor.
Mayweather is also promoting fights now and part of the deal was that Showtime would give his Mayweather Promotions' stable exposure, which comes in the form of television dates. That's why when "ShoBox: The New Generation" returns on Dec. 6 at the Little Creek Casino in Shelton, Wash., it will be a tripleheader featuring three of Mayweather's fighters, none of whom won their last fights.
Showtime said that middleweight J'Leon Love (15-0, 8 KOs) will headline with super middleweight Badou Jack (15-0-1, 10 KOs) in the middle fight and lightweight Mickey Bey (18-1-1, 9 KOs) in the opener. There are no opponents yet for the scheduled 10-round bouts.
It's quite obvious that without Mayweather flexing his considerable muscle and pushing for his guys, this would not be a "ShoBox" card. But Showtime used the dates it gave Mayweather Promotions as a chip to sweeten the deal with Mayweather.
Love was awarded a very debatable split decision on May 4 against Gabriel Rosado on the Mayweather-Robert Guerrero undercard. However, the result was changed to a no decision because Love tested positive for a banned diuretic he used to help him make weight for the middleweight contest. Love was fined and suspended by the Nevada State Athletic Commission and this will be his first fight since the suspension.
Jack was disappointing in a 10-round draw against Marco Antonio Periban in Las Vegas on Sept. 12, two nights before Mayweather's win against Canelo Alvarez.
Bey is winless in his last two fights. In February, a third-round knockout win was changed to a no decision because Bey tested positive for extremely high levels of testosterone.
In his return from a toothless suspension in July, Bey, leading widely on all three scorecards, got knocked out by John Molina in the final minute of the 10-round fight.
May, 2, 2013
5/02/13
11:26
PM ET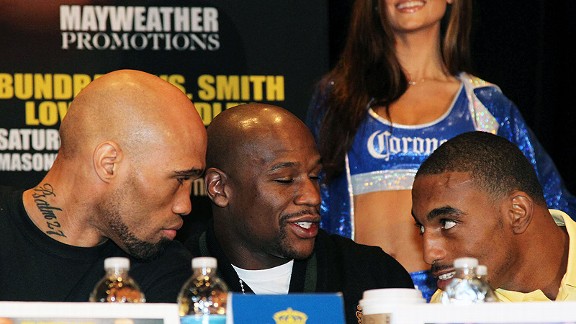 Tom Casino/ShowtimeFloyd Mayweather Jr. has bulit up a promotional stable with fighters like Ishe Smith and J'Leon Love.
LAS VEGAS--– When 36-year-old pound-for-pound king Floyd Mayweather Jr. signed his six-fight, 30-month contract with Showtime/CBS earlier this year, he knew it was for the final stage of his brilliant career.
So while Mayweather may earn in the neighborhood of $200 million-plus under the deal -- and maybe more depending on how his pay-per-view events perform -- he is also thinking about life after boxing.
Mayweather (43-0, 26 KOs) kicks off the deal with his welterweight title defense against interim titleholder Robert Guerrero (31-1-1, 18 KOs) on Saturday night (Showtime PPV, 9 ET) at the MGM Grand Garden Arena and intends to fight again on Sept. 14 in an effort to be as busy as he has been in years. But then there is the part about setting things up for the next stage of his career, which he wants to be as a promoter.
Like his one-time rival Oscar De La Hoya did in 2002 when he founded Golden Boy Promotions a few years before he retired -- and it has become one of the top two promotional outfits in the world along with Top Rank -- Mayweather founded Mayweather Promotions a few years ago.
But until recently it had not been very active putting on shows or signing fighters. That has changed with the company being involved in several shows, with Golden Boy's assistance, that didn't include the boss fighting on the card.
Mayweather's deal with Showtime undoubtedly has provisions that give his company dates and slots so his fighters can gain exposure. That's all part of the Mayweather plan.
"My long-term goal is hopefully to have a fighter surpass me," Mayweather said. "I want to be part of a fighter going to the pinnacle. Who don't want to be part of a fighter going to the top? I'd love to be a part of it. Only thing I can do is keep my fingers crossed and hope for the best and constantly put them in the best position possible. That's what it's about -- putting them in the best position possible."
Mayweather keeps his fighters close to him. They usually train at his gym in Las Vegas and he often watches over them and trains alongside them.
"Like I preach to them all the time -- we sit down and I talk to them and I tell them about my life, how I learned things at an early age," Mayweather said. "I want to help the young fighters. I always tell the fighters I see it from both sides as far as promoter and a fighter. I fight just like they fight. Don King can't see it from a fighter's point of view. Bob Arum can't see it from a fighter's point of view because they're not fighters, they're just promoters."
Mayweather Promotions, run on a daily basis by longtime Mayweather adviser Leonard Ellerbe, has eight fighters in its stable, including junior middleweight titlist Ishe Smith and some of the fighters on Saturday's undercard, including middleweight prospect J'Leon Love, who opens the pay-per-view broadcast against Gabriel Rosado, light heavyweight prospect Badou Jack and super middleweight youngsters Ronald Gavril and Luis Arias.
"We put our guys in solid," Mayweather said. "One thing about us is we match our guys solid. We're slowly building our team. With our fighters I think it's different than any other company. They all stick together even though one day they're gonna have to fight one another because this is the sport, this is the business. As of right now everything is flowing smooth."