Dan Rafael:

Michael Katsidis
August, 28, 2014
Aug 28
3:27
PM ET
Lightweights Luke Campbell and Tommy Coyle face legitimate tests in their next fights when they box on the same card Oct. 25 (Sky Sports in the United Kingdom) at the Ice Arena in their hometown of Hull, England.

Campbell (7-0, 5 KOs), 26, a 2012 Olympic gold medalist, takes on Daniel Brizuela (26-3-2, 8 KOs), 28, of Argentina, in Campbell's first scheduled 12-rounder. Two fights ago, also at Ice Arena, Brizuela was stopped in the 12th round by Coyle in an epic fight of the year candidate as each man hit the deck four times in England in February.

"This is a big step up for me but one I feel that I am ready for," said Campbell, who first has a tune-up fight Sept. 20 in London on the undercard of Christopher Rebrasse's European super middleweight title defense against George Groves. "Brizuela's fight with Coyle was unbelievable and I know I am in for a serious night's work, but I'm 7-0 now and with more rounds under my belt in September. I'm confident I can land my first [regional] title."

In the 12-round co-feature, Coyle (19-2, 8 KOs), 24, takes on Australia's Michael Katsidis (30-6, 24 KOs), 34, who twice claimed interim lightweight titles but is better known for his legendary brawls. Katsidis has won both of his fights since ending a two-year retirement in March.

"It's great to be fighting someone of Michael Katsidis' caliber," Coyle said. "There were many big names touted for this fight and I am delighted that it's Michael I'll be taking on. He has been in with [Kevin] Mitchell and Ricky Burns over here and also shared the ring with Robert Guerrero and Juan Manuel Marquez, so to beat him will be a huge achievement and a great scalp to have on my record."

Katsidis has boxed in the England before and one of his most famous brawls, a wild fifth-round knockout of Graham Earl in their first fight, came in London in 2007.

"It is nice to be fighting in England again and I am very much looking forward to the fight with Tommy," Katsidis said. "I have always enjoyed the passion of the fans and I feel at home when I fight there. I have had a number of offers from the UK and I am happy to come to Hull for the fight."

If Campbell and Coyle both win, Matchroom Boxing promoter Eddie Hearn envisions a big all-Hull showdown next year.

"Tommy Coyle, who now has a reputation of being in regular wars, fights perhaps one of the most world-renowned warriors in Michael Katsidis, while for Olympic champion Luke Campbell, this is the acid test," Hearn said. "Brizuela, who came back from an impressive win following his fight of the year with Tommy, is a huge step up for Luke and one we believe he is ready for. Victory for both men will set up the battle of Hull in 2015, which will be a defining sporting occasion for the city."

August, 4, 2014
Aug 4
1:26
PM ET
Australia's Michael Katsidis, whose action fights over the past several years are the stuff of legend, has won two fights this year in a comeback from a two-year retirement.

Although Katsidis won both fights handily, scoring a third-round knockout of Eddy Comaro in March and a 12-round decision in a rematch with Graham Earl (their brawl in 2007 is incredible) on July 4, neither opponent posed much danger.

But with two comeback fights in the books, Katsidis, fighting at junior welterweight, is hunting better game.

Katsidis (30-6, 24 KOs), 33, has his eye on any of the following fights: former lightweight titleholders Juan Diaz or Brandon Rios and England's Derry Mathews.

"All three of these fights are an interest to us," said Brendon Smith, Katsidis' manager and trainer. "I have had positive discussions with the Diaz and Mathews camps. Michael has always had a burning desire for a rematch with Juan Diaz. We felt Michael won the first fight and feel that the rematch would be another great fight."

Diaz outpointed Katsidis by split decision in a 2008 lightweight bout in Diaz's hometown of Houston.

Rios, who beat Diego Chaves by ninth-round disqualification on Saturday night, is now at welterweight.

"Obviously, styles make fights, and a fight between Brandon Rios and Michael Katsidis has classic written all over it," Smith said. "This would be a great fight and one that needs to be made for the fans. There is also a lot of interest in a fight with Derry Mathews. Michael is known as 'The Brit Basher' and Derry Mathews is another good British fighter Michael would like on his résumé."

Smith said regardless of whom Katsidis fights next, he will return to action in October.
February, 4, 2014
Feb 4
2:04
PM ET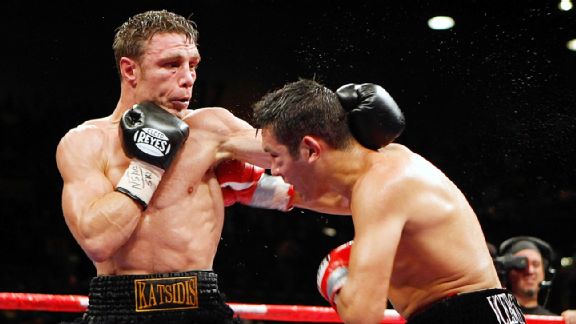 Ethan Miller/Getty ImagesMichael Katsidis, left, will be back in the ring on March 14 for the first time in almost two years.
Like most all-action fighters, Michael Katsidis took a lot of punishment during a career in which he had some very memorable fights, won interim lightweight belts twice and faced some of boxing's elite fighters.
He hasn't fought since a majority decision loss to Albert Mensah in April 2012 in Las Vegas, Katsidis' fourth loss in five fights. It seemed like the end.
But this is boxing. So when he announced in late December that he had reunited with longtime manager and trainer Brendon Smith and was planning a comeback, it didn't come as much of a surprise.
Now the fight is even closer to reality as Katsidis (28-6, 23 KOs), 33, has an opponent for his March 14 return in his hometown of Toowoomba, Australia. Katsidis will face Eddy Comaro (27-17-5, 11 KOs), 27, of Indonesia, in a 10-round junior welterweight bout, Smith announced this week.
"Eddy Comaro is a strong fighter. He is very experienced, and having the opportunity to fight Michael gives him the chance to make himself a legend," Smith said. "We expect him to be at 110 percent for this fight, but Michael will be ready for whatever comes his way."
I'm not sure beating a faded Katsidis will make anyone a legend, but it would be a boost for Comaro, who has lost two fights in a row. Based on his record, he doesn't look like he should be much of a problem for Katsidis, but the Australian has often made fights a lot harder than they needed to be.
"I'm really looking forward to getting back in the ring," Katsidis said. "It has been eight years since I last fought in Toowoomba, and I am very excited to have this fight in my hometown in front of my friends and family. I know Eddy is a tough, strong and experienced fighter, but I am training hard and I will be ready to put on a great show and make it a successful night."
During his heyday, Katsidis was a must-see fighter. In 2007 and 2008, he had three consecutive fight of the year contenders in interim lightweight title bouts -- winning a ridiculous slugfest with Graham Earl by fifth-round knockout in England, a bloody unanimous decision against Czar Amonsot in Las Vegas (in which Amonsot suffered a brain injury) and a 10th-round knockout loss to Joel Casamayor in a mayhem-filled bout in Cabazon, Calif.
There were other grueling fights also, such as a decision loss to Juan Diaz and a ninth-round knockout loss to Juan Manuel Marquez, whom Katsidis dropped hard and nearly knocked out in their 2010 battle.
January, 3, 2014
Jan 3
10:44
AM ET
Perhaps it's not the best idea ever, but Michael Katsidis, one of the most exciting action fighters of the past 20 years, is making a comeback.

Katsidis, the former longtime lightweight contender (and former interim titlist), has reunited with longtime trainer and manager Brendon Smith, whom he split with two years ago, for the return.

Smith announced that he and Katsidis, 33, signed a two-year deal on Christmas Eve. The plan, Smith said, is for Katsidis to be back in the ring in March.

Australia's Katsidis (28-6, 23 KOs) has lost four of his past five fights and not fought since a 10-round majority decision loss to Albert Mensah in an ESPN2 junior welterweight main event in April 2012.

But during his heyday, Katsidis was as exciting as any fighter in the business. In 2007 and 2008, he had three consecutive fight-of-the-year contenders in interim lightweight title bouts. He won a ridiculous slugfest with Graham Earl by fifth-round knockout in England; a bloody unanimous decision against Czar Amonsot in Las Vegas (in which Amonsot suffered a brain injury); and a 10th-round knockout loss to Joel Casamayor in a mayhem-filled bout in Cabazon, Calif.

There were other grueling fights also, such as a decision loss to Juan Diaz and a ninth-round knockout loss to Juan Manuel Marquez, whom he dropped hard and nearly knocked out in their 2009 battle.
August, 2, 2013
8/02/13
10:31
AM ET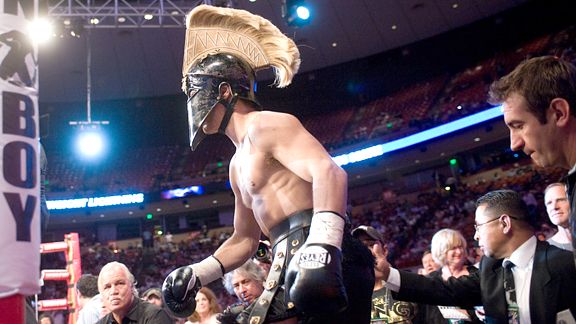 Chris Cozzone/FightWireImages.com All-action fighter Michael Katsidis is ready to climb into the ring for one more fight.
Lightweight Michael Katsidis was one of the most exciting action fighters of the era. Time and again, he was in dramatic slugfests.
In 2007 and 2008, he had three consecutive fight of the year contenders in interim lightweight title bouts -- winning a ridiculous fight with Graham Earl by a fifth-round knockout in England, a bloody unanimous decision against Czar Amonsot in Las Vegas (in which Amonsot suffered a brain injury) and a 10th-round knockout loss to Joel Casamayor in a mayhem-filled bout in Cabazon, Calif.
There were other grueling fights, such as a decision loss to Juan Diaz and a knockout loss to Juan Manuel Marquez, whom he dropped hard and nearly knocked out.
The brutal battles took their toll, however, and Katsidis lost four of his last five fights, including what we all thought would be his final bout, a decision to Albert Mensah in an April 2012 junior welterweight bout that headlined an ESPN2 card.
Although Katsidis never formally retired, there was a lot of chatter that he had gotten a bad medical report, forcing him to call it quits.
But now, according to The Chronicle newspaper in his hometown of Toowoomba, Australia, Katsidis (28-6, 23 KOs), who turns 33 this month, is looking for one more fight and has reunited with former manager/trainer Brendon Smith to help make it happen. Katsidis and Smith split after a decision loss to Ricky Burns in 2011, the fight before the Mensah bout.
According to the report, Katsidis is eyeing a possible farewell fight in his hometown, where he has not fought since a first-round knockout victory against Guillermo Mosquera in 2006. Although Katsidis has business interests and a clothing line that he is looking after, boxing isn't out of his system just yet.
"I'm clear to fight. My health is a No. 1 priority. I've got a little daughter now," Katsidis told the paper. "I'm in the transition period of my career now as I begin moving into the business world, but I want to give back something to Toowoomba and my fans. I want to fight again and go out on my terms. This is where I want to have my send-off. I believe I've achieved everything I can in boxing but I just want to fight again."
There is no date or opponent yet.
July, 10, 2012
7/10/12
11:25
AM ET
Veteran lightweight brawler Michael Katsidis hurt his knee Saturday and has withdrawn from a fight with prospect Darley Perez. They were due to meet Aug. 10 at the Morongo Casino Resort & Spa in Cabazon, Calif., in the main event of ESPN2/ESPN3's "Friday Night Fights."

According to the email that Justin Fortune, Katsidis' trainer, sent to promoter Gary Shaw, Katsidis saw a doctor and was diagnosed with "septic bursitis" in his knee and was advised to stay off of it for three weeks.

John Beninati, Shaw's matchmaker, told ESPN.com that he is looking for a new opponent to face Perez.

"I'll look for somebody who is acceptable to ESPN and try to keep Darley in the main event or, if we can't, we'll look to make a new main event," he said.

Australia's Katsidis (28-6, 23 KOs), 31, has been a fan favorite for years because of his all-action style, although it's catching up to him. The former interim titlist has lost four of his past five fights, including a decision to Albert Mensah on April 13 on FNF.

Perez (25-0, 19 KOs), 28, of Colombia, is a big hitter, but completely untested. Katsidis would have been his most notable opponent by far.
June, 15, 2012
6/15/12
12:53
AM ET
All-action brawler Michael Katsidis (28-6, 23 KOs) of Australia returns to ESPN2/ESPN3's "Friday Night Fights" to face Colombian puncher Darley Perez (25-0, 19 KOs) in the main event on Aug. 10 from the Morongo Casino Resort & Spa in Cabazon, Calif.
Katsidis, who has been in a bunch of memorable scraps, has dropped four of his past five fights -- including his most recent bout,
a decision loss to Albert Mensah
on FNF on April 13 -- but he still represents a step up in competition for the untested Perez.
"Darley Perez is determined to show everyone that he belongs with the big boys," said Gary Shaw, Perez's promoter. "Beating Katsidis, who we all know is a very tough fighter, will send a statement to the rest of the lightweight division. Both fighters have something to prove, and the fans are going to get their money's worth."
Thirteen of Perez's knockouts have come inside two rounds.
"Fighting a guy like Katsidis, who is one of the toughest guys in boxing, is going to be very challenging," Perez said. "But I'm a very tough fighter as well and I plan to keep my unbeaten record intact. My team and I have come up with a perfect game plan to beat him. The fans will see a great fight, I can guarantee that."
Katsidis has faced a who's who of fighters -- including Juan Manuel Marquez, Robert Guerrero, Juan Diaz and Joel Casamayor -- and given them all tough runs in defeat. He owns wins against Kevin Mitchell, Vicente Escobedo and Graham Earl (in one of the best fights ever).
Katsidis went up to junior welterweight to fight Mensah, but he's back at lightweight to meet Perez.
"I'm coming into this fight with nothing to lose and everything to gain," Katsidis said. "My goal is to get back on top of the lightweight division. Perez is a good fighter, but he has some flaws that I'm going to expose. I don't expect this fight to go the distance. I want to end it early."
April, 12, 2012
4/12/12
11:40
AM ET
Your random thoughts ...
• I like the fact that Juan Manuel Marquez, one of today's best fighters, isn't just sitting around waiting for another big fight. He desperately wants a fourth fight with Manny Pacquiao, which could come near the end of the year, but there is certainly no guarantee. So Marquez will stay busy by facing Sergey Fedchenko on Saturday night in Mexico City in the main event of the Top Rank split-site pay-per-view card (9 ET, $44.95). More fighters should do what Marquez is doing, which is stay active and sharp (even if not for a mega-payday) for when the big fight does come. Sure, it's a risk. But boxing is all about risks.
• You think Yuriorkis Gamboa will be ordering the Marquez-Fedchenko/Brandon Rios-Richard Abril pay-per-view on Saturday night? Maybe he'll order it then just cancel at the last minute? Gamboa, of course, should have been fighting Rios for a seven-figure payday, but he bailed on the day of the announcement news conference because he is obviously listening to very poor advice from somebody. All Gamboa has now is a lot of free time, a breach of contract lawsuit on his hands from Top Rank (which costs money to defend), the ire of boxing fans and HBO and no fight scheduled.
• I don't love the Floyd Mayweather Jr.-Miguel Cotto HBO PPV undercard that was announced this week. From what I have heard from readers and tweeters, it has generated a big shrug. In other words, it's OK -- but certainly nothing to get excited about. Canelo Alvarez-Shane Mosley, the co-feature, was announced ages ago. That's a showcase for Alvarez against a once-great fighter. Does anyone seriously think Mosley has a chance after his terrible (and very boring) recent performances? The other two TV bouts were announced this week -- welterweight prospect Jessie Vargas against Alfonso Gomez and junior middleweights Denadre Latimore and Carlos Quintana squaring off -- and are decent. I don't know who will win either fight, but then again I don't find either bout to be all that intriguing because I don't consider any of the four to be top-tier fighters. So the undercard is decent, but shouldn't it be better when the PPV costs $59.95 (and more in HD)? By the way, I don't blame promoter of record Golden Boy, either. This is Mayweather's call, as he controls what goes on the card and he wanted Vargas and Latimore -- his fighters -- on the PPV.
• So Julio Cesar Chavez Jr.'s middleweight defense against Andy Lee on June 16 will take place at the Sun Bowl in El Paso, Texas. Two requests for the Texas boxing regulators: Don't "forget" the drug-testing kits as you did in February for Chavez's most recent fight in your state, and please, please, please, don't let Gale Van Hoy anywhere near a judging stool or assign Jon Schorle to referee.
• I was happy to hear Lee got the shot against Chavez. He has worked hard to get it and deserves it. And I think it will be an entertaining fight. Ideally, the winner will face Sergio Martinez, the real middleweight champion, in September. Of course, I'll believe that when I see it.
• Junior lightweight titlist Adrien Broner is scheduled to fight on an HBO undercard May 19 and still doesn't have an opponent. He never had an opponent, but HBO gave him a slot, anyway. That's one of the many problems with boxing. I like Broner as much as anyone, but why should he blindly be handed a slot? Making matters worse is that Broner fights in one of boxing's worst divisions, and the one interesting and doable fight -- a match with fellow Golden Boy fighter Vicente Escobedo -- wasn't really considered for May 19 because that match is being planned for Broner's HBO headliner date later in the summer. So when I hear that Monty Meza Clay is being considered for Broner's May bout, it's a real downer. That's maybe a two-round fight -- and a non-competitive two rounds at that.
• For all the talent Jorge Linares has, I think it's pretty clear that he's never going to be the star champion many (although not I) predicted he would become. His recent second-round TKO loss to Sergio Thompson was an utter disaster, as he blew a lightweight title rematch with Antonio DeMarco that was set for July 7 on Showtime by losing in bad fashion to an obscure opponent with a puffed-up record. I just don't think Linares, now a loser of two in a row by knockout, is ever going to hack it at the very top of the sport. He simply can't take a punch and he cuts sooooo easily. I wish him luck and hope he proves me wrong.
• Vic Darchinyan had a helluva run as a two-division champ at flyweight and junior bantamweight. He made some terrific fights, scored a lot of great knockouts, talked a lot of trash and got way more U.S. television exposure on Showtime than most little guys (and even many bigger guys) could ever dream of. But Darchinyan is 36 now, still extraordinarily one-dimensional and coming off yet another loss in a bantamweight title bout. He dropped to 0-3 in 118-pound title fights with his loss to Shinsuke Yamanaka in Japan last weekend. Darchinyan, at this point, looks just about done.
• I have no idea what Michael Katsidis has left after so many brutal fights, but he's moving up to junior welterweight for his "Friday Night Fights" main event this week against Albert Mensah, and I'm curious to see what he does have left.
• Isn't it about time cruiserweight contender
Denis Lebedev
fights an opponent with a pulse? In his past three fights, he has faced two 40-something has-beens (
James Toney
and
Roy Jones Jr.
) and one never-was/never-will-be (
Shawn Cox
).
• Just three weeks until light heavyweight champ Bernard Hopkins faces Chad Dawson in a rematch. I don't ever recall Hopkins being this quiet before a fight.
• Paging Beibut Shumenov.
• Gross title fight of the spring: Dmitry Pirog defending his middleweight belt against Nobuhiro Ishida on May 1. That would be the same Ishida who lost every minute of every round to Paul Williams a few weeks ago. So Ishida lost a complete route and landed a title shot? Pathetic.
• I hope new junior welterweight titlist Danny Garcia and Golden Boy don't try to weasel out of the mandatory defense against Ajose Olusegun. The fight is due, and Olusegun is a legit opponent who deserves his chance.
•
DVD pick of the week:
One of the most iconic fights in boxing history was back in the news because of its recent 25th anniversary. So it made sense to break out that all-time classic:
Sugar Ray Leonard
's remarkable decision victory against
Marvelous Marvin Hagler
to shockingly win the middleweight title on April 6, 1987, at Caesars Palace in Las Vegas. Leonard, the former welterweight champ, was coming out of a three-year retirement to face Hagler in a fight for which fans (and Hagler) had been pining for years. Many thought Leonard, the smaller man and coming off a very long layoff, would be destroyed. Instead, Leonard scored an upset for the ages by fighting an incredibly disciplined bout and, to be honest, breaking Hagler mentally. The split decision for Leonard -- 118-110, 115-113, with one judge going 115-113 for Hagler -- still stirs debate. Personally, I thought Leonard deserved the decision. He won the first four rounds and stole at least three more to properly win.