August, 5, 2013
8/05/13
12:37
PM ET
Former junior middleweight titleholder John David Jackson has been one of boxing's top trainers for several years. Now he will be working with a number of new fighters after being hired as a trainer for Iron Mike Productions, the company announced.

"I'm very happy to be reunited with John David Jackson," said Henry Rivalta, head of boxing operations for Iron Mike Productions. "We worked together in 2008 at [promotional company] The Heavyweight Factory. He brings a lot to the table and is an incredible asset on our coaching staff. Our fighters are going to benefit from John David's teaching."

Jackson has worked with Bernard Hopkins, Shane Mosley and currently trains former welterweight titlist Randall Bailey and light heavyweight contender Sergey Kovalev.

Jackson will be co-head coach of Iron Mike Productions' fighters with Herman Caicedo. One of the assistants on staff is Micky Ward and longtime Tyson assistant trainer Stacey McKinley.

"Caicedo, Jackson, Ward and all our other coaches complement each other and give our kids a ton of invaluable experience," Rivalta said.

Iron Mike Productions had been Acquinity Sports until former heavyweight champion Mike Tyson came on board as a partner.

The company is promoting its first card with Tyson's involvement on Aug. 23 (ESPN2) at the Turning Stone Resort Casino in Verona, N.Y., where junior lightweight titlist Argenis Mendez (21-2, 11 KOs) will make his first defense when he faces Arash Usmanee (20-1, 10 KOs) in the main event. Jesus Marcello Andres Cuellar (22-1, 18 KOs) will meet Claudio Marrero (14-0, 11 KOs) for a vacant interim featherweight belt in the co-feature.
October, 25, 2012
10/25/12
10:56
AM ET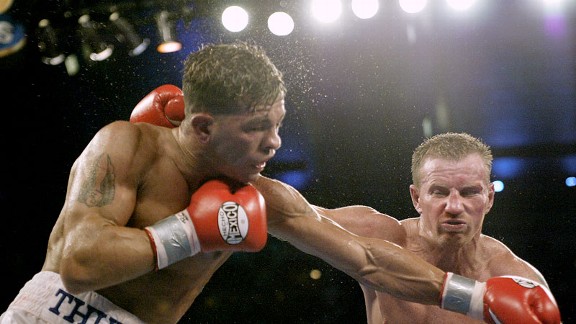 Al Bello/Getty ImagesThe Hall of Fame case for Arturo Gatti is open and shut, according to rival and friend Micky Ward.
Ballots for the International Boxing Hall of Fame's class of 2013 are due back by Oct. 31. Up for election in the modern category are 45 fighters, including three first-timers on the ballot: the late Arturo Gatti and light heavyweight champion rivals Virgil Hill and Henry Maske.
Gatti's inclusion on the ballot has been a lightning rod of controversy because, despite his building a career filled with incredible, all-time action fights, there are a lot of people who believe he shouldn't be voted in.
The detractors say that although Gatti, who died in 2009 under mysterious circumstances -- authorities initially detained his wife as a murder suspect but later concluded that Gatti had committed suicide -- won alphabet belts in two weight classes (junior lightweight and junior welterweight) during a 16-year pro career, he was never considered the best fighter in his division and his résumé lacked victories against prime, A-level opponents.
Those in support of his election would agree but say that his massive popularity -- he was the boxing franchise in Atlantic City, N.J., for several years -- and the unforgettable nature and ferocity of his many brawls, which helped create so many new boxing fans, made him special and worthy of inclusion.
I filled out my ballot this week and at a later date I'll detail my own selections. But with regard to the Gatti vote, I asked one man who knew Gatti well what he thought about his candidacy.
I asked Micky Ward, Gatti's greatest ring rival who became his close friend by the end of their now-legendary three-fight series, which Gatti won 2-1.
Their first junior welterweight fight was as good as it gets and was the consensus 2002 fight of the year, which Ward won via majority decision. Later in 2002, Gatti won a decision in the second fight, which was excellent but not one of those truly memorable slugfests that dot Gatti's résumé. In 2003, Gatti won the rubber match, which also was widely considered the fight of the year.
Ward, who retired after the third fight and then briefly trained Gatti at the end of his career, believes that, without question, Gatti is a Hall of Famer.
"I think he definitely should be," Ward said. "If you look at the statistics, he was in fight of the year four times. He had a number of comebacks in fights. He had so many exciting fights that people remember. He's a two-time word champion and he had round of the century with me."
Ward is referring to the amazing ninth round of their first fight, when Ward dropped Gatti early with a brutal left hook to the body and came close to knocking him out before Gatti came roaring back in one of the best toe-to-toe action rounds in boxing history.
"So I think he's a Hall of Famer. Why not? Look at some of the guys who are in there who I don't think have done what he has done," said Ward, who participated in three consecutive fights of the year -- his 2001 win against Emanuel Augustus and then the first and third Gatti fights.
Ward said when he heard that Gatti had made the ballot in his first year of eligibility, he was very excited.
"It was great. I was just so happy when I found out," said Ward, who is a regular visitor to the Hall of Fame induction weekend at the Canastota, N.Y., shrine each June.
He said that if Gatti is elected, he would be there for induction day (although Gatti would have to be represented by his family). It would be bittersweet, Ward said, but there is no way he would miss it.
"Most definitely and without a doubt, I will be there," he said. "It would be the second-best thing to me getting in there."
Ward said he is enjoying his retirement and working with a few young fighters. He also said that there is a good chance that there will be a sequel to the critically acclaimed 2010 film "The Fighter," which was based on his life.
Ward said that he has been talking to Mark Wahlberg, the film's producer and star, about a sequel that would focus on Ward's trilogy with Gatti. "The Fighter" timeline ended before the Gatti-Ward fights.
"I've been talking with Mark, and they're talking about doing the movie," Ward said. "Will it happen? I don't know, but if it does, it will be around the Gatti fights. I hope it happens. It would be great. It would remind everyone again what Arturo meant to boxing."