July, 26, 2012
7/26/12
5:20
PM ET
First, Randall Bailey won a welterweight world title. Now his celebration will continue with a day named in his honor.

Bailey (43-7, 37 KOs) drilled Mike Jones (26-1, 19 KOs) for a spectacular 11th-round knockout to claim a vacant belt on the Manny Pacquiao-Timothy Bradley Jr. undercard on June 9 in Las Vegas. The city of Key West, Fla., has declared Saturday as "Randall Bailey Day" in his honor.

"This is a great honor," said Bailey, who is from Miami but has ties to Key West. "My first fight in Key West was in 2006, and since then the people there have been behind me 100 percent. This world championship isn't just for me. It's for Key West, too."

Bailey, 37, who won the belt a decade after his run as a junior welterweight titleholder ended, won't celebrate his honorary day for long. He has his first title defense coming up. He will meet former junior welterweight titlist Devon Alexander (23-1, 13 KOs) in a Showtime main event on Sept. 8.

The Key West Rotary Club is putting on the event, which begins at 3 p.m. and will include a police-escorted motorcade.

The event is also supposed to celebrate boxing in Key West. Also being honored are recently retired former light heavyweight champion Glen Johnson and heavyweight Sherman "The Tank" Williams, both notable fighters on the Florida boxing scene who have Key West ties.

All three are regulars at Key West boxing cards and have worked with amateur fighters in the area at the Police Athletic League facility.
June, 21, 2012
6/21/12
5:48
PM ET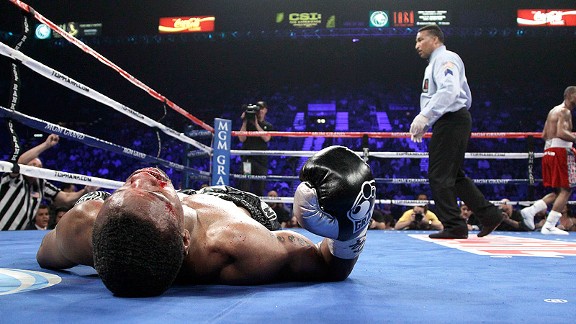 AP Photo/Julie JacobsonRandall Bailey, far right, flattened Mike Jones and lifted his own fading career off the canvas.
Randall Bailey won a vacant welterweight belt on the Manny Pacquiao-Timothy Bradley Jr. undercard on June 9, essentially with two punches.
Bailey knocked down Mike Jones with a powerful straight right hand in the 10th round and then knocked him out in sensational fashion with a right uppercut in the 11th round.
The rest of the fight? Horrible. Bailey barely threw any punches and Jones seemed petrified to engage.
But Bailey (43-7, 37 KOs) won and now expects to reap the rewards of his second world title, which came a decade after he held a junior welterweight belt.
"I told [Jones] that I was going to knock him out. In my mind, that was the only way I'd win the fight," Bailey said. "I watched a few of his fights that were close, like the [Jesus Soto] Karass fight, and I was concerned about winning a decision. I knew when I grazed him in the first round that he'd take off like a thief in the night. The kid ran from me a lot and I caught a lot of his punches with my gloves. I waited for him to sit down for a second. I didn't have that much on my punch in the 10th round because my leg was twisted.
"In the 11th, he was laying in under his jab, so I couldn't hit him with my overhand right. I decided to back up, and as we got closer, he kept his chin down to keep away from my overhand right. It was just natural for me to come with my uppercut like I did. That was my best punch ever. It had so much on it that it looked like my fist was in his face. I hit his nose and it felt like meat coming out."
Even though Bailey has virtually no chance of actually getting the fight, he would like to fight Floyd Mayweather Jr. when he comes out of jail later this summer.
"If I had a choice, I'd fight Mayweather next," Bailey said. "I like the way Floyd's fighting. He's not running around so much to try to win on points. He's giving guys an opportunity to hit him, and that's my type of fight."
You can't blame Bailey for calling out Mayweather. Bailey is 37, has shaky legs and not much time to cash in on his new belt.
Si Stern, Bailey's manager, claims the fighter has received a $500,000 offer to go overseas for a title bout and said, "We have the world title belt and won't fight on the cheap."
One of the possibilities is for Bailey to defend against Devon Alexander. Alexander, a former junior welterweight titlist, has been promised a Showtime date. It was supposed to be Aug. 18, but according to Showtime Sports general manager Stephen Espinoza, the network had to move an MMA show to Aug. 18 and Alexander's date will move to Aug. 25 or possibly into September.
I was also told that Golden Boy and Al Haymon, Alexander's adviser, have already made a strong offer to Bailey to fight Alexander.
"Alexander has to get in line like I had to," Bailey said. "He must think that they can throw around a few bucks and I'll fight him. What I'm saying is, I will fight anybody for the right money."
Whomever Bailey faces next, he said he is anxious to fight again.
"I just love beating the hell out of a guy and then getting out of the ring without going to jail for doing it," he said. "I got into a lot of street fights as a kid. I wanted to fight without getting into trouble, and boxing was the way for me."
June, 6, 2012
6/06/12
8:19
PM ET
LAS VEGAS -- As always, Keith Kizer, the executive director of the Nevada State Athletic Commission, was carrying around a slip of paper at Wednesday's final news conference that listed all of the purses -- which are public record -- for the upcoming fight card.

In this case, it was the rundown of the official contract figures for the Manny Pacquiao-Timothy Bradley Jr. HBO PPV card on Saturday night at the MGM Grand Garden Arena.

Pacquiao's fight night check will be for $6 million, although he is guaranteed $26 million by Top Rank promoter Bob Arum, and can make even more depending on how well the pay-per-view sells.

The reason for the disparity is because the $6 million will be available to Pacquiao immediately, while the remaining $20 million will be paid over an undisclosed number or days or weeks (that he and Arum agreed upon) as the revenue from the fight comes in.

Bradley's purse will be a career-high $5 million and he, too, can make more depending on how well the pay-per-view sells.

Purses for the rest of the fighters on the televised portion of the card: Jorge Arce will make $300,000, Jesus Rojas $25,000, Mike Jones $105,000, Randall Bailey $100,000, Guillermo Rigondeaux $103,000 and Teon Kennedy $70,000.

The other fighters on the card: Mikael Zewski ($8,500), Ryan Grimaldo ($4,500), Ernie Sanchez (TBD; his contract wasn't filed yet), Wilton Hilario ($6,000), Andy Ruiz ($2,500), Tyler Larson ($1,200), Jesse Hart ($4,000) and Manuel Eastman ($1,200).