Dan Rafael:

Mikkel Kessler
September, 17, 2013
9/17/13
3:02
PM ET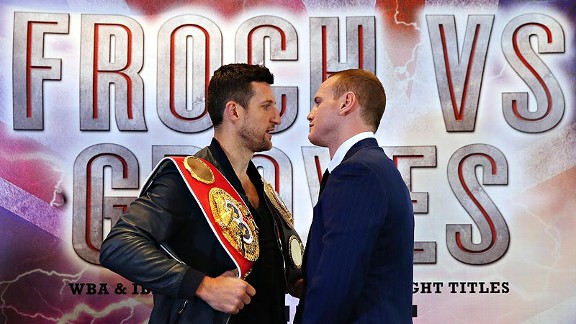 Alex Livesey/Getty ImagesCarl Froch will defend his super middleweight title against George Groves in November.
For all those who continue to push the ignorant and lazy "boxing is dead" narrative, how does this fit with your tall tale?
Tickets for Carl Froch's super middleweight title defense against British countryman George Groves went on sale on Tuesday and all 18,000 sold out in 11 minutes, according to Matchroom Sport promoter Eddie Hearn.
Tuesday was the same day that Froch (31-2, 22 KOs) and Groves (19-0, 15 KOs) met face-to-face for the kickoff news conference to promote the Nov. 23 showdown at the Phones 4u Arena in Manchester, England.
"Every time I hear that tickets have sold so fast I have to pinch myself," said Froch, whose May 25 rematch with Mikkel Kessler at London's O2 Arena was also a sellout. "To fill an arena that's not in my hometown, but still in a fantastic fighting city like Manchester, it's humbling and I'm really looking forward to coming here and being part of this massive occasion.
"I've had some big international nights in my career against top-class opposition, but a British fight always gets the blood flowing as the rivalry is more intense. You all know what I'm about and what I'm capable of. You've seen it time and time again against elite-level opposition. I always turn up fully prepared and ready for battle for whoever is in the opposite corner, the fans are in for a real treat and they can look forward to a really exciting night."
This will be, by far, the biggest stage Groves has ever been on.
"I'm thrilled to be part of this massive night," he said. "It's a true honor to fight for a world title and to take on a well-established world champion like Carl Froch. I'm not surprised that the fight has sold this fast as British boxing is on a high and this is one of the biggest fights we're going to see in the next few years.
"It's 100 percent my time and I cannot wait to get in there and prove to everyone that this is a fight that I am more than ready for and I cannot wait to be world champion."
Also on Tuesday, Hearn announced that lightweight Anthony Crolla had signed a promotional deal with Matchroom Sport and will appear on the Froch-Groves undercard.
Crolla (26-4-1, 9 KOs), who is from Manchester, is coming off the best win of his career, a decision against former junior welterweight titlist Gavin Rees on June 29.
July, 30, 2013
7/30/13
2:52
PM ET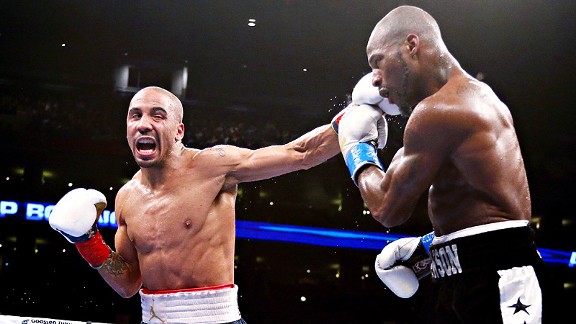 Ezra Shaw/Getty ImagesAfter cleaning out the 168-pound division, Andre Ward can't find a suitable opponent.
Super middleweight champ Andre Ward and promoter Dan Goossen, who appear to have worked out their issues following Ward's unsuccessful attempt to break their contract (although they're not discussing the issue publicly), are seemingly at loggerheads with HBO over the opponent Ward should face in his tentative Sept. 28 fight.
Ward hasn't fought since beating down then-light heavyweight champion Chad Dawson (who dropped down to super middleweight) last September because of a shoulder tear and subsequent surgery that forced a January fight with former middleweight champ Kelly Pavlik to be canceled.
HBO is resistant to spending good money for Ward to face the likes of Dimitri Sartison (a former titlist of the ultimate paper variety with zero name recognition in the United States), equally unknown interim titlist Stanyslav Kastanov, or Caleb Truax, a fun fighter to watch but not in the same league as Ward. Truax's claim to fame is a recent knockout win over Donovan George and dropping badly faded former middleweight champ Jermain Taylor in a 2012 loss.
So it's unclear who Ward will face and there does not seem to be many quality available opponents.
One of the biggest problems for Ward is that he's already cleaned out the super middleweight division. The Super Six World Boxing Classic champion has easily defeated two reigning titleholders (who picked up their belts after Ward dominated them), Carl Froch and Sakio Bika. Ward also routed former titleholders Mikkel Kessler and Arthur Abraham. Even if a Froch rematch floats your boat, like it does for some, he's unavailable, as he is scheduled to fight George Groves in the fall.
Robert Stieglitz, another titleholder, and his handlers have no interest in facing Ward. That's an almost certain loss that Stieglitz needs no part of as long as he has a fat TV contract in Germany from which he can earn plenty of money facing handpicked opponents on home turf rather than make similar money to come to the United States to give up his title.
One viable opponent is Edwin Rodriguez, who is coming off an impressive first-round knockout of Denis Grachev on July 13 in the final of the Monaco Million Dollar Super Four. However, Lou DiBella, his promoter, has said repeatedly they have no interest in fighting Ward. DiBella is a smart matchmaker. He knows that's not a good fight for his guy.
One guy who fought his way out of a possible shot at Ward is Thomas Oosthuizen, who was featured June 29 on HBO for the express purpose of seeing if he could create some buzz as a possible Ward opponent. He did the exact opposite by looking terrible in a draw against Brandon Gonzalez, who was never a serious candidate for the fight since he also didn't exactly set the world on fire but mainly because he's Ward's pal; they share the same gym and trainer, Virgil Hunter.
One guy who is calling Ward out is Zsolt Erdei (33-1, 18 KOs), a former cruiserweight and long-reigning light heavyweight titlist who suffered his only defeat by debatable split decision to Grachev in the semifinals of the Monaco tournament.
Erdei clearly didn't learn anything from Dawson's ill-advised drop down in weight because he, too, said he would drop down to 168 pounds to face Ward, who has maintained that he will eventually go to 175 but is not ready yet.
"When I decided to sign with Lou DiBella and fight in America, it was for me to face the best boxers in the world," Erdei said. "Ward is considered to be the best boxer in the world above the middleweight division and he is a great champion. I respect his skills very much, but I know that I have what it takes to get the job done and shock the world. A win over Ward makes me a superstar in America and that is my ultimate goal."
When Erdei, a 1996 and 2000 Olympian for Hungary, faced Grachev, he was coming off a nearly two-year layoff because of a retirement and then an injury.
"Everybody knows that I won my last fight and was clearly robbed of the victory," Erdei said. "For that reason, I still consider myself an undefeated two-division champion and I still want to fight the best."
DiBella also is campaigning for his man to get the shot with Ward.
"Many people who saw his fight with Grachev thought that Erdei won," DiBella said. "Regardless though, he showed that he is still one of the best 168-/175-pound fighters in the world, having performed at the level that he did after not fighting for nearly two full years."
Ward and HBO are both in tough spots here. The fighter (who also serves as an HBO broadcaster) is coming off an injury and a long layoff, so it's understandable that he and his team would want a tuneup-level fight. HBO sure doesn't want to buy an inferior product for premium money, but there are not a lot of good options.
July, 12, 2013
7/12/13
11:07
AM ET
When it comes time to select the official 2013 Fight of the Year, it's a good bet that many of the top candidates will come from the first six months. For boxing fans, January through June has been terrific.
It was a tough call to select the fight of the midyear because you really can't go wrong with either of the top two, but in my view, the rematch between Mike Alvarado and Brandon Rios on March 30 at Mandalay Bay in Las Vegas gets the nod.
In October, they met for the first time, with Rios stopping Alvarado in the seventh round of a sensational battle that was the 2012 Fight of the Year runner-up.

When they signed for the rematch, this time for a vacant interim junior welterweight belt, expectations were sky-high for another classic. And you know what? They delivered -- and then some -- in yet another incredible action fight that opened the possibility of a second rematch.
This rematch was even a bit better than the first fight. It was an intense brawl with tons of clean punching, ebbs and flows. How this thing went the distance will forever remain a mystery, because the fighters were crushing each other.
In the second round, Alvarado nearly got dropped and was badly hurt by a left jab, of all things. But he rallied, and the fighters finished with a ferocious exchange that was one of the best rounds of the year. Top Rank promoter Bob Arum was so enthused that he called it the best round in a fight he had promoted since the all-time epic first round of the Marvelous Marvin Hagler-Thomas Hearns middleweight championship fight.
Alvarado-Rios II was a brutal fight. Both men were hurt, but Alvarado, who fought most of the night with a bad cut over his left eye, was able to box just enough to keep Rios off balance and eke out the close rounds to win a tight, but deserved, decision, 115-113, 115-113, 114-113.
Honorable mentions
Timothy Bradley Jr. W12 Ruslan Provodnikov (March 16 at Carson, Calif.):
When Bradley, who was coming off his hugely controversial split decision win against Manny Pacquiao, was matched with Provodnikov, the boxing world yawned. Then we saw the fight. Oh. My. Goodness. The action was fierce and constant, and the drama unforgettable. Although Bradley won a unanimous decision -- 115-112, 114-113, 114-113 -- the fact that he made it to the final bell under the immense and nonstop pressure from Provodnikov made this a spectacle to behold. Provodnikov nearly knocked Bradley out in the first round, dropping him with a well-timed right hand, although referee Pat Russell ruled it a slip, a move that ultimately would cost Provodnikov a draw.
Provodnikov continued to hurt Bradley and had him in huge trouble. He nearly ended the fight again in the second round with another onslaught, but Bradley survived. From the third round on, Bradley was able to collect himself, get back into the fight and begin winning rounds. There was a ton of back-and-forth action, especially late in the sixth, which was absolutely sensational as they simply pounded each other. Provodnikov suffered a bad cut on his left eyelid in the ninth round, and both fighters had taken so much punishment that at various times their trainers, Freddie Roach (Provodnikov) and Joel Diaz (Bradley), threatened to stop the fight. Neither did, setting the stage for a dramatic conclusion.
With Provodnikov seemingly needing a knockout to win, he staggered Bradley with a left hand, hurt him again with a right and sent him to the canvas with a flurry of shots with 15 seconds left in the fight. A dazed Bradley beat Russell's count, and the fight ended before another punch could be thrown.
Guillermo Jones KO11 Denis Lebedev (May 17 at Moscow):
Jones, fighting on Lebedev's Russian turf, regained a cruiserweight title in a fight that wasn't for the faint of heart. It was a fantastic slugfest and a mild upset, but also was an unfortunate example of a fighter being allowed to continue despite a terrible injury. Jones cut Lebedev's right eye in the first round, and although Lebedev was winning the fight, the eye was getting worse and worse -- to the point that the entire right side of his face was a swollen, bloody mess. He couldn't see out of the eye, but was allowed to continue. Injury aside, the action was terrific, and Lebedev's heart was something to behold.
As the eye got worse, Jones began to pick up the pace and take over. They measured each other with huge shots in the sensational seventh round, a round of the year candidate, by which time Lebedev's eye was unrecognizable. As Lebedev faded, Jones couldn't miss, finally dropping him with a left hand to the eye that he never saw. Lebedev, ahead on all three scorecards and headed to a hometown decision, showed all the heart in the world as he tried to get up. But he could not beat the count, bringing an end to a gruesome, but thrilling, spectacle.
Carl Froch W12 Mikkel Kessler (May 25 at London):
In 2010, Kessler edged Froch during the Super Six World Boxing Classic to take his world title in the best fight of the tournament. That fight was in Kessler's home country of Denmark. Meeting again three years later, this time to unify belts on Froch's turf, they turned in another classic that was boosted by the incredible energy from the sold-out crowd of about 18,000 at the O2 Arena. Froch started fast and banked several early rounds by tattooing Kessler with jabs and right hands. But Kessler also landed a lot of shots. He just wasn't throwing enough of them.
By the third round, Kessler's face was showing damage, and he was cut over his right eye. Kessler hurt Froch in the fifth round with a left hook and again with a with a right hand in the sixth. Froch, however, was throwing punches almost nonstop. There were numerous exciting exchanges, especially in the excellent seventh round and the action-packed eighth round. By the later rounds, however, Froch had seized control. Although Kessler had a big 11th round and went for the knockout in the 12th, Froch fended him off to win a blazing fight on scores of 118-110, 116-112, 115-113.
June, 25, 2013
6/25/13
12:33
PM ET
A few notes from around the world of boxing:

• Welterweight titlist Devon Alexander was in Brooklyn, N.Y., over the weekend for the Adrien Broner-Paulie Malignaggi fight and I had a chance to talk to him at the fight hotel. He's still sporting the soft cast on the left hand he broke in his knockout win against Lee Purdy on May 18. Alexander said he'll be in the cast for a few more weeks and is still on track for a probable Dec. 7 defense against Amir Khan. However, Alexander said he did not want to fight in Dubai, one of the places where Golden Boy promoter Richard Schaefer has said was a possibility venue because of the interest there in Khan.

• Newly crowned light heavyweight champion Adonis "Superman" Stevenson, who blasted Chad Dawson to win the title on June 8, was also Brooklyn for the fight and I had a chance to meet him for the first time at the fight hotel. He said that while he was in New York he met with HBO executives, to talk about a plan for his future fights. One possibility is a match with former titlist Tavoris Cloud, who lost his belt to Bernard Hopkins in March. Stevenson, however, said he is more interested in fighting Hopkins, although he has a mandatory due against the reinstated Karo Murat.

• Sauerland Event promoter Chris Meyer said that Murat, who was dropped from a July 13 mandatory shot against Hopkins because he could not obtain a visa to enter the United States, has worked out the paperwork issues. However, when it looked like it might take six months to clear up his problem, Hopkins promoter Golden Boy and Showtime canceled the card. With Murat's paperwork cleared up, he is the mandatory again, but Showtime has no plans to reschedule the card given its busy -- and expensive -- slate of upcoming shows, according to what Showtime boxing chief Stephen Espinoza told me on Saturday night at the Broner-Malignaggi fight. That would leave the fighters, Golden Boy and Sauerland Event in a tough spot, because HBO has no interest in the fight, either.

• Mexico's Sergio Thompson (27-2, 25 KOs) has been on a roll since a 2010 split-decision loss to Alisher Rahimov. Thompson has won 13 in a row and made a name for himself with an upset second-round knockout of Jorge Linares in March 2012. The streak has landed Thompson a shot at junior lightweight titlist Takashi Miura (25-2-2, 19 KOs). Golden Boy matchmaker Eric Gomez told ESPN.com the contracts are signed for the fight, which will take place Aug. 17 (Fox Deportes) in Thompson's hometown of Cancun, Mexico. Miura, who stopped Gamaliel Diaz in the ninth round to win the title in April, will be making his first defense.

• Although neither side is talking publicly, super middleweight champion Andre Ward and promoter Dan Goossen are headed to an arbitration hearing on Tuesday in Los Angeles. Ward, for reasons that have not been disclosed, is seeking to break his promotional contract with Goossen, who has promoted Ward for his entire career, including negotiating for him to have his world title shot against Mikkel Kessler during the Super Six in Ward's hometown of Oakland, Calif.

• Puerto Rican featherweight contender Orlando Cruz (20-2-1, 10 KOs), who made headlines last year as the first active boxer to announce he was gay, was supposed to fight Friday night on promoter Tutico Zabala's Telemundo-televised card. However, Zabala told ESPN.com on Monday that he pulled Cruz from the show. The reason, Zabala said, was because after Mikey Garcia was stripped of his featherweight title for not making weight for his June 15 defense against Juan Manuel Lopez, the WBO ordered Cruz to face the former titlist for the vacant belt and Zabala and Cruz didn't want to risk the surefire title shot.

• Top Rank announced two UniMas cards: July 13 at the Hollywood Park Casino in Inglewood, Calif., headlined by junior lightweight Alejandro Perez (17-1-1, 11 KOs) against Edgar Riovalle (35-14-2, 25 KOs) with light heavyweight prospect Trevor McCumby (11-0, 9 KOs) on the undercard, and Aug. 10 at the Sands Casino in Bethlehem, Pa., headlined by featherweight Gamalier Rodriguez (21-2-3, 15 KOs) facing Jorge Pazos (19-5-1, 13 KOs).

• Top Rank also finalized one of the undercard bouts for the Timothy Bradley Jr.-Juan Manuel Marquez HBO PPV undercard on Oct. 12: light heavyweight Seanie Monaghan (18-0, 11 KOs) against Anthony Caputo Smith (14-1, 10 KOs).

May, 23, 2013
5/23/13
3:39
PM ET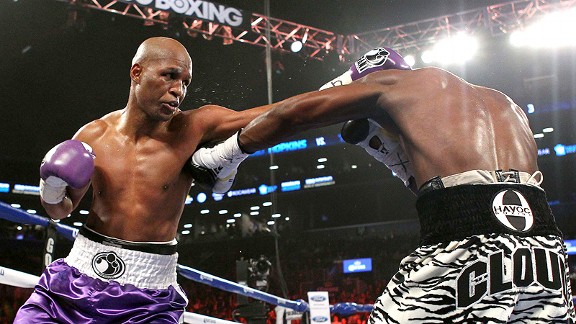 Ed Mulholland/USA TODAY SportsBernard Hopkins is open to the idea of a catchweight fight with super middleweight titlist Carl Froch.
Super middleweight titlist Carl Froch of England will certainly have his hands full when he faces fellow titleholder Mikkel Kessler of Denmark in a rematch on Saturday (HBO, 6 p.m. ET) at the sold-out O2 Arena in London.
Froch lost the first fight in 2010 by competitive decision in Kessler's home country, although he is the favorite in the sequel. Meanwhile, light heavyweight titlist Bernard Hopkins, who won his title in March by outpointing Tavoris Cloud to become -- at age 48 -- the oldest fighter to win a world title (breaking his own record set at age 46), will make a mandatory defense against Karo Murat of Germany on July 13 at Barclays Center in Brooklyn, N.Y.
But if Froch and Hopkins both win their upcoming fights, they said they would welcome a fight with each other.
It would be an interesting fight, in my view, and clearly be an entertaining promotion given how both guys like to run their mouths.
Hopkins began throwing Froch's name around after beating Cloud -- even saying he would go to England for the fight -- and Froch heard about it.
"I've heard that and, you know, I look up to Bernard Hopkins," Froch said. "I think he's a great ambassador for the sport. I think he's been around too long, but he's still doing it, so you can't knock him for it. And, you know, one day in the future, it would be an honor to fight somebody like that."
Froch said there would be one stipulation for the fight to be possible: It would have to be at a catch weight, because he said he has no intention of going to 175 pounds for the bout.
"I feel I know how to beat him," Froch said. "But it's one step at a time. But I'll have you know, I'm not a light heavyweight. So he's going to have to come down to a catch weight. I don't expect him to do super middle [168 pounds], but don't expect me to do light heavyweight."
When Hopkins met with media members in Atlantic City, N.J., last week before the Lucas Matthysse-Lamont Peterson fight, he was told about Froch's remarks and a smile came to his face.
"I accept," Hopkins said, noting that he has agreed to catch weight fights in the past, dropping a few pounds for his wins against Kelly Pavlik and Winky Wright. He said he would be happy to do it for a fight with Froch, as well.
"We could do 171, 172. I'm in," Hopkins said. "I did it for Pavlik. I did it for Winky Wright, cutting down. Let's do [the fight] either there [in Froch's native England] or here [in the United States.] Let's go where the money is."
Keep in mind that a Hopkins-Froch fight is possible because Hopkins promoter Richard Schaefer of Golden Boy and Eddie Hearn of Matchroom Sport, which promotes Froch, get along just fine and made last week's Devon Alexander-Lee Purdy welterweight title fight together.
Hopkins said he would also be interested in a fight with Kessler "but I don't see him winning" against Froch. Hopkins admitted that he picked Lucian Bute to beat Froch when they met last year, but Froch wound up knocking Bute out.
He said doing a fight with Froch would make for a two-way promotion because Hopkins would not have to carry the promotional load like he has to do in recent fights with opponents who lack personality or name recognition, such as Cloud, two fights with Chad Dawson and Murat.
"He has a personality, and I don't have to do all the work," Hopkins said.
May, 22, 2013
5/22/13
5:01
PM ET


Super middleweight champ Andre Ward knows what he is talking about when it comes Mikkel Kessler and Carl Froch.

Ward, after all, easily defeated both of them in world title fights during the Super Six World Boxing Classic. Ward cruised to an 11th-round technical decision win against Kessler to win his first world title in their opening bout of the tournament in November 2009. In the December 2011 tournament final, Ward routed Froch to unify 168-pound titles to establish himself as the super middleweight king.

Since the tournament, England's Froch and Denmark's Kessler have each picked up versions of the title and they will meet to unify those belts in a rematch on Saturday (HBO, 6 p.m. ET) at the sold-out O2 Arena in London. In their first fight in April 2010 -- as part of the Super Six -- Kessler won a tight decision in Denmark in the most action-packed fight of the tournament.

The winner of Kessler-Froch II could potentially get a rematch with Ward, who doesn't exactly have a plethora of name opponents to face when he returns to the ring (probably in September) following a shoulder injury and subsequent surgery.

Ward will be ringside to call the fight as part of the HBO broadcast team (and, undoubtedly, get a close-up look again in case he wants to fight the winner) on Saturday and he thinks Froch will beat Kessler to even the score, perhaps even by knockout.

"Carl Froch has been in some tough fights but I think he has more in the tank," Ward told England's weekly Boxing News. "I think Kessler has kind of dipped a little bit since he and I fought, and even since he fought Froch the first time. Even though it's going to be a tough fight, it's going to be back and forth, I can't see Kessler winning this.

"Kessler's last two performances, he hasn't fought the best guys -- a shop-worn Allan Green then Brian Magee, who's very tough but limited -- and he's going to look good against them. But I don't know if he has the same fire as when he fought Froch the first time. I would be shocked if Kessler got his hand raised. I think Froch wins and I wouldn't be surprised if Froch caught and stopped him."
May, 8, 2013
5/08/13
4:55
PM ET
When former super middleweight titlist Lucian Bute injured his left hand while training for his May 25 Canadian superfight with former light heavyweight champ Jean Pascal and had to pull out Tuesday, promoters Yvon Michel and Jean Bedard of InterBox did not immediately announce that the entire card at the Bell Centre in Montreal was off.

First, they toyed with the idea of finding a replacement to fight Pascal. Light heavyweight titleholder Beibut Shumenov came up, although HBO, which was paying a lot of the card's freight by buying the U.S. television rights, was not really into that. HBO preferred to either reschedule Pascal-Bute or save the money for a better fight.

The promoters also thought about going ahead with the undercard bouts -- I'd imagine at a reduced ticket price -- because InterBox holds the Canadian rights to the Carl Froch-Mikkel Kessler super middleweight title fight rematch on the same day in London and was planning to show the fight along with its live bouts and have it be part of the Canadian pay-per-view for Pascal-Bute.

Alas, they came to the realization that going ahead with the card minus Pascal-Bute was not going to work, and on Wednesday, they called it off.

"After internal discussions, InterBox and Group Yvon Michel have jointly decided against promoting a boxing event on Saturday, May 25th at the Montreal Bell Centre," the promoters announced in a joint statement. "Preferring to wait until Lucian Bute recovers from surgery to his hand, HBO has confirmed interest in broadcasting the Bute vs. Pascal bout when the new date is known."

The promoters said they will focus their attention on the June 8 HBO card at the Bell Centre, which pits light heavyweight champ Chad Dawson against Quebec's Adonis Stevenson. They announced that "certain undercard bouts signed for May 25th will be presented on the June 8th card."

Among the bouts in limbo are light heavyweight Eleider Alvarez versus Allan Green; welterweight Kevin Bizier against Aldo Nazareno Rios; junior featherweight Sebastien Gauthier against Manuel Roman; and welterweight Mikael Zewski versus Derrick Samuels.

InterBox said it would soon announce its plans for the Canadian broadcast of Kessler-Froch II. Those who purchased tickets for Pascal-Bute can use them for the fight when it is rescheduled.
May, 8, 2013
5/08/13
12:52
PM ET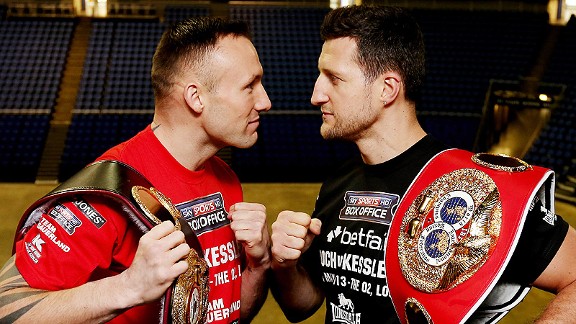 Scott Heavey/Getty ImagesMikkel Kessler, left, won the first fight against Carl Froch during the Super Six World Boxing Classic.
Super middleweight titlist Mikkel Kessler of Denmark, training for his much-anticipated rematch with fellow titleholder Carl Froch of England on May 25 (HBO) at London's 02 Arena, has an impressive lineup of sparring partners working with him.
Kessler is training in Copenhagen with light heavyweight titlist Nathan Cleverly (26-0, 12 KOs), super middleweight mandatory challenger George Groves (18-0, 14 KOs) and light heavyweight prospect Erik Skoglund (16-0, 9 KOs).
"It's great to have them in Copenhagen," Kessler said. "This is the best preparation I could have asked for. To have three guys like that -- a world champion, a youth world champion (Skoglund) and a top-ranked contender -- is probably as good as it gets in terms of sparring. They are young, hungry and unbeaten and they will push me to the limit. That's exactly the kind of warm-up I need to beat Carl Froch again."
Kessler (46-2, 35 KOs), 34, edged Froch (30-2, 22 KOs), 35, by unanimous decision in Denmark to win a version of the 168-pound world title in their first meeting in April 2010. That fight was part of the Super Six World Boxing Classic and was action-packed, the best battle of the tournament.
"Mikkel is the kind of fighter who always wants to test himself against the very best, no matter whether it's training or the actual fight," promoter Kalle Sauerland said. "Cleverly, Groves and Skoglund -- the fact that he wants to get it on with them in training really shows you what the 'Viking Warrior' is all about. When push comes to shove on May 25, the fighter with the better preparation will prevail, and that's just another reason why Mikkel will leave the ring victorious."
March, 21, 2013
3/21/13
10:35
AM ET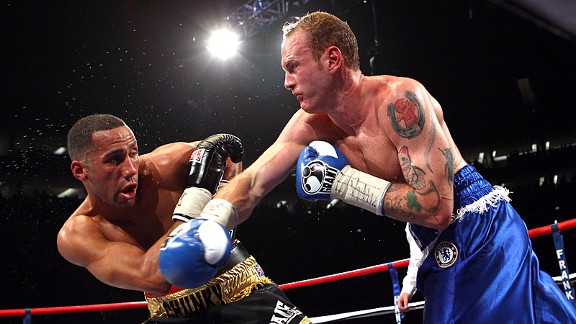 Julian Finney/Getty ImagesGeorge Groves, right, has moved up quickly in the rankings since turning pro in 2008.
British super middleweight George Groves, who fought just two weeks ago, will be back in action on Saturday as he, trainer/manager Adam Booth and new promoter Eddie Hearn of Matchroom Sport are plotting an aggressive schedule for the aggressive contender.
According to Hearn, Groves will wind up fighting four times in six months, which is a great thing for Groves, a tremendous talent who has had periods of inactivity due to promotional issues and injuries.
Earlier this month, Groves left promoter Frank Warren to sign with Hearn, a move that cost Groves a planned shot at the vacant European title against Mouhamed Ali Ndiaye. The fight was supposed to be last Saturday in London, but that was before Groves dumped Warren (and the whole card wound up getting postponed because lightweight titlist Ricky Burns, due to face Miguel Vazquez in a unification fight in the main event, also bailed on Warren and signed with Hearn a few days later).
However, Hearn immediately put Groves (17-0, 13 KOs) on a March 9 card and the 24-year-old knocked out Dairo German Balmaceda (11-7-2, 7 KOs) in the third round.
Groves came out of the fight with no issues, clearing the way for him to get right back to work on Saturday in a fight just finalized. He will box Germany's Baker Barakat (37-13-4, 25 KOs) in an eight-rounder on the undercard of the Arthur Abraham-Robert Stieglitz super middleweight title rematch in Magdeburg, Germany.
It's a bit of a surprise because Hearn has nothing to do with the Sauerland Event-promoted card. However, Chris Meyer of Sauerland Event said it was simply a matter of co-operation between Hearn, Booth and Kalle Sauerland to put him on the show.
It kind of makes sense, too, since it will be a way for Groves to not only remain active but gain some attention in Germany, which could be useful as he looms as a future mandatory challenger for the Abraham-Stieglitz II winner.
For Groves, however, it's just a great way for a young fighter still in need of rounds to stay busy.
"He hasn't fought anywhere near enough in the last few years and myself and Adam wanted him out again before May 25," Hearn said. "It's just a little eight-rounder and nice bit of PR as he is WBO No. 1 (contender)."
Before Saturday's fight was set, Groves was already scheduled to fight May 25 in London on the undercard of another super middleweight title rematch, this one between titleholder Carl Froch of England and Denmark's Mikkel Kessler.
If all goes well Saturday and again in May, Hearn said the fourth bout of Groves' busy schedule will be "a big fight in September in London."
I'm not sure what that fight will be, but by gaining attention on the Abraham-Stieglitz II and Froch-Kessler II undercards, it leaves open the realistic possibility that Groves could get a title shot against either winner.
February, 5, 2013
2/05/13
6:35
PM ET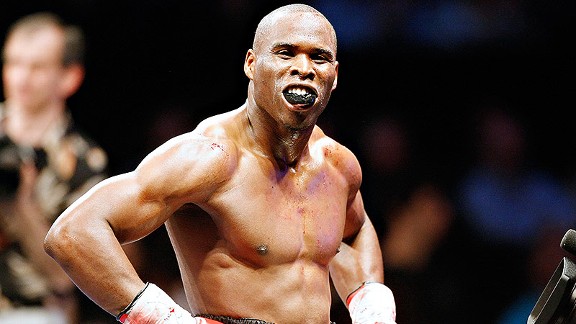 Richard Wolowicz/Getty ImagesAdonis Stevenson could finally get a chance to fight for a super middleweight title in June.
Before super middleweight titleholders Carl Froch and Mikkel Kessler could finalize that their much-anticipated rematch would be a unification bout for the sanctioning organization belts they each hold, Adonis Stevenson was in the way.
Stevenson (19-1, 16 KOs), the humongous puncher from Quebec, is the mandatory challenger for the IBF version of the title that Froch holds and the fight was due no later than April 27. Stevenson won an official title eliminator in October by stopping Donovan George in the 12th round.
However, after much wheeling and dealing -- and who really knows what went on behind the scenes -- Yvon Michel (Stevenson's promoter), the Froch and Kessler camps and the IBF worked out an agreement that will allow Kessler-Froch II to take place as a unification fight May 25 in London.
However, and it's a big however: While Kessler-Froch II will be allowed to go forward as a unification match, the winner will vacate the IBF belt after the fight, so it's a hollow unification bout. And then Stevenson will fight the IBF's leading available contender for the vacant title in June. Even if Kessler-Froch II is postponed, cancelled or ruled a draw, Froch has agreed to vacate to allow Stevenson to fight for the belt, according to Michel.
"The unification was a must for Froch-Kessler for British TV and for the prestige of their encounter," Michel told ESPN.com. "We also were in accord that this fight was great for the super middleweight division and for boxing. Their target date was May 25 to optimize the promotion and maximize the revenues. The IBF had ordered the fight to be done by April 27 and the winner had to confirm his intention of fighting the IBF mandatory contender (Stevenson) next. We knew the winner had no real intention of fighting Stevenson for now. Since the IBF does not allow interim titles (except in the case of injury) we had to find a solution to please everybody within the IBF rules.
"We proposed to the IBF to grant the unification fight on May 25. In return, Froch and Kessler have confirmed they will vacate the IBF title immediately after the unification title fight. Everybody is happy."
So Stevenson will get his title shot but doesn't want to sit and wait until June. So Michel has set up a fight for him -- a rematch with journeyman Darnell Boone (19-20-3, 8 KOs) on March 22 at the Bell Centre in Montreal. Boone has a horrendous record, but the fight still figures to generate some interest because Boone pulled a huge upset by knocking Stevenson out in the second round in April 2010.
Stevenson has won six fights in a row since the loss and might as well take this window he has to gain revenge before his title shot. Boone has fought everyone -- Stevenson, Andre Ward, Enrique Ornelas, Jean Pascal, Curtis Stevens, Brian Vera, Erislandy Lara, Sergey Kovalev (twice), Edwin Rodriguez, among them. He's a professional opponent (with three losses in a row and losses in five of his last seven fights) but he has one knockout of Stevenson, so maybe, just maybe, he can do it again (even though it's probably doubtful).
Michel re-signed Stevenson to a promotional contract in 2011 after they had a brief split. Since Stevenson re-signed, Michel said, "He has asked me one big favor -- to eventually provide him the opportunity to avenge his only loss against Darnell Boone. The timing was never good before and since I believe he will be world champion by June, the timing will be bad also after. So we have contacted Darnell Boone, who has agreed to give a rematch to Stevenson.
"Stevenson will carefully prepare for the fight and will move to Detroit next week with (trainer) Javan Hill to hold his training camp. We all know this is a risk because if he loses the fight he would be out as mandatory contender, but we believe it is a calculated risk and we are in a business of perpetual risks."
December, 4, 2012
12/04/12
1:48
AM ET
Former super middleweight titlist Mikkel Kessler has won a piece of the 168-pound title three separate times. He will try to do it for a fourth time by beating "regular" titlist Brian Magee on Saturday night, which could set Kessler up for something big.
[+] Enlarge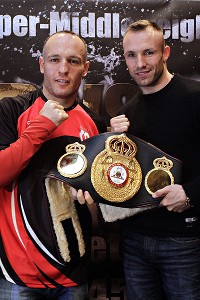 AP Photo/Peter MorrisonSuper middleweight titlist Brian Magee says he'll beat former titlist Mikkel Kessler in his native Denmark, while Kessler's side is predicting a knockout.
Magee, a southpaw from Northern Ireland, will travel to Kessler's home turf of Herning, Denmark, to defend his belt for the first time. While Kessler aims to claim another belt, the real incentive, at least for boxing fans, is that a Kessler win could set the stage for a rematch with titleholder Carl Froch, who lost a title bout to Kessler during the Super Six World Boxing Classic in April 2010.
Their scrap was very, very close and, by far, the most exciting fight of the tournament. A rematch is a natural.
Froch thrashed Lucian Bute in May to win a belt for the third time and retained it against Yusaf Mack by third-round knockout on Nov. 17. Froch is supposed to now meet Bute -- who struggled to win his interim bout against Denis Grachev last month -- in a rematch on Bute's turf in Montreal in March. However, behind the scenes the two sides are discussing putting off the rematch for at least one more fight.
Bute would be wise to take an easier fight considering how bad he looked against Grachev. There's a chance he could fight on HBO in March against Edwin Rodriguez.
Froch, meanwhile, really wants a rematch with Kessler, which just might happen if the Bute fight is put off and Kessler (45-2, 34 KOs) beats Magee (36-4-1, 25 KOs).
Jimmy Montoya, Kessler's trainer, is predicting that his man will knock out Magee.
"I don't want to take anything away from Magee," Montoya said. "He is a great fighter and very skilled, but Mikkel is just too strong and too good for him. Mikkel is just one of a kind. Magee won't be there for the 10th round."
Kessler is also confident of a victory, even if he isn't predicting a knockout himself.
"The KO over Allan Green was great," Kessler said of his performance in a May win, a knockout of the year candidate. "Now I want to defeat Magee and become world champion again. This is personal now; Magee has knocked out two of my countrymen. But now his winning streak in Denmark will come to an end. I'm in great shape and I'm ready to get it on."
Magee has gone to Denmark twice and knocked out Danish fighters. In 2010, he stopped Mads Larsen in the seventh round to win the vacant European super middleweight title. In his most recent fight, in February, he knocked out Rudy Markussen in the fifth round to retain an interim world title (before being elevated to a full titlist a few months ago).
"Brian has already made a lot of successful trips abroad, and two of them have been to Denmark," Kessler said. "But I will make sure that his third trip over will not be a good one for him. I have a lot of respect for Brian. He is a warrior. There are a lot of similarities between us. We are solid fighters and we are not scared to fight abroad. I have fought in Wales, Australia and the U.S., and Brian has also fought in a lot of places, including Denmark, of course. But I think I am the better boxer, I have much more power. I have never lost a fight in Denmark, and it will be no different against Magee."
Magee said he isn't worried about fighting on Kessler's turf.
"I guess I am the most hated man in Denmark this week, but that's fine," he said. "I am here to beat one of the greatest fighters Denmark has ever had and I am confident I can do that. I love fighting in Denmark. The fans are great and the atmosphere will be brilliant. It's going to be fantastic fight, a fantastic show. I am ready to beat Kessler."
November, 3, 2012
11/03/12
1:24
PM ET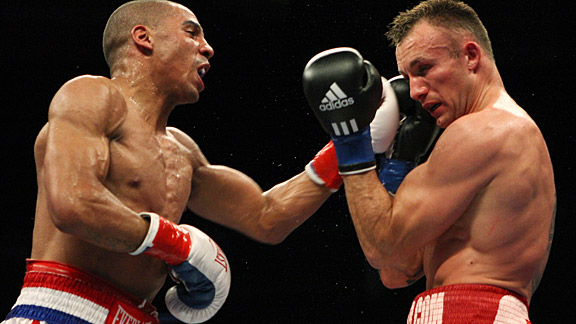 Jed Jacobsohn/Getty ImagesAndre Ward would consider a rematch if Mikkel Kessler wins on Dec. 8 to become Ward's mandatory.
While the promoters for super middleweight champ Andre Ward and former middleweight champ Kelly Pavlik continue to work toward finalizing their fight in January, others are lining up for a chance to face Ward, assuming he beats Pavlik.
At this week's WBA convention in Jakarta, Ward (26-0, 14 KOs) was ordered to face the winner of the Dec. 8 fight between Brian Magee (36-4-1, 25 KOs), the organization's "regular" titlist, and former titleholder Mikkel Kessler (45-2, 34 KOs).
Ward, who hasn't made a mandatory defense, would have to fight the winner by June 8, six months after the Magee-Kessler bout.
Kessler was happy about the order because he believes he will have an opportunity for a rematch with Ward, who took his title in the opening round of the Super Six World Boxing Classic in November 2009. Ward manhandled Kessler and was beating him easily when the fight was stopped because of an accidental head-butt and ruled a technical decision in the 11th round.
"I did not think it was possible to be more motivated to beat Magee and become world champion again on Dec. 8, but now I have found a reason," Kessler said. "Andre Ward knows that he owes me a rematch. That was not the real 'Viking Warrior' in the ring on that night. I was at my best against [Carl] Froch and Allan Green, and I will be at my best against Magee. Now I just have to regain my title on Dec. 8, and then we will have the rematch. Ward had better get ready."
Naturally, Sauerland Event promoter Kalle Sauerland used the ruling to hype the Magee-Kessler fight.
"This makes the Magee clash Mikkel's most important fight ever," Sauerland said in a massive overstatement. "Ever since that dubious night in Oakland, where Mikkel suffered cuts only from elbows and head-butts, he has wanted nothing more than a Ward rematch on even terms. Now, if he can reclaim the world championship against Magee -- and that's a big if, because Magee is an accomplished fighter -- we will finally have the rematch."
Whoever comes out on top, Ward promoter Dan Goossen told me Friday that Ward would entertain the fight.
"We're always happy to see someone go out there and fight their way to another opportunity, so if Kessler can do that, it is one of the options we will have," Goossen said. "I know that Andre and the whole team talked about Magee before. He was someone we were looking to fight at one point anyway. So if Magee beats Kessler, he'd certainly earn his right. We always need options, and the winner is an option."
August, 7, 2012
8/07/12
4:06
PM ET
Mikkel Kessler is staying put with promoter Sauerland Event.

The former three-time super middleweight titlist signed a contract extension, keeping him with the company until 2014, Sauerland Event announced on Tuesday.

"I look forward to continuing our successful cooperation," Kessler said in a statement. "It has been great to work with Wilfried, Kalle and Nisse Sauerland. I owe it to my fantastic fans to prove myself against the world's best boxers, and thanks to Team Sauerland, I can do just that. They have big plans for me and that suits me well."

Kessler (45-2, 34 KOs), 33, looked fantastic in his last fight, scoring a brutal fourth-round knockout of fellow former Super Six World Boxing Classic participant Allan Green in May in Copenhagen, Denmark, Kessler's hometown. The KO will certainly be in the running for knockout of the year honors at the end of the year.

Kessler left longtime Danish promoter Mogens Palle and joined Sauerland Event in September 2009, after he scored a knockout of mandatory challenger Gusmyr Perdomo to retain a super middleweight belt. After that fight, Kessler went into the Super Six and lost his title in his first bout, to eventual tournament winner Andre Ward. Kessler also had injuries that forced him to drop out of the tournament and go through two protracted layoffs, although he has won three fights in a row since losing to Ward, including a decision win against Carl Froch in a tremendous battle in the Super Six to win another belt.

"In the past three years, we have been through a lot -- inside and outside the ring," Kalle Sauerland said. "The excitement of the Super Six tournament, the shocking defeat in Oakland against Andre Ward, the epic comeback victory over previously unbeaten Carl Froch, the injury setbacks and last, but not least, the impressive destruction of Allan Green in Copenhagen. All this has formed a very special bond between us. We will now carefully plan the next steps to make sure Mikkel will be remembered as one of the biggest fighters in the history of boxing."

As is often the case, Kalle was laying it on a bit thick, especially when he added about Kessler: "He already ranks up there with the all-time greats, but in the next fights he can build his very own legacy, a legacy that will be remembered not just in Denmark, Europe or America but all over the world. The sky is the limit for the 'Viking Warrior.'"

Whatever Kessler does, there ought to be some good fights left for a fighter who usually is involved in entertaining bouts and has faced numerous top opponents. Sauerland said "negotiations are currently under way" for Kessler's next bout.