May, 5, 2014
May 5
4:23
PM ET

When Muhammad Ali was heavyweight champ, there was no top contender he wouldn't fight. In fact, Ali probably has the deepest resume of any heavyweight champion in history.

His greatest rival, of course, was Joe Frazier, a champion in his own right. Their trilogy is the most famous in boxing history, and two of their bouts are among the most legendary.

Just imagine, though, for a minute if they had never fought -- if Ali, for whatever reason, decided that it was just too hard of a deal to make, that he didn't like Frazier's promoter or that he simply didn't want to make the fight.

How would history have remembered Ali for that? It wouldn't have been good. Oh, Ali would still be remembered as an all-time great, would still be a Hall of Famer and still would have had many other big wins to look at, but there would be a giant gaping hole in his legacy.

We are in that same position now with Floyd Mayweather Jr., the best fighter of his time, if he never faces Manny Pacquiao.

Yes, I know the issues. I've been covering the stupid soap opera since day one. There are no obvious opponents for either man except for each other and there are no legitimate issues that should prevent the fight from happening except for stubbornness or greed, mainly on Mayweather's side at this point. (Both sides have been more to blame at various times, but right now it's on Mayweather.)

Following Mayweather's close, rousing majority decision win against Marcos Maidana on Saturday night at the MGM Grand in Las Vegas, no less an authority than Ali himself spoke up.

Ali took to his official Twitter feed (@MuhammadAli) and wrote, "Congratulations @FloydMayweather. Maybe after you rest up we can see you rumble with @MannyPacquiao! #AliTweet"

Ali, better than anyone, knows that fighting the rival the public most wants to see is important to a boxer's legacy. Ali fought Frazier three times. He, and everyone else knows, that it's time for Mayweather to fight Pacquiao, at least once.
December, 27, 2013
12/27/13
11:54
AM ET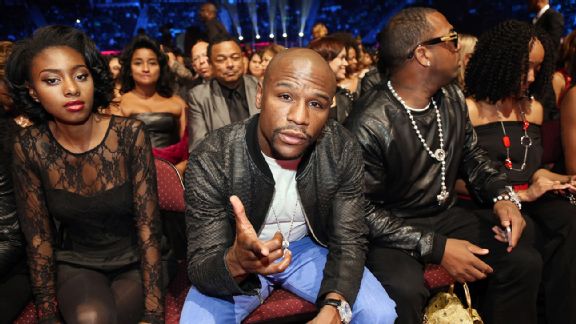 Johnny Nunez/BET/Getty ImagesWill Floyd Mayweather Jr. budge from his demands to make a megafight with Manny Pacquiao?
In the spirit of the holidays, ESPN is celebrating the season with our own "12 Days" wish list of the fights we want to see most, regardless of promotional or other entanglements. Keep checking back in the coming days to see new fights revealed, discuss our choices or even suggest some of your own in the comments section or via Twitter using #ESPN12Days.
When Muhammad Ali and Joe Frazier were the best heavyweights in the world, both undefeated and both with a claim to the title, they eventually fought. Because the public demanded it, because each could make his biggest payday and because they dared to be great.
It became one of the most storied rivalries in sports history and produced boxing's most famous trilogy.
Showdowns between all-time greats do happen, but it's rare when they take place with fighters at the peak of their powers. It happened when Sugar Ray Leonard and Thomas Hearns met to unify the welterweight title more than 30 years ago, a fight still talked about today.
In more recent years, the one fight that transcended boxing, one that even casual sports fans were interested in, was a showdown between Manny Pacquiao and Floyd Mayweather Jr. It has yet to happen, and its prospects look bleak.
Filipino icon Pacquiao is the humble spirit and whirlwind power puncher who has won world titles in a record eight weight divisions, has been named fighter of the year three times and was the 2000's fighter of the decade. Mayweather is the brash, technical wizard who is undefeated and has won world titles in five weight divisions. He also has a fighter of the year award to his credit.
For a few years, Pacquiao and Mayweather were regarded as the two best fighters in the world, pound for pound. However they ranked, they were always 1-2 (or 1A and 1B, for that matter) -- and nobody else was seriously in the conversation. And, oh yeah, they were both welterweights and beating many of the same opponents, including big names such as Oscar De La Hoya, Ricky Hatton, Juan Manuel Marquez, Shane Mosley and Miguel Cotto.
As all fight fans know by now, unless you've been on Mars or under a rock, the sides have tried to negotiate the fight multiple times, including, most notably, the first try in late 2009 for an early 2010 fight. In my estimation, it would have generated more than 3 million pay-per-view buys and left the record in the dust. I think the fight would have easily shattered every single boxing revenue record known to mankind.
It was a fight the world was begging to see. It was the ultimate showdown between boxing's best, two men with opposite personalities and contrasting styles.
The camps had worked out every single issue -- from purse split (50-50) to a date and location -- with one exception. Mayweather demanded that both fighters undergo random drug testing -- blood and urine -- leading up to the fight. At the time, Pacquiao objected to blood testing so close to the bout, and the deal cratered.
A second negotiation, one the Mayweather camp still has never admitted even took place (even though Pacquiao's side and HBO, which was involved, said it did), went nowhere. By this time, Pacquiao was OK with random blood testing (which he underwent for his Nov. 23 fight with Brandon Rios), but Mayweather had other ideas and wanted a lot more than half the money. When he and Pacquiao spoke directly on the telephone about a possible fight, Mayweather offered only a flat fee to Pacquiao rather than a rightful percentage of a promotion that might be worth in excess of $200 million.
The rancorous issues between Pacquiao promoter Top Rank and Mayweather adviser Al Haymon and Golden Boy, Mayweather's de facto promoter, were also huge roadblocks to making the fight.
While Mayweather has remained on top and is now the clear pound-for-pound king, Pacquiao suffered a pair of losses -- a bogus split decision to Timothy Bradley Jr. and a rough knockout to Marquez in their fourth showdown. Those results cooled excitement for the fight. But after Pacquiao rebounded with such a dominant win against Rios, the fight is on people's minds again.
And although it will never, ever be what it should have been -- the two best facing off at their best in 2010 -- it's still the biggest fight boxing has to offer, by far.
But that hasn't made a difference for the past several years and, sadly, doesn't appear to mean anything now, either, as both fighters remain as far apart as ever.
Pacquiao is due to fight April 12 and Mayweather on May 3. Neither has formally announced his opponent, but one thing you can take to the bank: They won't be fighting each other. And for all of boxing, that is a shame.
December, 6, 2013
12/06/13
12:15
AM ET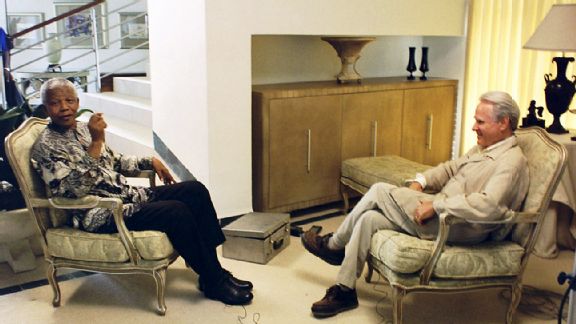 Courtesy of Larry MerchantNelson Mandela gave Larry Merchant the thrill of a career when he agreed to talk shop before a fight.
As a sports columnist, author and broadcaster, Larry Merchant has spent the better part of 60 years conducting interviews with a who's who of boxing luminaries, not to mention all of the other famous figures he dealt with during his newspaper days.
But of the thousands of interviews Merchant has done, there is one that stands out as his most memorable: a 2001 sitdown at the home of Nelson Mandela, the South African hero and former president who died on Thursday at age 95.
"I would say it's probably the most memorable I've done in more than half a century -- say, 60 years -- of doing this," Merchant said after hearing news of Mandela's passing.
After all, it's not every day that Merchant has an opportunity to sit down with a world-renowned hero and receive instruction on the proper way to throw a left hook. More on that in a minute.
Merchant, then an analyst for HBO, had gone to South Africa for the network's coverage of then-heavyweight champion Lennox Lewis' first fight with Hasim Rahman, which resulted in Rahman's massive upset via fifth-round knockout.
But before the fight, as part of a pre-taped segment for the broadcast, Merchant interviewed Mandela -- a serious boxing fan and former amateur fighter -- at his home in Mozambique, where he spent a lot of time after he was no longer president.
"I had somewhere read that he had been an amateur boxer," Merchant said, "and so when we found out we were going to cover that fight in Johannesburg it triggered that pathway in my brain and we set in motion the process to get an interview with him."
It was touch-and-go as to whether the interview would take place. It got to the point that network officials thought it wouldn't happen. But the morning before the fight, Merchant got a call from a producer, waking him up and telling him the approval had come through.
"The understanding was, we weren't going to be talking politics, that we would be talking boxing," Merchant said.
They flew to Mozambique and arrived at Mandela's home a few hours later.
"He came into the room where we had set up the interview looking regal, like there was an aura about him that matched his reputation and his achievements as a powerful political figure," Merchant said. "He was the George Washington and Abraham Lincoln of South Africa. He was very friendly and gracious. He had watched many of our fights, so he knew who I was.
"He said to me when we met, 'It's an honor for me to meet you,' and I said back to him, 'It's much more of an honor for me to meet you,' and that was the opening of our meeting."
Merchant said there are three things that stand out in his memory about the interview.
"One was when I asked him about Muhammad Ali and about what he meant to him while he was in prison," Merchant said. "He talked about how important Ali was as a huge international figure throughout Africa, and particularly to him as a former boxer and boxing fan.
"The second thing was that at some point in the interview he sat there and showed me how to throw a left hook. If fireworks could go off in my head, if rainbows could go off in my head, I couldn't have been happier watching Nelson Mandela demonstrate how you throw a left hook and roll your shoulder into it, and he rolled his shoulder into it. He was talking about the correct way to box and how to throw punches."
The third memory Merchant recalled was when he asked Mandela about how he reconciled his beliefs about non-violence and his love for boxing.
"He gave as perfect an answer as was possible," Merchant said. "He said, 'Boxers do it voluntarily.' What he was saying was, he was in favor of political non-violence as a way of changing South Africa because South Africans didn't have a choice in the system of apartheid."
A couple of years later, Merchant got an unexpected message from Mandela when he ran into a South African journalist he was acquainted with at a fight they both attended.
"This journalist came to me and said that Mandela had wanted me to know that he liked this one particular interview I had done with Bernard Hopkins," Merchant said, speaking of a particularly contentious interview he had with Hopkins on HBO after the fighter had beaten Morrade Hakkar, an utterly unworthy mandatory challenger.
"The word I got back from Mandela was that he appreciated the fact that I let Hopkins answer my tough questions in his own way," Merchant said. "It suggested that he was a real boxing fan. I don't know any other significant head of state in modern times who could have been considered a serious boxing fan."
As memorable as interviewing Mandela was for Merchant, there was one disappointment.
Although he has a photo displayed in his home of them sitting across from each other during the interview, Merchant said that when it was over, he and Mandela stood close to each other in a fighting pose.
"But the photographer blew it," Merchant said. "I had in my head an image of blowing that up as big as it could possibly be blown up to put in my office, but it never happened."
The wonderful memory of a great man will suffice.
July, 4, 2013
7/04/13
8:37
AM ET
Wladimir Klitschko is the most underappreciated heavyweight champion in history. In his time, Larry Holmes, coming into his own in the shadow of Muhammad Ali's exit, was in a similar boat and also vastly underappreciated.

Despite receiving heavy criticism in his day for a lack of top-tier opponents (not his fault), Holmes wound up with one of boxing's most dominant championship reigns. He defended the title 20 times, good for the second most in heavyweight history behind only the great Joe Louis, who made 25 defenses -- a record for any weight division. Holmes also had the second-longest heavyweight title reign -- seven years, three months and 12 days. It was only after his retirement that his greatness began to be truly appreciated.

Now look at Klitschko. He is heavily criticized for his lack of competition (also not his fault) but is in the midst of one of boxing's most dominant heavyweight championship reigns. He has defended the title 14 times -- all in dominant fashion, including 11 by knockout -- good for third most in heavyweight history behind Louis and Holmes.

Now Klitschko, whose 15th defense was signed this week for Oct. 5 in Moscow against Alexander Povetkin, is on the verge of surpassing Holmes and claiming second place all time in terms of length of title reign. Undoubtedly, Klitschko won't truly be appreciated until after he retires.

Klitschko won his title (to begin a second reign) on April 22, 2006, by stopping Chris Byrd in the seventh round. Along the way, Klitschko has collected three of the major sanctioning organization belts, restored the lineage and faced all comers.

On Aug. 4, Klitschko will have held his title for seven years, three months and 13 days, meaning nobody else will have held the heavyweight title longer than Klitschko except for Louis, who was champion for 11 years, eight months and eight days.

Klitschko is 37, remains in tip-top shape, still has the desire to fight and has taken little punishment in his career. Since 2004, he is basically untouched, and there is no reason to believe he can't continue on this way for years to come.

When I informed Klitschko that he would soon surpass Holmes, he was surprised -- and the fact he was surprised did not surprise me. Klitschko has never been one to focus on statistics or records or want to discuss them. More than once, I have brought the records up to him and he has told me he wasn't interested. He would say we can talk about it when he is retired.

But with his title reign about to eclipse Holmes', Klitschko made an exception and agreed to talk about the milestone.

"I was never counting for how long have I been a champion or trying to pass anyone in history," Klitschko said. "I'm just enjoying myself in this sport and always, with excitement, look forward to any challenge in my life. I've heard about the records from [late trainer and friend] Emanuel [Steward] but was never comparing myself or thinking where am I at this point. I'm in the middle of the action and just care about staying focused on my game, as Emanuel told me. I miss that man so much."

As for Holmes, Klitschko said he is familiar with his fights and enjoyed meeting him.

"Of course I watched the fights of Larry Holmes and, of course, he is one of the best fighters in my division," he said. "I'm happy that I've met him in person and had a chat with him about life and boxing."

Klitschko (60-3, 52 KOs), a 1996 Olympic gold medalist for Ukraine, said he isn't thinking about retirement and is completely focused on the fight with Povetkin (26-0, 18 KOs), who won Olympic gold for Russia in 2004.

"I'm looking forward to my next challenge in Moscow on Oct. 5, and who knows for how long I'm gonna stick around?" Klitschko said.

With few on the horizon who appear to be legitimate challengers for Klitschko, including Povetkin, he may stick around for a long time to come, perhaps as champion for at least 11 years, eight months and nine days.
June, 3, 2013
6/03/13
3:07
PM ET
When Muhammad Ali memorabilia hits the auction block, it typically draws strong interest and prices. That's no surprise given his global popularity and historic significance.

If someone wants to spot me a ton of cash, I'd be happy to buy some of it. Barring that, I'll have to amuse myself by drooling over the auction listings and watching what stuff sells for.

Julien's Auctions, which has auctioned off all sorts of sports and entertainment memorabilia, closed an auction on Saturday at its Beverly Hills, Calif., gallery that contained a bunch of Ali material from the collection of Harlan Werner. According to the auction house, "Werner traveled with Ali to numerous countries and various states throughout the U.S. and throughout his time with Ali amassed a huge collection of memorabilia and personal items."

Here's a look at what some of the Ali items sold for:

• A 1960 AAU National Amateur Boxing Championship's Most Outstanding Boxer award that Ali won when he was still Cassius Clay: $35,200.

• A 1981 training-worn and signed robe: $31,250.

• An Ali-signed and inscribed LeRoy Niemen serigraph: $22,500.

• A 1967 Rocky Marciano-typed and signed letter regarding Ali's conversion to Islam: $20,000.

• An Ali- and Joe Frazier-signed 1971 uncut ad card sheet: $16,000.

• An Ali-signed 1966 Olympic torch and display: $15,360.

• A Clay-signed program from Clay-Sonny Liston I in 1964, when he won the heavyweight championship for the first time: $12,500. As a program collector, this item was my favorite.

• An Ali-signed WBA title belt: $7,680.
July, 31, 2012
7/31/12
2:41
PM ET
When Hall of Fame trainer Angelo Dundee died in February at age 90, he left behind a wealth of memorabilia that he had collected during his storied career, mainly items from the careers of his two most famous fighters: Muhammad Ali and Sugar Ray Leonard.

Now Jim Dundee, Angelo's son, is putting the items up for sale through SCP Auctions. Jim said he plans to donate a portion of the auction's proceeds to the Muhammad Ali Foundation.

"Through the sale of this collection, I look forward to fulfilling my father's wish that necessary medical care be provided and funded for my sister, who suffers from multiple sclerosis," he said.

Some of the most significant items will be on display this week at the National Sports Collectors Convention in Baltimore. Because I don't live too far from there and I was planning to hit the show anyway, I'm hoping to get a good look at the pieces in the Dundee collection, which hit the auction block from Nov. 9 through Dec. 1 at www.scpauctions.com.

There are hundreds of items from Dundee's career in the auction, and some are really incredible. I can only imagine the huge money this auction will bring.

Items include the fight-worn gloves of Ali (then Cassius Clay) when he won the heavyweight championship for the first time, from Sonny Liston in 1964, and Ali's fight-worn gloves from his first legendary bout against Joe Frazier in 1971.

(So who wants to hook me up with several thousand dollars -- maybe millions -- so that I can buy them? I swear I'd wear the gloves and try to type one of my columns.)

"These gloves represent boxing's crown jewels and rank among the most significant sports memorabilia artifacts ever offered publicly," SCP Auctions managing director Dan Imler said in a statement announcing the auction. "Muhammad Ali is a cultural icon beloved throughout the world. These are the ultimate tools of Ali's trade from his most legendary bouts, used by him to forge his undisputed status as 'The Greatest of All Time.'"

Also in the auction:

• Ali's fight-worn gloves from several other bouts, including against Johnny Logan, George Chuvalo, Oscar Bonavena and Floyd Patterson.

• Leonard's fight-worn gloves from the 1980 "No Mas" fight against Roberto Duran.

• Various Ali training and fight-worn robes.

• Ali's 1963 boxing license.

• Ali's mouthpiece molds and fight-worn mouthpiece from his final fight, against Trevor Berbick.
February, 2, 2012
2/02/12
12:46
AM ET

I was very saddened to hear the news Wednesday night of the passing of Hall of Fame trainer Angelo Dundee at age 90.

He wasn't just one of the nicest guys I've ever met in boxing, he was one of the nicest people I've ever met in life.

He had so much enthusiasm for everything, especially boxing. Sure, he is best known for his work in the corner of Muhammad Ali, Sugar Ray Leonard, George Foreman (in the second act of his career) and Carmen Basilio, but he also worked with more than a dozen champions overall and made his Miami gym one of the most famous in boxing history.

I knew him not so much as an active trainer, but just as a wonderful person who loved to talk boxing all the time and had more stories than he could possibly tell -- although he sure tried.

I had never met Angelo before I first started covering boxing in 2000. Maybe a month after I had started covering the beat for USA Today and had only a few articles appear in the paper, I received a hand-written letter from him at the office.

He introduced himself (as if I didn't already know who he was!) and wrote that he really enjoyed seeing the beefed-up coverage in the paper, liked the stories I had written and especially enjoyed the first edition of the monthly divisional rankings we had unveiled a couple of weeks earlier.

Angelo wasn't pushing one of his fighters or projects on me, wasn't looking for a story. Instead, he spent about three pages writing about how much he loved boxing, how happy he was to see coverage in a major newspaper and told me that if I ever needed anything to please give him a call, and he included his telephone number.

Over the years, I would call on him for his views of certain fights and fighters for stories I was working on. He was always very giving of his time, always had something interesting to say and a story to tell.

I had a chance to see him from time to time at fights he would attend. He was a joy to be around. Even into his late 80s he was still traveling around to fights, still working on one boxing-related project or another.

One of the most fun fights I ever covered was when Manny Pacquiao faced Oscar De La Hoya in December 2008. The reason was because Golden Boy Promotions had brought Angelo into the promotion as a "special consultant" to De La Hoya.

He was supposed to visit De La Hoya's training camp in Big Bear, Calif., and offer tips for the fight to De La Hoya and his trainer, Hall of Famer Nacho Beristain. Angelo was also supposed to watch tapes and assist in the strategy for the fight.

In reality, Angelo's main purpose in the promotion was to generate publicity, which he did. With the way he could talk and the stories he could tell -- and the reverence people in the business had for him -- it was a genius move. We all knew it was a publicity stunt, but so what? It was terrific to have him around during the promotion, especially as he held court daily in the MGM Grand media center.

Several years ago, Angelo was honored for his service to boxing at an ESPN2 card in Miami. My pal Jay Seidman produced a special program for the event. My job was to ghostwrite a piece by Foreman on what Dundee had meant to him. I met Foreman in a conference room at Caesars in Atlantic City, N.J., one evening after he had gone through his production meeting for the HBO fight that he would call the next night.

I sat with Foreman for about a half hour as he told me how much Angelo had meant to him when Foreman hired him to work in his corner and help him plot strategy for his fights -- including for his improbable victory against Michael Moorer to regain the heavyweight championship in 1994. He said without Angelo in his corner, he never would have regained the title.

Foreman got choked up at one point talking about Angelo; that's how much he had meant to him.

I'm sure Foreman will get choked up again now that Angelo is gone -- just like so many others who also knew him and loved the man.
November, 27, 2011
11/27/11
11:57
PM ET
Your random thoughts ...

• The last-minute, circus-like way that the New York State Athletic Commission handled the Antonio Margarito licensing situation, including forcing him to break camp in Mexico for an exam of his surgically repaired right eye less than two weeks before his Dec. 3 rematch with Miguel Cotto, at least lent itself to some good humor. On Twitter, the Fight Freaks offered some impressive, witty lines, including:

-- Can't Margarito just use some of that plaster to protect his eye?
-- Is the fight being sanctioned by the WB See?
-- Who sanctioned the exam? The Eye BF?
-- Will Margarito's camp have the doctor's gloves examined prior to the exam?
-- So is this a diamond eye exam or an interim eye exam?
-- Do they charge a sanctioning fee per eye or one fee for both of them?

At least the NYSAC, which should never have allowed the licensing to be drawn out to the 11th hour, came to its senses and licensed Margarito. But it doesn't excuse the fact that it created the mess by waiting until less than two weeks before the fight to handle the situation instead of doing it months ago.

• Speaking of Cotto-Margarito II, how freaking good was the first episode last week of HBO's "24/7 Cotto/Margarito"? Perhaps the single best episode in the history of the series. If you missed it, make sure you watch a replay. The opening few minutes set the stage for an enthralling half-hour as Cotto, for the first time that I have heard, said plainly that he believed Margarito wore loaded hand wraps in their first fight and called him a "criminal."

• I get asked all the time about the best atmospheres of fights I've covered. There have been so many great ones, but a few jump to mind immediately: Floyd Mayweather Jr.-Ricky Hatton at the MGM in Las Vegas (hands down the best, so far), Arturo Gatti-Micky Ward III at Boardwalk Hall in Atlantic City, N.J., and Felix Trinidad-William Joppy and Cotto-Zab Judah, both of which were held at Madison Square Garden. I am quite certain I will have another to add to the list after next week because I fully expect that Cotto-Margarito II at the Garden promises an incredible atmosphere. There will be 20,000 (mostly Puerto Rican Cotto fans) rocking the joint. I cannot wait.

• With HBO losing the Victor Ortiz-Andre Berto rematch to Showtime, it looks HBO will aim to kick off its new season with a possible Julio Cesar Chavez Jr. fight in late January or February. One possible opponent for Chavez is Andy Lee, according to Lou DiBella, Lee's promoter. DiBella told me that Top Rank's Bob Arum, Chavez's promoter, has called him about possibly making that fight. DiBella said he and Arum are planning to meet in New York next week when Arum is in town promoting Cotto-Margarito II. As for my thoughts on Chavez-Lee? Thumbs up. I like that fight.

• If David Lemieux rebounds to defeat Joachim Alcine on Dec. 10, another fight I'd like to see is Lemieux eventually challenging Chavez Jr. for his middleweight belt.

• Although Showtime bought Ortiz-Berto II, it is highly unusual that it's the only fight on the 2012 calendar for HBO or Showtime thus far. I know both networks are going through major changes at the top, with Stephen Espinoza having just started running Showtime Sports and Ken Hershman not due to take over the vacant job at HBO Sports until Jan. 9, but it's still unusual.

• Reflecting on the Thanksgiving holiday, I'd like to mention a few things I'm thankful for in terms of boxing: Manny Pacquiao and Mayweather. I want to see them fight each other as much as the next guy, but even apart, they are the biggest boxing stars in a sport that needs as many as it can get. … YouTube.com. Unable to watch many of the fights that go untelevised in the United States? YouTube is your friend. Usually within 24 hours of the fight being over, somebody somewhere on the planet has posted the video. … Heavyweight champions Wladimir and Vitali Klitschko. Some say their dominance is bad for boxing. I couldn't disagree more. I enjoy domination. If you want them out of boxing, the solution is simple: Find someone to beat them. Besides, they're true professionals, always show up in shape and are class people, which is something boxing could use more of. … Guys who come to rumble, such as Cotto, Brandon Rios, Jorge Arce, Tavoris Cloud, James Kirkland, Alfredo Angulo, Marcos Maidana, Erik Morales, Michael Katsidis and Giovani Segura. … The fans in Montreal and throughout Quebec. They turn out to support their fighters like nobody else, which is why fighters such as Lucian Bute and Jean Pascal wield impressive economic clout and fill up arenas north of the border.

• Congrats to Kathy Duva and her crew at Main Events for landing a deal for NBC Sports Network to buy fights from the promoter next year. Hopefully, Main Events will put the approximately $100,000 per-show license fee toward legitimate fights that will provide action and are meaningful. She should be able to accomplish exactly that with a budget double that of Showtime's "ShoBox," which regularly gives us very good fights. It's important for boxing that Duva does not fail.

• This is one of the weakest years I can remember when it comes to legitimate candidates for fighter of the year. Usually, there's an obvious choice, or even two. Not this year.

• Although it hasn't been announced yet, HBO and broadcaster Jim Lampley, the network's voice of boxing and a future International Boxing Hall of Famer, are developing a boxing studio show that Lampley will host and is supposed to begin in the first half of 2012. You can count on news from around boxing and discussion about the latest issues in the sport. It's set to begin as a quarterly program but could expand. This has been a long time coming. Despite a massive involvement in boxing, it has always perplexed me why HBO didn't support its coverage with this sort of show. Considering HBO has skin in the game, it's about time it backs it up with -- knowing Lampley -- what I expect to be intelligent boxing discourse.

• In light of the fact that Joel Casamayor tested positive for marijuana after his one-sided drubbing at the hands of junior welterweight titlist Timothy Bradley Jr., I guess we now know why he needed two trips to the scale to make weight. Probably had the munchies.

• This is much cooler than going down to Target or hitting JCPenney for a new pair of shorts, but also a lot more expensive. At a recently concluded auction filled with numerous pieces of incredible sports memorabilia, an unidentified buyer bought the trunks that Muhammad Ali wore in his first fight with Joe Frazier for $173,102. Hey, at least they are signed in three places by Ali.

• DVD pick of the week: Last Tuesday, I recalled one of the most significant anniversaries in boxing history by breaking out my DVD of a fight from 25 years ago -- Nov. 22, 1986 -- at the Las Vegas Hilton. That was when Mike Tyson destroyed Trevor Berbick on an ultra-memorable second-round knockout to become the youngest heavyweight champion in history and fulfilled the prediction of his late trainer and mentor, Cus D'Amato. Tyson was just 20 years, 4 months and 22 days old when he steamrolled Berbick to advance to 28-0 with 26 knockouts. The knockout was sweet. Berbick survived a knockdown in the opening moments of the second round before Tyson landed the title-winning left hook. The shot resulted in essentially three knockdowns: Berbick dropped from the punch, beat the count but fell again because he was disoriented; he then tried to get up again before falling across the ring, completely out of it, as referee Mills Lane called it off. That prompted then HBO announcer Barry Tompkins to rightfully proclaim, "And we have a new era in boxing!"