June, 10, 2014
Jun 10
5:19
PM ET
On Jan. 22, 1988, Mike Tyson, smack in his prime, defended the undisputed heavyweight championship against aging former champ Larry Holmes and blasted him out in the fourth round of a one-sided fight.

Twenty-six years later, the former champions were reunited at the Turning Stone Resort Casino in Verona, New York, last week, where Tyson's Iron Mike Productions was putting on the ESPN2 "Friday Night Fights" card.

Tyson and Holmes spent time answering questions from fans during one of the fight-related activities, and they, of course, were asked about their fight with each other.

"What I remember was [promoter] Don King knocking at my door around 9 at night," Holmes said. "I was retired two years. Don said he wanted me to fight somebody he said he knew I could beat. I asked him who and he said, 'Mike Tyson.' I said, 'I can't beat Mike Tyson.' Don said, 'What if I give you 3½ million dollars?' And I said, 'Where's Mike at?'

"I'm just glad he didn't kill me. He knocked me down a few times, but I didn't feel it because the first time he hit me I was numb. After the fight, Mike said he loved me and I said, 'Why'd you knock out my ass?' Mike's a great guy."

Said Tyson: "It was a great opportunity to be in the ring with one of the great fighters of all time. It was a milestone in my career. He didn't have time to prepare. I never fought the great Larry Holmes. I had no delusions. By all means, I didn't fight the [prime] Holmes who fought [Muhammad] Ali.

"I was very objective in the ring, nothing personal, but I'd have hit my mother. If I had mercy on him, he may have knocked my ass out. He didn't have enough time to prepare when he fought me. Don didn't give him the opportunity."
April, 7, 2014
Apr 7
9:06
AM ET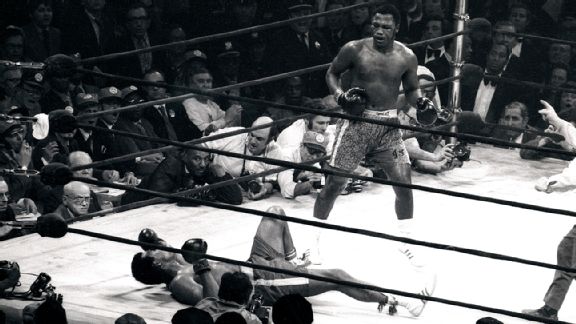 Herb Scharfman/Sports Imagery/Getty ImagesThe late heavyweight champion Joe Frazier, right, will have a nine feet tall statue in Philadelphia.
Light heavyweight titlist Bernard Hopkins is a Philadelphia fighter through and through, and the late heavyweight champion Joe Frazier is the ultimate Philly fighter.
So Hopkins, along with Golden Boy Promotions, announced that they have made "a significant donation to fund the completion of the previously announced Joe Frazier statue that will stand nine feet tall outside of Xfinity Live in Philadelphia's sports stadium complex."
"Seeing this statue built has meant a great deal to me for a very long time," said Hopkins, a friend of the Frazier family. "I have always felt strongly that Smokin' Joe has a rightful place in Philadelphia history and that should be honored. We have a 'Rocky' statue and Rocky isn't even real. Joe Frazier embodies the Philadelphia fighting spirit and I am so happy to be able to pay homage to him in this way."
"When Bernard asked us to make a donation to help build the Joe Frazier statue in Philadelphia, we did not hesitate," said Golden Boy chief executive Richard Schaefer, Hopkins' promoter. "We firmly believe in preserving the great history and heritage of our sport and there is no better way than honoring some of the legends that have paved the way for the fighters today. Joe Frazier is one of the all-time greats and we are pleased to be a part of this project."
The Frazier statue will become part of Philadelphia's public works of art as voted on by Philadelphia's Art Commission. The statue was designed by Philadelphia artist Stephen Layne and will mirror Frazier's reaction after knocking down Muhammad Ali during their famous first championship fight in 1971 at Madison Square Garden in New York. The statue is supposed to be unveiled between Thanksgiving and Christmas.
Hopkins is training for a title unification fight against Beibut Shumenov on April 19 (Showtime) at the DC Armory in Washington. Members of the Frazier family are expected to be on hand to support Hopkins and to say thank you for the contribution at the April 17 final news conference.